The Idea
Although the Krisflyer Ascend Card has horrible earning rates and shouldn't be used as a general spending card, it comes with 4 very generous gifts which you can get for free just by signing up
Sign up for the card, opt for the 1st year fee waiver option and enjoy

5,000 bonus miles with the first spend
1 free night at selected Millennium Hotels worldwide
Free M&C Gold status (1 free meal, 2 free upgrades)
4 free lounge access vouchers
---
The Details
By now you'll have noticed that I don't promote any of the Singapore Airlines co-branded AMEX cards on this site. There's a simple reason for that. Their earning rate is terrible. Yes, they have convoluted multiplier systems where your spending in the first 3 months gets a bonus, and if you spend S$1K in a month you get a 300 mile bonus for every additional S$0.5K spent (have I lost you here?)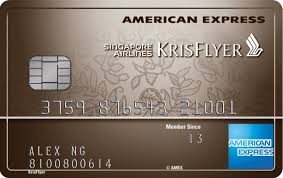 But ultimately the earn rate can never even hope to be as good as one of the bank issued cards. Heck, even Citibank is more generous when it comes to awarding miles for purchases made on Singapore Airlines (2 miles per S$1 vs 1.6 miles for the co-branded cards). And the base earn rate of 0.83 miles per S$1 is pathetic.
So why am I even bothering to write about it? Because the card comes with several gifts, all of which can be yours without so much as having to pay an annual fee.
When you apply for the card, you have the option of getting the first year fee waived or paying the full fee but getting some sort of bonus on your first 3 months of spending. Since you're not ever going to spend any money with this card, take the first year waiver option. Then, enjoy the following
5,000 miles upon first spend
These miles will be gifted to your Krisflyer account (direct deposit, because the card is co-branded) upon your first charge to the card. No minimum spend. You can go to Watsons, buy a $2 packet of tissues, charge it to your card and never use it again (remember to pay your  bill at the end of the first month, of course)
1 free night at Millennium Hotels worldwide
It gets better. Your card comes with 1 complimentary night at selected Millennium hotels worldwide. Depending on where you stay, this can be a tremendous saving. When I first saw "selected", I thought that they'd limit the participating properties to some run down shacks in backwater towns. But no- the full list of hotels is here and there are some extremely attractive, high cost locations, including-
Millennium Hotel London Mayfair
Millennium Hotel London Knightsbridge
Millennium Hotel Paris Opera
Millennium Hotel Broadway New York
Grand Millennium Dubai
During peak season, 1 night at these properties could easily be in excess of US$200, to be conservative. So if you and your partner apply for this card and travel together, you guys can potentially save 2 nights accommodation in the most expensive cities in the world
Free Millennium Hotel Gold Status
Your card will come with a voucher that upgrades your status in the M&C loyalty program to Gold. Some of the key benefits that come with this include
1 free buffet meal for your birthday (valid for 3 months)
20% off a weekend stay for your birthday (valid for 3 months)
2 upgrade vouchers (valid for 1 year)
So, use the upgrade voucher when you utilise your free night and get 1 free meal covered when you're there. Ditto for your companion, who should also be applying for this card
4 x Free Lounge Access Vouchers
The card comes with 4 lounge access vouchers for the SATS premier/Plaza Premium Lounge. Frankly, I think the SATS Premier lounge in Singapore is not worth coming to the airport early for, but Hong Kong is one of the flagship lounges in the Plaza Premium Lounge chain and recently underwent a major refurbishment. I visited the lounge a few times back in 2010, before the refurbishment, and already thought it was one of the nicest pay per use lounges out there.
So, all this free stuff and all I have to do is fill out an application form? What are you waiting for? Be sure to cancel your card at the start of the 2nd membership year to avoid the annual fee.
What about some cards that are actually worth using? Why not look at our article on general and specialised spending cards?
EDIT: It appears that the first year fee waiver is no longer being offered, at least for online applications. If anyone has recent experience applying for this card, do let us know if it's still possible!