I've recently become a PAssion card member, having realised all too late that I was leaving points on the table every time I went to Guardian or Cold Storage.
Anyone can apply for the PAssion card. The cost of the card is $10 for 5 years, which is a heck of a good deal for something that comes with EzLink features too.
You get exclusive promotions with PAssion merchants, the full list of which can be viewed here. Some highlights I saw include
15% off at restaurants at the Grand Copthorne Waterfront Singapore, M Hotel and Orchard Hotel
15% off at Nam Nam ($20 min spend applies)
10% off at Yoshinoya
10% off admissions to Gardens by the Bay
20% off the Singapore Zoo and Jurong Birdpark
Perhaps more intriguing is their rewards program. The PAssion card has a simple earning scheme- for every $1 you spend at Cold Storage, Giant, Jasons or Guardian, you get 1 TapForMore (TFM) point.  The points are redeemable at 0.6 cents each. Needless to say, a 0.6% is better than nothing, but that's like saying a punch to the face is better than a kick to the groin.
But hold up- TFM points can now be redeemed for Krisflyer miles too!

I logged into my account and was greeted with the following-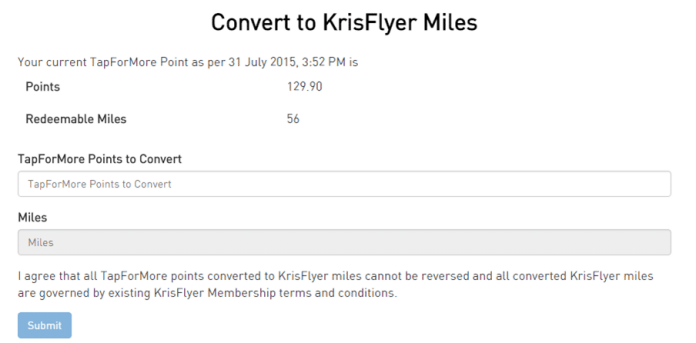 Now, 129 points gets me 56 miles. That means 1 point gets me 0.43 miles. $1 of spending at Cold Storage/Giant/Guardian gets me an additional 0.43 miles, in addition to whatever miles i get from my general spending card.
Remember our lesson on mile valuation? Given that a mile is worth anywhere from 1 cent to 7 cents, I could conceivably get 2.8 cents worth of value per $1 spent here. More realistically, if I redeem for business class, I'm looking at around 1.6-2 cents of value. Which is a heck of a lot better than 0.6 cents. Even if I redeem for economy (which you should never, ever do), I will get 0.4-0.8 cents of value.
So it does appear that it makes more sense to cash out via miles rather than through rebates, given the rather sad 0.6% cashback. I think that the PAssion card can easily cover its $2 per year ($10/5 years) fee through the discounts you get at merchants, so if you're going to spend anyway it makes sense to check it out.