Ah, the dining card. The card which imbues us with a sudden sense of generosity when it comes to paying the bill ("oh let me get this one guys! just ibank me the money, no problem"- me at every social function, which is why I don't get invited to a lot of social functions)
Things seem grim for dining cards in Singapore. UOB Preferred Platinum AMEX has been removed from the UOB website and you're no longer able to apply for the Citibank Clear Platinum card via the Citibank website. Does it mean the miles dining card is dead? Let's find out.
UOB Preferred Platinum AMEX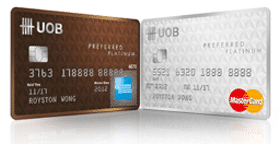 This was the rolls royce of dining cards at 4 miles per $1. It is no longer possible to apply for this on the UOB website. However, an Anoymous poster on the comments had this to say
If you are an existing UOB card member perhaps you can try this to apply for the UOB Preferred Platinum cards. I applied using SMS on 10 Oct which was after they removed the application links from their website but still got the card sent to me about 1.5 months later.

SMS spacespace to 77862
For example: SMS Yespp 7890 S1234567H to 77862.
To give a bit more clarity, "7890" here is the last 4 digits of your existing UOB card (This option will only be available to people who have an existing UOB card and not new applicants). "Yespp" means you want to apply for the Preferred Platinum Account. And yes, 77862 is the official UOB SMS number, you can verify that online.
Does it work? I don't know, Someone on the comments said he'd test it and I really hope it does because that would be awesome. Will update this as it develops.
Citibank Clear Platinum
This card offers 2 miles per $1 on dining. I wasn't able to find a sign up link online so I assume it had died, but a call to Citibank's customer service hotline and I was told that
"Yes sir, you can still apply. However, there is an issue with the website now so you'll need to call 6363 6666 during regular office hours, 9am-5pm Mon -Fri and do the application over the phone"
So unless my CSO has no idea what he's talking about, it appears this is still alive and well! Anyone want to check and report back?
HSBC Advance Visa Platinum
Tip of the hat to Lionel for this one. The HSBC Advance Visa Platinum gives 10X points (or 4 miles per $1) on online spending, dining spending and entertainment spending. It also has no annual fee.
There does not appear to be any cap on bonus point earning, however you might like to know that:
For the avoidance of doubt, transactions made on brokerage/securities and/or money payment/transfer websites are not classified as retail transactions and are expressly excluded.
With effect from 1 November 2015, for Online Transactions which involve EZ-Link or Transitlink, 10x Rewards points are capped at 2,000 HSBC Rewards points per Account per calendar month (i.e. S$200 spend).
The other catch (and it's quite a big one I might add) is that you can't just apply for this card.  You need to have a HSBC Advance account first. What's that?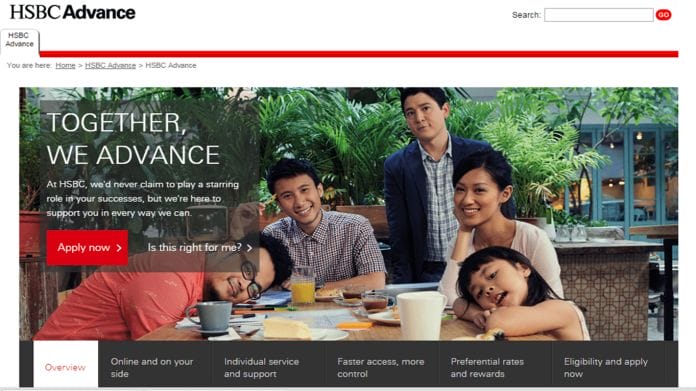 I wouldn't quite call it a privilege banking type account, but here are HSBC's conditions
To qualify for HSBC Advance, you need to be at least 18 years old. The monthly service charge of S$10 will be waived if you fulfil any of the following eligibility criteria:

Total Relationship Balance of at least S$30,000 in deposits, investments and/or insurance, with 6 months' grace period to place in your funds
Home Loan with an initial loan quantum of at least S$200,000
Salary credit of S$3,750 per month, with 24 months grace period from Advance relationship opening to reach Total Relationship Balance of at least S$30,000
Reoccurring deposit of at least S$2,500 per month, with 24 months grace period from Advance relationship opening to reach Total Relationship Balance of at least S$30,000
It's certainly not difficult to do any of the above, assuming you're already committed to having a HSBC account. The main drawback I'd highlight with this is the whole "agglomeration" issue- if you're not intending to use any other HSBC cards it may take a long while before you gain a critical mass of miles large enough to make transferring your miles worthwhile. Unless, of course, you're able to put some large (non-hotel) banquets over CNY on this…
(Note: this card only awards 10X on local dining, unlike the UOB Preferred Platinum AMEX and Citibank Clear Platinum which award it for for local and overseas dining spend)
OCBC Voyage Card
I don't know why I'm mentioning this card because it is such, such a bad card from a conceptual point of view (it's not really a miles card! It's a cashback card masquerading as a miles card, because your miles are given a fixed value when you redeem them!).
But for completeness sake, let's talk about this. You get 2.3 miles per $1 on local and overseas dining. That's not a terrible thing IF you convert your Voyage Miles at a 1:1 ratio to Krisflyer miles. It is a terrible thing if you're using the OCBC Voyage concierge to redeem your flights though (because those 2.3 miles get you a value of 6.9 cents, versus the 9.2-11.5 cents of value you'd get by redeeming those miles directly via Krisflyer).
And don't forget the annual fee  of $488 which cannot be waived, and the fact that you're going to have to concentrate the rest of your spending on the Voyage card if you want to hit that critical mass of miles to cash out.
HSBC Revolution Card
Again, tip of the hat to Lionel for this one (he's the man to go to for HSBC!). You can get 2 miles per $1 on local dining with this card and you do not need a special HSBC Account. There does not appear to be a cap on earnings on this one either.
Same caveats as HSBC Advance apply re: gaining a critical mass of miles.
Conclusions
It appears that the Citibank Clear Platinum card is still alive, and you can turn to the HSBC Advance Visa card if you're able to meet the requirements for setting up an account. Otherwise, the HSBC Revolution will give the same rate as the Citibank Clear Platinum. I'm crossing my fingers on the UOB Preferred Platinum AMEX.
It's good to note that in the past DBS had a promotion for their Black card where you could get 2 miles per $1 on dining. That promotion ended 30 June 2015 and has not been renewed, but it may well come back again.
cover photo by LudovicLubeigt