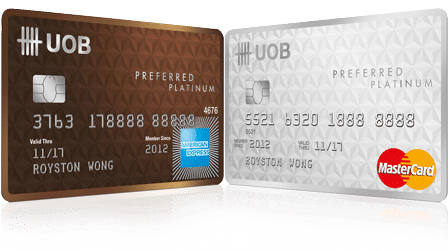 The UOB Preferred Platinum AMEX is the best card available for dining right now at 4 miles per $1. Yes, it's AMEX, but like I've said before, the whole reason they need to give better rewards on AMEX cards is to compensate for their lower acceptance.
This card currently cannot be applied for online, and a call to UOB customer service confirmed that they are in the process of "demarketing the card", whatever that means. However, if you've missed the boat there is still one more opportunity to get on. Apparently, UOB has not updated their back-end applications for SMS applications. Meaning that you can apply via SMS following the method below-
SMS spacespace to 77862
For example: SMS Yespp 7890 S1234567H to 77862.
To give a bit more clarity, "7890" here is the last 4 digits of your existing UOB card (This option will only be available to people who have an existing UOB card and not new applicants). "Yespp" means you want to apply for the Preferred Platinum Account. And yes, 77862 is the official UOB SMS number, you can verify that online.
One poster has reported successfully getting his UOB Preferred Platinum card via this method (thanks Lionel!), so if nothing else it is definitely worth a try.
Let me know if this works for you guys
cover photo by seaturtle