Since discovering the Miles and Points game 3 years ago, Jeriel has now spent a disproportionate amount of time reading the T&Cs of credit cards and frequent flyer programs. His grand plans for round-the-world premium travel has taken a hit since the arrival of his daughter, but he is still determined to fly as far, frequently and luxuriously as possible on Miles and Points. Expect more family-orientated trip reports and travel tips from him!
---
Maximizing Massive Spend
Before we start, a disclaimer. When I say 'massive' spend, I really mean in the region of maybe S$30-40k. If you are a millionaire with an American Express Centurion Card and can afford to buy stuff like this, then this post is probably not for you. J  For the rest of us mere mortals, read on!
In my experience, my friends are generally uninterested in learning more about maximizing their rewards from spending once they see my credit card wallet. Keeping track of almost 15+ cards can be quite time consuming. You have to remember to pay your monthly bills, and keep track of spending in order to hit targets for bonus points/miles. Annual fee season can be quite hairy, where you decide which ones to call for waiver and which ones to pay. Keeping your card portfolio current is the greatest headache (but often an enthusiast's greatest obsession); obsolete cards and those which have outlived their usefulness have to be cancelled, and applications for any new, value offerings have to be made.
But faced with an upcoming massive expenditure such as a wedding banquet or renovation, the thought that such a large amount of money is going to be spent with none or minimal rewards often jolts them to their senses, and they start the search for a good credit card to use, typically with the question 'eh, what is the best credit card now arh?'
This is my attempt to answer that question.
Fail to Plan, Plan to Fail
Ideally, if you know you have some significant expenditure coming up, you should plan your credit card strategy in advance. There are several reasons for this.
Application and Approval Process takes time
Some banks have an excellent back-end and application/approval is fuss-free, but there are those which give you a headache and make you around in circles. This is dependent on your current relationship with the bank (i.e. how much money you have with them) and of course, your income. You don't want to have a payment deadline looming with your new card nowhere in sight.
Timing of Sign-up Bonuses
As you will soon realize, maximizing large expenditure usually entails taking full advantage of the sign-up bonuses/offers with new cards. These bonuses are usually time sensitive and require you to make the requisite spending within a certain time-frame. You can neither apply for these cards too early, nor too late.
Splitting of payment
Even if you maximize all the sign-up bonuses available in the market, there is still a good chance you will still have some balance left over. This balance spend should be charged to an everyday use card or prepaid credit card. Some of these cards' point bonuses have a cap on monthly spend, so to really maximize the rewards you may find yourself having to split payments (e.g. pay for a wedding banquet S$2k each month for every month leading up to your wedding). A longer lead time allows you to split the payment up into more installments. Granted, this is only for those who really want to squeeze every last point out of every last cent spent though.
Sign-Up Bonuses
American Express Singapore
Amex Singapore has terrible rewards earn rates, as previously elaborated by Aaron here. In general, they try to offer more intangible perks like dining discounts, concierge service and seamless transfer of miles to your Krisflyer account. However, another often overlooked plus point of Amex cards are their generous sign-up bonuses (because it's all in the fine print). There are 2 main cards to take advantage for this
(A) American Express Singapore Airlines Krisflyer Ascend Credit Card
0.83 miles / $1… seriously?
However, look a little closer (or lower in this case) and you will see the good stuff:
Generous sign-up bonuses
The 5000 miles bonus with first time use has already been mentioned in a previous post, but I find applying for this card just to charge a minimal amount for a paltry 5000 miles is a waste of its potential.
As you can see, if you charge a total of S$10,000 in the first 3 months, you will earn 5000 + 35,000 miles or a total of 40,000 miles bonus. This is not including the base earn rate on the same expenditure.
The Krisflyer Ascend Card also has an 'accelerator' bonus on normal spending:
'Spend a minimum of S$1,000 in a calendar month, and receive a bonus of 300 Krisflyer miles for every additional S$500 you spend in the same month, with no cap to what you can earn! With no caps to this bonus, you can take off on your next adventure sooner.'
 To maximize the accelerator bonus, it is best to accumulate the S$10,000 spend within the same calendar month. This will give you a base rate of 8333 miles (S$10,000 x 0.83) + 5400 miles (18 [S$9000/S$500] x 300 miles) or 13,733 miles.
In short, a total of S$10,000 spend will give you a maximum of 53,733 miles, which is a very respectable 5.37 miles on a dollar.
Is there a catch? Well the most obvious one is that you need to pay the full fee of S$256.80 to qualify for this promotion. I've had many friends that refuse to use this because 'it's against their principle to pay for a credit card annual fee.' Well, even if you add the annual fee cost into the equation, it is still 5.24 miles/$1 earn rate. If you redeem Business or First class tickets, the value of those miles will far exceed the annual fee. This is a no-brainer for me.
This promo has been on for some time and it doesn't look like they will be withdrawing it anytime soon. But it's only applicable for first time applicants though, so you can't cancel the card after a year and try it again. 🙁
(B) American Express Rewards Card
Amex Membership Rewards (MR) points in Singapore also has terrible value when it comes to transfer to miles. Although MR points can be transferred to a greater number of partners (namely Krisflyer, Asia Miles, Emirates Skywards, Thai Royal Orchid Plus, MAS Enrich, Dynasty Flyer Program, and British Airways Executive Club) and don't expire, they all transfer at a ratio of 9 MR points to 5 miles. Considering the base earn rate of the Amex Rewards or Platinum Card (excluding bonus categories which are quite limited) is 1 MR to $1, the miles earn rate is only 0.55 miles/$1.
The sign-up bonus for the Amex Rewards card is worth going for, though.
24,000 MR points, or 13,333 miles
By spending a total of S$1500 in the first 3 months, you will earn a bonus of 24,000 points, or 13,333 miles. If you include the base earn rate of 1 MR/$1, you should earn a total of 14,166 miles. That is an amazing 9.4 miles/$1 earn rate. As with the Krisflyer Ascend, you need to pay the first year annual fee to qualify for this promotion, but at S$53.50, this is a steal.
(EDIT: Correction. It's 21,000 bonus points, with 1,500 points for S$1500 of spend with 100% bonus points for the first 3 months for a total of 24,000 points)
Do take note that the MR points have to be manually transferred to your Krisflyer account. If you do so online there is no additional charge, but calling in to make the transfer will incur a charge of 800 MR points. Also, because this is a point transfer, it is subject to rounding down (e.g. you must redeem in blocks of 250 miles for certain FF programs). This would mean you will not be able to get the theoretical maximum number of miles.
As for income requirements, the Krisflyer Ascend requires S$50,000 annual income, whereas the Amex Rewards only requires S$30,000.
For spending on things like a wedding or renovation, you can double the number of miles earned by applying for a primary card for both your spouse and yourself. This means that for a total spend of S$23,000, you can potentially earn up to 135,798 miles. That is literally just short of a return ticket on SQ Business to the U.S. West Coast for 1 pax (which at Saver level comes in at 136k miles).
For my wedding banquet, I got everyone in my immediate family earning an income to sign up for these cards, so everyone had a healthy boost to their Krisflyer accounts. I paid them back of course!
Other Banks
Most other banks with a designated miles card (e.g. DBS Altitude series, UOB Prvimiles Series, Citibank PremierMiles, and ANZ Travel Visa etc.) have various sign-up bonuses. They are mostly also in the form of bonus points, but sometimes travel/hotel vouchers, free luggage etc. are offered as well. However, these change fairly often and for the purposes of miles accrual, are nowhere as generous as that offered by Amex.
Of note, the latest offers from DBS Altitude range from a bonus of 8000 miles (Visa) for S$1000 spend, and 3000 miles + double miles on normal spend (Amex) with a minimum of S$800 spent. Similarly for the UOB Prvimiles suite of cards, there are 5000 bonus miles on offer for existing UOB card holders and 8000 bonus miles for new card holders. Hardly exciting, but they still represent good earn rates and does help you inch your way up to your desired award.
Aaron usually does a pretty good job of updating us on the latest offers when they come, so do check back when you are planning for your expenditure to get an overview of the latest promotions.
Categorical Spend
After maxing out the sign-up bonuses, what's next? A good grasp of the various cards to be used for each category of spend is useful. I provide a brief overview of the relevant ones below.
Dining
If you happen to hold your wedding banquet / reception at a restaurant, then a dining card will be the obvious go-to choice to pay off the balance remaining. The best option in the market remains the UOB Preferred Platinum American Express Card, which has since been removed from the UOB card line-up. However, SMS applications are still being accepted (a friend just received hers last week!) so if you have an existing UOB card, this is too good to miss out on.
(ED note: Someone on the comments has reported that the SMS method didn't work for him, so it is possible that UOB has shut this down for good. Need to wait for more datapoints to be sure. Why not give it a try?)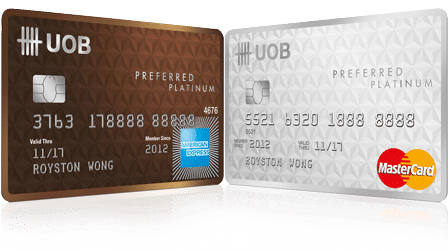 All good things come to an end
At 4 miles/$1 on all restaurants (with the appropriate MCC code), this is one more reason to ditch the hotel and go to a restaurant for your banquet!
Furnishing
Buying furniture for renovation is a little trickier, and here is where being overly obsessed with this miles business can be counterproductive. The Citibank Rewards Card offers 4 miles/$1 for all spending in Departmental Stores, and some of these stores have pretty good furniture and home appliance sections selling almost everything you'd need to furnish your home. I tried my best to buy my furniture from departmental stores, but you can sometimes end up paying a substantial mark-up. Also, your choice of furniture is limited by what is available.
If you end up compromising on the aesthetics of your home, or find yourself trying to see if the additional miles you'd earn would offset the slight increase in price of the item, then you probably know you're taking it a little too far… I'm having flashbacks now…
Also, do make sure that when the payment is made, it is actually charged by the departmental store (e.g. Takashimaya, Isetan, etc.) rather than the specific merchant, which would not earn the additional miles.
Specific Merchants
Occasionally, there are great offers for spend at specific merchants. A recent offer by ANZ on its Signature Priority Banking, Platinum and Switch Platinum cards offers 20x points (or 8 miles/$1) on spend on specific merchants, including Tangs and Courts. This does have several caveats like requiring SMS registration, being subject to a minimum of S$500 spend a month, spend being rounded down to the nearest S$100, and bonus points capped at 7,800 points per month (or S$410 a month). It does seem like a lot of hassle for not much, but for me at least, the small appliances were bought slowly over the course of a few months, so this can work well in selected circumstances.
As with sign-up bonuses, these offers come and go, and it's well worth your time to do a quick look around the various banks for new promotions before shelling out your hard earned cash.
The Last Resort
If you have exhausted all the above options and still have outstanding payments, you'd have to fall back on your everyday spend card. UOB Prvimiles and ANZ Travel Visa offers 1.4 miles/$1, and is the highest basic earn rate in the market as of now. You could also use the DBS Women's World MasterCard and try to work out an instalment plan to keep within the S$2000 monthly cap. At this stage however, you're really just squeezing water out of a rock.
Conclusion
Big ticket expenditure is a good opportunity to enter the miles and points game as there are potentially huge rewards for relatively limited effort in a short span of time. These tips are by no means comprehensive, but represent a good place to start for beginners.
What other strategies do you use for maximizing large expenditure? Share it with us in the comments below!
cover photo by thomashawk