I wrote about the Standard Chartered free $188 promotion that you can leverage when you sign up for a Bonus$aver account and plonk $50,000 in.
If you don't have $50,000 lying around, there are other free money opportunities for you still. Dave on the comments informed me that there was another free money opportunity with ICBC until 30th September.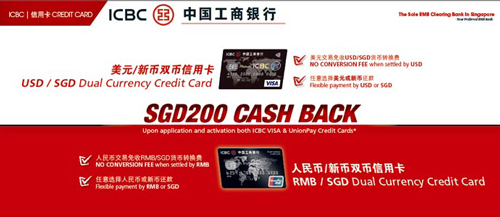 You can earn up to $200 by
Applying for both the ICBC Visa & ICBC UnionPay Dual Currency Credit Cards
Activating the cards to get$50 for each activated principal card, and $25 for each activated supplementary card (up to a max of 2 cards per 1 principal card)
In other words…
ICBC says they need up to 4 weeks to process applications, and for you to get the cashback you must activate your card before 30 Sept, so you might want to jump on this asap if you intend to take part.
The full T&C can be found here and FAQ here. You have 1 year to utilize the cashback. Apart from the cashback, is there anything good about this card?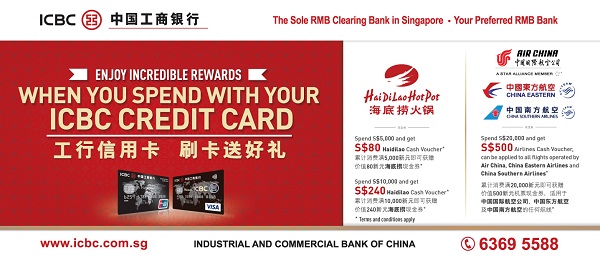 Well, there is no annual fee on either card for 3 years. The ICBC Visa Dual Currency card has no conversion fee for transactions in USD. You can even settle your bill directly in USD if you're in Singapore (I believe that means going down to a branch and physically paying in USD, the thought of which amuses me somehow).
The ICBC UnionPay Dual Currency card is a RMB/SGD which does not charge you forex fees when you transact in RMB. You can similarly settle your bill physically in RMB. UnionPay is also the most widely accepted card in China. As amazing as it sounds, I've been to restaurants in Shanghai that didn't accept Mastercard or Visa.
Both cards earn you 3 rewards points per S$1 spent. It appears, oddly enough, that there is only 1 item to redeem in the entire ICBC Rewards Catalogue. Surely that can't be?
You can also get a free economy class ticket with every Air China or China Southern Airlines business class ticket purchased, and enjoy complimentary lounge access to ICBC airport lounges in China when departing for domestic flights. A list of airport lounges can be found here (in Chinese).
In any case I wouldn't get too fussed about the ancillary benefits given my goal is to just get $200 free cash. The online application interface only seems to allow you to apply for 1 supplementary card though, so I'm assuming you need to apply for the second one manually. Even if I only got $100 out of this promotion though, I'd still consider it good value for 10 minutes of work.
Now that I think about it, you have $50-$100 on your Visa and $50-$100 on your UnionPay card. The Visa isn't an issue, but you might be hard pressed to find where in Singapore you can use your UnionPay card. Here is a listing of merchants in Singapore that take UnionPay.
I've sent in my applications already, if you want to act on this you should do so soon.