I was invited by The Crowne Plaza Changi Airport for a complimentary one-night stay at their property. Breakfast was provided, but all other meals and transport costs were covered by me. I did not request a suitcase full of unmarked bills, and none was offered. 
---
In my quieter moments I sometimes imagine myself owning a bar in an airport hotel. The lighting will be soft, and the drinks will flow freely. Someone will play a soft jazz version of "As Time Goes By" on a baby grand while a Murakami-esque femme fatale sits in a corner, drinking herself into an inebriated oblivion.  A group of Japanese salarymen lurk in the shadows, sitting hushed over a flight of whiskey, and a lone (and potentially unreliable) narrator observes dryly the transitory comings and goings of every flotsam of society. The bar would be called "Limbo", a little nod to the fact that airport hotels sit at the juncture between coming and going, between arrivals and departures, between statehood and statelessness.
Perhaps I'm strange that way, but the concept of an airport hotel has always fascinated me. The idea of a hermetically-sealed  bubble that is neither airside nor landside evokes the idea of possibility; that one might climb out of bed, wade through a cacophony of gate change and boarding announcements before stepping onto a random jetway to Osaka, Cairo or Kampala. While rushing in and out of terminals I've cast many an envious glance at those lucky enough to reside in the airport hotel- the captains of industry who cannot waste a single minute commuting to the city, the movers and shakers of such great import that they can compel others to trek to the outskirts and meet them in a fluorescent-lit conference room bearing the name of some aviator long passed.
And now it was my turn to join them. As William Boyd said, "sometimes, limbo is a tolerable place to be stuck."
---
The genesis of this visit occurred about a week ago when I received an email from the marketing manager at the Crowne Plaza Changi Airport.
She explained that the property had just completed a major expansion and was looking for people to review their new Business Rooms. Because my site was one of the first links that appeared when she googled "Singapore hotel reviews blog", I was therefore deemed a worthy ambassador for her hotel's brand message. She extended an invitation for a one night stay at the property, to be consumed at my convenience. 
I was pleased. I knew all along that I had the potential to be a corporate shill, just that the opportunity simply hadn't yet presented itself. My mind conjured fleeting visions of quitting my daily employ and living a life of pampered, sponsored luxury. I would act like a tyrant, mercilessly extracting concessions and favors from cowering hoteliers in return for writing a kind word about their properties. The hospitality industry would loathe and fear my name. And before you say that's a far fetched, entitled, and horrible thing to do, consider the fact that such a program really exists, and weep for mankind.
I wondered aloud to my colleague whether the sacred trust bestowed to people in my position behooved me to take a neutral stance in such matters. He swore at me in perfect dialect and told me to take the stay.
---
Hilton would have you believe that they pioneered the concept of airport hotels all the way back in 1959 with the launch of the Hilton San Francisco Airport.  Regardless of whether or not you take that as gospel, it's probably safe to say that when Conrad Hilton opened the doors aesthetics were the last thing on his mind.
Airport hotels, you see, have never had the greatest reputation as architectural  marvels. The majority of them can be best described as giant concrete tissue boxes, great testaments to the Brutalist approach of function over form. The weary businessman would shuffle into his room in the evening and depart the morning after, in between his meetings in Phoenix and his wife and two and a half children in suburban San Francisco. It was doubtful anyone would ever sit back and gaze at the property in the harsh light of day.
Yet in the recent past commercial demands have necessitated a reinvention of what an airport hotel is, or can be. There are those who remark that the modern day airport is no different from a mall with an airstrip, given the abundance of dining, shopping and entertainment facilities you can find (Jewel Changi Airport will presumably take this movement to its logical conclusion). If we want to make airports community spaces where people voluntarily want to spend more time, it stands to reason that airport hotels need to up their game too.
We have seen some truly stunning airport hotels open in the last 10 years or so, from the Hilton Amsterdam Schiphol
To the Pullman Guangzhou Baiyun Airport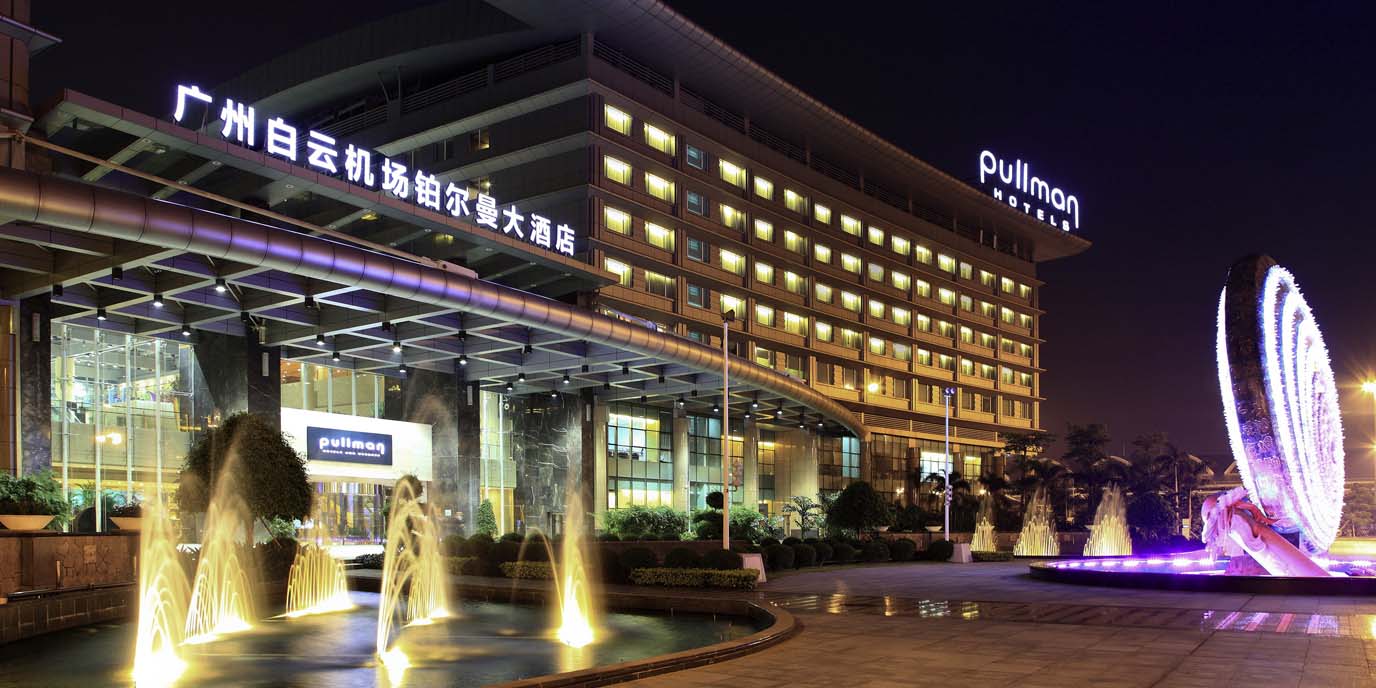 "New airport hotels have become destinations much like an urban downtown hotel or resort property by focusing on forward-thinking design, leisure amenities and outstanding culinary and beverage offerings," says Rob Palleschi, global head at Hilton Hotels and Resorts.
The Crowne Plaza, which opened along with Singapore's Terminal 3 in 2008, is squarely in line with this trend. Designed by local architectural firm WOHA (the same folks behind such architectural marvels such as the Park Royal on Pickering and Oasia Hotel Downtown) at a cost of US$60M, the building features eye-catching architecture, liberal use of greenery and an abundance of natural light.
The property recently underwent a significant expansion which increased its capacity from 320 in 2008 to 563 rooms today. That increase, in and of itself, is not newsworthy. After all, Changi Airport went from 37.7M passengers to 55.5M during the same period.
What is noteworthy is the manner in which the construction took place. The Crowne Plaza was the first private sector commercial project to use prefabricated prefinished volumetric construction, or PPVC. TL;DR, the rooms are built and furnished in Shanghai before being shipped over to Singapore in containers to be installed on-site. This method of construction is faster and minimizes on-site disruptions from building.
I do not generally consider myself to be a construction boffin, but the idea that the hotel was put together piece-by-piece like a Lego tower is fascinating in its own right. Jetlagged passengers step off their ten hour transpacific flights, shuffle like zombies through the aerobridge and collapse into bed in a room that took a leisurely five days cruise from Shanghai  to Singapore. There is something to be said about taking the long route.
---
Although official check-in was at 3pm, I arrived at the Crowne Plaza Changi Airport 90 minutes before that due to a combination of boredom at home and the promise of a 2pm hotel tour.
I stepped into the bright, naturally-lit lobby, disappointed that there was no RC-style welcome banner for my visit, nor someone to garland me and affirm my value. Perhaps it was time to re-examine quitting my job.
The lady at check-in was bright and cheerful. She thanked me for my loyalty to IHG, despite the fact that I had not made a single stay in over 3 years. She informed me that I would be eligible for a 2 p.m checkout by virtue of being an IHG Club member. One area where IHG does have an advantage over SPG is at the base level where it offers members extended check out where available.
I was also given 2 complimentary drink vouchers for use at the bar. I don't see this as one of the official benefits of IHG Club base level membership so I assume this is something the property does above and beyond.
My room was not yet ready at check-in, so I was directed to the business lounge, which is accessible to all those staying in Business or Club rooms.
The lounge is located on the 3rd floor along with the pool and gym. You gain access through your keycard.
Presumably someone had called ahead from downstairs because I was greeted by name and escorted to a seat. A limited selection of drinks is available during non-happy hours, including soft drinks, juices and a red or white wine.  The place was completely deserted when I was there, but it made for a nice place to sit down and get some work done.
There are also a couple of computer terminals and printing facilities available.
The lounge overlooks the pool, and although I'm not certain what exact path aircraft take on final approach to SIN, perhaps if you did the backstroke you might be lucky enough to catch the underbelly of a passing by A380.
I met Evelyn, my host and tour guide at 2pm in the lobby.
She was busy sorting out some paperwork at the front desk and getting a room ready for me.
As I waited I observed the digital signage in the lobby. Despite its out of the way location, the property evidently saw a good deal of wedding traffic. I wondered what the profile was of a couple who wanted to get married in an airport hotel. Perhaps they were both aviation fanatics, who met during a tight connection in Tokyo or an unexpected overnight delay in Delhi. Perhaps they bonded over a shared love of ATC chatter, Honeywell engines and thrust-to-weight ratios (giggity). Perhaps they almost broke up once over a fight about whether they had spotted a 767-300 or a 777-200 in the viewing area, him citing the presence of winglets, her the number of wheels at the base of each wing. Perhaps they just lived in Tampines.
It was stories like these that I originally wanted to write about instead of the usual "here is the bedroom, the pillows are comfortable. Here is the bathroom, the water is warm. Here is the breakfast, the food is yummy lol."-esque travel blogger review. In fact, when I was first approached about writing a review I had this idea that I'd be getting a behind-the-scenes look at the going ons of a hotel- a chance to speak to the chef and find out how his kitchen effectively caters to the eclectic tastes of passengers from Taiwan to Timbuktu, a chat with the General Manager to see how the property dealt with the 2010 Icelandic volcano eruption that shut down much of Europe's airspace and left many stranded at Changi, an opportunity to meet the indefatigable Belinda Thia, who in her sixties continues to spearhead the housekeeping operations and manage the supply chain for the housekeeping department at the Crowne Plaza. However, the preference was that I write more about the business amenities offered in the hotel and how the new extension was built. There will always be another time for stories, I guess.
In any case, this was my first ever sponsored staycation and as Evelyn and I greeted each other and made small talk I was deeply concerned that my lack of experience would show. Were there questions I should be asking? Was I supposed to have a big impressive camera with me? And was I supposed to namedrop other luminaries in my field so I sounded like a player?
If Evelyn found my questions amateurish, she certainly was gracious enough not to let on. I eventually felt confident enough to confess to her that I was, at heart, a Starwood man, which made her nod as if to acknowledge that no one was perfect.
The purpose of the tour was to show me the different types of rooms the property had as well as the facilities. We would start by viewing one of the suites, then one of their very popular runway rooms, before going over to the newly built annex and seeing the Business Room which would accommodate me for the night.
Our first stop was one of the suites which overlook the pool. These have a separate living and sleeping area
As well as a separate guest bathroom just off the main entrance.
The bedroom is similarly spacious with a separate area cut out for the wardrobe and dressing area.
And the bathroom features a sunken tub, shower and his and hers sinks.
You can see on the floor plan how the area compares to the regular rooms.
Having seen this, we then visited a runway room (In my excitement to see the planes I totally forgot to snap any photos of the room itself), which affords guests views of Terminal 3's apron.
We visited a room on the 3rd floor, hence the inferior quality of the photo. I imagine the view from much higher would be better. More importantly however, the room was as quiet as tomb. One of my major worries with airport hotels is the noise level. At the Sheraton LAX, the first room given to me overlooked the runway, with all the corresponding noise and festivities that went with it. The designers here must have done something right, because I had to strain to make out any runway noise.
The Business Rooms are located in a separate annex from the main building. The privacy comes at the price of convenience, however, because all the facilities like the pool, gym, lounge and restaurants are in the main building. Getting there involves traversing a long corridor that links the two.
My room was a Business King, measuring 28m2.
I figured I should probably show how the room can look with good lighting and a half-decent photographer-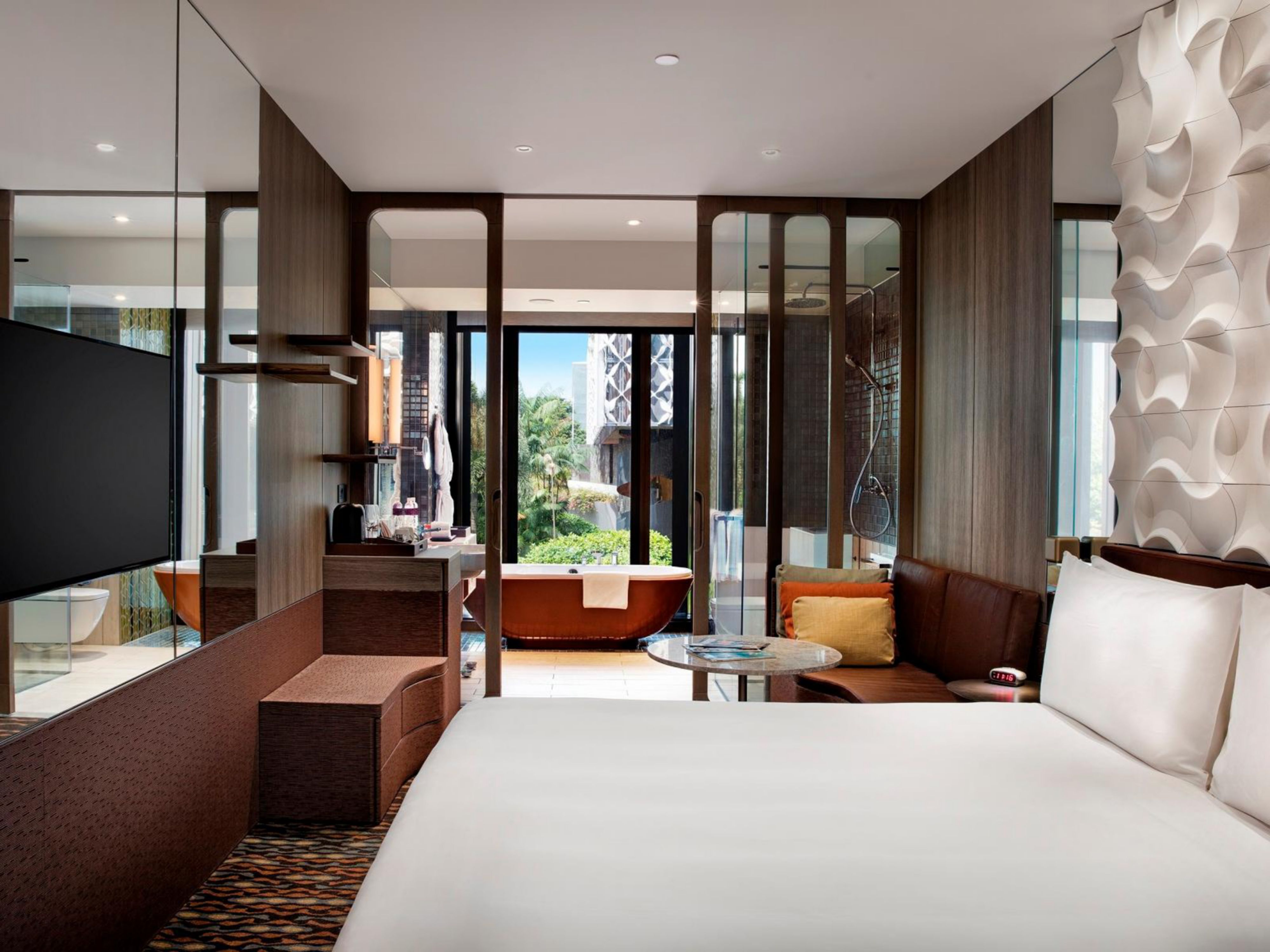 The first thing that struck me about the room was how long it was. Years of staying in cookie cutter Sheratons and Hiltons have convinced me that the standard layout of a room is a short entrance corridor with the bathroom on the left and the closet on the right, which branches into the main room where a King-sized bed is positioned on the left and a writing desk on the right. The rooms are more square shaped.
This room, on the other hand, was one long rectangle. You could sort of see the container shape that the PPVC method had resulted in, with the bathroom on the far end of the room. It was furnished tastefully and quiet enough to put a docent to shame.
It was at this point that Evelyn bid me farewell and expressed a hope that I would tag the hotel's official social media pages in whatever social media posts I made that weekend. I expressed a hope that I would one day learn how to use Instant-gram or the Twitter.  We parted on that note, me thoroughly embarrassed at my lack of social media acuity, her wondering whether she should simply have hired Xiaxue.
The room had numerous features I imagine business travelers would find useful-
In-room phone calls are usually a cash cow for most hotels, because its captive audience of business travelers typically don't think twice about dialing. I remember taking a conference call from my room at the Hong Kong Sheraton only to find out later that my phone bill was more than my room rate. In a rare departure from the nickle and diming approach most hotels take, Business Room guests at the Crowne Plaza can make free IDD calls to the UK, USA, France, Germany, China, Hong Kong, Australia, Indonesia, India, Thailand and Malaysia. That's a move in the right direction and I hope a lot more so-called business focused hotels follow suit.
Another feature that would appeal to both business and leisure travelers was the Handy phone, which gives free local calls and data. This service is provided by a third party, which I suppose earns money through the hotel and shopping recommendations it makes on its app.
I toyed around with the phone to see how it worked, noting wryly that "Singapore" was not available as one of the countries of residence.
Once set up, however, it provided plenty of recommendations and offers for Singapore.
The phone seemed to have full access to the whole range of essentials like Google Maps and Chrome, although you needed to access it from within the Handy interface.
Other business useful features included universal power plugs (a feature that so many business hotels somehow miss out on) and USB charging ports at the spacious work desk. The desk chair, so often a lowest bidder dealie in other hotels, was a Herman Miller ergonomic model here.  (I did, however, note that there were no bedside USB charging ports, which would have scored bonus points).
Inside one of the desk drawers was a safe
On the table was a spa menu. I opened only to discover that someone had either used it for writing practice or as a dead drop for espionage.
The treatment prices were all what you'd expect from a 5 Star hotel with a captive audience.
The minibar spread was your usual standard issue stuff. The trend of offering a raid the minibar perk that boutique hotels offer has not caught on in chains, unfortunately. I always thought of the minibar as sort of a missed opportunity by many hotels to send subtle signals about their quality. If I saw craft beers, sparkling ciders, artisanal potato chips and candy with quirky names in my minibar, I'd certainly be impressed. But then again, maybe I'm just very pretentious that way.
I wasn't prepared to pay minibar prices and intended to stock up at the supermarket in the terminal.
The cupboard in the corner had slippers, laundry bags and a bathrobe.
The bathroom was at the far end of the room, separated by a sliding glass panel.
Both tub and shower options were available. The view from the tub, however, was somewhat less inspiring.
I was glad that all the bathroom amenities were already provided by default and didn't necessitate a further call down to the front desk. An annoying trend at a lot of hotels is to have all the amenities available "on demand", a cost-cutting exercise disguised as environmental friendliness.
The toiletries used are by orla kiely, who/which I had not heard of until today. Some Googling told me that she is a fashion designer with a whole line of clothing, accessories and household products.
The bathroom didn't have a fancy space-age Japanese bidet, but it did have another cool feature- a Polymer Dispersed Liquid Crystal (PDLC) privacy smart glass panel. The easiest way of explaining that?
Before
After
All the magic controlled by this switch on the wall
It was 3pm by this time and I realised that I had not had lunch yet.
I pawed through the room service menu, vaguely aware that there were much cheaper dining options available in the terminal but tempering that knowledge with the fact that The Milelion's readers deserved to know how a $28 plate of chicken rice tastes.
The answer, which arrived 20 minutes later, was "perfectly passable".  It was certainly not the best interpretation of a national treasure that I had ever tasted, but pretty much par the course for hotel dining. The chili had a pleasant lime kick, the chicken tender and moist. The rice however, was hard and clumpy, and for $28 I thought a side portion of vegetables to assuage my diet busting guilt wouldn't have been too much to ask for. My underwhelming photos reaffirmed to me that I would never be a food blogger.
---
After lunch it was time to get back out there to explore the rest of the property.
There was a souvenir shop in the lobby manned by a sole Indian gentleman. It had the usual assortment of tchotchkes, the things you see so often you have to assume that someone is buying, yet can't quite figure out who. Perhaps it's the absentee father buying a selection of Merlion keychains, Singapore girl kerbayas and Batik patterned purses to assuage the guilt of his continuous absence. Perhaps it's the hipster who is buying a "Singapore is a Fine City" t-shirt, but doing so ironically so it's ok.
Elsewhere on the ground floor, a coffee lounge in the lobby offered a selection of cakes and other light bites.
There was also an Imperial Treasure restaurant which is and isn't part of the hotel. You can't charge items from here to your room.
A pushcart in the corner heralded the arrival of the Mid Autumn Festival.
And a departures board hinted at the possibilities that lay ahead.
A business centre can be found on the second floor, however it was closed when I visited. I'm not sure if it was just closed on the weekends or whether it wasn't ready yet.
By now it was time for Happy Hour in the lounge, which is served daily from 530pm-830pm.
The Hokkien Mee stood out in particular, lardy, rich and excellent.
A full alcohol selection was also available. Nothing sparkling, sadly.
I reckon you could have a proper meal in the lounge if you were so inclined and do away with dinner altogether. It certainly beat the happy hour spread in any US-based hotel. The service in the lounge continued to be impeccable, with the staff remembering my name and drink preference.
---
I invited my parents to the hotel that evening, if only to reassure them that this sponsored stay was not a clandestine effort at a tryst with a woman of ill-repute.
My parents surveyed my now messy room. My mother wondered aloud where I was hiding the girls (I was somewhat proud she used the plural not the singular). My father asked if he could take the slippers, and also where he could go back to watching the Olympic badminton.
We had dinner at the Paradise Dynasty in Terminal 3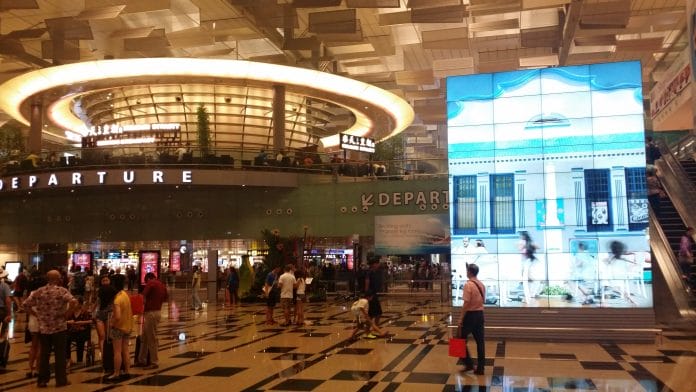 After dinner, it was back to the hotel and Bar 75 to use the complimentary drink coupons. You can access the hotel from the terminal from two different floors.
Bar 75 is the all purpose sports/lounge bar in the Crowne Plaza. I noted smugly that this airport bar was inferior to my own envisioned design.
A glass of Veuve Cliquot would set me back the princely sum of $34. I believe a 750ml bottle can be bought for less than $60 at Bottles & Bottles at One Raffles Place.
My drinks voucher only covered soft drinks, juices and either white or red wine. I had a lime juice in the end. It was undrinkably sweet, and upon asking the bartender I was told it was a premix. He was more than happy to make me a fresh one, which I then found to be too sour, but the fact that he was wiling to go through that trouble was sweet enough.
---
Having seen my parents off, I explored the basement of Terminal 3. Despite making no fewer than 30 trips through the airport last year, I had never once bothered to explore the sub-levels.
There is a wealth of potential dining options in the bowels of Terminal 3. I imagine the majority of patrons there had made the trek from exotic locales such as Tampines, Pasir Ris and Bedok.
There is also a well-stocked FairPrice Finest. This isn't your usual food desert style minimarket with only frozen and snack foods, this is a legitimate FairPrice outlet with fresh fruits and vegetables too. I often wonder who in the airport is struck with a sudden need to buy a bouquet of garlic or a head of lettuce, but I suppose that those who work in the airport can find it useful to pick up some (albeit more expensive) groceries on the way home.
There were also numerous retail shops pushing various well known brands.
Amidst this sea of shallow consumerism, I approached one of these brightly-lit kiosks believing that it would help me resolve the inner emptiness that lurked within me.
Unfortunately, when the camera panned out I realised the futility of my efforts.
My spirits crushed, I returned to the hotel to retire for the night.
---
I was happy to note that the blackout blinds really did what they said on the tin. If you're the sort who needs pitch blackness, and I really mean pitch blackness to sleep, you'll understand that blackout curtains rarely do the job simply because they flop around so much some light is still going to get through around the sides. Not so with blinds- these formed a perfect seal around the bathroom window, shutting out all light. Although the bed wasn't anywhere in the league of a Heavenly Bed, it was more than comfortable enough for a good night's sleep.
I awoke to a storm of biblical proportions the following Sunday morning. Business Room guest have two options for breakfast- in Azur or the lounge. I opted for the former because the spread is invariably bigger in the main restaurant.
There was a wide range of options available for both Western and Eastern tastes. The spread was definitely more towards comfort food than gourmet cuisine, but the average business traveler will probably find just what he or she wants.
For those rushing to catch a flight, there's always the Breakfast to Go option
The lounge was a much more pleasant experience for breakfast, perhaps owing to the fact I was the only guest when I visited.
The buffet is really a scaled down version of what is available in the main restaurant, and that's not necessarily a bad thing. I can't remember any club lounge in any hotel that has as extensive a spread as the main restaurant in the lobby.
The nicest addition to the spread is the presence of smoked salmon, which was missing in action from the buffet at Azur. You could also order eggs made to order
After breakfast it was time to pack up and leave. I checked my wardrobe one last time in the futile hope that the property had surreptitiously left a big wad of laundered money to curry my favor.
Instead I found only a thoughtfully-placed ironing board.
---
And with that, I completed my first ever sponsored stay. I honestly do not think I will ever have cause to stay in the Crowne Plaza Changi Airport at any point in my life. For those of you who will, the service in the lounge and the excellent quality of sleep are two particular standouts for me. There isn't a whole lot of choice around the airport area (although a Yotel will join the fray when Jewel finally completes construction in 2018 or so), but the Crowne Plaza excels at providing business travelers with a place to relax and recuperate.
Weekend rates at The Crowne Plaza hotel start at S$218 including taxes.