I stopped watching pro wrestling around 2001, so my references are going to be extremely dated. But reading the latest mailer from HSBC evoked memories of Kurt Angle turning heel and joining the Invasion.
The HSBC Advance card had, for many months, been my go-to for all things online and dining. With unlimited 10X points on both categories, my only regret was waiting so long to apply for it. 10X was never meant to be a permanent feature, but every time the expiry date came up it got renewed again and again, leading to some hope this would continue indefinitely.
Well, not anymore. HSBC Advance cardholders will be receiving the following in the mail (thanks very much to William for sending in these copies).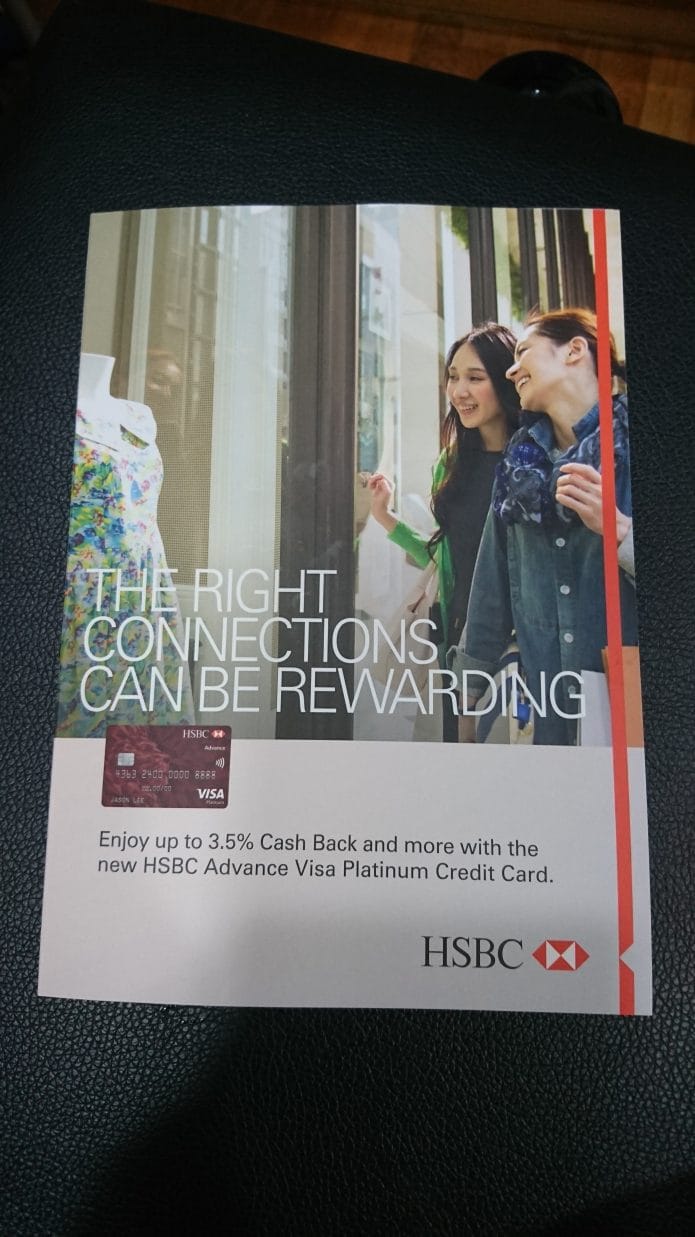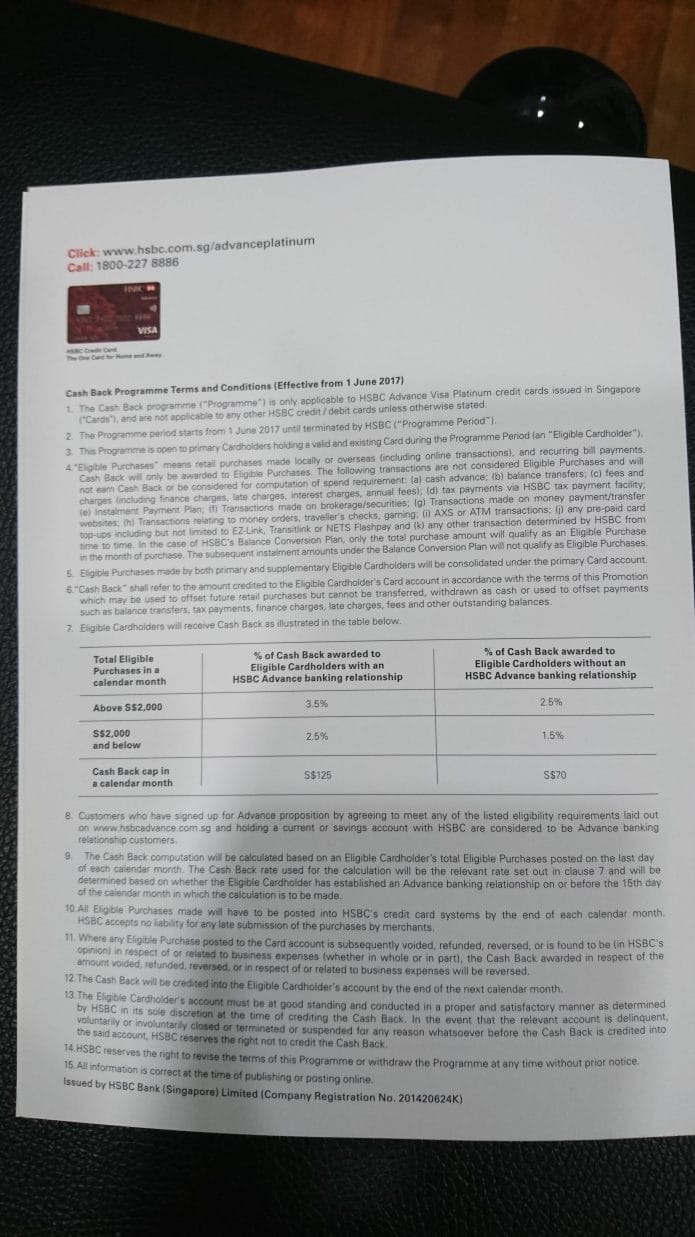 I'm going to give you the broad strokes for those of you who can't read that (you can click on the images to enlarge them)
(1) Effective 1 June 2017, the HSBC Advance becomes a cashback card earning 3.5% cashback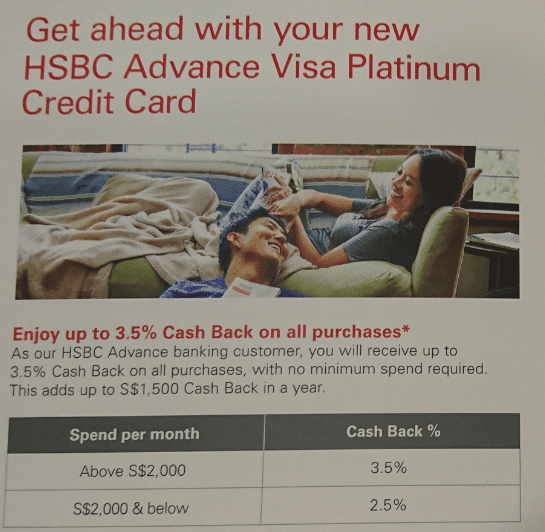 Yup. One of the best cards in existence is joining the dark side.
After 31 May 2017, you will no longer receive the promotional 10X points on dining and online spending.
From 1 June 2017, the card earns the regular rate of 1X on everything, or 0.4 mpd. (EDIT: 1X points is only till 30 June)
In addition to this, you will also earn cashback at the following rates-
For those of you with a HSBC Advance banking relationship (and I'm guessing you all do, since you need it to get a HSBC Advance card), you'll earn 3.5% cashback if you spend more than S$2,000 a month, otherwise you'll earn 2.5%
3.5% cashback on anything isn't, in and of itself, a bad thing. The best rate for a "general spending" cashback card (that is, a cashback card that offers a flat rate on all spending) is now 1.5%, offered by the SCB Unlimited Cashback and the AMEX True Cashback cards.
Of course, these have no caps, and the HSBC Advance cashback is capped at S$125 per month. A cap of S$125 a month implies that the cashback is maxed out with a monthly spend of S$3,571.
Fortunately, there continues to be no annual fee payable for the HSBC Advance. Because, like I've said many times, it makes completely no sense paying an annual fee for a cashback card.
(2) You need to cash out your available HSBC rewards points by 31 Aug 2017 unless you have another HSBC card that also earns rewards points
If you do not have another HSBC credit card that earns rewards points (eg the HSBC Revolution), you will need to convert your HSBC rewards points to miles by 31 Aug 2017. 
There is some time lag involved in the crediting of the 9X bonus points, but whatever hangovers from your May spending will have posted by 1 Aug 2017.
Remember that the conversion rate from points to miles is 5 points= 2 miles, and HSBC points can transfer either to Krisflyer or Asiamiles at the same rate.
(3) If you don't cash out your rewards points by 31 Aug 2017, they will be converted to cashback at a rate of 100 points= S$0.25
Again, this assumes you don't have another HSBC credit card that earns rewards points.
For us consumers, the generally accepted rate for buying miles through annual fees is no more than 2 cents per mile (although there are several credit cards that will let you buy closer to the 1.6-1.7 cpm mark)
But when banks buy miles in bulk from the airlines, they presumably get some sort of discount. How much that discount is, we don't know, but HSBC's valuation is perhaps is one of the most explicit statements of how banks value miles.
HSBC will convert your accumulated rewards points at a rate of 100 points= S$0.25. 100 points is 40 miles. This means HSBC is willing to pay you 0.625 cents per mile, and this forms the floor price for what they buy miles at.
Now, here are some questions you might be asking-
Couldn't they just have imposed a cap on 10X?
I've said from the start that awarding 4 mpd without limit is simply unsustainable from a financial point of view. A long time ago I had a sit down with someone in the cards team at a major local bank, and he showed me the math illustrating how they were bleeding money every time they had a 10X type promotion.
10X type promotions cannot exist in a vacuum- they need to drive some other sort of behavior, be it spending on a certain category (dining, shopping online), in a certain way (Paywave) or opening a certain account (Advance).
My guess is that HSBC's goal with the 10X Advance promotion was to drive enrolments in their Advance program, which is something like entry-level preferred banking. They probably intended to do cross selling of other financial products and build up their customer base. All those funds parked in low interest earning accounts couldn't have hurt either.
But now that objective has been met (or simply failed to be met for so long that they've given up), there's really no reason to continue 10X-ing, even with a cap. Why leave more money on the table than you have to?
So it would have been nice to see HSBC start to sunset this promotion by imposing a cap, but really the business case didn't work out for them.
Should I close my HSBC Advance account?
This seems a bit of a no-brainer to me. If HSBC stops the 10X promotion, I'm not going to have my funds sitting around in a virtually zero interest earning account (I mean, who would do that right). I will be transferring my funds out and closing my account once I get back to Singapore.
What card do I now use for online shopping?
Fortunately, there are other cards that can step in to fill the online shopping void. Any of the following should work
DBS Woman's World Card- 4 mpd, maximum S$2,000 per month
UOB Preferred Platinum Visa- 4 mpd, maximum S$12,000 a year
Citibank Rewards Card- 4 mpd, maximum S$12,000 a year
As with all expenditure, there will be a deluge of "will spending at XXX get 10X?" questions. Please refer to this spreadsheet which has put together a lot of the information you need.
P.S- I know there are some who will advocate using the Singpost Platinum Visa card that earns 7% cashback on online spending, capped at S$720 per year. You need to spend S$600 a month to earn the 7% rate. You already know my feelings on cashback cards, but if you think this works for you then by all means. He said, passive aggressively. 
What card do I now use for dining?
If you're got a UOB Preferred Platinum AMEX, carry on. If not, there has been a recently verified report of someone successfully applying for the card via the SMS method, so that seems to be your best option. On the other hand, a lot of other people who tried that have already been rejected so I wouldn't go in expecting to be approved. The Schrodinger's cat nature of the UOB PP Amex continues to fascinate me, I've really got to write something about that soon…
Otherwise, the HSBC Revolution gives 2 mpd for dining, online and entertainment spend, so it's a plausible choice if you don't have an alternative dining card and want to continue accumulating points with HSBC. Be sure to open your card before 31 Aug 2017 though, or you could see all your hard earned points get converted to cash…
Alternatively, the Maybank Horizon Visa Signature card will get you 3.2 mpd on dining both locally and overseas, as well as petrol and taxi fares.
Edit: Oh yes, the OCBC Voyage card offers 2.3 mpd on dining as well.
Conclusion
It's sad to see the HSBC Advance 10X go away, but opportunities come and go all the time. Let's be thankful for all the miles we earned while it lasted, and look forward to the next big thing.