Introduction: It's the most wonderful time of the year
A Tale of Two Lounges: SATS Premier T2 and the Qantas SIN Lounge
Malaysia Airlines B737 Business Class SIN-KUL
Malaysia Airlines Business Class Golden Lounge KUL
Malaysia Airlines A330  Business Class KUL-NRT
Japan Airlines Business Class Sakura Lounge NRT
Japan Airlines B77W Business Class NRT-LAX
The Westin LAX
The Westin Westminster
Aloft Boston Seaport
The Consolidated AA Domestic First Class Experience
American Airlines Flagship Lounge JFK
American Airlines B772 Business Class JFK-LHR
American Airlines Arrivals Lounge LHR
The Great Northern Hotel, London
Sheraton Grand Park Lane, London
Westin Paris Vendome
Courtyard by Marriott Madrid Princesa
Four Points by Sheraton Barcelona Diagonal
The Consolidated Intra-Europe Business Class Experience
Sheraton Casablanca
Royal Air Maroc Business Class Lounge CMN
Royal Air Maroc B737 Business Class CMN-ACC
Ethiopian Airlines B787 Business Class ACC-ADD
Ethiopian Airlines Cloud 9 Business Class Lounge ADD
Ethiopian Airlines Q400 Business Class ADD-DAR
Protea Hotel by Marriott Dar Es Salaam Courtyard
Qatar Airways A320 Business Class DAR-DOH
Qatar Airways Al Safwa First Class Lounge DOH
Qatar Airways A330 "First" Class DOH-MCT
Oman Air Business Class Lounge, MCT
Oman Air E175 Business Class MCT-DXB
The Grosvenor House Dubai
W Doha
Qatar Airways Business Class Lounge DOH
Qatar Airways B772 Business Class DOH-BLR
The Ritz Carlton Bangalore
Vistara A320 Business Class BLR-DEL
Cathay Pacific A330 Business Class DEL-HKG
Cathay Pacific Arrivals Lounge HKG
W Hong Kong
Touring Cathay Pacific's HKG Lounges
Cathay Pacific A350 Business Class HKG-SIN
---
We had a one night stopover in LAX before heading over to Denver on Sunday afternoon. If you're flying with Oneworld, Denver is surprisingly inaccessible from Singapore and requires a minimum of two stops (one stop access is possible with Star Alliance via Lufthansa in Frankfurt).
EDIT: It is possible to access Denver through Oneworld (BA in particular) with one stop in LHR
I had previously reviewed the Sheraton Gateway LAX the last time I was in LA, so I decided to give the Westin LAX a go this time round. The Westin LAX is actually slightly further from the airport than the Sheraton, but what that really means is an additional 5 minutes in a cab (or in one of the free shuttle buses)
Let's be clear that neither property is going to be winning hotel of the year anytime soon. They're both very old (Westin LAX: 1986, Sheraton LAX: 1981), and although both have received renovations since opening (Westin LAX: 2010, Sheraton LAX: 2006), you'd be hard pressed to tell from the exteriors.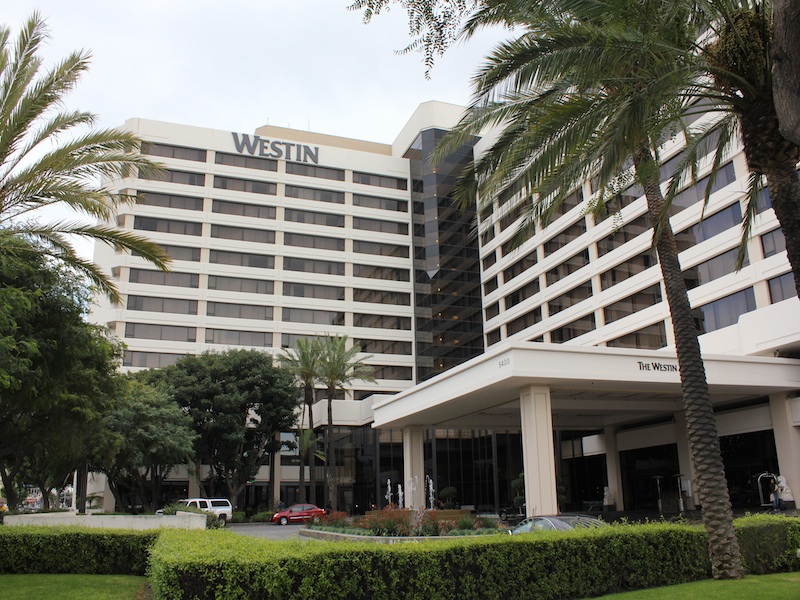 Nonetheless, it was just for one night and all I really needed was a place to sleep while we explored a bit of LA. And at US$160 a night all in, it was hard to go wrong.
There's nothing really exciting about the Westin LAX. It's best to think of it as a functional, clean airport hotel. As you might expect, it's frequented by air crews (I counted no fewer than 5 different airlines, proud at my ability to tell cabin crew outfits apart)
The lobby is spacious, I presume to deal with the large inflow of guests that happens during peak check in and out times. I also spotted conference facilities. Nothing says business like a conference at an airport hotel.
The main restaurant in the hotel is in the lobby. I did not partake.
Check in was smooth (I like how most American hotels have turned check ins and outs to non-events. Most of the times when I check out at a US hotel we're done in less than 10 seconds. Asian properties, however, need to run through a whole checklist of items including radioing someone to go to your room to make sure you've not purloined any items) and I was upgraded to a Club Room.
Club Room upgrades are par the course for US-based SPG properties, where suite upgrades are close to unheard of. I find Asian properties a lot more generous with the suite upgrades, on the other hand. Since Club Rooms had breakfast included by virtue of being able to access the club lounge, I opted for the 500 points as the welcome gift.
The room is as standard as any airport hotel room will ever be, so just a quick tour will suffice.
The bed is, thankfully, a Westin Heavenly Bed. I have been debating long and hard about buying one for my own home.
There's a spacious work desk that has winning features like dedicated USB charging ports. No universal plugs though, which is disappointing for a hotel ostensibly targeted at business travelers. Are universal plug heads that hard to install? Or is it more of a voltage issue, and hotels don't want to be held accountable for things like that. Hmmm.
Lounge chair by the window, with suspicious stains on upholstery.
Flat screen TV came standard, along with 100+ channels of solid American entertainment. You haven't lived till you've seen Here Comes Honey Boo Boo. Wouldn't it be crazy if some reality TV star one day ran for president? I'm just being silly now.
The bathroom reminded me of the type where Walt and Jesse dissolve bodies.
Fun fact kids, Mythbusters already took care of this
Westin seems to have a new line of toiletries, or at least updated the packaging of the existing ones. I think that the Westin and Sheraton have major branding issues when it comes to toiletries, it's such a missed opportunity for some upscale cosmetics brand to step in and get a huge business traveler reach.
The room overlooked the great urban sprawl that was LA.
The soundproofing they had done on the rooms was impressive, and even a light sleeper such as myself didn't get bothered by any of the passing jets. In fact, I overslept and missed breakfast in the lounge, which ended at 10am. I got in just as they were clearing the food, but from what I saw it was the usual assortment of fruit, cereals and two token hot items, nuked scrambled eggs and bacon.
At the end of the day, the Westin LAX is nothing more than a transit spot where you spend a night. If you get your expectations right heading in, you won't be too disappointed.