Trip Planning: Hacking the SQ Waitlist
Singapore Airlines Ground Experience and The Private Room
Singapore Airlines SIN MEL 777-300ER First Class Review
Singapore Airlines SilverKris First Class Lounge MEL Review
Singapore Airlines MEL SIN A380 Suites Review
---
By now, everyone should know that when making First (or Business, for that matter) Class redemptions on SQ, you have to pay special attention to the type of aircraft servicing your route. If it is Suites you want, be sure to check if you'd be flying on the A380, as the 77Ws fly the run of the mill First Class product which I reviewed previously. For greater detail, Aaron recently wrote an excellent, comprehensive article on how to find out what hardware you'd be flying on by looking at the type of aircraft / seatmap.
Choosing the correct seat may be important, but when flying premium on SQ it is equally important to remember that it always makes for a better experience to fly ex-SIN. If you only have enough miles for one, precious First Class leg, make sure you do it right. This report is perhaps a case in point as to how the ground experience can be very mediocre when you're not flying out of a carrier's hub.
The First Class experience is every bit about the product and service on the ground as it is in-flight. A seat can only go as flat as, well, flat. There are only that many airline seat designers out there, and if you read enough trip reports, the various hard products start to appear repetitive. On the other hand, the potential for product differentiation in the ground experience is limitless. The Lufthansa First Class Terminal in Frankfurt and the Air France First Class lounge in Paris are 2 legendary lounges I've been dreaming of experiencing for a long time. Emirates provides free 2 way airport limousine transfers for their First class passengers, and they are really stepping up the quality of their home lounges.
While we gripe about The Private Room and the First Class check in Lounge at T3 in Singapore not matching up the world's best, it really is not too shabby. That's especially the case when comparing to some of the lounges at less illustrious airports. I guess that's part of the reason why there seems to be less First / Suites Class awards ex-SIN than if you're looking at the inbound leg (this is purely anecdotal; I don't have any spreadsheets to share for this one!). Even in planning for this trip, getting my pair of Suites awards on the inbound was never an issue, whereas on the outbound the A380 flight was totally out, and I had to waitlist to confirm F tickets on a 77W.
There are 4-5 daily direct flights to and fro MEL depending on the day, and this route is one of the more confusing ones as it operates almost every type of aircraft SQ has, with the exception of the B777-200. I am not kidding. There is one A380 route and another run by the A350, 2 which feature the B77W, and sometimes a random sad one operated by a regional A330. The metal does seem to vary a little, so do your due diligence! The A380 usually runs SQ217/218, and that was what I had booked my family on.
SQ218 departs MEL at 1am though, and while we may have had the double bed to look forward to, it still creates a logistical nightmare when travelling with a kid. We take for granted Changi's almost 24-7 operations and the convenience it allows; check-in only opens 3 hours prior to flight departure in Melbourne, and that's typically the case for most other airports as well.
Will they make an exception for First Class passengers, you ask? Well, I've tried, the answer is No.
The time from hotel checkout at noon to check-in at 10pm seemed like an eternity, and after spending 10 hours entertaining our daughter at various locations in Melbourne City and the Airport, we couldn't wait to get to the lounge for a little peace and quiet where we hoped she would finally be able to fall asleep.
Passengers started arriving at the check-in counters around 9pm, and by the time they were about to open there was a sizable queue formed. The counter staff did make a show of getting us up to the F counter before they even opened the Business and Economy counters. It mainly made me feel like a douchebag though as about 50 people watched as we checked in (or maybe it didn't – I actually liked it).
Anxious to get to the lounge (and having explored every last nook and cranny ground-side MEL had to offer), we immediately proceeded through immigration and headed to the SilverKris lounge.
There was a little renovation going on around the airport, so the transit area seemed even more cramped than usual, with various areas boarded up and sparse seating options. I was glad to have a little corner to myself. I was soon going to find out how little it was.
There was a nifty little floor plan of the lounge floor, which shows you the relative sizes of the lounges. I thought that I would be able to give the Air New Zealand lounge a visit as well, but sadly the lounges only open for a few hours prior to the respective airlines' flights, and the NZ one was closed for the night. Qantas naturally had the biggest lounge, followed by Air NZ. The SilverKris lounge came in third in size before the MH one and a very sad looking CX. Even then, considering that most of the flights SQ operates to MEL are on large aircraft (77W and 388s), don't expect it to be very private. It was certainly that way for my flight, which was on the largest plane which services this route. I briefly popped by the Business side of the SilverKris lounge and it was totally packed. There were even people standing around without seats. I didn't manage to take a photo as I was too busy running back to the relative sanctuary of First Class.
The First Class section is towards the left just after the counter, and you walk down a narrow corridor where there is a very small snooze room with a rather uncomfortable looking couch, and a working station with some computers but seemed to be doubling up as a wheelchair parking facility.
The entire room is divided into a sit down dining area which reminds me of IKEA's cafeteria, and a larger lounging area with a variety of seats. The buffet spread was just to the side of the dining area, and… that's about it. Oh wait. The loo is down the little corridor you can see just distal to the buffet area.
It is a perfectly functional area, and considering that this is meant to serve at most 12 passengers (only for the 388 flight), it's really not that bad. We were served by a most charming caucasian lady, who seemed a little taken aback that we arrived so soon after check-in opened but quickly got everything in order. She was charming and attentive throughout our time in the lounge and tried her best in accommodating all our requests, especially for our daughter's various needs.
The buffet was small and frankly, not very appetising. There was the usual selection of soft drinks and alcohol, with some cold cuts in the chiller. There was a coffee machine as well, but in the end the only thing I took was the ice cream.
There was an a la carte menu though, which featured mostly Asian options.
It made no sense to sit at the dining area to eat when the lounge chairs looked infinitely more comfortable, so we looked for a nice corner to settle into. Even when the rest of the Suites passengers arrived, none of them chose to eat at the dining area.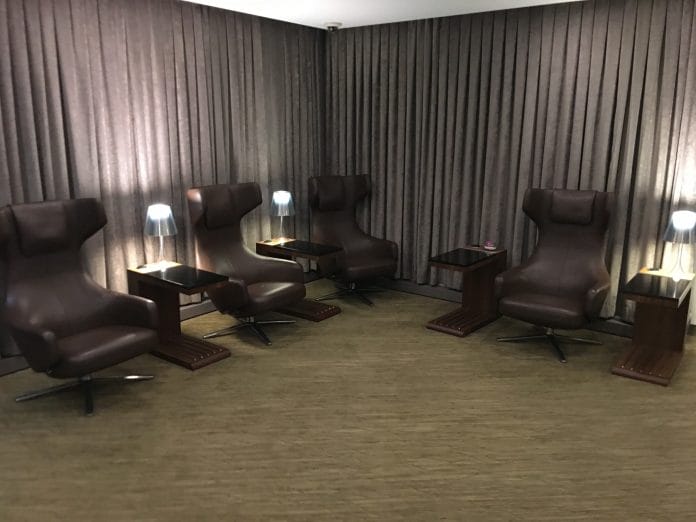 Having only had some cold sandwiches earlier in the evening, we quickly coaxed our daughter to sleep and then ordered the Signature Laksa Noodle, rather promisingly labelled as 'First Class Exclusive', as well as the Sweet and Sour Chicken with Rice.
I must say, this was a perfectly reasonable bowl of Laksa. Nothing to complain about. Maybe it was the lack of Asian food for the past 10 days, but both my wife and I thought it was pretty good. The Sweet and Sour Chicken was average at best.
Oh and of course, the highlight of every lounge review, the loos.
There was also a single shower room available, which was smaller than a HDB toilet and featured a sharps container with a biohazard warning sign, which I'm pretty sure was for insulin-dependant diabetics who need to dispose of their needles safely. One less thing to worry about!
I must say though, even in the shower room of a non-hub SilverKris lounge, they have the decency to provide some 'branded' amenities.
I certainly haven't heard of VIVE – Fig and Almond Milk, and for all your know maybe it's just plain ol' Dettol in those dispensers, but surely that looks more presentable that what is offered in the epitome of luxury SQ can muster in the exclusive Private Room, that lounge within a lounge within a lounge: Soap and Shampoo by random Label Printer.
We really couldn't wait for our flight to board, and in this case we quickly got our stuff and left for the plane once the staff told us the flight was boarding.
If I haven't made my point clear enough, your point of departure matters a great deal to your overall experience when making premium award redemptions. While availability is usually easier to find inbound to Singapore, if you have to make a choice, wait out for an ex-SIN leg. That being said, the in-flight SQ Suites / First experience is still a great and consistent experience in luxury and service standards, and even though this was another red-eye, my family thoroughly enjoyed the flight home with the crew of SQ218. The last installment of this small series will be up soon!