DBS has launched its annual spend and redeem promotion for Christmas 2017. From now till 31 December, spend a minimum of $100 in a single receipt with your DBS/POSB credit or debit cards and you'll be eligible for a sure-win gift. You'll need to download the DBS Lifestyle app and follow the instructions below:
Presumably, if I had a big ticket expenditure I'd get the cashier to break it up into intervals of $100 to give myself more plays. The prizes on offer look decent, and hey, it doesn't cost you anything to participate.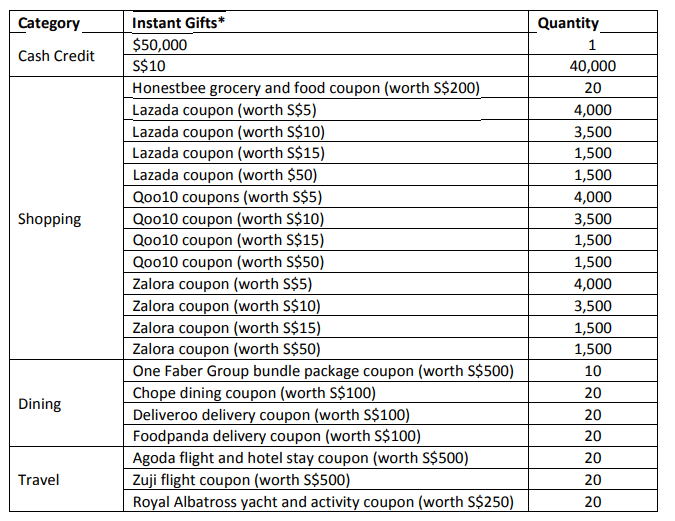 There are 1,400 prizes to be won each day and each cardmember can play up to 6 times per day. The full T&C can be found here, and I'd recommend you have a read of it because it goes into details about the T&C that accompany each gift. What I am pleased to note is that the Qoo10, Zalora, Lazada etc coupons on offer are real gifts, not "valid with a min spend of $XX" gifts (ahem ahem)
The app interface looks simple enough to use. I imagine you should be able to enter this immediately after making your spend assuming DBS's back end is all synced up, but if not it you'll need to do it within 6 calendar days from date of spend.
It's important to note the following payments do not qualify for this promotion:
payments made via telephone or mail order;
payments to government institutions
payments to financial institutions (including banks and brokerages)
payments to insurance companies
bill payments (including utility)
donations
payment of funds to prepaid accounts and merchants who are categorized as "payment service providers" and/or "online payment gateway". For example, MoneySend, Skrill.com,Matchmove.com, SmoovPay;
payments to educational institutions, hospitals, professional service providers
payment for parking lots
payments made via online banking
payments made via AXS and SAM
EZLink transactions (including Bus and MRT rides)
betting (including lottery tickets, casino gaming chips, off-track betting, and wagers at race tracks)through any channel;
NETS transactions;
balance transfers, cash advance, My Preferred Payment Plan, Installment Payment Plan and any fees and charges (including annual fees, interest charges, cheque processing fees, administrative fees, cash advance fees, finance charges and/or late payment charges and other miscellaneous fees and charges);
unposted/cancelled/disputed/refunded transactions;
any other transactions determined by DBS from time to time
Let's see what the other banks have to offer!
Thanks to TI for the tip.