The Philly Pho Fare: Trip Planning
Cathay Pacific Business Class Lounge Terminal 4 SIN
Vietnam Airlines A321 Economy SIN-HAN
Qatar Airways B77W Business Class HAN-DOH
Qatar Airways A350 Business Class DOH-PHL
Aloft Philadelphia Downtown
Exploring Philly
British Airways Business Class Lounge PHL
Qatar Airways A350 Business Class PHL-DOH
Qatar Airways Arrivals Lounge DOH
Qatar Airways Complimentary Doha Stopover Package (Westin Doha)
Qatar Airways Al Mourjan Business Class Lounge DOH
Vietnam Airlines Business Class Lounge HAN
Silk Air B737 Business Class HAN-SIN
---
Back in July Qatar Airways listed some ~US$700 business class return fares to the USA out of Vietnam on their site. These "pho fares", as they're now referred to, were taken down after a few hours, but not before I snagged a return business class trip to Philadelphia from Hanoi for the princely sum of US$683. There was some uncertainty in the days that ensued about whether the fares would be honored, but in the end they were and that's why I'm now packing my bags for the City of Brotherly Love.
I'd never been to Philly before (despite studying in what is euphemistically referred to as the Wharton of the East), but it's a city I've always wanted to visit. I've an unhealthy interest in American colonial history, and the opportunity to see sites like the Liberty Bell, Independence Hall, Carpenters' Hall and the Betsy Ross House should help me better understand the entire concept of manifest destiny and why America was, like, so much better before they started letting immigrants in. Wait, what?
Flights
To position myself to Hanoi with sufficient time to make my connecting flight to Doha, I bought a cheap one-way Vietnam Airlines ticket for S$167. I don't anticipate there'll be much to write home about this flight, suffice to say that a narrow body economy flight is a narrow body economy flight.
What is interesting, however, is that Vietnam Airlines is now operating out of Singapore's spanking new Terminal 4. I didn't manage to get tickets for the open house, so this will be my first time stepping into what's supposed to be a test bed for Terminal 5. Self check-in and bag drop, automated immigration, centralized security screening, having to walk through the duty free to get to the gates…
I don't have any status with Skyteam (and it appears there are no Priority Pass lounges in T4 as of right now), but I reached out to the Cathay Pacific team to see if they'd let me do a review of their new Terminal 4 lounge and they obliged. The initial publicity photos look great, so I'm really looking forward to seeing it firsthand.
For HAN-DOH (with a technical stop in BKK), I was originally supposed to be on an A330 but there's been an equipment swap and the flight will now be operated by one of Qatar's 77Ws. Unfortunately, these won't be the new QSuite ones (QSuites only operates to London and Paris as of now), but the older lie flat product, which you can see on the RHS of the photo below. On the LHS is the A330 business class product, which I hold to be much nicer than the old 77W one.
For DOH-PHL I have a 14 hour flight on Qatar's A350, which Lucky on OMAAT calls "the best business class in the world."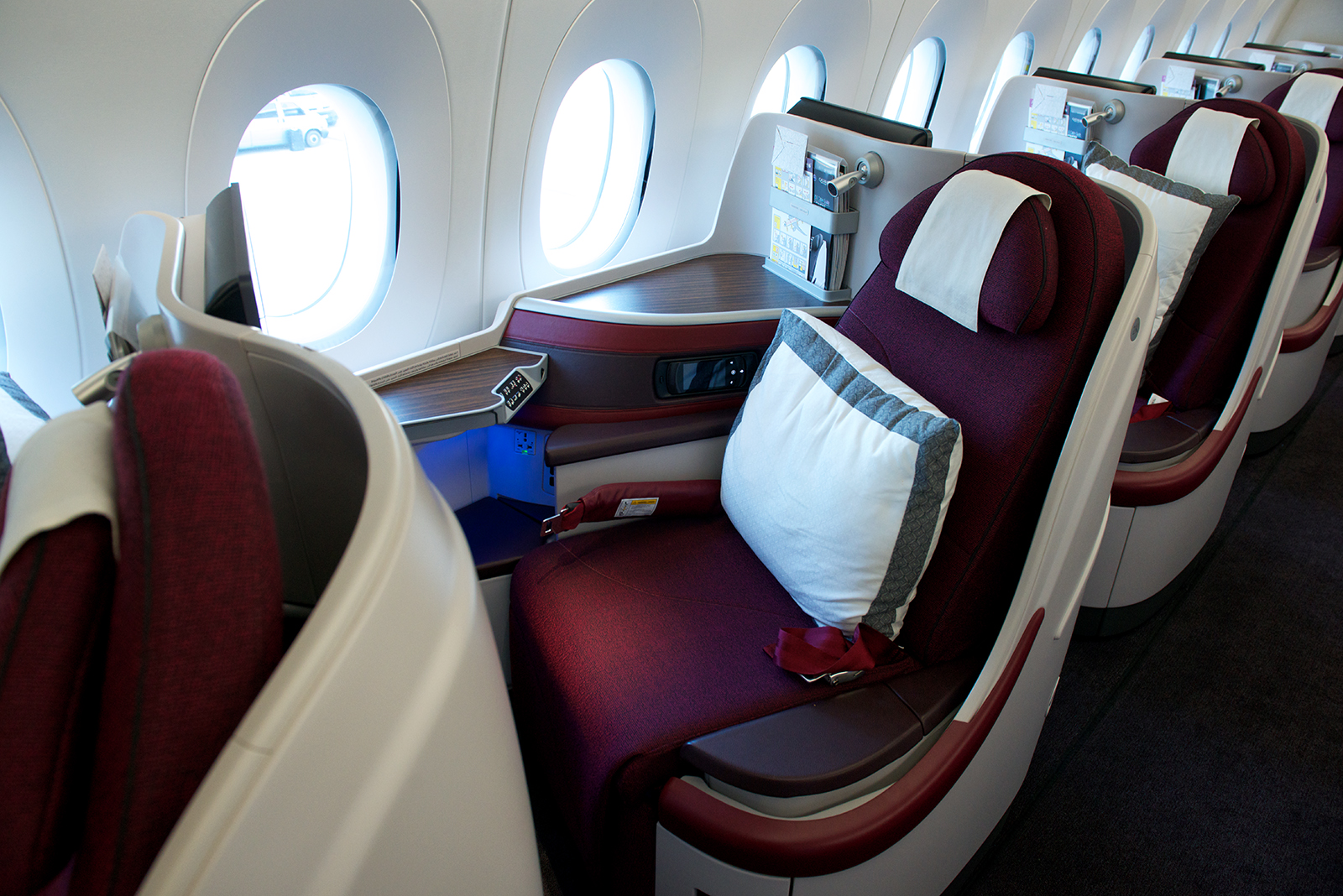 I'm really struggling to see why though because based on first impressions, the seat looks way too exposed to the aisle. Moreover, the cabin doesn't look anywhere as private or luxurious as SQ's business class and I've had mixed experiences with Qatar's inflight catering, but I'll reserve further judgment until after I've tried the product.
On the return trip I've redeemed an award ticket on Silkair to get from HAN back to SIN. I was hoping this route would receive Silkair's new 737-MAX 8 with a new and improved business class, but no luck. The route is still operated with an older 737-8. I've actually never sat in Silkair's business class before, so it'll be an interesting experience nonetheless.
Hotels
My selection of accommodation is a little more straightforward. I'm using my AirBnB credit for the majority of the trip, but on the day I arrive I'm going to stay at the Aloft Philadelphia Downtown and use my Your24 benefit.
I wrote about this in my article about requalifying for Starwood Platinum status, but to recap: Your24 is an extremely useful benefit (when approved) that lets you guarantee an early check-in. It's particularly useful when you arrive on an early morning flight. In my case, I land at PHL at 7.45am and will probably reach the hotel within an hour (thanks to my trusty Global Entry which means virtually zero wait at immigration).
I don't fancy being asked to store my luggage and go wander around the city half asleep, so knowing that my room will be ready is an invaluable benefit to me. I put my check-in time as 9am, and although 24 hours from that is technically 9am the following day, Starwood lets you still select a 4pm checkout the following day so long as your check in is after 9am (but if you checked-in at, say, 3am, you'd have to check out by 3am the next day).
The hotel is a recent addition to Philadelphia and only opened in September. Revenue rates for the property were about US$140 all in, which I held to be more worth it than paying 10,000 points for a Category 4 redemption. I chose an opening promotional rate that gave me 1,000 bonus Starpoints, plus an additional 500 with SPG's Q4 promo.
On the return leg to Singapore I have a 19 hour layover in Doha, so I'm eligible for a free hotel under the Qatar Airways +Qatar program aka PlusQatar (this is not the same as the STPC- I would not be eligible for a complimentary STPC as my base fare was too low).

There was an extensive list of hotels to choose from, all of which were free. You could add a second night for US$100.
I ended up picking the Westin Doha. I know I probably won't earn any points because this is a complimentary stay, but it seemed to be the best option available. Note that the selection of hotels available to you will differ depending on whether you're flying economy or business class.
To Do
Philadelphia is a highly historic city, as I mentioned in the intro. I'll share with you the full itinerary in the trip report, but also need to remind myself to watch Rocky before I go to Philly. It's always been on my to watch list, but given the centrality of the city to the movie I'm sure it'd enhance the experience.
I'm really looking forward to visiting the Reading Terminal Market, which is basically the Chelsea Market from New York on steroids. Some of the best food in Philly can be found here, so expect a detailed report on that. There are other great restaurants in Philly I'm hoping to try, especially the fabled Pizzeria Beddia (warning, autoplay music) which has no phone and only makes 40 pizzas a day.
I've just realized that I will be in the States during Black Friday. It has always been my dream to line up at Walmart at the opening bell for Black Friday and be trampled by a bunch of fat old ladies riding personal mobility scooters. I'm in the market for a new laptop and am on the fence about buying an Android Wear watch, so those are items I'll be on the lookout for.
That's the Philadephia gameplan. Can't wait.