Everyone reading this should know that getting an award seat on the flight you so wish to be on is much harder than winning a $2 Million Toto draw (Disclaimer : we do not condone monetary gambling, only award flight gambling). Snagging that prized seat on a prime time flight definitely deserves popping open of a bottle of champagne (Krug 2004 or Dom Perignon would of course be the champagne of choice).
However, more often than not, we'll be staring and weeping at this screen when performing an award flight search :
The dreaded waitlist. Disrupting your grand plan to have a 15 day European holiday as you're now forced to fly out of Singapore on an "off-peak" day such as Monday (or Sunday), thus shortening the time spend truly holidaying.
Heading over to Asia Miles, the situation is improved in a sense that well, there are still flights but they still get you into London at night , losing a day (this is for a Friday departure) : 
The forgotten child
Enter SkyTeam, the third (and always forgotten) airline alliance. Interestingly, SkyTeam is a "larger" alliance than OneWorld, having 20 member airlines compared to OneWorld's 13. Notable SkyTeam members include Air France, Delta, KLM, China Southern, China Eastern, China Airlines and Garuda Indonesia.
I won't discuss much about the SkyTeam program in detail today but I'll cover it in a separate post probably. Instead, let's focus on award flights.
For us here in Singapore who don't really accrue miles through flights on SkyTeam, you'd be glad to know that Citibank is a transfer partner to Garuda Indonesia Garuda Miles as well as Air France Flying Blue. They can be earned via the Citibank PremierMiles card, Citi Prestige as well as the Citibank Rewards card. (the latter 2 are earned in Citi Dollar)
For us here with American Express cards, American Express is a transfer partner of China Airlines Dynasty Flyer program. Membership rewards points can be earned via the American Express Rewards and Platinum range of cards.
Mileage requirements for common routes
For the purpose of this article, I'll be basing my research off the Flying Blue program. Their search engine is actually quite easy to use, and shows flights from most if not all of their partner airlines. Interestingly, Copa Airlines, Malaysia Airlines and Japan Airlines flights can be redeemed via the Flying Blue program. However, this must be done via the phone through their agents. The miles requirement for a flight to Japan is rather high though. At 50,000 Flying Blue miles one-way. That's an additional 7,000 miles compared to booking with Singapore Airlines.
While searching through Flying Blue for award flights for the purpose of this article, I've noticed that you will be assured of a seat on whichever date you choose at their Classic award level, which is supposed to be on par with SQ's Saver reward tier.
I've compiled a short list below of common routes that are always in high demand (mainly long haul) comparing the 3 different frequent flyer programs from the 3 alliances. Note that the figures represent a Business Class redemption.
| | | | |
| --- | --- | --- | --- |
| Route/Program | KrisFlyer | Asia Miles | Flying Blue |
| SIN-LHR | 170,000 | 145,000 | 200,000 |
| | | | |
| SIN-LAX | 176,000 | 160,000 | 200,000 |
| | | | |
| SIN-NRT | 86,000 | 80,000 | 100,000 |
| | | | |
| SIN-JFK | 184,000 | 145,000 | 200,000 |
Note for Flying Blue, they generally charge a flat rate of 100,000 miles for a one-way redemption on Business for a long haul flight (i.e Asia to Europe, Asia to USA). Taxes are relatively affordable as well and varies by carrier. China Airlines charges quite low taxes from New York :
While if you were to fly with China Eastern for instance, the taxes paid is quite a big jump :
Also, if you did not get the chance to book yourself on a flight during Garuda's 90% off promotion, you can route via Jakarta to fly to Amsterdam (although yes, they do fly 3X a week to Amsterdam via SIN) to try out their Business Class on their 777-300ER. I've personally flown it and can declare that it's a decent product, for both the hard and soft product. Their oxtail soup was awesome.
Worth paying the premium?
Seeing that the cost for redeeming miles through the Flying Blue program is much higher than both KrisFlyer and Asia Miles, I think some value can still be found. For starters, you'll know that on whichever date you choose, there would definitely be award space bookable online. If you're flying on peak period, forking out the extra miles to guarantee yourself a redemption seat doesn't sound all too bad.
I know what you might be thinking now.
"China Airlines? You gotta be kidding me".
Recently, the chinese airlines have been upping their game. China Airlines 777-300ER which flies mainly to the US out of Taipei, features a sexy Business Class cabin.
They are using the reverse herringbone seats, similar to that on Cathay Pacific and Eva Air. Ben from One Mile At A Time had some good things to say about his flight on China Airlines. I mean, check out the snack bar, beautiful :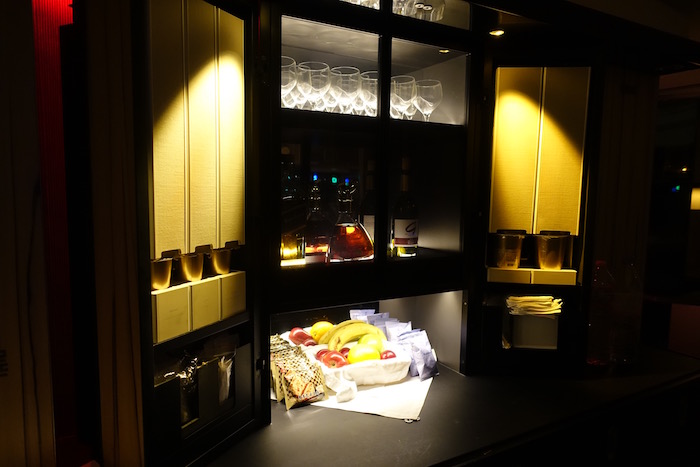 Also, if you've been wanting to try out Delta Airlines new Delta One suites on their A350 aircraft, you could do so from Amsterdam to Detroit. That would set you back another 62,500 miles one-way.
A video tour of the new @Delta One Suite (business class) on the @Airbus A350. 👍👍 #DeltaA350Day pic.twitter.com/Xvj86v3QoB

— Zach Honig (@ZachHonig) October 18, 2017
(Video Credits : Zach Honig's Twitter)
Bottom Line
Although the redemption of miles on Flying Blue costs more than both KrisFlyer and Asia Miles, there is an assurance that comes from searching for space with SkyTeam while knowing you're almost guaranteed an award seat on the preferred day that you've chosen to fly on. Also, you would also get to try other great hard and soft products instead of the mundane products of SQ and CX most of the time.
Now if only I had the money to fund a 2 week holiday in Los Angeles…