(I stayed at this property in Jun 2017, shortly after it opened. With the recent interest in the Hilton/Visa Gold fast track promotion, I thought it'd only make sense to document what's on the other end of the price spectrum, for local Hilton properties, from Conrad Centennial Singapore.)
Back in 2017, when I'd first heard that a Hilton Garden Inn would be opening in Singapore, I was rather intrigued that cheaper accommodation in the Hilton family would finally be available here. When award stays became available at 10,000 points (about US$50 value), I quickly made a reservation to check it out for myself.
(Unfortunately, award stays were repriced to 20,000 points closer to the opening, in case you were thinking of doing the same…)
The initial few posts in the FlyerTalk thread make a big deal of its supposedly unfavourable location – without tackling the probably racist sentiment (though there's much to be said there) it's worth noting that the property is located in Little India, making it easy to check out the ethnic enclave's wares and food options. It also has many migrant workers in the area, especially over the weekend when crowds will likely make claustrophobics uncomfortable. Overall, it's still relatively centrally located, with Little India MRT just a short walk away.
Personally, I rather enjoyed exploring the area, which I found to be a rather refreshing change from my usual haunts.
Checking in
Check in took forever (about 30min, perhaps?). I'm not sure if it was because it was still around the first week of operation, but the front desk staff didn't seem that certain of how to navigate the system. Hopefully, systems have improved since then.
On the plus side, the check in area was relatively bright and cheery.
Just round the corner from the front desk was a little unmanned shop – I'm guessing you take what you want and get it charged to your room at the front desk.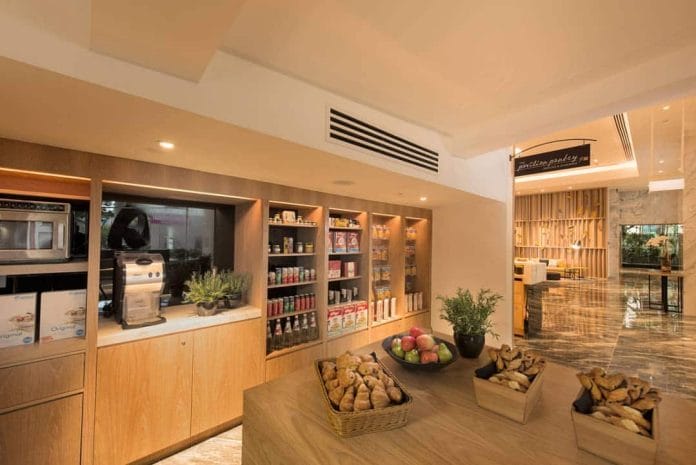 Perhaps because of how long the process took, I got a one-class upgrade to a King Deluxe room (from the basic King Guest room) – the front desk officer was quick to remind that it was not standard policy for HGIs to give status upgrades. As far as I can tell, they aren't really all that different – the only difference in the descriptions on the website seems to be that the Deluxe room has a racecourse view. Yay?
Even the floor plan doesn't seem to indicate much difference in room size; I wouldn't be surprised if the bulk of the rooms are pretty much identical (though the 16th floor rooms are supposed to come with balconies).
The Room
The room itself was nice enough, especially being a new property. Everything looked spick and span – I'd have been surprised (and displeased) if it was anything else after just a few days of operation. The bed was pretty comfortable. Approved.
Other than that, it was decently equipped, as a mid-priced non-luxury hotel might be. I'd received complimentary bottled water (something I wish more hotels provided) and a Hilton Honors welcome card..
The room was equipped with an open closet, safe, mini-fridge and a rather basic pantry (no Nespresso machines here).
Bedroom slippers were provided, but with almost laughably thin soles.
New hotels also come with new toilets. New, clean toilets. It's pretty functional, with a small single sink and a shower. But it was clean.
You might have noticed that I enjoy clean toilets. Hope they're able to maintain that state of cleanliness for some years to come, at least!
A number of seating options with a small work desk, cushioned bay window and another window-side seat.
…also allowing you to comfortably take in that 'deluxe' (room) racecourse view.
Connectivity was pretty good. Having the modern traveller in mind, the rooms come equipped with plenty of electrical points – the wall plugs even allow you to plug USB cables in directly.
Wonder what will happen as USB-C becomes more common, though?
I also appreciated how easy it was to connect personal devices via HDMI to the room TV.
Breakfast
Breakfast is complimentary for Gold/Diamond members if you select it as a MyWay benefit (as opposed to getting points for the stay). Do remember to select it before checking in, if that's your preference.
It's served at the poolside restaurant, so we got to check out the pool despite it not being open yet, at the time of the stay.
There's a rather large range of food available for breakfast, especially considering that it wasn't quite a full-service hotel. I'll let the pictures do most of the talking.
All in all, it makes for a pretty tasty breakfast.
Other facilities
On the way out I snapped a picture of the hotel gym located on the ground floor. I can't say I have personal experience, but it looked perfectly pleasant and functional.
Though I didn't get to make use of the pool, official pictures look pretty cool.
Conclusion
A very respectable low/mid-range property if you don't have any reservations about the location (personally, I don't think you should), especially if you qualify for complimentary breakfast with Hilton Gold/Diamond.
I probably wouldn't stay again (20,000 points is still very affordable, but I'd rather save up for other purposes), but would consider for mattress runs or hosting foreign friends, should the need ever arise.
It's certainly worth considering if you need nights to qualify for a fast track / status match challenge, especially if you have limited time to spare. If you'd like to support the site when making a reservation, just access the hotel booking page via this link!
Purchases made through any of the links in this article generate a referral commission that supports the running of The MileLion.