[We were invited by Conrad Centennial Singapore to review their recently-rejuvenated rooms. The following review is Louis's personal experience. The Conrad Centennial Singapore is offering a special rate for hotel stays and its soon-to-be-launched weekend afternoon tea for Milelion readers. Be sure to scroll down to the end of this post for these offers!]
Conrad Centennial Singapore announced the completion of its rooms rejuvenation project on 12 February 2018, comprising the redesign of 511 guest rooms and suites. I thought this was great news – while I've stayed at the property a fair number of times in the past, there was a growing sense that it was starting to show its age.
After spending one night on the property, I'm happy to say that with this rejuvenation, it feels practically brand new. Whether you're looking for a staycation option or a place to put up a visitor from aboard, Conrad Centennial Singapore is a pretty solid choice, especially if you're keen on making the most of your Hilton Gold/Diamond benefits (perhaps gained via the Visa fast track offer).
Location
Conrad Centennial Singapore is located beside Millenia Walk (they share carpark space), near a number of malls and hotels and the Marina Bay area, with plenty of tourist attractions in the vicinity.
Even for locals, tourist attractions aren't all bad – nearby free options such as Gardens by the Bay can be rather enjoyable, especially if you don't usually get to visit them. Besides, there's also a fair amount of dining options in the area (perhaps a good opportunity to make use of HSBC Entertainer deals).
Checking in
Enter the hotel lobby and your attention is likely to be drawn to the striking red sculpture in its centre. After years of knowing next to nothing about it, I finally checked with a member of staff who shared its name (Turbulence), also pointing out that it's paired with the golden sculpture hanging from the ceiling, with concentric rings around both sculptures creating a ripple-like effect.
The check-in desk wasn't too crowded, and though I'd recently sworn to make use of lounge check-in where available, I decided to just get it done on the spot. Thankfully, with trademark Singaporean efficiency, the process was completed within a few short minutes.
For this stay I received access to the Club on level 31 – the hotel currently operates two lounges (more on this later), and I documented the offerings at both during the course of my stay.
The room
The Executive room shares the same 40 sq. m./430 sq. ft layout as the standard (Deluxe) room, though located on a higher floor (mine was on level 28) and paired with executive level benefits (similar to the Club benefits detailed above, but for the Executive Lounge on level 4).
For the rejuvenation project, the hotel tapped on the expertise of acclaimed interior designer, Jaya Ibrahim Design, which had also worked on other projects such as Capella Singapore. The refreshed layout replaces the old work desk and armchair setup with a movable table and a full-length day bed.
If you're looking for new Conrad bears to add to your collection, you should know that the bear I received during this stay is differently coloured from the previous iterations.
The Conrad brand is known for offering guests an extensive range of pillows to choose from – I was curious, but figured I'd just stick with the (excellent) default ones already on the bed. Maybe on my next visit…
The property has clearly taken feedback regarding the lack of power points to heart – what used to be the sole source of power in the room has now been supplemented by bedside power/USB plugs, along with two more nearer the TV.
I really enjoy the addition of the day beds – rather reminiscent of the ones in Conrad Tokyo, they offer great flexibility in allowing guests to sit, sprawl, or anything in between.
A shout out to my favourite hotel slippers in the world – Conrad Centennial Singapore continues to provide the fluffiest ones I've ever had the opportunity to use.
All this came together to provide a conducive working environment when doing the prep work for this post.
If you'd like to make use of a larger screen (whether for work or for play), there's always the 55-inch HDTV mounted on the wall. I was pleased to note that unlike its predecessor, it's a lot easier to access the HDMI ports of the updated TV set on the rear right (you'll need to swivel the TV in order to get to them).
If you're tired of looking at screens, you can also look out the expansive windows to take in the sights outside. The view from my room probably wasn't the best on the property, but you can still take in quite a bit of the cityscape.
Beside the entrance to the bathroom is the minibar area, where guests can help themselves to complimentary Nespresso coffee, tea, and (charged) minibar items.
For the bathroom, the main change would be the replacement of the old round counters (and single sinks) with a new rectangular counter featuring dual sinks. No more waiting for your partner to finish brushing their teeth before you get to use the sink!
The default bath amenity provided has been changed to Shanghai Tang, though Temple Spa and Refinery products are also available upon request.
Every room now features a bathtub, which would be an upgrade for the basic rooms since (as I recall) the old Classic rooms did not come with one.
The classic yellow duck remains, with bath salts now pre-packaged and sealed instead of coming in a glass container. I prefer the new format, since that reduces the chance of contamination before you even get to use it.
Breakfast (restaurant)
Guests enjoying club/executive benefits, or with Hilton Gold/Diamond status, are able to enjoy complimentary buffet breakfast at Oscar's.
I'll let the pictures tell the story – suffice to say, I really appreciate the range and quality of food on offer at Oscar's, so much so that I've always opted to have breakfast here instead of the lounge when staying here.
You can get eggs cooked to order here. (Not pictured – a noodle station to the right, where you can do the same for noodle dishes.)
A tale of two lounges
One topic that has generated quite a bit of buzz on FlyerTalk has been the fact that Conrad Centennial Singapore is currently operating two lounges. I chatted with a member of staff about this, who shared that the property receives a significant number of Hilton Honors Diamond members on a daily basis, thus the original lounge on Level 31 was often operating beyond capacity.
To address this, the property committed to continue operating the current Level 4 Executive Lounge, which acted temporarily as the property's sole lounge while the Level 31 lounge was undergoing refurbishment. Now that the Level 31 lounge (now designated as the Club) has been renovated, Conrad Centennial Singapore will continue to operate both lounges in order to better manage guest load.
In practice, this presents the tricky situation where you have the nicer, recently refurbished Club on a higher floor… and another lounge on the fourth floor, beside the swimming pool. Though I found the food offerings to be comparable, the Level 4 Executive Lounge was significantly more crowded than the Level 31 Club.
On its own merits, the Executive Lounge is pretty decent – if I were new to the property, I think I'd be pretty satisfied with it. For guests used to accessing the old Level 31 lounge, though, I can see why it would feel like a downgrade.
The Level 4 Executive Lounge is due for upgrading and renovation later this year, though, so hopefully the disparity will be evened out somewhat after that!
Access guidelines
The dual lounge system is still relatively new, and I imagine adjustments would likely be made in order to optimise the use of both lounges, but as of now the guidelines for who gets to access what are as follows:
Executive Lounge (Level 4): For guests booking Executive rooms, Hilton Honors Diamond members, as well as Hilton Honors Gold members booking at least Premium rooms.
The Club (Level 31): For guests booking suites, as well as Hilton Honors Diamond and Gold members booking at least an Executive room.
Executive Lounge (Level 4)
The Level 4 Executive Lounge was used as the temporary replacement lounge while the old Level 31 lounge was undergoing renovations. Located by the pool, it continues to provide a family-friendly area for guests to relax/work. The decor doesn't look quite as chic as the Level 31 Club – hopefully the upcoming renovation will remedy that!
Breakfast
As is common in most properties, the lounge breakfast offers a smaller variety of food options in a less frenetic environment as compared to the restaurant breakfast. It's still pretty extensive, outdoing a fair number of restaurant breakfasts I've had abroad (especially in the US).
I was especially impressed by the egg station they had in the lounge – there's a chef on standby to prepare your orders on demand.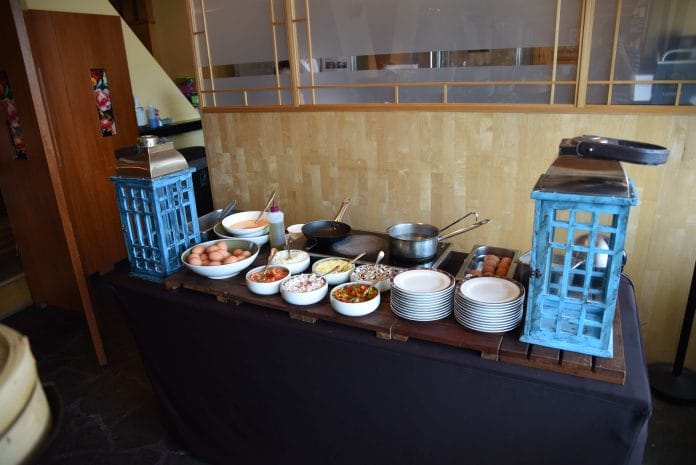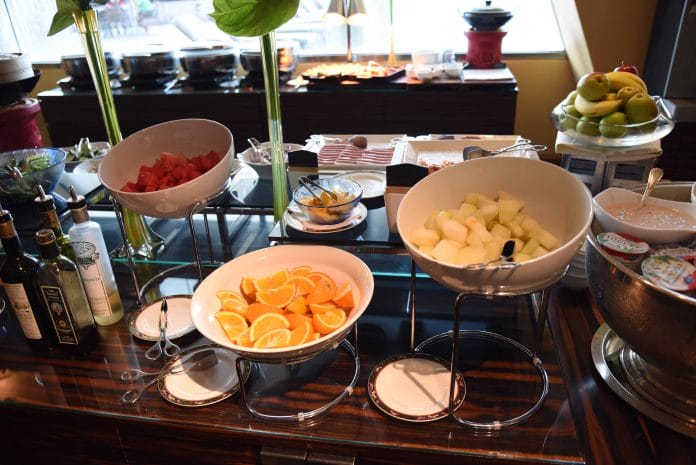 I found the crowd at breakfast to be relatively light – this was not the case during afternoon tea and evening drinks, though.
Afternoon tea
I came to the Executive Lounge relatively late for afternoon tea, and found many of the dishes to be almost empty – I attribute that to having a larger crowd being able to access the lounge.
Still, it's not like any of the dishes were totally empty – I could have quite easily helped myself to whatever was left.
Evening drinks
I felt the same way about the evening drinks and hors d'oeuvres – the food itself was comparable enough, but the increased crowd and corresponding effect on the amount of food left in trays did detract from the experience.
Still, objectively speaking I'd say that there was a pretty impressive range of snacks on offer.
The Club (Level 31)
Finally, we get to the Club on Level 31. I don't have great pictures of how it used to look, but the change in decor and choice of furniture has definitely given it a more modern, Asian feel (the overall theme for the entire property, really).
The lounge used to have several annexes that had previously served as overflow rooms, or sometimes for families with young children. These have been refreshed as well and continue to functional as additional capacity for the lounge, though I find that they've become more organically incorporated now.
Breakfast
I found this rather similar to what was on offer at the Level 4 Executive Lounge, except with even fewer people competing with the food options. Food offerings weren't completely identical (e.g. I don't think I saw baked tomatoes in the Executive Lounge or even the restaurant), but I wouldn't really say the quality of food was significantly different.
Afternoon tea
There were many overlaps in the offerings available here as compared to the Executive Lounge – the availability of the chilled shelves here allowed the cold dishes to be stored and presented rather differently, though.
Scones are are staple of afternoon tea in the property's lounges.
Evening drinks
As with afternoon tea, the selection of evening drinks and hors d'oeuvres was comparable to what was being served at the Executive Lounge, with great overlaps in the items served.
Gotta admit though, even the style of presentation gives it a different feel.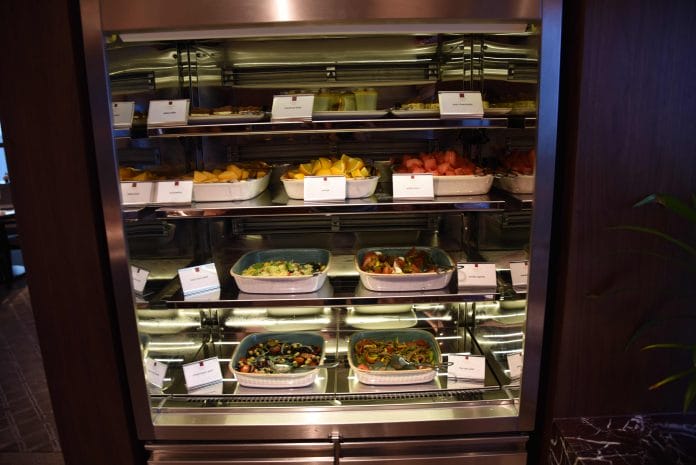 Facilities
Once you've stuffed yourself silly with all that food, you might want to venture out to make use of the other hotel facilities and get some exercise. The swimming pool and gym are both located on Level 4, pretty much beside the Executive Lounge.
The hotel spa is also located in the same area. Both the spa and gym are due for a refresh sometime later this year; alternative arrangements will likely be provided for guests when this is going on.
Weekend afternoon tea (Lobby Lounge)
As part of my stay, I got the chance to get a sneak peek (taste) of the upcoming Weekend Afternoon Tea at Lobby Lounge, one of the property's dining establishments.
You begin the experience by choosing your beverage – you'll get to ask for refills, or simply choose another beverage, along the way.
The Weekend Afternoon Tea was designed to replace the buffet experience and allow you to enjoy many of the highlights of a seafood or dessert buffet without having to leave your table.
I found that they achieved this goal really well – despite not having had lunch, I was stuffed by the time the cheese platter arrived. None of the items served was a dud – I enjoyed every single one of them.
The quality, quantity and range of food served were all excellent. Those with smaller appetites could probably get away with sharing the meal (with additional beverages ordered a la carte).
"You know," I mused to The Wife, "I think I'd actually be willing to pay full price for this!" Thankfully, Milelion readers won't need to, having been invited to enjoy a 15% discount (more on this below).
Conclusion
With the completion of their  rooms rejuvenation project, giving their rooms a modern feel with an Asian twist, Conrad Centennial Singapore has greatly increased its attractiveness to would-be guests. As I've stated earlier – whether you're looking for a staycation option or a place to put up a visitor from aboard, Conrad Centennial Singapore is a pretty solid choice, especially if you're keen on making the most of your Hilton Gold/Diamond benefits.
Special offers
For the readers of the Milelion, Conrad Centennial Singapore has made available the following special offers:
$380++ for Executive room weekend stays (with Club access and S$75 F&B credit) – Mention 'SG75' when making reservations by email at

[email protected]

or by phone at +65 64327192 to access this special rate for Friday, Saturday and Sunday bookings. This rate guarantees access to the Level 31 Club as well as $75 F&B credit that can be used at the property's outlets during the stay. Rooms are subject to availability. This offer is applicable until Sunday, 2 Sep.
15% off Weekend Afternoon Tea at Lobby Lounge – Mention "Milelion" when making reservations by phone at +65 64327357 and get 15% off your total bill! Valid for bookings from 19 May to 1 July 2018.
These offers cannot be used in conjunction with other promotions, offers, discounts or vouchers, so unfortunately you won't be able to make use of both of them at the same time.
(Featured image from Conrad Centennial Singapore)