Regular readers should be familiar with redeeming both Singapore Airlines awards as well as awards on Star Alliance partners. But did you know that combining the two can create some unique opportunities?
No, I don't mean redeeming a Star Alliance award where SQ is one of the carriers flown (because that'd just price as a Star Alliance award, end of story). I mean redeeming two separate awards– one from the Singapore Airlines award chart, and one from the Star Alliance award chart, and using them on a single journey. This can help achieve cheaper awards on selected routes than purely using one award chart alone.
Still with me? Here's how to combine two separate tickets from two separate award charts to unlock greater value:
Singapore to Europe for 70,000 miles in business class
If you fly direct on Singapore Airlines, Singapore to Europe awards cost 85,000 miles for one-way business class. Combining the Singapore Airlines and Star Alliance partner charts can help you get this same itinerary for 70,000 miles.
How? First, note how Singapore Airlines has great award pricing for flights on its own metal between Singapore and Zone 10: Africa, Middle East and Turkey. The one-way cost of these flights is 45,000 miles in Business Class, as shown below.
Second, note how the KrisFlyer Star Alliance chart has great pricing for flights between Europe and the Middle East, North Africa region. One-way business class costs just 25,000 miles.
I hope you see where I'm going here. 45,000 miles will put you on an SQ flight to either Dubai or Istanbul. If you fly to Dubai, you can catch a Lufthansa or SWISS flight to FRA or ZRH. If you fly to Istanbul, you can access any of Turkish Airlines' many European destinations. I've shown a sample of them below, but there are many more.
Lufthansa operates an A330 between DXB and FRA, which has seats configured in a 2-2-2 configuration. Not the most comfortable, but hey, 5 Star Airline, amirite?
Turkish Airlines operates a mixture of aircraft between IST and the rest of Europe, so it's hard to say for sure what you'll get. You may get lucky and get a flat-bed equipped B777 or A330…
Or you might be less lucky and get a standard recliner-equipped narrowbody aircraft.
Or you may be really unlucky and get an all economy narrowbody aircraft with a middle seat blocked off.
Have a read of TPG's article from 2016 which highlights some routes where widebody aircraft are used.
This trick does not work for economy class tickets, however, as Singapore to Europe on SQ metal costs 38,000 miles. This is less than combining a Singapore to Middle East (25,000 miles) and a Middle East to Europe (17,500 miles) ticket.
Singapore to South America for 90,000 miles in business class
Singapore Airlines used to fly to Sao Paulo via Barcelona, a grueling journey of 24h 45 mins that I've made several times in economy. The route was cancelled in October 2016 due to weak demand. Since then, your only option for getting to South America is via the Star Alliance partner award chart at 67.5K/110K miles for one-way economy/business.
But did you know that you can fly this route for only 42.5K/90K miles in economy/business class?
Again, we'll be taking advantage of SQ's generous redemption rates from Singapore to Zone 10. You redeem a one-way business class flight from SIN-JNB for 45,000 miles, and then fly from JNB-GRU on South African Airways for a further 45,000 miles. That's 90,000 miles in total.
Singapore Airlines operates its spanking new A350 aircraft on the SIN-JNB route, with the full-flat 2013 business class product.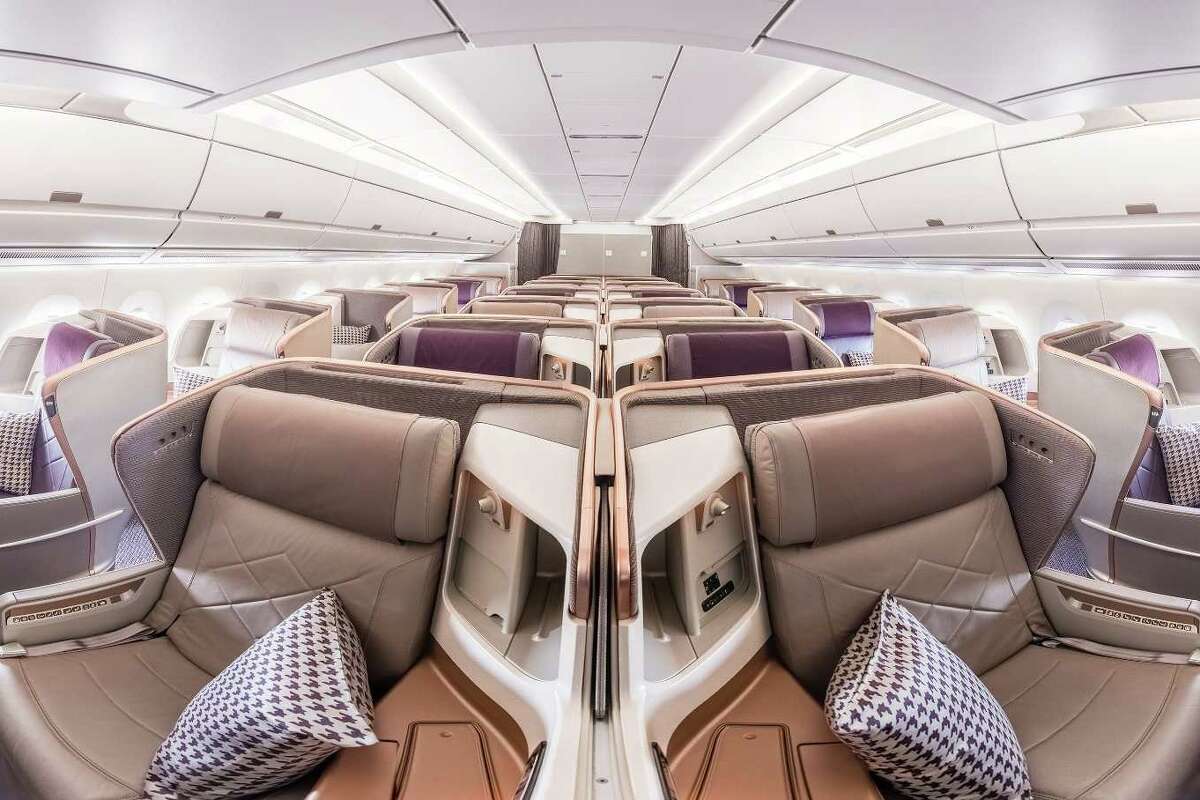 South African Airways, unfortunately, doesn't have the most aspirational of business class products out there. JNB-GRU is operated by A330-200 aircraft which have sort-of flat seats in business class.
In case you're wondering- no, you won't be able to access any other destinations in South America ex-JNB apart from GRU. SAA used to fly to GIG and EZE, but those routes have since been cancelled.
Another option is to fly SIN-ADD on Ethiopian Airlines business class for 55,000 miles and then take ADD-GRU-EZE for 45,000 miles. The savings here are a bit more marginal at 100,000 miles versus 110,000, but at least you get to visit Argentina as well as Brazil.
Ethiopian operates its B787 aircraft between ADD and GRU (and then onwards to EZE). These are very new aircraft, although unfortunately Ethiopian has put fairly underwhelming 2-2-2 seats on them.
What should I be aware of?
Singapore Airlines does not charge fuel surcharges on SQ-operated award tickets, but will pass on partner fuel surcharges to KrisFlyer members.
Here's how that affects the comparison in the first example of Singapore to Europe
Fly SQ all the way: SIN-FRA in Business Class – 85,000 miles + S$47.30
Fly SQ then transfer to *A partner: SIN-IST/IST-FRA in Business Class- 45,000 miles + S$47.30 / 25,000 miles + S$92.50= 70,000 miles + S$139.80
I'd say in this case the 15,000 miles saved more than make up for the difference in surcharges.
And here's the second example of Singapore to South America.
Fly SQ, then transfer to *A partner: SIN-JNB/JNB-GRU in Business Class- 45,000 miles + S$47.30/ 45,000 miles + S$344.64= 90,000 miles + S$391.94
Fly *A partner all the way: SIN-ADD/ADD-GRU in Business Class- 55,000 miles + S$194.60/ 45,000 miles + S$303.93= 100,000 miles + S$498.53
The other issue to consider is transit times and connections. You're booking two separate tickets, but since both flights are operated by Star Alliance carriers, you'll be able to check your luggage through to your final destination. You will however need to leave sufficient time between your flights (check out the minimum connecting time for the airport you're transiting in).
This is less of an issue for South America, in the sense that you'd need to make a connection anyway. If your end goal is Europe, you need to weigh the additional time take in transit versus the miles savings.
Learn more tricks like this at Advanced KrisFlyer
If you found this article useful, why not join us at Advanced KrisFlyer, where we'll cover tips like this and more! During this workshop, we'll discuss round the world awards, partner sweet spots, complex itineraries and other good stuff. Early bird tickets still available for a limited time: