The Milelion's RTW Trip 2016: Trip Planning
Introduction: Around the world in 28 days
EVA Air B77W Business Class Singapore to Taipei
EVA Air B77W Business Class Taipei to Los Angeles
Silvercar LAX
Avenue of the Arts Costa Mesa
Sheraton Gateway Los Angeles
United A319 First Class Los Angeles to Mexico City
Le Meridien Mexico City
United A319 First Class Mexico City to Houston
United B767 Business Class Houston to Sao Paulo
Sheraton Sao Paulo WTC
South African Airways A330  Business Class Sao Paulo to Johannesburg
Hilton Sandton
Ten Bompas Johannesburg
Turkish Airlines A330 Business Class Johannesburg to Istanbul
Turkish Airlines A319 Business Class Istanbul to Zagreb
Westin Zagreb
Croatia Airlines A319 Business Class Zagreb to Frankfurt
Lufthansa First Class Terminal Frankfurt
Lufthansa A330 First Class Frankfurt to Riyadh
Four Points Riyadh
Air India B77W Business Class Riyadh to Mumbai
St Regis Mumbai
ANA B787 Business Class Mumbai to Tokyo
Asiana A330 Business Class Tokyo to Seoul
Westin Chosun Seoul
W Walkerhill Seoul
Asiana B744 Business Class Seoul to Tokyo
ANA B787 Business Class Tokyo to Singapore
---
During the last giveaway The Milelion ran, many readers mentioned that they'd like to read reviews from more exotic airlines rather than the usual Asian carriers. This RTW trip has been a fantastic opportunity to try many new Star Alliance products, and today I'm going to look at South African Airways (SAA)'s long haul business class product.
SAA uses Sao Paulo's spanking new Terminal 3. Construction had been planned since 2001 but for a myriad of reasons (read: corruption) only started in 2011. Terminal 3 was completed in 2014 for about US$300M and is used predominantly by Star Alliance carriers. This means that Star Alliance saw fit to build an exclusive Star Alliance lounge in GRU, which we'll get to in a bit.
The SAA check-in desks are in Row H of Terminal 3. Having used the old GRU terminal before I have to say that this is such a refreshing change. The terminal is bright, modern and spacious.
There were automated check-in booths, but SAA wasn't supported. Besides, these machines print out those tissue paper boarding passes and I'm more of a 170 gsm man myself.
The SAA counters had a dedicated check-in line for Star Alliance Gold members and Premium Cabin travellers, as expected.
Yellow fever certificates were requested before boarding passes were issued. I was quite surprised because even health-conscious Singapore Airlines doesn't request the certificates for its GRU-BCN-SIN route. Fortunately I had mine with me. Apparently, no certificate = no boarding.
Funny story about my Yellow Fever vaccination- I got it when I was working in Mumbai in 2014. I was two days away from departing for Sao Paulo, and apparently you need to get the jab 10 days before you travel. The doctor at the health centre was straight out of Dick Tracy, in a poorly lit operating room puffing a cigarette.
"When are you flying?" he asked
"Day after tomorrow" I said
He grunted and back dated the certificate accordingly.
Further down from Row H is the entrance area to departures. They've got these cool automated gates that let you scan your boarding pass to get in, with only 1 person stationed there for troubleshooting/security. Singapore could stand to implement this, given how forward we are on technology. It would save me a lot of scribbles messing up my lovely boarding pass.
The Star Alliance lounge in GRU was opened in mid 2014 to much fanfare. The 1350m2 lounge can accommodate 295 guests, which doesn't seem like a lot considering 12 Star Alliance carriers operate 44 daily flights to and from GRU.
SAA was a bit of a laggard, only moving to Terminal 3 in August 2014. But it could be worse, Ethiopian Airlines is still exiled in Terminal 2 and Avianca operates out of Terminal 1.
The lounge is stunning, visually speaking. High ceilings, wood floors, leather seats, lots of natural lighting.
The food and drinks selection, as you might expect, was better than any United Club.
I love the bar area they set up away from the buffet, where there is a wide selection of red and white wines along with the usual hard liquor.
There is sparkling wine on offer (although the bartender kept calling it champagne). It appears to be from France, but not the region that allows it to use the Champagne name. Retail price? US$12.
The bar is particularly nice because underneath the counter you'll find an abundance of USB and power outlets
There are also special edition coke cans for the upcoming Euro championships
Star Alliance is doing this marketing campaign where they want you to make it your life's goal to collect all 5 coasters from the different Star Alliance lounges. I think they should try harder. Collectible rubber ducks, for example, might be a better idea…
After a few drinks I explored the rest of the lounge. The usual assortment of reading materials
A nappy changing room
A shower area
A separate no-phone resting area
A quote that was supposed to inspire me to turn my directionless life around
A work area that reminded me no matter what direction all paths still led back to the office
And a TV area for those times when you just decide work isn't worth it.
SA223 departed at 1800 hours so I left the lounge 30 minutes prior. It was a long walk to the gate from the lounge, but you can pick up some US$10  Havaianas along the way. I don't know why they command such a premium in Singapore.
Our flight was departing from Gate 304 today, with a 20 min delay in boarding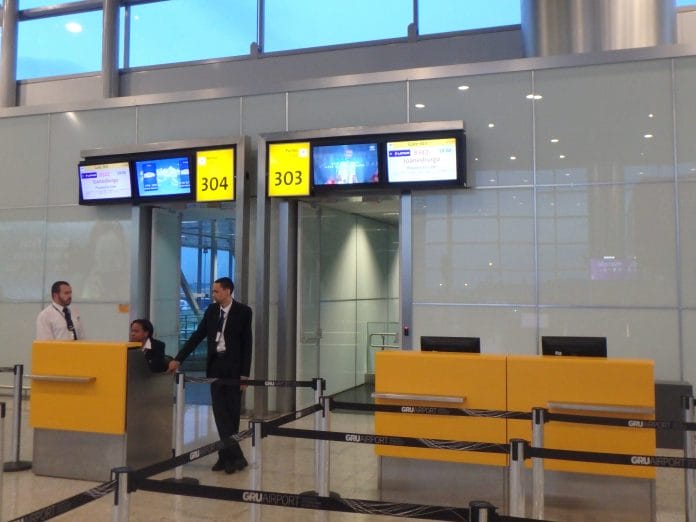 This gave me time to snap a few photos of the A330-200 that would be taking us to JNB.
SAA uses A330s and A340s on its long haul flights. Both are configured 2-2-2 but the seat used is slightly different. The A330s have a seat that looks suspiciously like an angled-lie flat offering. SAA insists that they're full flat. We'll get to that in a minute.
I had seat 5D in the second business class cabin.
The seat has tons of legroom, even if it isn't particularly private
Note the side view- there isn't any privacy divider. I was fortunate not to have a seatmate, but if I did there'd be very little you could do to not notice him/her throughout the flight. In general the flight was about half full- everyone in the 2nd business cabin had an empty seat next to him or her.
Each seat has a small storage area at the base, presumably for storing your shoes
Seat controls were a complete mess. For example. which arrow do I press to recline the seat? And what do those two silver buttons on the right hand side do? Someone needs to remind SAA that UX issues don't just apply to computers.
An amenities kit was waiting at each seat. Some airlines are very careful about distributing their kits and either pass them out personally before takeoff or only leave them at seats they know will be occupied. These are mostly the airlines with more expensive kits, eg the Rimowa kits offered by EVA. Not so for SAA- each seat had a kit and the attendants made no effort to collect the spares during the flight. I helped myself to my absent neighbour's kit as well.
The contents of the amenities kit weren't particularly inspiring though. A toothbrush, a comb, earplugs, some Temple spa brand moisturizing cream, socks and eyeshades.
A very ancient looking controller was at each seat.
Earphones were available but they were not noise cancelling.  Audio performance was below average.
SAA does not serve champagne on board, or at least they didn't do so on my particular flight. South Africa is known for its wine production, and they decided indeed to showcase the sparkling wines of South Africa. Sparkling wines in South Africa are made using the Methode Cap Classique, which is the same method as that used to make champagne.
Although the flavours were nowhere as complex as those of champagne, I thought it was perfectly decent
A further explanation can be found in the drinks list here
And the dinner menu. After my misadventures with steak on my United Airlines flight I decided to write airline steak off from my list.
A very odd mix of items was served as the amuse bouche. There was a cashew nut on some strange dumpling, smoked trout on bread, tomato paste on bread with cheese and an olive
This was followed by a fish cake with cucumber and salad leaves, with more smoked trout.
And I chose the salmon with pasta for the main. The pasta was limp and lifeless and the salmon was bland. The highlight was the garlic bread.
The meal finished with apple pie, cheese and crackers
SAA's inflight entertainment system is called Airscape.
It has a decent selection of movies, TV shows and games. Fun fact- I learned that  Zootopia is marketed as Zootropolis in the UK. Why? So it "can have a unique title that works for UK audiences". Because UK audiences are so different that they will not understand the concept of a -topia and only a -tropolis.
The problem? You need to sit through 2 long ads before it lets you watch anything. And you can't fast forward through the ads like you can on SQ. So watch a long ad on how SAA is making Africa a better place.
And then a second, slightly different ad about how SAA is making Africa an even better place
Before going to bed I checked out the loo which had Aigner branded toiletries. I think I'm coming to the conclusion that no airline has impressive business class lavs.
I returned to my seat to find water waiting
It was now time to answer the million (or I suppose in this case thousand) dollar question- is the bed really flat?  It is flat but still at a slight angle to the ground. Plus, the bed is extremely short, so unless you get 2 sets of bedding your feet are going to be on that unpleasant hard metal part you see below. It's not as bad as SQ's first generation Spacebeds though, where you'd inevitably slide to the floor after a while.
I helped myself to my neighbour's bedding too and managed to get a solid rest. Although that might be more of the MCC than anything else. I'd say it was a good bed, considering the fact it's not technically full flat.
Regarding the service- I suspect this will be a recurring theme throughout most of my trip reports where the service is fine, but doesn't approach SQ levels of attention. If there's one thing about flying with so many other airlines, it makes you appreciate SQ a whole lot more.
It's little things, like garbage that went uncleared, or glasses that stayed empty. These two leftovers from dinner service remained on my center divider all the way after landing.
Passengers were addressed by "sir/madam" instead of by name, and the crew only helped set up the bedspread upon request. SQ would be all over that stuff. I mean it was pleasant enough, but they're not going to be challenging SQ anytime soon.
Bonus material: SAA operates an arrivals lounge in JNB where you can freshen up after arrival.
It's a small place and not anywhere you'd want to hang out for too long though. Showers are available as well as a small buffet
When I was there they were serving scrambled eggs and bacon as the two hot items, along with cold cuts, juice, fruit and bread.
Concluding thoughts: I'm really glad to have had the chance to try out a new airline, but I don't think I'd go out of my way to fly with SAA. In fact, it'd probably be the weakest of all the business class products I've tried so far. I'll do a final ranking when this trip is over, but I suspect this will be behind United given the lack of a full flat bed.