One of the most common requests I get is for webinar versions of Milelion workshops. I don't think webinars are the most appropriate format for each and every one of our workshops- classes like Power Award Searching and Advanced KrisFlyer, for example, definitely benefit from hands-on instruction. However, webinars may work for fundamentals-focused modules like Introduction to Credit Card Rewards and Frequent Flyer Programs. And if the public wants to see me perform on webcam, who am I to say no?

So on Monday 8 and Tuesday 9 October from 8:30-9:30PM, I'm going to be hosting two webinar sessions that split our Introduction to Credit Card Rewards class into 2 one-hour sessions. Enjoy my smooth, melodic voice from the comfort of your own home!
Register for 8 October's (8:30-9:30PM) Part 1 Class Here
Register for 9 October's (8:30-9:30PM) Part 2 Class Here
Do note that 9 October is a continuation of 8 October's class- if you're not sure about whether this is right for you, you can attend 8 October first before deciding on 9 October, but attending 9 October in and of itself may not be helpful.
Registration is now open and each session costs $13.50.
The agenda for this session:
Understanding the two main types of credit card rewards: miles and cashback
Learning the fundamentals of miles-earning credit cards
Cutting through the clutter by learning and weighing the key decision criteria for choosing a miles card
Learning how to derive your personal valuation of miles
Crafting an accelerated miles-earning strategy that works for you
Discovering some lesser-known ways of accumulating miles even without credit cards
If response is good, we'll look to launch similar sessions covering other topics too.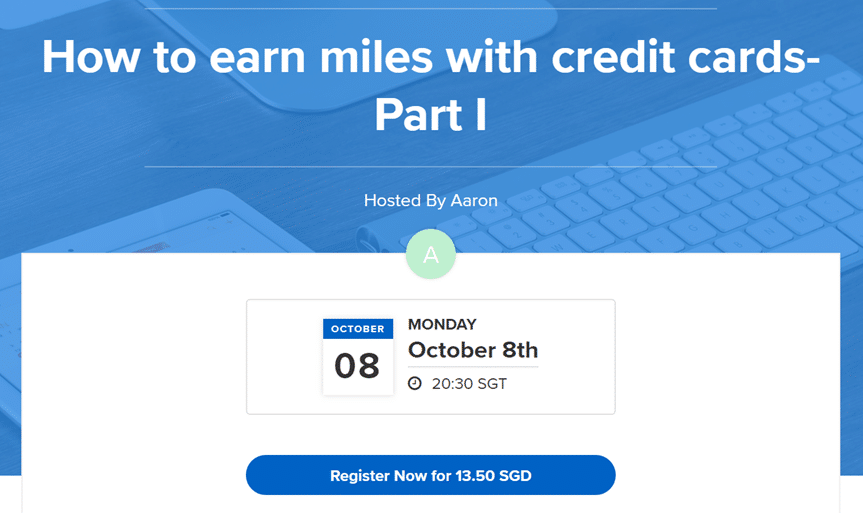 The session will be hosted on Webinar Ninja, and you should be able to register and pay on the same page. The entire platform is cloud-based, so there's no need to download or install any software or plugins.
See you there! (virtually)