When AMEX relaunched its Platinum Charge card in Singapore at the end of July, one of the more unique perks was a pop-up lounge and restaurant on Keppel Bay island called Platinum VIBES.
Why this is interesting is because other high-end cards tend to provide private club access through third-party partnerships with Tower Club or The China Club. Platinum VIBES is the first instance I can think of a card issuer building a special facility just for its members.
The publicity materials certainly look impressive: menus designed by two different Michelin chefs- Chef Emmanuel Stroobant of the one Michelin-starred Saint Pierre and Chef Yoshio Sakuta of the two Michelin-starred Shoukouwa, wine selections curated by Park90 and Robert Parker.
But there's no substitute for visiting it in person, which is what I did last Friday. I was meeting a few friends to celebrate my bachelor party, and since my favourite Thai Disco was closed, Platinum VIBES seemed like a suitable replacement.
Getting there
Platinum VIBES is the kind of place you're going to want to drive to, if possible. Although it's technically walkable from HarbourFront MRT, it's an unsheltered, almost 15 minute hike. I made the journey on a cloudy late afternoon, so it turned out ok for me, but I imagine you'd be pretty miserable walking in the hot sun.
Whether you're walking or driving, you're going to want to look out for this sign for Keppel Island.
If you're on foot, the journey from HarbourFront at least allows you to take in some nice views along Keppel Bay Bridge…
And once you cross the causeway you'll find yourself at the Marina at Keppel Bay. Head up one floor (above Privé) and turn right to reach the lounge section of VIBES…
…and turn left to the restaurant section.
Access and Opening Hours
As mentioned earlier, access to Platinum VIBES is limited to AMEX Centurion and Platinum cardholders (both principle and supplementary), and both are allowed to bring as many guests as they wish.
Platinum VIBES is open from 5pm to midnight from Wednesday to Friday, and 12 noon to midnight from Saturday to Sunday. It is closed on Monday and Tuesday. You may notice the AMEX website mentions that VIBES is available "until 31 December 2018". That's because VIBES is meant to be a pop-up, a test bed for AMEX to see whether cardholders value a perk like this. If successful, I imagine they'll want to do something even bigger and better, so be sure to have a visit if you're eligible.
The Restaurant Section
The restaurant was closed for a private function when I visited, but I did manage to pop in and snap a few photos. Regardless of whether you're in the lounge or restaurant, you'll still have access to the same menu and wine list, so it's more about which environment you'd prefer.
The Lounge Section
The lounge section is where I spent most of my time at Platinum VIBES, and it's a great place to pass time by chilling or working (there's free Wi-Fi). I'd reckon the space could take maybe 40-50 guests at full capacity, and although I went on a Friday night the lounge never reached more than half full.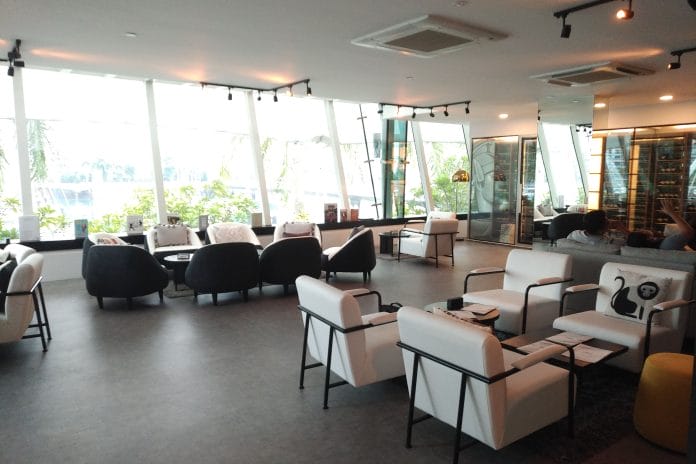 I liked the interior design of the lounge. In the evening when the sun goes down, soft lighting illuminates the space to create a soothing and relaxing atmosphere for unwinding. I also appreciate the fact that unlike some lounges, VIBES didn't feel the need to blast loud music. You could easily have a conversation at regular volume throughout the evening.
The very friendly staff greeted me and took me to my reserved table (you can make a booking for Platinum VIBES through the Platinum concierge; just email [email protected]). At Platinum VIBES, your table has your name on it. Literally.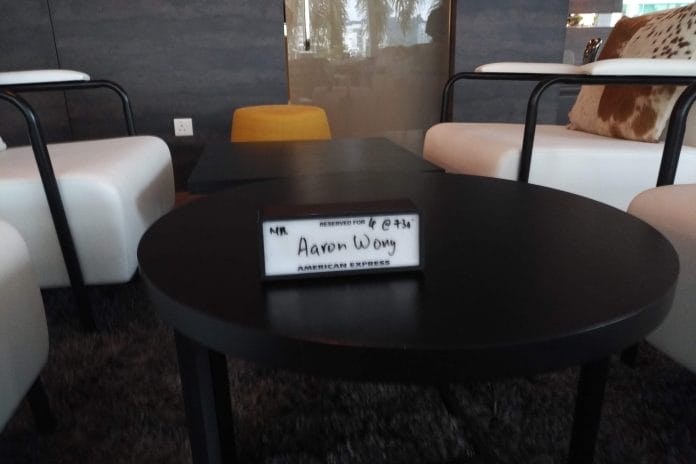 At the rear of the lounge are two walk-in wine chillers- one for white wines and champagne, the other for reds. As you know, white wine and red wine are ideally served at different temperatures, hence the need for separation.
They take their wines seriously here, with over 100 different varieties including several rated over RP90 on the Robert Parker wine rating scale.
I think what surprised me the most about the menu was how reasonable the prices were. For a place like this, you'd expect to pay upwards of $30 for an entree. As it turns out, there's nothing on the food menu that costs more than $20 (well, except the caviar).
Even more surprising is that the wines don't cost an arm and a leg.
Take the champagne selection, for instance. A bottle of Bollinger Special Cuvee costs $90 at Platinum VIBES, about the same price you'd pay if you bought it on RedMart. I think I've seen it on sale at Bottles and Bottles for $80, but even so, that's well below the mark-up you'd expect at similar high end restaurants and lounges.
Platinum and Centurion cardholders get a complimentary welcome drink, either a glass of the house white or red. I'm not going to pretend I know anything about wine tasting, so I'll just say it was pleasant.
I'm a sucker for good bread, so the sourdough bread with farmed salted butter ($6) sounded like a winner to me. Unfortunately, it turned out to be pretty disappointing. The bread came stone cold the first time round (which I consider to be the cardinal sin of serving bread- you'd be surprised how many fancy restaurants don't bother to do it), and when it came back the second time it was only mildly lukewarm. The taste and texture were otherwise forgettable. Definitely not one of the highlights.
Fortunately, the rest of the selections were much better. The marinated Hokkaido scallops, black winter truffle, cream fraiche and lemon zest ($12) was a triumph, plated beautifully and with the delightful umami that only truffle can bring.
The dashi poached prawns with pineapple gel and cocktail dressing ($12) were fresh and delectably sweet, but be warned there's only three pieces of them.
Another crowd-pleaser was the foie gras terrine ($18), served with brioche (not pictured) and fig jam. The brioche was gobbled up before any photos could be taken, that's how good it was. We tried to order another serving of just the brioche but was told they could only serve it together with another order of foie gras, which was weird.
The last dish we tried was the smoked salmon, which came in cube forms topped with cream fraiche and wasabi ($12). You can add 30g of oscietra caviar for $148 if you're in that sort of mood, but the salmon is excellent by itself.
The total damage for the evening came up to $177 for 4 of us, which included a bottle of Bollinger. All in all, pretty reasonable for a night out. I'd like to come back on a different day to try the mains and desserts.
Summary
Although it's not in the most accessible of places (then again, I believe that's the point), Platinum VIBES makes for a great place to chill out on a Friday night with your friends or colleagues. Oenophiles will appreciate the lengthy wine list, and most of the food items were spot on (albeit with small portions). Rumour has it that the lease will be extended a further 6 months to June 2019, but in any case VIBES is well worth a visit as soon as your card comes in the mail.