American Express has three different types of Platinum cards in Singapore:
American Express Platinum Credit Card
American Express Platinum Reserve
The Platinum Card
The "Reserve" tag attached to (2) helps to distinguish it from the others, but (1) and (3) get confused pretty often because their names are very similar ("I have the AMEX Platinum card" "Yeah? Which AMEX Platinum card?"). For those in the know, however, the difference is night and day.
The American Express Platinum Credit Card is AMEX's entry level Platinum card. The annual fee is $321, and it's available to anyone with an income of $50,000 or higher. It shares in some of the benefits that the more expensive AMEX cards have, like Love Dining, Platinum Wellness, Platinum Golf, and Platinum EXTRA merchants, but doesn't have much beyond that.
The Platinum Card, on the other hand, is AMEX's highest tier publicly acknowledged card (I mean, everyone knows the Centurion exists, but you won't find an official AMEX landing page). It offers elite status with various hotel programs, multiple lounge memberships, complimentary hotel nights. and private club access. It has a four digit annual fee, and is available by invitation only.
That's until recently at least. The criteria to receive a Platinum Card invitation was once a closely-held secret, but AMEX seems to have decided that the Centurion Card fills the role of an invite-only hush hush status symbol. Therefore, it's opened up membership in The Platinum Card to anyone with a minimum income of $200,000 per year.
Apply for the AMEX Platinum Charge Card Here
Applications through any of the links in this article generate a referral commission that supports the running of the site. If you've applied via the Milelion and need help following up on your application, leave your details here and I can help you with the follow up
The Platinum Card has a non-waivable (don't even ask) $1,712 annual fee. This fee isn't as high the $3-4K fees you see for cards at the $500K income level, but it's a significant step up from the $500-600 fees seen in the $120-150K segment.
Fortunately, that fee comes with a whole load of benefits, as the AMEX roadshow materials take pains to make clear. Just check out this brochure proudly affirming "over S$2,700 of value every membership year". It's almost as if the product manager told his team "guys, we have to make everyone see the annual fee is worth it".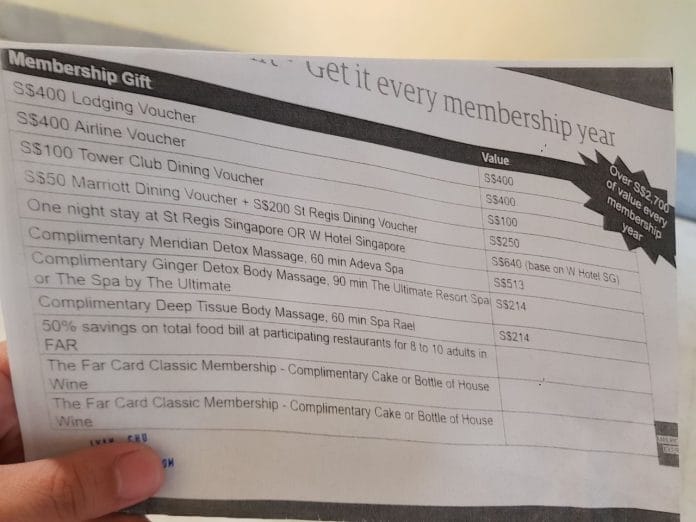 Let's look at each of those benefits in detail to see if the new Platinum Card is worth its weight in…metal of some sort.
A general spending rate of $1=0.78 miles (1.95 miles for SQ/MI)
I've said it before, but I'll say it again: you don't get an AMEX Platinum card to earn miles quickly. AMEX Platinum cards were designed as lifestyle cards, and although some can boast serious travel chops from lounge access and hotel elite status, they're not meant to rack up miles ala Apple Pay-Citibank.
S$1.60 of spending earns you 2 MR. $1.60 is an odd number, but I'm convinced this is because the rate was set back when US$1= S$1.60. The usual AMEX conversion rate is 450 MR to 250 miles, but The Platinum Card cardholders get a rate of 400 MR to 250 miles.
Miles can be transferred to Asia Miles, British Airways Avios, China Airlines Dynasty Flyer, Emirates Skywards, Malaysia Airlines Enrich, Singapore Airlines KrisFlyer, and Thai Royal Orchid Plus. There are no conversion fees for The Platinum Card cardholders. 
I'll save you the math by summarizing that S$1= 0.78 miles. That, in and of itself, is a dismal accrual rate. Any general spending card would earn you between 1.2-1.4 mpd (not to mention the 2.0 mpd of the just-launched BOC Elite Miles World Mastercard…). But then again, any general spending card doesn't come with half the benefits The Platinum Card has.
You will earn 5 MR points per S$1.60 spent (1.95 mpd) buying tickets with SQ, MI and Scoot directly or through The Platinum Concierge. Again, you could do much better by paying with the DBS Altitude (3 mpd) or the DBS Woman's World Card (4 mpd), but I'd refer you back to my original statement that the AMEX Platinum cards were not designed to compete with that segment of the market.
AMEX does have Platinum EXTRA merchants where you earn the equivalent of S$1=7.8 miles. However, these aren't exactly what you'd call everyday merchants (think Breitling, Fred Perry, IWC, Mandarin Orchard, Mazda, Samsonite and Steinway Gallery). Where The Platinum Card is concerned, the 20X earn rate of S$1=7.8 miles only applies to the first S$16,000 spent. After that, you earn S$1=3.9 miles.
Sign up bonus of 75,000 MR points with $20,000 spend in 3 months
If you sign up for the card before 31 December 2018, you earn 75,000 MR points (46,875 miles) when you spend S$20,000 within 3 months of card approval (some existing Platinum cardholders received the same offer but with a S$10,000 spending requirement). That's on top of the 15,625 base miles you'll earn.
A total yield of 62,500 miles for S$20,000 of spending is actually not bad, although this is only available in your first year. I have heard that the AMEX customer retention team may, at its own discretion, decide to grant bonus MR points when you renew your membership. 
3D/2N stay at selected Banyan Tree or Mandarin Oriental hotels, or 2D/1N at Capella Singapore
If you sign up for the card before 31 October 2018, you'll be eligible for a gift of either a 3D/2N welcome stay at selected overseas Banyan Tree or Mandarin Oriental properties, or a 2D/1N stay at Capella Singapore.
Here's the listing and blackout dates for each property:
The phrasing of the offer seems to suggest that if you want to do a staycation in Singapore, only The Capella is available. However, sharp eyed readers will spot that the Mandarin Oriental Singapore is on the list of available properties. Should you opt for this property, you'll get a 2D/1N stay instead of the 3D/2N you'd have staying overseas.
The ultimate of the benefit will obviously depend on where you choose to stay. The T&C do say that if you cancel your Platinum Card within 90 days of opening it, you'll be charged S$1,000, which gives an idea of how AMEX internally values the benefit. As for me, I can't stop thinking of the Maldives- there are two Angsana properties on the list…
S$800 annual travel credit, split into S$400 for air travel and S$400 for lodging
One of the biggest selling points of The Platinum Card is the S$800 travel credit, received once per membership year. After all, if you travel at least once a year, it's reasonable to value those credits at face value, which brings the effective cost of the card down to S$912.
The S$400 air travel credit is valid for bookings made through The Platinum Concierge, and must be for flights that take place within 6 months from the date of booking. You need to spend a minimum of S$400 (before taxes) in a single booking.
The S$400 lodging credit is valid for bookings made through The Platinum Concierge, and interestingly includes tours, cruises and hotels. Just like the air travel credit, you need to stay within 6 months from booking, and spend a minimum of S$400 (before taxes) in a single booking.
I could be wrong, but the equivalent benefit in the USA doesn't require cardholders to book through The Platinum Concierge. Instead, cardholders can book whatever they please, and so long as the MCC checks out, they get the credit (some people buy airline gift cards).
After 6-8 weeks, you'll see a statement credit reflected in your account. One important thing to note- there is no refund of travel credit. This means that if you subsequently cancel your air travel or lodging booking, you'll forfeit your credit, notwithstanding the fact the booking itself may be fully cancellable.
1 night stay at The St Regis or W Hotel Singapore
The marketing materials suggest this is a renewal gift, but I've confirmed that you get this in the first year too- a one night stay at either the St Regis or W Hotel Singapore. I don't know what the blackout dates are on this, but here are the pre-tax rates on a random weekend in 2019.
Multiple airport lounge memberships
What sets apart The Platinum Card from other $120-150K cards? The sheer variety of lounge access available. The Platinum Card comes with access to (complimentary guest allowances in brackets)
The Centurion Lounge (+2)
International American Express Lounges (guest policy varies by location)
Priority Pass Lounges (+1)
Delta SkyClub
Plaza Premium Airport Lounge (+1)
That's an impressive list in anyone's book. I'd like to talk specifically about The Centurion Lounges, which have been purpose-built for AMEX's top-tier cardmembers. These used to be accessible to any AMEX cardholder for a fee (Centurion and Platinum cardholders got in for free), but due to overcrowding access has been restricted to Centurion and Platinum cardholders only.
There are currently 9 lounges worldwide (8 in the USA, 1 in Hong Kong), with more under construction. Lounges in the US are head and shoulders above your standard airport lounge, with complimentary alcohol, hot food and even spas in some cases. Menus are crafted by celebrity chefs, and it's a far cry from the usual "fruit or cereal" style lounges with cash bars that many legacy US airlines have moved to.
The Centurion Lounges don't have much of an international footprint, although one hopes the opening of the HKG lounge shows that AMEX has ambitions for this network beyond just the States.
Access to the AMEX Fine Hotels and Resorts collection
Those of you who attended the hotel hacks session will recall I talked about the AMEX Fine Hotels & Resorts program, which guarantees AMEX Platinum cardholders the following benefits at selected hotels:
There is some overlap between these benefits and those you'd expect as an elite member in most hotel loyalty programs, but the AMEX Fine Hotels & Resorts program covers non-chain hotels too. Getting daily breakfast for two and room upgrades can be significant value at the high-end properties of the FHR. All hotels will also include a US$100 per stay amenity credit that can be used on F&B or the spa.
AMEX FHR is considered a "preferred channel partner", which means that if you as an elite member stay at a chain hotel booked through FHR, you'll get to double dip on benefits and status earning. That's to say, if I choose the St Regis Singapore as an SPG Platinum member, I'll enjoy all the FHR benefits plus earn SPG points and elite stay credit.
FHR sometimes offers Book 3 Pay 2 or Book 4 Pay 3 rates, which offer an opportunity for more savings. In general, you won't pay more than the hotel's best available flexible rate when you book through FHR.
Elite status with numerous hotel chains
The Platinum Card comes with
Starwood Preferred Guest Gold Elite Status (I assume this will become Gold in the merged SPG/Marriott Rewards program from 15 August)
Shangri-La Golden Circle Jade Membership
Hilton Honors Gold Status
Radisson Rewards Gold Status
All this is mid-tier status, but it's been mentioned numerous times that Hilton Gold is probably just as good as Hilton Diamond, and I can't think of too many cards that come with top-tier status in any program.
Remember that if you're a Golden Circle Jade member, you can request a fast track to KrisFlyer Elite Gold under the Infinite Journeys partnership– simply take 3 SQ/MI flights in 4 months to get KrisFlyer Elite Gold.
Private club access
The Platinum Card comes with access to The Tower Club (because what self-respecting high end card doesn't), as well as access to something called Platinum Vibes.
Here's AMEX's description:
Your sanctuary by the sea, PLATINUM VIBES is the perfect setting to relax and raise a glass to the good life. Enjoy exclusive access for you and your guests at our Platinum pop-up with food by Michelin Chefs from Saint Pierre and Shoukouwa.
Take your pick from more than 80 labels of wines, including Robert Parker rated wines, available for dine-in at retail prices. 
Exclusive for Platinum, enjoy a complimentary welcome drink per Platinum Card®. To guarantee availability, reservation is recommended.
Location (till 31 December 2018):
Marina at Keppel Bay #02-02/#02-02A/#02-03
Operating Hours:
Monday – Tuesday: Closed
Wednesday – Friday: 5.00pm – 12 midnight
Saturday – Sunday: 12 noon – 12 midnight
Conclusion
I noticed a few benefits in the brochure above that weren't reflected on the website such as a $50 Marriott dining voucher, a $200 St Regis dining voucher and a $100 Tower Club voucher. If these are available to all members, that only further sweetens the deal.
Other miscellaneous benefits include mid-tier car rental elite status (Hertz Five Star and Avis Preferred), and complimentary weekend parking at Vivo. The Platinum Card comes with complimentary travel insurance, which terms are a lot more generous than the usual bare bones insurance that comes with most other miles cards. I do also like the idea of purchase and refund protection, which could come in useful in a place like Singapore where consumer protection standards are, shall we say, less robust.
S$1,712 is a lot of money, although all things said the effective cost is much lower when you take the benefits into account. I'm currently a Citi Prestige cardholder, but need to give The Platinum Card a long, hard think. Yes, it's no miles-earning powerhouse, but with the sign up bonus and the benefits? It's tempting.