In September 2016, Singapore Airlines and Shangri-La launched a partnership called Infinite Journeys, which allows members to transfer points across programs, and gives elite members in one program a status match/challenge in the other.
Although it's an interesting partnership, in general it's not worth it to transfer points between programs because you lose significant value both ways. That said, Infinite Journeys just celebrated its 2 year anniversary with a promotion to earn double points or miles from transfers, which might have worked for some people.
Shangri-La is giving away 250 GC points (US$25) just for downloading their app
Shangri-La is now serving up a sweet deal for a few minutes of work. KrisFlyer members would have received the following eDM in their inbox:
From now till 28 February 2019, downloading the Shangri-La app and signing in to your account will get you 250 GC Award points. Those points could be converted into 313 KrisFlyer miles (technically you'd need to convert a minimum of 2,500 GC points), but it's much, much more worth it to use them as US$25 of dining credits at Shangri-La restaurants and bars instead.
The good news is there's no minimum number of GC points required to redeem a dining reward. Although the redemption portal suggests that only US$50 and US$100 vouchers can be redeemed…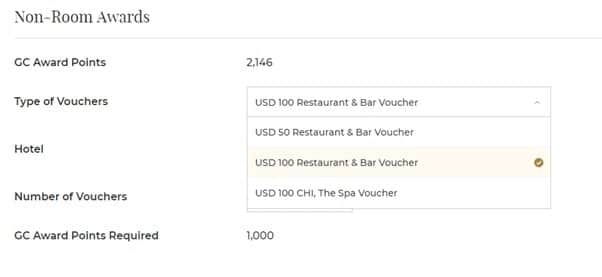 …seasoned users will remember that Shangri-La rolled out instant dining awards back in 2016, which allow you to offset the bill with GC points at the same rate as a voucher i.e. 10 GC points= US$1.
This means your 250 GC points are really as good as US$25 of dining credit, free and clear, and that's an excellent return for your time.
Terms and conditions
The T&C state that the offer is open to KrisFlyer members who are also GC members. To enjoy the 250 GC points, you'll need to login to your GC account within 2 hours after downloading, and download the app through this URL.
What's odd is that URL does not lead to the Google Play store, but rather to an APK file, which Chrome warns about when you try to download. You'll need to go to your Settings and enable the installation of APK files from Chrome in order to proceed.
However, it's worth noting that despite what the eDM says, this promotion isn't KrisFlyer exclusive- simply navigating to the Golden Circle homepage throws up the same offer:
This leads me to believe that it doesn't really matter where you install the app from, and I wouldn't worry if you simply went to the relevant app store and got it.
Your points will post to your GC account between 2-4 weeks after you've logged in.
Conclusion
US$25 for a couple minutes of work is a good deal in my book, and it seems almost too good for Shangri-La to be paying that amount per user. I'm not about to question it, however, and would urge everyone to act sooner rather than later on this.