The HSBC Visa Infinite forms part of the so-called $120K credit card segment, although it technically has an income requirement of $150K. Cards in this bracket typically carry a hefty, non-waivable annual fee, but make up for it through generous travel and lifestyle benefits. Some examples include:
Citi Prestige ($120K, $535)
OCBC VOYAGE ($120K, $488)
SCB Visa Infinite ($150K, $589)
UOB Visa Infinite Metal Card ($150K, $642)
HSBC's Visa Infinite has an annual fee of $650, although you only pay $488 if you're a Premier Banking customer. Historically, you get 35,000 miles with your annual fee, but HSBC has from time to time increased this to 40,000.
HSBC Visa Infinite offering 40,000 miles for applications by 28 Feb
It appears to be time of year again, because applications for the HSBC Visa Infinite submitted between now and 28 Feb are eligible for a sign up gift of 40,000 miles. 
Here's how the math looks like, depending on the annual fee you pay and how many welcome miles you get. This is one of the cheapest ways to buy miles in Singapore, assuming you're a HSBC Premier Banking customer.
| | | |
| --- | --- | --- |
| | HSBC Premier Banking Customer ($488) | Other Customers ($650) |
| 35,000 miles | 1.39 | 1.86 |
| 40,000 miles | 1.22 | 1.63 |
The fact that the cost per mile is below our magic 2 cents figure means that even if the card didn't have any other benefits, you might be satisfied paying the annual fee for the miles alone. However, the HSBC Visa Infinite does come with other benefits, which we'll look at below.
A quick review of the HSBC Visa Infinite's benefits
Here's how HSBC illustrates the value of the Visa Infinite card: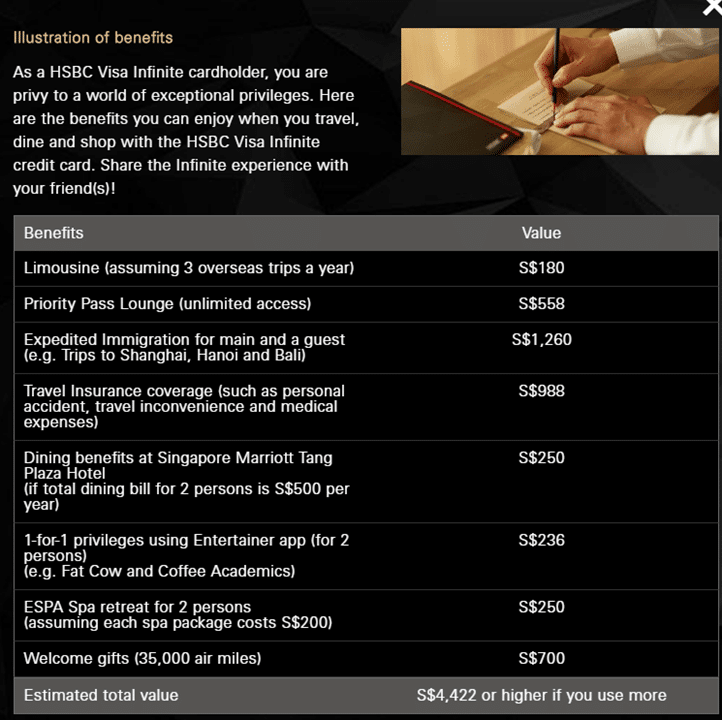 Sorry, but I'm really skeptical about those valuations. I get that it's subjective, but I certainly wouldn't value expedited immigration at $1,260 a year. Likewise, I think it's pushing it to say that travel insurance is worth $988 a year, given that you can find equally comprehensive annual plans for about $250-300 (plus, the HSBC VI's travel insurance only kicks in if you use the card to pay for your travel).
The card has other useful benefits like a complimentary Entertainer app and dining benefits at Marriott Tang Plaza, and if those tickle your fancy you should definitely acquaint yourself with them before pulling the trigger. I'm just going to zoom in on what I see as the key benefits of a travel card: miles earning, limo transfer and lounge access.
 A poor base earning rate of just 1 mpd on local spending
For a card in the $120K segment, the HSBC Visa Infinite's earning rate is pretty abject. You earn an abysmal 1 mpd on local spending, and only unlock the 1.25 mpd rate by spending at least $50,000 in a year! Other $120K cards give you up to 1.4 mpd on local spending, so the HSBC Visa Infinite is definitely not something you hold for the miles earning potential.
The overseas earn rate is on par with other cards in the market at 2 mpd, and if you unlock the step up rate you'll be outperforming holders of the Citi Prestige and UOB Visa Infinite Metal card.
So it's a bit of a strange contrast- paying the HSBC Visa Infinite's annual fee is one of the best way of buying miles in Singapore, but using the HSBC Visa Infinite to earn miles from everyday spending is a bad deal.
Up to 24 limo transfers a year, minimum $2K monthly spending
| Card | Qualifying Spend (QS) | Rides per QS | Max Uses |
| --- | --- | --- | --- |
| UOB PRVI Miles AMEX | S$1K FCY spend per quarter (excludes online) | 2 | 2 per quarter, 8 per year |
| Citi Prestige | S$12K spend per quarter | 2 | 2 per quarter, 8 per year |
| HSBC Visa Infinite | S$2K spend per month | 1 (2 free per year, 4 free for HSBC Premier customers) | 24 per year (includes free trips) |
| Maybank Visa Infinite | S$3K spend per month | 2 | 8 per year |
| OCBC VOYAGE | S$3K spend per month (S$5K from 1 Jun 20) | 1 | 2 per month |
The HSBC Visa Infinite offers two complimentary limo transfers a year, with no minimum spending required. Subsequently, cardholders can unlock an additional transfer for every $2,000 spent in a month. It's a relatively low spending threshold compared to other cards (special mention for the Citi Prestige, which allows you to unlock up to 4 transfers with a $1,500 overseas spend).
Unlimited Priority Pass visits for principal and supplementary cardholder
The HSBC Visa Infinite comes with an unlimited-visit Priority Pass. No free guests are allowed with this version of the pass, but your supplementary cardholder can also get an unlimited-visit Priority Pass for him/herself.
In contrast, the Citi Prestige does not offer a Priority Pass for the supplementary cardholder, but the principal cardholder's Priority Pass comes with 1 free guest. The HSBC Visa Infinite would therefore work better for couples who travel separately, while the Citi Prestige offers more flexibility for the principal cardholder to guest in a spouse/colleague/relative/friend or whoever he/she is traveling with.
Conclusion
If you've had your eye on the HSBC Visa Infinite for a while, the upsized sign up gift should be good incentive to apply now. Quite frankly, I don't feel the benefits are anything to shout about (the Citi Prestige is still my card of choice within that segment…although that may change if they nerf the 4th night free benefit), but if you're just in it to buy miles then it's hard to argue with those valuations.
Final point: there are no SingSaver sign up gifts for the HSBC Visa Infinite this month, so feel free to apply via the official channels.