Some of you might recall HSBC granting access to Entertainer 1-for-1 deals for its cardholders back in 2018 – although this had initially been offered at the price of $5, sometime towards the end of the year (8 Nov – 31 Dec) they made it complimentary. Cynic that I am, I'd figured that it was meant to incentivise cardholders to pay for access in 2019, but as it turns out, I was wrong.
You can now get access to Entertainer 1-for-1 deals if you're a HSBC cardholder – this time, for FREE. I'm still holding on to the HSBC Advance card (RIP 2017), so once again I'm presented the chance to pat myself on the back for being too lazy to cancel the card holding on to the card for contingency purposes.
We all know that if a deal sounds too good to be true, it probably is. The version of the Entertainer offered by HSBC is a limited one; that said, when it costs you literally nothing, there's not really much reason for complaint.
The full details of the HSBC Entertainer deal can be found on the official website, but I'll give a quick breakdown here.
Wait – what's the Entertainer?
Aaron's already previously taken a look at the Entertainer; not that much has changed so I won't go into much detail here. In a nutshell, it's a whole bunch of 1-for-1 coupons that could possibly save you lots of money on dining and/or hotels, depending on your preferences for these categories; however, the retail price is S$145 (currently 'on offer' at $95) so some dedicated spending is required to break even, let alone benefit from having it.
How do I get access to the free version?
HSBC cardholders should have received an email advertising the offer containing a unique VIP key (I received mine on 31 Dec 2018) – if you haven't seen it yet, better check your spam folders or get in touch with HSBC customer service at 1800-4722 669.
There are guides on the official website for iOS and Android explaining the sign-up process, but essentially you'll need to download the "ENTERTAINER with HSBC" app, then proceed to register your account linked with your VIP key (a little more complicated for iOS).
Standard and Premium accounts
One thing to take note of is that HSBC Premier Mastercard and Visa Infinite cardholders will have access to a Premium account, while other cards just get a Standard account. Essentially, the Standard accounts are even more limited for F&B – this is detailed below.
What are the differences from the full Entertainer?
If you had tried loading the app on 1 Jan (as I attempted to do while writing this post), you would have been greeted with something like this:
I can only assume this is because the offers start on 2 Jan 2019 and had yet to be loaded. It'll probably be easier to check out the offers on the app after that, but in the meantime, I'll take a look at what's listed online instead.
Limited access to offers
The official website allows you to browse the list of F&B outlets available through the HSBC Entertainer. The list is a subset of what's available on the entire range available on the full Entertainer – favourites such as Bedrock Bar & Grill and Fat Cow are missing, despite having been available even via the 2018 HSBC offering.
Take note that some offers are only available for Premium account holders – the website flags out those offers as 'Exclusive Premium Entertainer offer's.
Hotel 1-for-1 deals are also accessible via the HSBC Entertainer; again, they are limited as compared to the paid version – you can take a look at what's available here.
Two vouchers instead of three (for Standard accounts)
With the full Entertainer, you usually get three vouchers for each establishment. You only get two with HSBC's version, though Premium accounts will get three.
Payment using HSBC cards
The terms & conditions require payment using HSBC cards – when presenting the app to merchants for PIN entry, this is highlighted to them as well.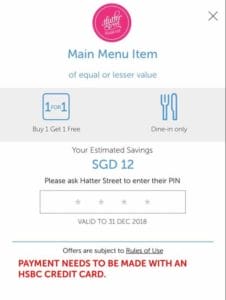 Now it's very much dependent on the merchant (and the cashier, really) on whether they choose to enforce this; but if I'm making use of a 1-for-1 offer provided gratis by the bank, I won't be too fussy about which card I pay with (though the HSBC Revolution Credit Card does offer 2mpd for dining).
Six concurrent devices
On the plus side, it's possible to share this access – the FAQ states that you can log into your account with up to six devices. Whoever you share it with should have a HSBC card to make payment with, though.
Multiple regions accessible
One nice feature of the HSBC Entertainer is that you have multiple regions available to you – other than choosing deals from Singapore, you can also change the region to Abu Dhabi & Al Ain, Bali, Dubai & N. Emirates, Hong Kong, London or Malaysia.
The setup guide also mentions this, so it's clearly an intended feature.
Conclusion
It's hard to complain when something's offered for free. That said, it seems like many of the better deals have been left out of HSBC Entertainer this year – this year's offering seems to be really limited. Still, it's nice to have the option to make use of it even while travelling.
A tip – if you do get it and are new to the Entertainer, it's worth getting reading up on its rules of use (especially the exclusion dates).
Finally, if you don't already have a HSBC Revolution Credit Card, getting one to earn 2mpd while dining is something worth considering!
[credit_card_shortcode cc_id="21830″]