If redeeming a free flight is the entrance exam for travel hacking, then redeeming a round-the-world (RTW) ticket must be the capstone course.
Imagine jetting around from city to city in the comfort of premium cabins, visiting new places and experiencing different products, all for one fixed price. That's the allure of a RTW award.
RTW awards obviously aren't for beginners. Although they represent great value for miles when you consider the total distance traveled, they still require a hefty sum upfront. Moreover, RTW awards require meticulous planning, and it really helps if you know how to search for partner space with programs like KVS Tool and Award Nexus.
But for those who have reached that level, RTW awards can be an awesome way of traveling during retirement, a honeymoon, or an extended period off work.
KrisFlyer offers RTW awards…
Few people know this, but KrisFlyer actually offers RTW awards. Nestled away under a nondescript section of the website, you'll find this little nugget:
The RTW award page links you to a generic partner flight booking form, which you'll almost certainly never use. Just imagine sending a form back and forth to customer service, trying to guess at which dates and routes are available- it's a guaranteed recipe for a headache. Moreover, the flight details section offers space for just three destinations- hardly RTW material!
What's more likely to happen is that you'll piece together the award yourself by searching through Aeroplan and ANA for Star Alliance award space, before calling up membership services to ticket the award.
…but they're not great
Even if you do manage to find the award space for your RTW itinerary, you might want to think twice about booking it through KrisFlyer.
There's no flexibility
Recall the two main types of KrisFlyer awards:
Singapore Airlines/SilkAir
Partner Airlines
These awards differ in terms of their redemption rates and change/cancellation fees. But perhaps the most important difference is the rules governing changes to partially-used tickets.

No changes are allowed for partially-used tickets issued on partner airlines. For example, if I've booked a round-trip between Singapore and Taipei on EVA Air, I won't be able to change TPE-SIN after I've flown SIN-TPE.
Take a step back and consider what that means. A Star Alliance RTW award is basically a multi-legged partner award. This implies that once I've flown the first leg on my RTW journey, I can't make any changes to the rest of the ticket.
It's perhaps less consequential on a simple A<–>B itinerary, but RTW journeys are significantly more complex. In this example below, once I've flown SIN-NRT, I can't change any of my remaining seven legs- not destinations, not flight numbers, not dates!
I can't imagine too many people would be willing to take that sort of risk, what with hotels and tour plans at stake. This rule alone stops many people from redeeming a KrisFlyer RTW award.
It's one fixed price
Even if the lack of flexibility doesn't deter you, another negative aspect of KrisFlyer RTW awards is that they're fixed price. They cost a standard 180,000, 240,000, or 360,000 miles in Economy, Business, and First Class respectively, plus taxes and fees.
This fixed pricing means that a relatively simple RTW itinerary…
…would cost the same as a much more complicated one!
This pricing scheme then pressures you to make your RTW itinerary as complicated as possible, just to "get the most" out of your miles. But the more complicated it is, the more likely you are to encounter issues with flexibility- a veritable Catch-22 situation!
Rules, rules, rules…
KrisFlyer RTW awards have extensive rules which restrict the kind of itineraries you can form.
KrisFlyer Star Alliance RTW Award Rules




Travel must be in one continuous direction with no backtracking

Maximum of 7 stopovers 

Maximum one stopover in a given city

Maximum of 2 stopovers in any given country

Total distance flown cannot exceed 35,000 miles

Maximum flight segments must not exceed 16

Journey must start and end in the same country

Must cross Atlantic and Pacific oceans exactly once
These restrictions mean you won't be able to do some otherwise logical itineraries.
When you factor in the complex rules, the fixed pricing and the lack of flexibility, it becomes clear that KrisFlyer RTW awards aren't really the best option.
So what can we do?
Asia Miles oneworld Multi-carrier Awards
Asia Miles doesn't have a RTW award per se, but it doesn't need to. Instead, it's got the oneworld Multi-carrier award (MCA) chart.
This chart applies to awards involving:
two oneworld airlines, where Cathay Pacific or Cathay Dragon is not one of them OR
three or more oneworld airlines, where Cathay Pacific or Cathay Dragon is one of them
For example, the following itinerary would trigger MCA pricing under scenario (1)…
…and the following itinerary would trigger MCA pricing under scenario (2)
These are relatively simple MCAs, but there's the potential to do so much more, including round-the-world and psuedo round-the-world trips.
How do MCAs price and what rules do they follow?
MCAs price according to this chart…
…and are governed by the following rules
Asia Miles MCA

KrisFlyer RTW

Maximum Distance

50,000 miles

35,000 miles

Maximum Stopovers

5

7

Maximum Transfers

2

Not specified, but maximum of 16 flight segments including transfers

Maximum open-jaws

2 (different airports in same city do not count towards open jaw allowance eg. HND/NRT)
En route open jaws ("surface sectors") count as stopovers, destination open jaw permitted

(different airports in the same city count as stopovers eg. HND/NRT)

Must cross Atlantic & Pacific?

No

Yes

Backtracking?

Allowed

Not allowed

Can visit same city?

Yes

No

Can change after departure?

Yes

No

Cost in miles (J/F)

55-240K/ 70-345K

240/360K
You'll notice straight away that there are some key advantages over KrisFlyer RTWs, which we'll elaborate below.
MCAs are cheaper
The cost of an MCA scales with distance, and the most expensive MCA is still cheaper than a RTW award.
Here are those two examples we saw above once more. In the first, a "short" round-the-world trip in Business Class would cost only 185,000 miles with Asia Miles MCA, versus 240,000 miles with KrisFlyer.
A "long" round-the-world trip in Business Class would cost 210,000 miles with Asia Miles MCA, still less than KrisFlyer's 240,000 miles.
Just for fun, we could even look at an "ultralong" MCA in Business Class. This wouldn't be legal under KrisFlyer RTW rules as the total mileage exceeds 35,000 (not to mention the backtracking), but it's possible with the MCA for 240,000 miles.
MCAs don't have to be "round the world"
KrisFlyer RTW awards literally need to be "round-the-world"- you must cross both the Pacific and Atlantic oceans.
But not everyone wants to do that. Suppose I wanted to explore just the Maldives, Colombo, and Europe on a given trip. With an MCA, I can do the following routing:
I'll first visit Colombo (stopover 1), before heading on to Male (stopover 2). From Male, I'll travel to Venice (stopover 3) via Doha (transfer 1). I'll find my own way to Prague (open jaw 1, stopover 4), before flying back to Singapore via Doha (transfer 2).
This routing would not be "legal" under KrisFlyer RTW rules, but it's a perfectly valid MCA.
Or perhaps I just want to visit a few places in East Asia. I could build this round-trip Business Class itinerary for just 100,000 miles, first visiting Tokyo (stopover 1), then Hokkaido (stopover 2), then Osaka (stopover 3), then Shanghai (stopover 4), then flying home to Singapore via Kuala Lumpur (transfer 1)
In other words, MCAs allow you to build "regional-focused" multi-destination itineraries, while KrisFlyer RTW awards force you to travel to parts of the world you may not be interested in seeing.
MCAs are more flexible
Asia Miles allows you to make date or flight number changes to partner awards for a fee of US$25 if you make the change online, or US$40 if you make the change through the call centre.
There's also a US$100 charge for re-issuance, which involves changes in routing or cabin class. US$100 may be steep, but it's still better than a KrisFlyer RTW award where you're locked in after flying the first leg.
Downsides of MCAs
Despite the many advantages MCAs have over KrisFlyer RTW awards, you will want to note the following drawbacks
Fewer stopovers
An MCA allows only five stopovers, versus seven for KrisFlyer RTW awards.
Fewer partners
oneworld has 13 partners, serving about 1,000 destinations. Star Alliance, on the other hand, has 24 partners serving 1,300 destinations. That will make a difference in terms of connectivity- remember you only have 2 transfers/layovers with MCAs, so you'll have to ration them carefully.
How to book an Asia Miles MCA
The Asia Miles website limits you to booking a maximum of 6 flights or 4 different cities online. If your itinerary is more complex than this, you'll need to phone up customer service to get it done.
Here's an example of a simple MCA booking, for a SIN-HKG-LHR-CMB-SIN journey.
You'll select your legs one by one, with the option to pick either direct or connecting flights.
Here's where it has the potential to get annoying, however, because if one of your dates doesn't have award space, you'll need to select an alternative date which clears all your previous leg selections. 
When all that's done, you'll be able to ticket and pay for your award online.
If you need to go through customer service to get your MCA ticketed, you're going to want to make sure there's award space on your desired dates before calling, or you're in for a very long and unproductive session.
I recommend using the KVS Tool to look for individual segments via the Qantas search method. If you don't want to pay, try using the Qantas or British Airways websites to search as they generally display the most accurate oneworld award space.
Remember that you're still on the hook for taxes and fuel surcharges. You can look for cheaper airports to fly out of, but if you want to minimize fuel surcharges I'd advise you avoid the following oneworld carriers
Qatar Airways
British Airways
Iberia
Qantas
In general, JAL and American Airlines are known to have much lower fuel surcharges, if any.
How do you earn Asia Miles?
Asia Miles are fairly easy to earn in Singapore, with Citi, American Express, DBS, Maybank, HSBC, BOC and UOB offering it as a transfer partner.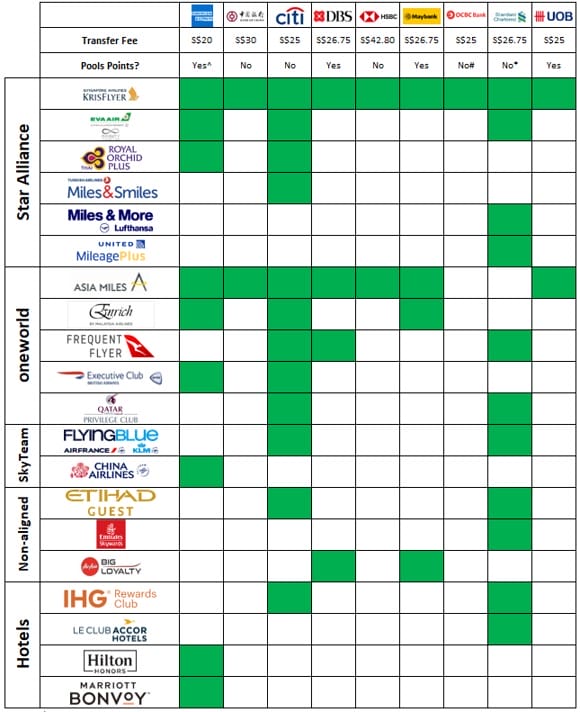 If you want to build a quick stash of Asia Miles, be sure to check out the latest sign up bonuses available on these credit cards.
If you've exhausted all your sign up bonuses, it's still possible to buy additional Asia Miles through services like:
CardUp: use the TAX 199 code to pay taxes and buy Asia Miles from 1.22-1.63 cents each
RentHero: use the Milelion's sign up link to pay rent and buy Asia Miles from 1.14-1.51 cents each
Citi PayAll: pay condo fees, electricity bills, tax, rent and education payments and buy Asia Miles from 1.25-1.67 cents each
UOB PRVI Pay: buy as many Asia Miles as you want for 1.8 cents each (until 31 July)
Conclusion
If you want to go on a multi-city adventure, you definitely want to learn how to use MCAs. They cover slightly fewer destinations than a KrisFlyer RTW award, but with greater flexibility, lower cost and fewer rules, they can offer amazing value.