The KVS Tool can look intimidating to first-time users, but those who are willing to invest the time will find it a formidable tool to search for better awards, faster.
The ins and outs of the KVS Tool will be covered extensively in our upcoming Power Award Searching class (along with Award Nexus, award.flights and Expert Flyer), but I wanted to write this article for those who have already attended a previous session because there's a new feature you might be interested in.
The problem with the Power Search function
The Power Search function is one of the most powerful features of KVS Tool, but there's a significant drawback: it lets you specify a date range, but not specific days.
This means that even if you're only interested in flying on certain days of the week (eg weekends), you're going to have to wait while the tool checks for space on "irrelevant" days. For example, even if I'm only interested in flying on weekends, KVS will check 5 irrelevant days for every 2 relevant days.
Furthermore, we know that the search speed of the KVS Tool is heavily dependent on the responsiveness of the underlying website. This is why searches via the AC-StarAlliance or QF-OneWorld method are lighting fast, while searches via the SQ-StarAlliance method move at a snail's pace. So if I need to find SQ long haul premium cabin award space for weekend departures, those 5 irrelevant days really slow down my whole process.
Remember also that if KVS Tool happens to find space on those irrelevant days, you'll need to manually restart the Power Search to look at more dates. This isn't particularly difficult to do, but manual intervention means more time babysitting the tool and less time doing other things, which kind of defeats the purpose of automated searching.
Power Search now lets you select specific days
That's why the enhanced Power Search function that's just been added in KVS Tool v9.1.5 is so welcome- it allows the selection of specific days of the week. 
Imagine this scenario: you're planning to take leave in June to go to Sydney, and really want to try SQ's new A380 Business Class. You know this is available on SQ221, which departs SIN at 8.40 p.m daily. This is too early for you to leave work on a Friday, which means only Saturday and Sunday flights are possible.
The June calendar shows 10 possible departure dates: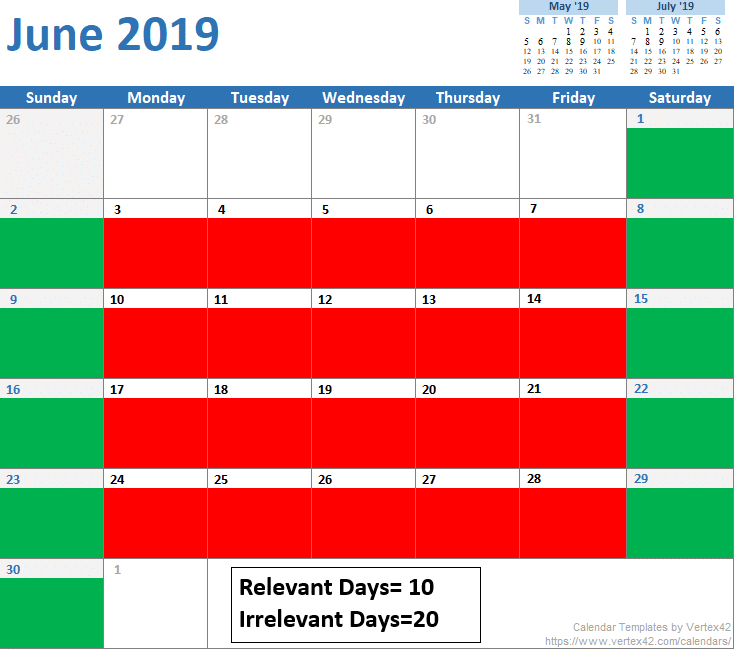 With the old system, I'd have to search a total of 20 irrelevant days just to check 10 relevant days of award space, making for some really inefficient searching.
But with the new system, all I need to do is click the Power Search button…
…and I can choose specifically which days I want KVS to look at. This means I can narrow the search space to 10 days, instead of 30!
Even better, I can now select a larger date range to search. Suppose my leave period is flexible, so long as I fly on weekends. KVS Tool limits you to 31 days of searching at one go, but because I'm only looking at Saturdays and Sundays, I can now search all the way from 1 June to 14 Sept 2019 in a single request.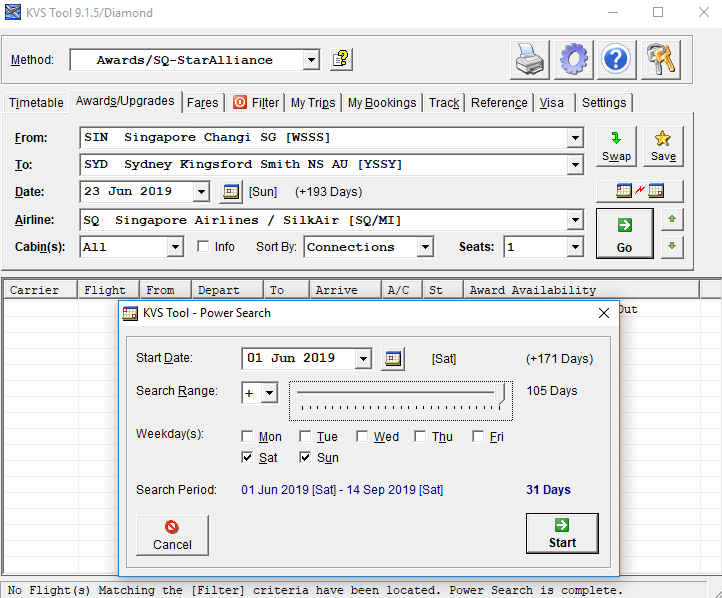 With the old system, I'd only be able to search from 1 June- 1 July 2019 at one go because all the irrelevant days would eat up my 31 day allowance.
Brilliant, isn't it?
Conclusion
One feature I'd really like KVS Tool to add is the ability for the Power Search function to generate a list of available options, instead of requiring manual intervention to restart each time a hit is found. This would help generate an award calendar of dates that meet your particular search criteria (e.g specific cabin product, specific timing, specific aircraft type). Let's hope this is somewhere on the horizon.
If none of the above made any sense to you, consider joining us for Power Award Searching this Friday night where we'll learn all this and more!