Turkish Airlines' current Business Class hard product is hardly aspirational. Laid out in a 2-3-2 configuration on their Boeing 777-300ER, it's the second-highest density Business Class cabin in the skies, just behind United and British Airways (2-4-2).
Turkish is set to receive brand new Boeing 787s and Airbus A350s, which will finally feature new Business Class seats with direct-aisle access. The Business Class seats that can be found on these new aircraft are very similar to those which you can currently find on Singapore Airlines regional Airbus A350-900s as well as the Boeing 787-10s, which both me and Aaron have reviewed.
Here's the new Turkish Airlines Business Class seat: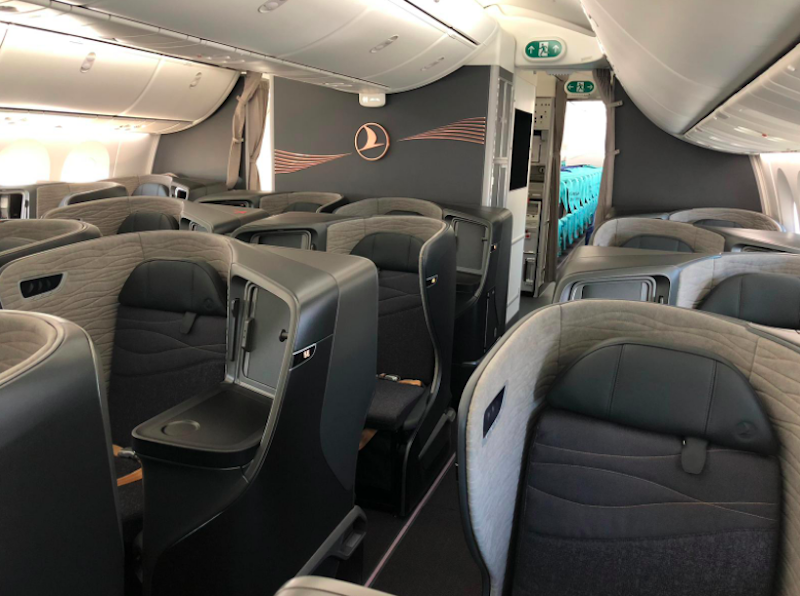 When will it be flying?
Turkish Airlines will maintain its daily service between Singapore and Istanbul using the Boeing 777-300ER, and the new flight to Singapore that will be operated by the Boeing 787-9 will fly on the following days:
Between 8 June 2020 – 19 July 2020:
TK022 IST – SIN
DEP 1825
ARR 1015 (+1)
Monday, Thursday, Friday
TK023 SIN – IST
DEP 1125
ARR 1745
Tuesday, Friday, Saturday
From 20 July 2020:
TK022 IST – SIN
DEP 1825
ARR 1015 (+1)
Tuesday, Wednesday, Saturday
TK023 SIN – IST
DEP 1125
ARR 1745
Wednesday, Thursday, Sunday
The Boeing 787-9 flights will land in Istanbul at very awkward timings as flights to the US mainly depart in the morning, which means you'll have to spend the night in Istanbul if you are connecting onward to the United States. Although you will still have the option to take an evening flight to Europe, you'll be "wasting" a day of your holiday as you will be arriving in Europe in the evening.
Award Costs and availability
Turkish Airlines Miles & Smiles program is actually a great program if you wish to redeem flights on Turkish Airlines to fly to either Istanbul or through Istanbul to Europe or the United States. I've written about the program before and you can check that article out below.
Redeeming a Star Alliance flight? Don't forget to check out Turkish Airlines Miles&Smiles
Assuming you are using Istanbul as a connecting airport to Europe or the United States, here's how much it will cost you to book your Turkish Airlines flights through Miles&Smiles compared to KrisFlyer (one-way figures):
| | | |
| --- | --- | --- |
| | | |
| Singapore – Europe | 45,000 | 92,000 |
| Singapore – United States | 62,000 | 105,500 |
There is a staggering difference in the mileage cost required between Miles&Smiles and KrisFlyer with the latest devaluation to hit the KrisFlyer program earlier this year. You come out 47,000 miles ahead just by using Miles&Smiles to book an award flight to Europe and that 47,000 miles saved can be used for a one-way flight to Japan/South Korea on Singapore Airlines. That said, do remember that Turkish Airlines imposes fuel surcharges on award tickets which can make your redemption rather expensive.
Here's a sample quote of the fuel surcharges and taxes you will need to pay for a flight from Singapore to London Heathrow on Turkish Airlines:
Award seats have been loaded into the system and you will be able to book them through KrisFlyer or your preferred Star Alliance FFP.
Concluding Thoughts
Although June 2020 is still some time away, it's nice to know that you'll have a better choice available in terms of aircraft and seat type if you are heading to Istanbul via Turkish Airlines in the future.
Singapore Airlines is already planning to fly the A350-900 Long Haul aircraft fitted with the 2013 Business Class product to Istanbul later this yea. which is great news especially since it currently serves Istanbul with the Boeing 777-200ERs featuring the 2006 Business Class product.
[H/T: Routesonline]