The A350 is a marvel of modern engineering. More than half the plane is made from lightweight, carbon-fiber reinforced plastic. HEPA filters recycle the entire cabin's air every 3 minutes. The cabin's LED lamps can produce 16.7 million shades of light. Cabin humidity can be kept at a relatively high 25% (versus 20% for older aircraft), while pressure can be maintained at a pleasant ~6,000 feet (versus 8,000 for older aircraft).
Singapore Airlines currently has two different versions of the A350 in its fleet. There are 21 A350-900s, which serve a mixture of medium and long haul routes. Then there are 5 A350-900ULRs, which serve the ultra long haul non-stop routes to the USA.
Later this month, Singapore Airlines will start operating its first regional-configured A350-900 aircraft in the form of 9V-SHB, which flew from the Airbus factory in Toulouse to Changi Airport on 1 December.
9V-SHB will start service to Adelaide as SQ279/278 on 17 December, before also starting service to Jakarta as SQ964/965 from 18 December.
| | | | |
| --- | --- | --- | --- |
| Flight | Depart | Arrive | Days |
| SQ279 | SIN: 2335 | ADL: 0905 (+1) | All |
| SQ278 | ADL: 1025 | SIN: 1510 | All |
| SQ964 | SIN: 1720 | CGK: 1805 | All |
| SQ965 | CGK: 1900 | SIN: 2155 | All |
How is the A350 regional business class cabin different from the other A350 aircraft?
With three different A350s in the fleet, there's bound to be some confusion about the types of seats available at the pointy end of the plane. It's quite simple, actually:
The regular -900s have a three cabin configuration with the 2013 J seat, the 2015 PY seat and the 2013 Y seat
The -900ULRs have no economy cabin, only the 2013 J seat and the 2015 PY seat
The regional -900s have a two cabin configuration with the 2018 RJ seat, and the 2017 Y seat
| | | | |
| --- | --- | --- | --- |
|   | A350-900 Regional | A350-900 | A350-900 ULR |
| Business Class | | | |
| Premium Economy | N/A | | |
| Economy | | | N/A |
| Overall Configuration | 40/263 (J/Y) | 42/24/187 (J/PY/Y) | 67/94 (J/PY) |
There are 40 Business Class seats in the cabin of the regionally-configured A350-900, the same ones as those you'll find on SQ's new 787-10s. I've not actually flown an aircraft with these seats before, but I have toured the cabin previously and I think they're very impressive for the routes they're meant to service (up to 7 hours).
The Business Class seats are configured 1-2-1 with all aisle access. Each seat converts into a full-flat 76 inch bed, and measures 26 inches in width. All seats come with in-seat power supply and USB ports standard, and a 17 inch full HD touchscreen monitor.
My only negative comment is that portly individuals will find the seat width a tight fit especially with the armrests raised. Hopefully, since the A350's fuselage is slightly wider than the B787, there'll be a bit more breathing room on this version.
What's also interesting is that the A350-900 regional business class cabin is divided into two sections. There is a forward cabin of 28 seats, and a rear cabin of 12 seats.
If you're traveling solo, you presumably would prefer a seat away from the aisle, so that's the A/K seats in rows 12, 15, 17 in the forward cabin and 20 in the rear. Couples traveling together will want to go for the D/F honeymoon seats in rows 11, 14, 16, 18, 19 and 21.
Will there be Wi-Fi?
Yes indeed. The regional A350-900 aircraft will have Wi-Fi provided by SITAONAIR, similar to the system you'll find in the latest A380-800 aircraft.
This means that Wi-Fi should be priced as follows, with Business Class/PPS members getting their usual 30MB free allowance.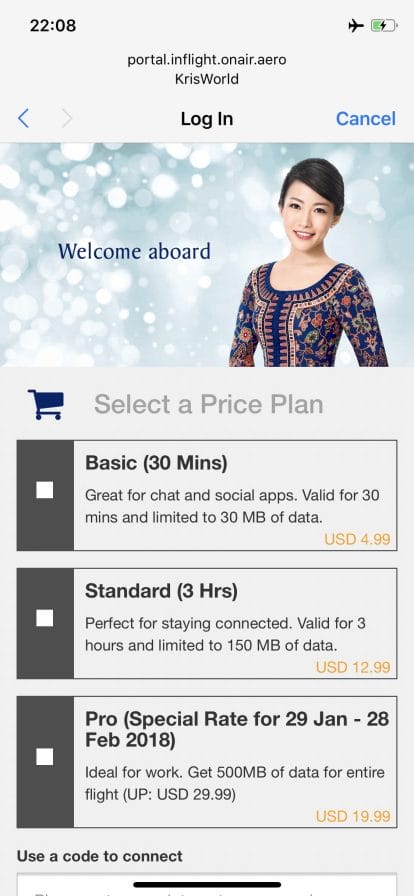 Using SITAONAIR unfortunately means that Citi Prestige cardholders with a Boingo subscription will not be able to get free inflight Wi-Fi. You can refer to the Milelion's Wi-Fi guide for a rundown of what aircraft have which Wi-Fi system.
How is award availability?
Award availability to ADL is a mixed bag. Although I could find at least one Business Saver seat available throughout the post-Christmas period out of SIN…
…there were very few days with Business Saver award seats heading back to SIN.
As covered in my article on partner bookings of Singapore Airlines' regional business class, it seems like the ADL route is totally blocked from non-KrisFlyer redemptions, so you won't be able to use LifeMiles or other Star Alliance FFPs to book it. SIN-CGK, however, has plenty of availability, although one should consider the merits of flying Business Class on a flight that's less than 2 hours.
Here's how many KrisFlyer miles it costs to redeem a one-way Saver ticket from SIN to CGK/ADL
| | | |
| --- | --- | --- |
|   | CGK | ADL |
| Economy | 7,500 | 28,000 |
| Premium Economy | N/A | 45,000 |
| Business | 17,500 | 58,000 |
| First | 25,000 | 80,000 |
Conclusion
The arrival of the B787-10s and A350-900 Regionals mean the days of the angled-flat A330/772s are numbered. And to that I say, "good riddance". The angled-flat product was never meant to be anything more than a stop-gap solution, and flying it on an overnight red-eye was well below the experience you'd expect from an SQ premium cabin.
The A350-900 regional will next be deployed to Brisbane in 2019, and will become a regular sight in the fleet as SQ starts to receive the other 45 A350-900s still on order.