Introduction: The Retro-Nostalgic Peregrination
THAI Airways Royal First Class Lounge Bangkok
THAI Airways Boeing 747-400 First Class BKK-SYD
Pier One Sydney Harbour
Singapore Airlines Airbus A380-800 2007 Suites SYD-SIN
---
There is a line of warehouses along Hickson Road that accompany the piers along Walsh Bay. There are restaurants, cafes, bars and art studios. But perhaps most intriguing of them all is the one at Pier One.
Due to the previous use of the establishment as a warehouse, there was nothing distinctive that helps identify the hotel from far. Our Uber driver struggled to find visual indicators that differentiated the hotel from the rest of the warehouses along the street. He eventually announced triumphantly, "We're here!", though it was only when we pulled up right in front of the entrance that we truly believed we arrived.
Check-in
Checking in was smooth, with the front-desk receptionist recognising my loyalty as a Platinum Elite member. I had booked a standard room, and had requested for an additional rollaway bed, given I was travelling in a group of three.
Unfortunately, the property was fully booked during our stay, and upgrades weren't possible. The receptionist was very apologetic about this but I didn't mind since we were anyway spending most of the time out of the room.
She gave us drink vouchers at the on-property bar and informed us that, as part of my membership status, there was also complimentary breakfast for two. We were told that breakfast was chargeable for a third person, though I later found out those charges were waived upon checking out.
Room
As expected, the room was fairly standard.
For what it's worth, even with the addition of a rollaway bed, my travelling group didn't feel it was squeezy. Or at least, no one harboured any murderous intentions by the end of the stay, which is always a good testament to your friendships when travelling together.
The bathroom offered a good amount of space. The walk-in shower also had both a separate shower wand and rain shower heads, with amenities from Appelles.
Aside from these, the room also had a security safe, mini fridge and a mini bar – all standard basics of every room.
Less than 15 mins after settling in, there was a knock on our door, with a member of the concierge team leaving a welcome note and a bottle of wine. It wasn't vintage by any means, but it was still nevertheless very well appreciated.
We later popped out to have lunched and when we came back, we were surprised to find yet another note left by the concierge team, this time with some chocolates. I'm not sure if this is something all guests receive regardless of status, but it's nice touches like these that don't take much effort, but leave a very positive impression on guests.
Breakfast
Breakfast is served daily at The Gantry, which is the hotel's on-site restaurant. Despite its small space, there was quite the variety on offer.
There was the usual continental fare, with scrambled eggs, bacon, baked beans and grilled potatoes and tomatoes. There was also an egg station, all cooked-to-order with a choice of your own customised egg combos, or from one of their three recommended omelette specials. The truffle champignon omelette was good enough that I had repeat orders on subsequent days.
The cheese and charcuterie section was fairly standard, though the bread selection was impressive. There were large baskets of baked goods, from rolls and croissants, to sliced bread, baguettes and even gluten-free bread. For the latter, the restaurant also has a separate toaster for gluten-free bread. This distinction is easy to overlook, but cross-contamination for those with celiac disease will tell you that even a single crumb is enough to cause problems.
The cereal section was also impressive, with no less than 12 different types of cereal, grains and bran offered.
It would be easy for most places to cut corners when it comes to morning beverages. Juices could come pre-packaged, and coffees all made with regular coffee makers.
While these were indeed available, it was also nice they had a cold press juicer, where guests can select their own mix of fresh fruit for their juice fix. For coffee lovers, there is also a barista-manned coffee station. It was by no means the best, considering the plentiful other options in the city, but it was still very heads and shoulders above what most other hotels pass off as good morning coffee.
If neither of the above appeals to you and bubbly in the morning is more your thing, there's also everything you need to make your own mimosas.
Other features
Near the restaurant is the hotel's fitness area. The gym is well equipped with weights, machines, medicine balls and yoga mats to cater to most workout regimes.
There is also an outdoor area, which would be perfect for Sunday brunches in the summer.
We also visited the in-house bar on one of the evenings to use our complimentary drink vouchers. The Gantry is one of the city's top restaurants (they hold one Chef Hat – Australia's good food guide) and the bar gets crowded in the evenings as some of the restaurants' diners spill over.
The few negatives
Pier One is located right next to Dawes Point, which is right under the Sydney Harbour Bridge. It's well placed if you'd like to immediately access the harbour. My friends and I went on morning runs in beautiful weather – it was an easy 4km run to and back from the Sydney Opera House.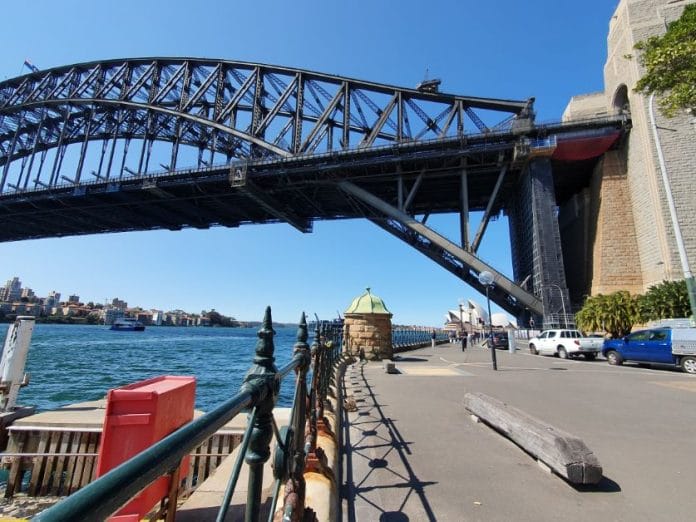 If you are, however, the sort who likes to pop out to satiate late night hunger pangs, there aren't any convenience stores around in a city where lockout laws were introduced in 2014. The hotel is also quite a distance away from the city centre, so you don't have the luxury of simply walking back to the hotel after a night out.
If the skies are clear, walks to and from the main harbour area are lovely. When it rains though, then not so much.
On the one occasion that it rained during our stay though, we were treated to this rainbow upon stepping out from the hotel.
We also experienced a lapse in service on our final night. Housekeeping didn't come by the entire day, even though we left a hanging sign outside our door requesting for our room to be tidied. We went down to the front desk to raise this to them. The receptionist apologised profusely and said she'd send someone up immediately, though it took a good 30 mins before someone finally arrived.
Staff
It's not very often where a stay leaves me with a lasting impression of a hotel's staff. From check-in to -out, the staff were genuinely warm and friendly. It is a clear indication that a hotel values elite guests when they hire someone specifically to deal with elite members in Marriott's program.
I'm really bad with remembering names, but two staff in particular stood out to me. One of them was an elite guest relations manager (or something similar – I can't recall). She came by every morning at breakfast to ask us how we were doing and if she could help provide any helpful recommendations or information regarding our activities for the day.
There was also a member of the concierge team who assisted us with bringing our luggage to our room. He remembered our room number and would recognise us whenever we came back to the hotel, often greeting us by name.
I mentioned earlier on that the hotel was fully booked during our stay and despite this, it was nice they made the effort to remember our names.
Concluding thoughts
I'd like to think that the lapse in service on our final night was a one-off, because everything else was great.
Pier One may be not be the most obvious choice for others who prioritise convenience over everything else. It is a little out of the way, with only limited dining options nearby. If you can overlook this though, the views you get right when you step out of the hotel more than make up for this. The alternative for a place this close to the harbour is the A$1,000-a-night Park Hyatt next door.
Bar that one housekeeping incident, the staff here are also genuinely warm, friendly and encompass what Australian hospitality is truly about.