Well, it wouldn't be a proper trip report without a little drama, would it?
A couple of days ago, I published the Trip Planning installment of Roman Holiday, my latest adventure. One big piece was supposed to be the opportunity to review Qatar's QSuites, the Business Class so good it makes First Class irrelevant (in the words of Qatar's CEO).
All three Singapore-Doha flights are served by QSuites aircraft, but since no award space was available, I positioned myself to Kuala Lumpur to take QR845 instead, which is operated daily by a QSuites-equipped A350-900.
Or should I say, "was". I was idly browsing the QR forum on Flyertalk when I saw the QSuite master thread had been updated effective 31 August 2019. Spot what's missing?
To my horror, Kuala Lumpur is no longer a QSuites route. A quick check of the Manage My Booking page confirmed this: instead of the QSuites seat map, I'm now seeing the regular reverse herringbone-configured A350-900.
I desperately tried to look for alternatives. I thought about SIN-BKK-DOH-KBP (no luck, I wouldn't be able to arrive in BKK early enough to catch QR831), I thought about SIN-HKG-DOH-KBP (didn't want to risk disruptions in Hong Kong).
I even considered, for a lark, doing SIN-PEK-FRA-MUC-KBP, with SIN-PEK in SQ F, PEK-FRA in LH F and FRA-MUC-KBP in LH J. This would at least have let me do an updated review of the First Class Terminal in Frankfurt, but I had to remind myself the priority was to get The Milelioness to Kiev as stress-free as possible, not indulge my caviar dreams.
Ultimately, I figured it was just way too late to do any itinerary swaps. If I were flying by myself, perhaps, but I'm starting to discover what many have told me before- the equation does change when you're traveling with a companion!
There is a ray of hope, however. Based on the operating history of QR845, I can see that on 4 of the last 7 days, the route was still operated by QSuites-equipped aircraft.
So there's still a fighting chance I'll get lucky here, and I'll learn my fate early tomorrow morning when QR844 departs Doha for Kuala Lumpur at 12.30 a.m SGT.
I'm also flying Qatar Airways on the way back from Kiev, from KBP-DOH-BKK. The DOH-BKK flight I'm on will unfortunately not be a QSuites-equipped aircraft, but if I don't get QSuites on the outbound I might try to play around with the return leg to make it happen. Stay tuned.
Conclusion
Aircraft swaps are part and parcel of the miles game, and it's one of the risks we take when we position ourselves for the exclusive purpose of trying a new cabin product. Cabin class may be guaranteed, but cabin products are not- as far as the airline is concerned, Business Class is Business Class, as this poor guy found out.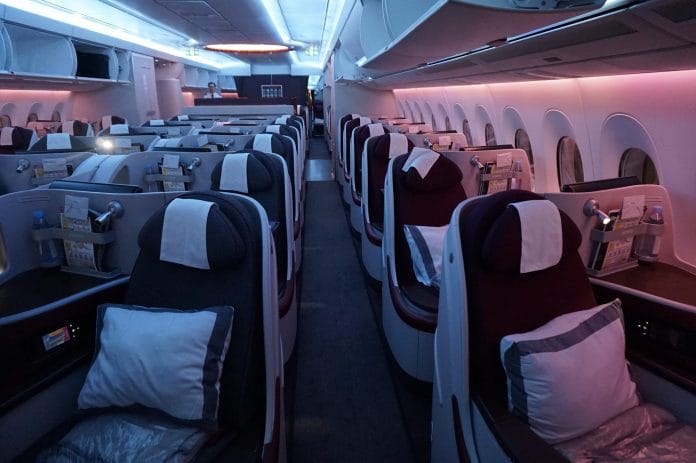 Although it'll be disappointing if QSuites aren't on the menu, some perspective is necessary here. It'll still be a very comfortable flight with Qatar's reverse-herringbone seat, and it's still a heck of a lot better than sitting at the back of the plane, so no complaints from me!