The Philly Pho Fare: Trip Planning
Cathay Pacific Business Class Lounge Terminal 4 SIN
Vietnam Airlines A321 Economy SIN-HAN
Qatar Airways B77W Business Class HAN-DOH
Qatar Airways A350 Business Class DOH-PHL
Aloft Philadelphia Downtown
Exploring Philly
British Airways Business Class Lounge PHL
Qatar Airways A350 Business Class PHL-DOH
Qatar Airways Arrivals Lounge DOH
Qatar Airways Complimentary Doha Stopover Package (Westin Doha)
Qatar Airways Al Mourjan Business Class Lounge DOH
Vietnam Airlines Business Class Lounge HAN
Silk Air B737 Business Class HAN-SIN
---
My connection in Doha was slightly over an hour, which wasn't enough time to explore the Qatar Airways lounge (which I'd reviewed previously, albeit during Ramadan when the catering was limited). I'll do a proper review on the return leg, when I have a 20 hour layover.
Although my experience on Qatar's old 77W had been underwhelming, I was looking forward to my flight on the A350 because a lot has been made of the business class on this aircraft. Ben at OMAAT calls this "the best business class in the world" and others have made similarly favorable comparisons.
QR727 from DOH to PHL was departing from Gate C4 at 0135. Doha airport sees high volumes of traffic in the wee hours of the morning when a lot of passengers make their connections, and the airport terminal was absolutely packed. What blockade?
Flights from the Middle East to the USA are singled out for extra security scrutiny. Thankfully, we're past the very, very silly idea of getting passengers to check all PEDs larger than a cell phone. PEDs can now be brought on board, but they're subject to security tests at the gate which involves powering them on and swabbing them for traces of explosives. Once cleared, they're placed in this clear tamper-proof bag.
The items are in the bag for literally less than a minute, because after you get past security and scan your boarding pass, you can remove your items and use them as per normal in the boarding lounge.
Boarding started exactly 30 minutes before departure, with business class and oneworld elites invited to board first. The crew were at the door to greet passengers and direct them to their seats.
The cabin was decked out in soothing mood lighting when I boarded. Qatar has done something interesting with their A350 cabin- instead of separating the two business class cabins with a partition, they've instead gone for one long cabin that has a bar area in the centre. This makes the entire cabin feel a lot more open and spacious.
Qatar's A350 business class is arranged in a 1-2-1 configuration, so 100% of seats have aisle access. Seats in the middle have a good amount of privacy, thanks to this raisable privacy divider between seats. You can of course lower it if you're travelling with a companion.
One concern I had about this seat when I first saw it online was the lack of privacy from the aisle. Unlike other airlines that have adopted reverse herringbone arrangements, Qatar hasn't opted for privacy "wings" around the head that block the passenger from the aisle.
In practice this was less of an issue than I feared. Because of the angle at which you seat, it'd take quite a bit of effort for you to see the person across the aisle (you'd have to turn your head significantly). That said, I wouldn't recommend the bulkhead seat if you want privacy because the lack of a seat in front of it means your entire side is exposed.
The seat narrows around the place where your legs go, which might be a concern for people with larger feet.
Another concern I had about the seat on first glance was the apparent lack of storage space. This is definitely an issue with Qatar's older 77Ws and on first impression it looked like this side table was the only space for storage. You can't store things here during takeoff and landing for safety reasons.
But further exploration of the seat revealed additional hidden storage space. Take this compartment near your legs for example, which opens up into a fairly large storage locker.
Or this compartment hidden in your armrest, which opens up to reveal water bottle and headphone storage.
Or this drawer built into the base of the seat infront of you, which opens to reveal a pair of slippers. You could store your shoes here during the flight. Suffice to say, you won't be wanting for storage space with this seat.
Each seat has in-seat power (which takes Singapore plugs without the need for an adapter) plus two USB ports.
Qatar provides noise cancelling headphones, which were of reasonably good quality.
The IFE controller was on the left of the seat. It was a touchscreen version that also had dedicated buttons for the overhead lights and attendant call.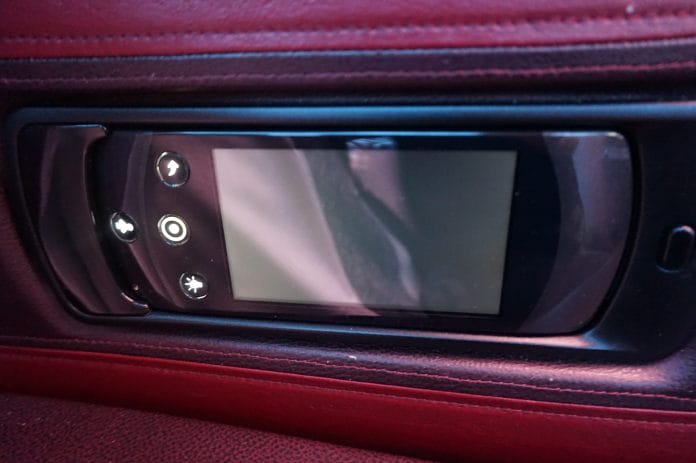 The IFE screen was itself a touchscreen, so you could control proceedings by tapping on the screen directly if you so wished.
Another set of PJs was given to me on this flight, plus an amenities kit.
On my previous HAN-DOH leg I'd already received the male version, so I requested the yellow female version instead. Surprisingly, apart from the difference in colour, the contents are exactly the same.
The captain came on the PA to inform us of the 14 hour flight time to Philly, which comfortably placed this flight into the category of ultra long haul. The cabin crew in charge also came around to introduce herself to each and every passenger in business class. Before takeoff a selection of drinks were served together with a choice of hot or cold towels. I went with a glass of champagne plus a mix of lime and mint, which is always a winner.
After a short taxi we were soon airborne. One cool feature about the A350 is that the windows don't have the traditional shades. Instead there's an electric button at the base that lowers two kind of shades- day shades and night shades. The day shades let in a bit of light, the night shades block it out altogether. They almost look like blinds. I know some people prefer the techno-marvel that is the electronically tinted windows of the 787, but this is still pretty cool in its own right.
The other nice thing about the A350 is that there are individual air vents, plus nifty electronic no-smoking/fasten seatbelt signs.
After takeoff some drinks and warmed nuts were served. I only really eat the cashews in the nut mix but the crew were more than happy to refill it with just that.
I browsed through Qatar's entertainment selection, which had a lot of first-run movies to choose from.
I settled on War for the Planet of the Apes. I was a big fan of the 1968 version and love how the rebooted series has explained some key plot points from that movie- how apes became the dominant species, why humans can't talk, how that space crew ended up shanghaied in the first place. It gives the whole franchise a respectable sci-fi spin, and hopefully banishes that Mark Wahlberg/Tim Burton abomination.
Also, any series that gives us this can't possibly be a bad thing.
The IFE controller is supposed to serve as a useful second screen while you're watching a film, but in practice it ended up being more frustrating than helpful. Once you navigate away from the play/pause/volume/skip screen, it's very hard to get back to it again. I ended up reaching forward to the touchscreen to handle all navigation in the end. The controller also seemed to have trouble detecting swipes; sometimes I'd have to swipe multiple times before it registered an input.
It was well past midnight by now, so even though supper was being served to some passengers I decided to take advantage of Qatar's dine-on-demand service (more on that below) and catch some sleep first.
A mattress pad was provided on this ultra long haul flight. This is a welcome feature which I hope more airlines will adopt (Cathy is trialing this, SQ already has separate surfaces for sleeping and sitting with special padding for the sleeping surface) because not only is it more comfortable, it's way more hygienic. Mattress pads are at least washed every flight, whereas if you're on a plane that doesn't offer them then you're sleeping on the same surface that gets sat on every day without cleaning. Even if the padding isn't all that thick, it at least provides some sort of barrier between you and the seat.
Remarks on sleep quality: no complaints. I do prefer seats that let you choose what angle you want to sleep at rather than the binary choice that is SQ's current business class seat (the new SQ seat, however, does not need to be flipped over). I slept very comfortably for 4-5 hours.
I woke up hungry and checked out the menu. The crew (who were very attentive) noticed me reading the menu and asked if I'd like to be served now.
Qatar's dine-on-demand means you can have your meal anytime you wish. This sounds like a simple thing for airlines to offer and some may wonder why more of them don't do so, but it's in reality a logistical nightmare for the crew (SQ, for example, has struggled to implement it effectively on its non-stop SFO flight as this FT thread suggests).
Traditional meal service is a fairly straightforward workflow. Orders are taken and prepared in batches. Galley prep moves sequentially from appetizers to main course to dessert. Even though people eat at different paces, you generally have a progressive flowthrough where dessert and appetizers won't be prepped at the same time .
Then imagine the workflow for dine-on-demand. The galley never really shuts down, because at any moment someone might request to have his or her meal. You get overlapping courses where some diners are on the soup while others are on dessert. Therefore I have utmost respect for crews that can carry out a smooth dine-on-demand service and this Qatar crew did exactly that.
The starter was a creamy white bean soup, which was ok for the first few sips then got too rich.
I went with the smoked salmon and cream cheese roulade for the starter. Salmon was good, cheese again too rich for me.
And for the main, the grilled fillet of beef with peppercorn sauce, herb mashed potatoes and roasted carrots.
I've written numerous times about the elusive medium-rare airline steak, something I'm progressively convinced is an impossibility both for technical (steaks are typically cooked to rare on the ground and then nuked in the microwave when onboard) and safety reasons (given how paranoid airlines are about food poisoning). Unfortunately, it looked like Qatar wouldn't be the airline to break the spell, as the beef was completely cooked inside as well. Thankfully it wasn't too chewy.
White chocolate and mango mousse cake ended the meal.
I mentioned at the start that the centre divider of the business class cabin had been replaced with a bar. Although it wasn't a manned bar the likes of which Emirates has, it was still a nice place to grab a drink. The crew set up some champagne, a fruit basket and an assortment of chips, chocolates and nuts.
I decided to get some work done after my meal. Qatar has inflight internet on its A350s and although it's provided by OnAir (volume rather than time-based), the prices are very reasonable (ahem SQ ahem). For US$20 you can get 200MB of internet. Although I'd still prefer time-based plans, this wasn't too bad.
The problem was that the internet was so slow until the point it was unusable. As per Speedtest.net…
As I worked, the crew came by with a hot towel and another glass of champagne, because nothing helps work like booze.
I was barely able to access The Milelion, and the connection cut in and out frequently. Whatsapp worked ok, but anything beyond that was dicey.
Before going for round two of sleep, I checked out the bathroom. Qatar has automatic taps but hasn't gone for automatic bins like SQ has on its A350s (the one where you wave your hand and the bin opens- any technology that lets you limit the number of things you touch in an aircraft bathroom is a blessing).
Some limited toiletries were available in the loo, in addition to toothbrush sets and shaver kits. One word about the loos: I felt they weren't maintained as well as they could have been. I'd often find the bin overflowing with tissue or the countertop and floor wet. I get that it's a long haul flight and all it takes is one passenger to mess up everything, but more vigilance here would be good. This is where SQ does very well- I often see the crew popping into bathrooms inbetween passengers to clean things up.
I went back to bed and woke up with about 3 hours left. Man, these ultra long hauls are long.
I figured now was as good a time as any for breakfast, and again requested dine-on-demand.
The crew came to dress my table, delivering a warmed bread basket, some preserves and orange juice.
The starter of smoked turkey and beef pastrami with cheese was alright- I'm not a big fan of processed meat but preferred this over muesli any day of the week (I could, of course, have had both if I so wished).
Now I said that I'd been unimpressed with Qatar's catering thusfar but I will say this was  good breakfast. Scrambled eggs that weren't nuked, with juicy sweet vine tomatoes, mushrooms, non-soggy potatoes and a bit of beefsteak.
As my table was being cleared the cabin chief chatted me up and asked for feedback on the flight. I mentioned the great seat and entertainment selection, but raised the toilet cleanliness and inflight internet as areas of improvement. Here's where I also met Daniel, one of the stars of the crew on the flight. He'd seen me reading Flyertalk on my laptop and asked if I was active there (I'm more of a lurker). This sparked off a conversation and I learned he too was a lurker (QR staff aren't allowed to post to social media) and enjoyed hanging out on FT ("but it's so frustrating because you read some of the things people post up there and you're like "no, you've got it completely wrong!" and you can't say anything).
I shared with him a bit more about The Milelion and my plans for Philly. He told me a bit about his travels and it was clear that he loved his job with Qatar. After a bit he had to disappear to prepare the cabin for landing, but he re-emerged a little while later with this:
That was a really awesome gesture from the crew. It's not a thing that costs an airline anything (everything on the plate was leftovers that would have been thrown out after the flight) but it's small things like this which leave a positive impression.
14 hours were finally over and we started our descent into PHL. I managed to get some great shots as we were descending. There's something really attractive about the wing of an A350.
We landed on schedule on a freezing Philly morning and parked next to an AA jet.
Conclusion
Nothing reveals more about the quality of an airline's hard and soft product than an ultra long haul. Although I was skeptical heading in, I must say I was pleasantly surprised with the experience. There was definitely room for improvement but overall it's something I'd have no hesitation recommending to anyone.
A word about the crew- I felt their performance on the flight was excellent. Having flown on SQ so much where the crew is more or less homogeneous, it's fascinating to see how the multi-ethnic crews of Middle Eastern airlines work together. Although they weren't as polished as SQ crew in some respects (especially with regards to remembering passenger names- some crew did and others didn't. On SQ, remembering passenger names in business is mandatory), they displayed very good anticipation of passenger needs. For example, I was loitering around the snack bar in the darkness midflight trying to stretch my legs and a passing crew member lent me his torch to examine the snacks on offer. Another time I stepped out of the bathroom after changing into my PJs and a crew member was outside waiting with a hanger. I appreciated these small touches, as they demonstrated good attention to detail.
After 25 hours of flying and no small amount of drama, I was finally in Philly. It was time to start exploring.