Introduction: Roman Holiday
Qatar Airways A350-900 Business Class KUL-DOH
Qatar Airways A320 Business Class DOH-KBP
Waldorf Astoria Rome Cavalieri
St Regis Florence
Interlude: When interlining goes wrong
Cathay Pacific A350-1000 Business Class FCO-HKG
---
"You're taking a dental course where?" I asked incredulously.
"Kiev," said The Milelioness, as if it were the most normal thing in the world.
I stared at her, wondering if she was mistaken. Geography, after all, was decidedly not her strong suit. I would never understand how she could do a perfect root canal treatment of a two-rooted C-shaped mandibular second molar, yet mix up the Chad and Romanian flags.
But correct she was, and we now had to visit Ukraine not once, but twice in the space of three weekends. It obviously made no sense to return to Singapore in between, so I thought it'd be a good chance to finally visit Italy and tick a few things off my bucket list, like sampling a real cannoli and leaving random copies of Luther's 95 Theses lying around the Vatican City.
It was time for a Roman Holiday.
Flights
The disjointed nature of the Milelioness' two courses made trip planning extraordinarily difficult, but I love a challenge.
The plan was to accompany her to Kiev for the first course, then fly to Rome and Florence for 10 days. After that, she'd return to Kiev by herself for the second course, while I'd spend a couple more days in Italy (Singaporeans need to pay US$85 for a Kiev eVisa, so it didn't make sense for me to go back the second time). Finally, I'd fly into Kiev, pick her up in transit and return to Singapore.
And that's how I ended up with this:
From Singapore to Kiev
First up, we had to get to Kiev. There are no direct flights from Singapore, but there are one-stop options via SWISS, Lufthansa, LOT Polish and Qatar Airways.
Immediately, I thought of trying the QSuite. All three daily flights from Singapore to Doha are now equipped with QSuites, but unfortunately I couldn't find award space on SIN-DOH.
However, QR845 from Kuala Lumpur to Doha is served by a QSuites equipped plane, and I was able to get award space on KUL-DOH-KBP for 70,000 Asia Miles and S$378 in taxes and surcharges per person. Qatar Airways is notorious for ridiculous fuel surcharges (S$327 in this case), but 70,000 miles in Business Class to Europe is reasonable in my opinion.
Although QSuites has been flying since June 2017, I haven't yet had a chance to try the product. There's enough publicity photos floating out there to get me drooling though…
Plus, with the double bed seats booked, I'll have the opportunity to test Josephine Teo's small spaces theory evaluate the QSuite sleeping experience for comfort, privacy, and lumbar support.
To position to Kuala Lumpur, I redeemed a one-way Malaysia Airlines flight for 4,500 Avios (this was the pre-devaluation rate) and S$52 per passenger. Yes, I could have got a budget flight, but I wanted the certainty of checking my bags through from Singapore (MH and QR will interline).
Now, you might be wondering why I didn't just book a single SIN-KUL-DOH-KBP award, with SIN-KUL on MH and KUL-DOH-KBP on QR. That was my original intention, but the Asia miles agent said it was not possible to book a one-way MCA. I'm not sure if that's completely correct, as I understand there are some scenarios in which it can be done. I didn't have the strength to argue, however, and since SIN-KUL is a relatively simple hop I let it go.
I think I'm mellowing. 
From Kiev to Rome
Getting from Kiev to Rome will be no fun, no fun at all. The only feasible flight is on Ukraine International Airlines. "Ukraine International Airlines?" I hear you say. "Why, I'm unfamiliar with that carrier. Is it an up and coming boutique airline, perchance, with all premium cabin seating?"
Er, no. It's an Eastern Europe Ryanair wannabe, and the online reviews don't exactly inspire me with confidence.
If there's any consolation, it seems like most of the complaints are from people who can't follow simple instructions. Yes, it sucks that the airline charges you to print out a boarding pass. Yes, it sucks that they meticulously weigh your carry on luggage. Yes, it sucks that they consider a purse to be an additional carry on item instead of a personal item. But given that their M.O is pretty well documented, I find it hard to sympathize. It's like getting angry at a cow for mooing.
So I'm going to go in with absolutely zero expectations and fully expect to be berated and cajoled at every turn. But the other flight options all involve lengthy layovers, and at S$235 per person, it's the best of a bad bunch.
From Rome to Singapore
To get back to Kiev to pick up the Milelioness, I decided to book FCO-IST-KBP on Turkish Airlines. This cost 30,500 KrisFlyer miles and S$186 in taxes and surcharges.
I know that Asia Miles would have been slightly cheaper (25K miles), but I wanted to check out a couple of things on Turkish Airlines- first, their unusual A330-200 Business Class product from FCO-IST, which has a 1-1-1 configuration. These aircraft were acquired from Jet Airways, and TK never bothered to refit the cabins.
Second, I wanted to explore the new Istanbul airport, where Turkish Airlines has relocated its over-the-top lounge. By all accounts, it's just as visually stunning as the old facility, although the Wi-Fi is supposedly abysmal and the multi-hour queues for showers have not been fixed.
Once I'm in Kiev, I'll transfer to Qatar Airways and fly KBP-DOH-BKK (the DOH-SIN leg again not being available). The award cost 70,000 Asia Miles + S$296 per person. 
As of now, my DOH-BKK flight does not appear to have QSuites- instead, it's the older (but perfectly acceptable) reverse herringbone seat.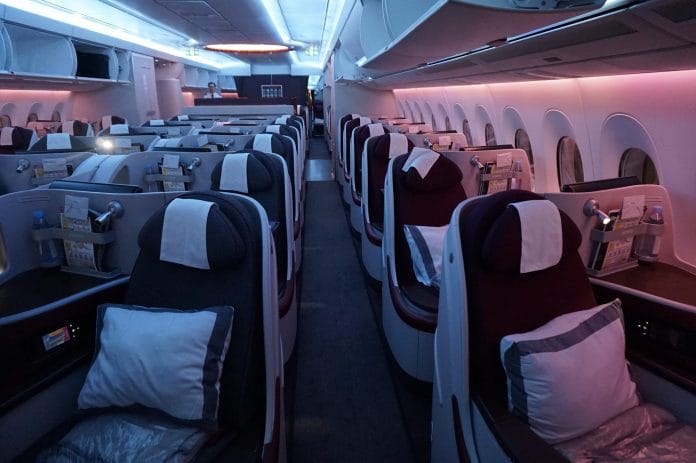 That's kind of a drag, but it's still better than the dreaded B77Ws with 2-2-2 in Business Class.
And finally, Bangkok to Singapore is a relatively uncomplicated Singapore Airlines flight- SQ981, and the lovely new 2017 Regional Business Class product. 21,500 KrisFlyer miles and S$34 per person.
It actually means I'll be flying FCO-IST-KBP-DOH-BKK-SIN, on three separate tickets. All the airlines involved have interline agreements, but I think it's still going to be an interesting conversation at the check-in counter.
Summing it up
The total outlay per person:
Carrier

Miles

Surcharges

SIN-KUL

MH

4,500

S$52

KUL-DOH-KBP

QR

70,000

S$378

KBP-FCO

PS

S$235 [Cash Ticket]

FCO-IST-KBP

TK

30,500

S$186

KBP-DOH-BKK

QR

70,000

S$296

BKK-SIN

SQ

21,500

S$34

 

196,500

S$946

(excludes cash ticket)
Paying almost S$1,000 per person on what should be "free" tickets does sting, but the bulk of those costs arise from flying Qatar Airways.
You could argue that a cheaper alternative would have been to fly SQ from SIN-IST for 49,000 miles and then buy a cheap ticket to Kiev, and you'd be right, but (1) there's no award space and our dates are relatively inflexible and (2) QSuites QSuites QSuites.
Hotels
Aloft Kiev
I'll be by myself for the first three nights as the Milelioness attends her residential course, so I just need a basic place where I can get work done. The Aloft Kiev fits the bill, with a decent location, free breakfast for Platinums and costing just 17,500 Marriott points a night.
I've stayed in enough Alofts to know the deal: a comfortable bed, a too-hip-for-you vibe and W-lite amenities (e.g. bliss body products in pump dispensers). That works just fine for me, because all I need is a decent Wi-Fi connection to cover the inevitable rush when Spontaneous Escapes gets released…
11 Mirrors Design Hotel
That said, I was also hoping to explore a somewhat nicer property, and since the Milelioness rejoins me for the final night in Kiev (before we jet off to Rome the following morning) I thought I'd explore a Design Hotel as well.
Say hello to the 11 Mirrors, the top-ranked hotel in Kiev on TripAdvisor. This 49-room hotel has won numerous design and service awards since opening in 2012, and I figured it was worth checking out at 35,000 Marriott Points a night. 
Oh, and the property is owned by Wladimir Klitschko. Yes, that Wladimir Klitschko. I'd better leave a good review.
Waldorf Astoria Rome Cavalieri
I'm still working through the Hilton points I earned last year as part of the AMEX x Hilton promotion, and decided to book two nights at the Waldorf Astoria Rome Cavalieri for 80,000 Hilton points a night.
I've never stayed at a Waldorf before, but the Rome Cavalieri sounds impressive. The resort grounds are massive, set in a 15-acre private Mediterranean park overlooking Rome and the Vatican. The building is adorned by an embarrassingly large collection of artwork (more than 1,000 pieces including three by Giovanni Battista Tiepolo) and hosts Rome's only three-star Michelin restaurant.  Three swimming pools, two tennis courts, an on-property hiking trail…what's there not to like?
As a Gold member, I'll at least get free breakfast (a benefit that was only recently extended to cover Waldorf properties) although upgrades are not guaranteed. That said, the base rooms here still feature separate living areas and private balconies, and bathrooms stocked with Ferragamo bath products, so I doubt I'll be disappointed either way.
The only catch, if you want to call it that, is that the hotel isn't exactly walking distance from central Rome, and there's nothing of interest nearby, except the Vatican. That's why we'll stay here for the first 2 nights only- enough to explore the Vatican and try out some of the on-property activities (gladiator training, anyone?)
After that, we're moving to something a lot more central…
Pantheon Iconic Rome, an Autograph Collection hotel
Location-wise, it's hard to beat the Pantheon Iconic Rome, situated around the corner from the Pantheon and a short walk from other sites like Piazza Navona, Campo de' Fiori, the Spanish Steps and the Trevi Fountain.
This is a Category 7 hotel, so rooms cost a hefty 60,000 Marriott points per night. I'm unhappily aware that's the same cost as the pre-devaluation St Regis Rome, but unfortunately I couldn't find any award space there at all.
Breakfast is not a published Platinum benefit at Autograph Collection Hotels, but based on reports this property goes above and beyond by offering it nonetheless. Upgrades aren't a given, either, but I've applied my last 2 Suite Night Awards to this stay and will hope for the best.
Le Meridien Visconti Rome
On the last 2 days in Rome we're exploring areas that don't need us to stay in the core (Trastevere + a day trip to Pompeii), so to save points we're moving yet again to the Le Meridien Rome Visconti, which costs a much more modest 35,000 points per night.
The Milelioness is still getting used to shifting hotels mid-trip, but at least she wasn't around when I hopped between the Four Points and Sheraton Shanghai Pudong every night. Fun times.
I don't have high expectations for this stay- to me, Le Meridiens are just french Sheratons. But at least I'll have free breakfast (I think by now you can tell that breakfast heavily influences my choice of hotels) and a shot at an upgrade.
St Regis Florence
I booked the St Regis Florence before Marriott's March category changes, which meant paying only 60,000 points per night with the fifth night free (it's now 85,000 points per night). Given that revenue rates during September are upwards of 570 Euros a night, I'd say I got good value for my points.
The St Regis Florence is widely-held to be one of the most aspiration Marriott Bonvoy redemptions, with numerous gushing reviews on FT. The hotel is housed in a 15th century Filippo Brunelleschi designed building, and underwent a $25M renovation in 2011. The 99 rooms have either "Renaissance", "Medici" or "Fiorentino" styles, which means three very different feels in a single hotel.
The breakfast selection is supposed to be fantastic, and since I'm losing my Platinum status next year I'd better enjoy the free food while it lasts. The location is unbeatable too, right by the Arno river and walking distance from the train station and many attractions.
Summing it up
I'm only intending to write reviews for the Waldorf Rome and St Regis Florence, but if anyone's dying to read about the other few please let me know!
Here's the total number of points I'll be spending:
| | | | |
| --- | --- | --- | --- |
| | Chain | Points/Night | Nights |
| Aloft Kiev | Marriott | 17,500 | 3 |
| 11 Mirrors Design Hotel Kiev | Marriott | 35,000 | 1 |
| Waldorf Astoria Rome | Hilton | 80,000 | 2 |
| Pantheon Iconic Rome | Marriott | 60,000 | 2 |
| Le Meridien Rome Visconti | Marriott | 35,000 | 2 |
| St Regis Florence | Marriott | 60,000 | 5 (5th night free) |
|   | | 517,500 Marriott +160,000 Hilton | 15 |
Conclusion
My friends and family know I'm more pedantic about Italian food than some nonnas out there (I've boycotted restaurants for serving cheese with seafood), so I absolutely cannot wait to visit a place where they'll murder you for making carbonara with cream.
QSuites, new lounges, a Waldorf, a St Regis…and lots of guanciale. This is going to be great.
Maybe next year the Milelioness can do a course in Mykonos.
---
Signing up for credit cards through any of the links in this article may generate a referral commission that supports the running of the site. Found this post useful? Subscribe to our Telegram Channel to get these posts pushed directly to your phone, or our newsletter (on the right of your screen) for the latest deals and hacks delivered to your inbox.