About a month ago, Mileage Plan snapped its fingers, and 50% of the value on Japan Airlines awards disappeared.
By removing the ability to add a stopover on an intra-Asia award, the cost of a "round-trip" Business Class flight between Singapore and Tokyo doubled from 25,000 to 50,000 miles, killing off the JAL one-way trick.
What was the JAL one-way trick?
The JAL one-way trick was a way of redeeming a pseudo round-trip award between Singapore and Japan for the price of a one-way.
It took advantage of the fact that Mileage Plan allowed a stopover on a one-way award of up to a year. This meant you could book SIN-NRT-KUL on Japan Airlines Business Class, spend a week in Tokyo and pay just 25,000 miles. This was a spectacular deal if you bought miles on sale- at a price of 2.11 US cents/mile (40% bonus), your journey would cost ~S$720, plus some taxes.
You'd of course need to find your way back from KUL-SIN, but this was a simple as buying a cheap budget flight. Alternatively, you could position yourself to KUL and fly KUL-NRT-SIN. You could also finish your itinerary in BKK or CGK, or do an open jaw in Japan to fly out from KIX.
And now, Alaska is running its first miles sale since "The Snap". From now till December 24 3.59 pm SGT, you can buy Mileage Plan miles with up to a 40% bonus.
At least that's the offer I received. Mileage Plan is known to run targeted offers, and you'll need to log into your account to see yours.
Check your Mileage Plan bonus offer here
Here's the breakdown of how my bonus tiers:
Buy 1,000-9,000 miles= no bonus (2.96 US cents per mile)
Buy 10,000-19,000 miles= 20% bonus (2.46 US cents per mile)
Buy 20,000-29,000 miles= 30% bonus (2.27 US cents per mile)
Buy 30,000-60,000 miles= 40% bonus (2.11 US cents per mile)
Alaska now caps the maximum miles you can purchase in a year to 150,000. However, since you can redeem Mileage Plan tickets for anyone, there's nothing stopping you from opening another account to buy more miles. MVP, MVP Gold and MVP Gold 75K Mileage Plan members have no such cap.
Is it still worth buying Alaska Mileage Plan miles?
For trips to Japan
Most Mileage Plan members in Singapore were probably buying miles for JAL awards to Japan, and why not. Before "The Snap", a pseudo round-trip Business Class flight from Singapore->Tokyo->Kuala Lumpur would have cost ~S$718 (assuming miles were purchased at a 40% bonus). Sure, you'd have to factor in the price of a positioning flight, but it was still phenomenal value.
Now that the loophole has been closed, the effective cost has doubled to ~S$1.4K. That's still good (compared to paying full-price for Business Class), but obviously nowhere as good as before.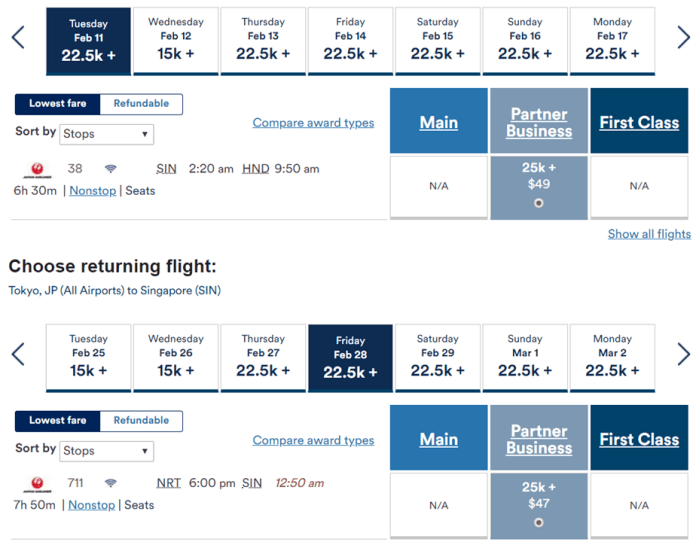 In that sense, I see some parallels between this and the SCB X Card sign up bonus. The SCB X Card initially launched with a 100,000 miles sign up bonus– far and away the best offer we've ever had in Singapore. It turned out being a little too popular, however, and was yanked after just six days. The revised sign up bonus? 60,000 miles.
In the cold light of day, 60,000 miles is still a very good sign up bonus, much more than the competition in Singapore anyway. But would you be willing to accept such an offer, knowing you just missed out on a much better one?
The logical answer is yes. A good deal is a good deal, even if it comes just after a fantastic one. But psychologically speaking, it's understandable why some may be averse to it, and in the same way, I understand why people might balk at paying 50,000 miles for routing that cost half as much a month ago.
For what it's worth, I'm personally not in the market to buy Mileage Plan miles right now. The way I see it, would-be Japan travelers have three alternative options:
Transfer Citibank or AMEX points to EVA Infinity MileageLands and

redeem a round-trip Business Class ticket for 50,000 miles

. You'll have to make a stop in Taipei, and pay about S$386 in taxes and fuel surcharges

Pray that Aegean Miles & Bonus holds another 100% bonus Black Friday sale, buy the miles and redeem an ANA/Singapore Airlines Business Class ticket for about S$920 round-trip
Bite the bullet and pay 94,000 KrisFlyer miles for a round-trip Singapore Airlines ticket (hope that it's offered on Spontaneous Escapes). On the plus side, there are no fuel surcharges
It's simply a decision that each individual will have to make for him/herself.
Alternative uses for Mileage Plan miles
With the JAL one-way trick nerfed, here's what I see as the remaining sweet spots in Mileage Plan:
50,000/70,000 miles for a one-way Business/First Class award between Singapore and the USA on Cathay Pacific

22,500 miles for a one-way Business Class award between Singapore and Tokyo on Cathay Pacific

50,000 miles for a one-way Business Class award between Bangkok and the USA on Hainan Airlines

65,000/75,000 miles for a one-way Business/First Class award between Singapore and the USA on JAL

120,000 miles for a round-trip Business Class award between Singapore and Hawaii on Korean Air (one-way redemptions not allowed)
It's also worth keeping in mind that Alaska Mileage Plan miles can be redeemed on numerous other carriers, some of which may be useful for flying point to point outside of Singapore:
American Airlines

British Airways

Cathay Pacific

Condor

Emirates

Fiji Airways

Finnair

Hainan Airlines

Icelandair

Japan Airlines

Korean Air

LATAM

Qantas

Singapore Airlines
Cathay Pacific and LATAM awards do not appear on the Mileage Plan website. You'll need to call up customer service to book them
Remember that Mileage Plan does not pass on fuel surcharges, so that's another plus point.
Singapore Airlines was recently added as a Mileage Plan redemption partner, but as we showed in our analysis, it really doesn't make sense to buy Mileage Plan miles for Singapore Airlines travel. You'd be much better acquiring KrisFlyer miles for cheap, then redeeming them for flights.
What card should I use?
If you anyways decide to purchase Alaska Mileage Plan miles, these purchases are processed by Points.com in USD. Here's the best cards to maximize the miles earned on your purchase:
OCBC 90N Card- 4.0 mpd, no cap
UOB Visa Signature- 4.0 mpd, min S$1K max S$2K of foreign currency spending in a statement period
Citibank Rewards Visa or Citibank Rewards Mastercard- 4.0 mpd, max S$1K a month
DBS Woman's World Card- 4.0 mpd, capped at $2K per month- only 1.2 mpd will be awarded; you may get 2.8 mpd upon appeal but it's not guaranteed
BOC Elite Miles World Mastercard- 3.0 mpd, no cap
Standard Chartered Visa Infinite- 3.0 mpd, minimum S$2K spending a statement period
When it comes to Points.com purchases, some people may run into issues using a Singapore-issued card. I can't quite explain why this happens, because some don't encounter any issues and others never seem to be able to get their transactions through. Your best bet is to use an Alaska Mileage Plan account that is at least 10 days old, and try a different card if your transaction doesn't go through the first time.
Other important things to note
Alaska charges a US$125 fee for changes or cancellations, regardless of how far away you are from departure. Alaska Mileage Plan miles do not expire so long as you credit or redeem at least one mile every 24 months.
You should not be buying Mileage Plan miles (or any other miles and points currency for that matter) speculatively- always have a confirmed use for them in mind before purchasing.
Conclusion
If you've been primarily earning Mileage Plan miles by crediting Singapore Airlines Business Class fares to Mileage Plan, then this could be a good way to top off your account for an award redemption. Otherwise, you'll have to examine your alternatives carefully and decide if buying Mileage Plan miles still makes sense for you in this new landscape.