Hilton Gold is arguably the best mid-tier hotel status out there, as the free breakfast and upgrades it provides can save hundreds of dollars at an expensive resort.
Earning Hilton Gold normally requires 20 stays/ 40 nights/ US$7,500 of annual spending, but there are faster ways of earning it.
For the past few years, there's been a fast-track offer for Visa Signature & Visa Infinite cardholders where two stays or four nights in a 90 day period earned you Gold status.
Unfortunately, the last iteration of this offer expired on 31 December 2019, and it hasn't popped up again since.
However, if you're determined to get Hilton Gold status, there is another fast-track option available: MVP
What is MVP?
The Hilton Gold MVP fast-track is hardly a new thing; in fact, it's been around for many years. The MVP ("most valuable player"- an American sports term) program is officially for "athletic administrators, athletes, or anyone affiliated with a sports entity, sports related company, sports group or event". 
That's very loosely defined, however, and in practice it's open for anyone to register. If you're the paranoid sort, then by all means sign up for the US Athletic Track & Field Association or something for US$30.
Once you've registered for the challenge, completing four stays within 90 days will give you Hilton Gold status for the current and subsequent calendar years (you'll subsequently need to requalify the old-fashioned way).
Both paid and reward stays count towards the four stay requirement. One trick is to stay at the Hilton Garden Inn Kuala Lumpur Jalan Tuanku Abdul Rahman North, and Hilton Garden Inn Kuala Lumpur Jalan Tuanku Abdul Rahman South. That's a mouthful, so tl;dr- they're located in the same place, but classified as separate properties.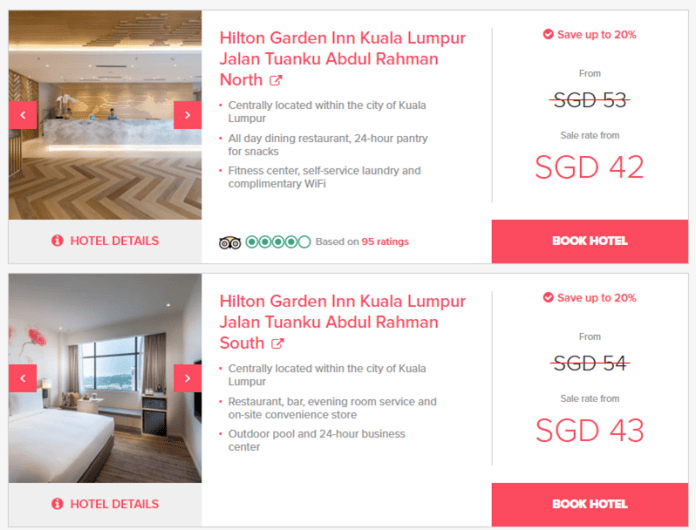 This allows you to hop from hotel to hotel and complete the four stays in four nights.
Since the MVP offer is completely unrelated to the Visa one, there's no requirement for you to have or pay with a Visa Signature/Infinite card (not that that was much of a restriction in the first place).
What benefits do Hilton Gold members get?
As a Hilton Gold, you'll receive the following benefits
The main benefits I see are the 80% points bonus, guaranteed breakfast for two people per room, and upgrades. Do note that upgrades are based on availability, and you're behind Diamond members in the pecking order.
Conclusion
The MVP challenge is obviously less generous than the one with Visa, but it's still better than earning status the old fashioned way. And until (if?) the Visa offer comes back, it's the fastest way I know of getting Gold status, short of getting an AMEX Platinum Charge.
If you're thinking about taking up this status challenge, you should also consider first getting instant Hilton Silver via the AMEX KrisFlyer Ascend so that you can earn a bonus 20% points when making your qualifying stays.