American Express cardholders now have one less airline partner, as Emirates Skywards transfers are no longer available on the Membership Rewards portal.
This affects all cards which earn Membership Rewards, i.e the American Express Centurion, American Express Platinum Cards, and American Express Rewards card.
It's possible the removal is only temporary. Historically, we've seen banks remove  partners for a brief period due to contractual or technical issues, only to reinstate them later. I'm checking with American Express and will update this article when I hear back.
And nothing of value was lost?
If the removal is indeed permanent, I doubt too many tears will be shed. The fact of the matter is, Emirates Skywards never represented great value thanks to the steep fuel surcharges it imposes on awards.
Here's some sample award prices out of Singapore:
Business (Saver)




First (Flex)



OW
RT
OW
RT

SIN-DXB

72.5K
+S$346
105K
+ S$686
98.75K
+S$346
157.5K
+ S$686

SIN-MEL

62.5K
+ S$406
90K
+S$825
85K
+ S$406
135K
+ S$825

SIN-DXB-JFK

131.25K
+ S$830
190K
+ S$1.6K
178.75K
+ S$830
262.5K
+ S$1.6K

SIN-DXB-LHR

103.75K
+S$593
150K
+ S$1.5K
141.25K
+S$593
225K
+ S$1.5K

SIN-DXB-ZRH

103.75K
+ S$584
150K
+ S$1.2K
141.25K
+S$584
225K
+ S$1.2K

SIN-PEN

27.5K
+ S$53
40K
+S$53
37.5K
+ S$53
60K
+S$53

SIN-DXB-GRU

137.5K
+ S$782
200K
+S$1.6K
187.5K
+S$782
300K
+S$1.6K
You could easily find cheaper redemption options through KrisFlyer, plus you wouldn't have to deal with the fuel surcharges.
Skywards offered a few decent partner awards like Bangkok Airways from Singapore to Koh Samui or Japan Airlines from Singapore to New York, but you could always redeem those for less through programs like Etihad Guest or Alaska Mileage Plan.
That's not to say the program had no value at all; it just had very niche use cases that didn't make it worth the time for most frequent flyers.
Where can AMEX Membership Rewards points still be transferred to?
With the loss of Emirates Skywards, AMEX still has seven airlines and two hotel transfer partners. Membership Rewards points can be transferred at the following ratios.
MR Points:
Partner Miles/
Points*

450: 250

450:250

450:250

450:250

450:250

450:250

450:250

1000:1250

1000:1000

*Centurion and Platinum Charge cardholders enjoy a special rate of 400 points : 250 miles for airline transfer partners
Conversions are free, with the exception of the AMEX Rewards Card where a S$20 fee per transfer applies.
🐛 Bug Alert: The Membership Rewards portal has a longstanding bug which hides the EVA Air option when you're logged in. That doesn't mean it's not available, but it does mean you'll have to call up customer service to transfer points.
Who else transfers to Emirates Skywards?
AMEX's removal means that Standard Chartered is the only bank in Singapore still offering points transfers to Emirates Skywards.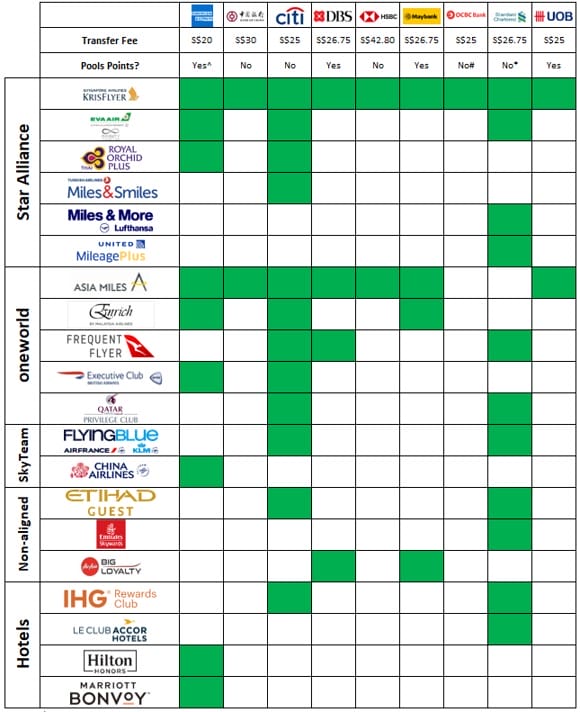 Unfortunately, SCB's regular transfer rate to Skywards is a very poor 3.5 points: 1 mile. That's 40% worse than transfers to some of SCB's other partners like KrisFlyer, and outside of transfer bonuses, makes it a very unattractive proposition.
To learn about the full range of transfer partners available in Singapore and how to go about choosing one, refer to our full guide here.
Conclusion
Despite the poor value that Skywards represents, I did actually transfer some points earlier this year just so I could finally give First Class on the Emirates A380 a try. I'm currently booked to fly to Dubai in November, although who knows whether that trip will actually happen.