The W Sentosa was one of the first five hotels to get staycation approval, and I'm pretty sure I must have been one of the first guests to book a staycation.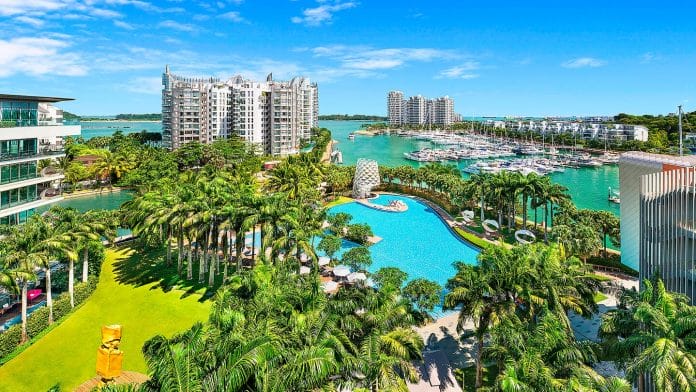 I suppose I was really after the "resort life" vibe, after months of being stuck at home. And since Krabi, Phuket and Koh Samui are out of the question for the time being, where better than Sentosa? 
In this review, we'll look at the staycation experience at the W Sentosa, what to expect, and what changes have been made in light of Covid-19. 
Booking a staycation at the W Sentosa Cove
Remember how I said you probably shouldn't book staycations with hotel points? Well, I'd like to believe this is one of the exceptions. 
The fact is: I've done a staycation in a standard room at the W Sentosa before (using the free night voucher with the AMEX Platinum Charge), and didn't think it was worth the money. Rooms are small and somewhat dated, and you're really paying for location more than anything. 
The W Sentosa's suites are much more impressive, but as a lowly Marriott Bonvoy Gold, suite upgrades were out of the question. 
So when I spotted Marvelous Suites on the Marriott website for 79,000 points a night, I hemmed and hawed about it before deciding that this was an "access" rather than "value" situation. I'd never be willing to pay cash for a hotel suite, so in the absence of elite upgrades, this was the only way I'd be getting one. 
Based on cash rates for the date I was looking at, I got a value of slightly less than 1 cent per point. Again, it's certainly not the best way of spending hotel points, but I had a healthy surplus thanks to all the cancelled travel plans for 2020. 
If you don't have points, it's possible to find cash rates for a W Sentosa staycation starting as low as S$333++. 
However, these rates won't come with any extras, so if you're looking for the "full fat" experience, you'll want to book a W Sentosa staycation package. These start at S$470++ for the "Escape for Two" experience, which includes:
1-night in a Fabulous Room (one level up from the base category)
Breakfast for two 
Bottle of champagne
S$50 hotel credit
For more information on staycation deals, be sure to refer to this guide below.
W Sentosa: Arrival and Check-in
The Milelioness had teeth to pull during the day, so I'd be kickstarting my W Sentosa staycation solo (I sometimes entertain the fantasy that she's secretly a Mossad agent, and "pulling teeth" is a euphemism for some clandestine wetwork). 
I arrived at the W Sentosa just before lunchtime, pulling into the familiar driveway with the W fountain. As W veterans will know, there seems to be some sort of unspoken brand standard that the W logo needs to appear in prominent, Instagrammable places around the property. 
W is still using its Good Morning/Good Afternoon/Good Evening welcome mats, and I was greeted by a staff member who assisted with my bags and gave me a luggage tag. 
The W Sentosa isn't one of those resorts where they greet you with a cold towel and welcome drink, but in any case we're in the age where the default greeting is a temperature check and SafeEntry registration.
Just so you know, guests with a temperature greater than 38°C will be barred from entry and referred to a clinic, so do everyone a favor and take your temperature before you leave the house. 
Apart from the temperature screening, there were other reminders around the W Sentosa that this wasn't quite a business-as-usual staycation. Social distancing signs are located in abundance in the public areas…
…seats are blocked off…
…and distance markers are placed on the floor at check-in, near the lifts, and anywhere else where queues might form. 
Staycation-approved hotels like the W Sentosa are required to limit the density in check-in areas, but that wasn't a problem for a Thursday arrival. The lobby was completely empty, and I later found that just 30-40 out of 240 rooms were occupied (occupancy was set to shoot up over the weekend, however, with almost every room booked). 
For all the talk of limiting social interactions, hotels by and large are still doing check-in the old fashioned way. That said, I have to believe that it's only a matter of time before most switch to app-based contactless check-in.
Some people dislike this, because you lose the human touch, but I'm not one of those sociopathic extroverts who craves affirmation from people I've just met (except you, good reader). Quite frankly, less interaction is just fine with me- verify my identity, take a security deposit and push me a key over an app, and we'll agree to nod politely at each other when we pass in the corridors. 
Since the hotel was fairly empty, early check-in was no problem. I tried my luck requesting a 4 p.m check-out, and was pleasantly surprised to have it granted. The front desk did tell me that I'd have to move to a smaller room the next day, but that never actually happened. 
I was presented with a letter explaining what the logistics would be for W Sentosa staycations during the initial reopening stages. I'll expound on this later on in the review, but to summarise, the spa was closed, the gym and pool would operate normally (with capacity restrictions), and breakfast required pre-selecting a time slot. 
Perhaps the real sign of the times was that my welcome gift (apart from the 500 points pittance that Gold members get) was a set of masks and some hand sanitizer. Given how the W loves to brand things (the spare toilet paper in the room comes wrapped in a sack labelled "Backup Plan"), I was half expecting to see some witticisms here ("Not A Mixed Drink"/ "Maskquerade"?), but alas. 
Surprisingly, the staff opted to give me physical keycards. I don't mind them, of course, but with all the emphasis on minimizing opportunities for transmission, you'd have thought they'd be pushing the keyless entry feature on the Marriott Bonvoy app.
I asked about this, and soon realised why they didn't. The keyless entry feature is hopelessly buggy. We stood around the counter for 10 minutes trying to download the key to my phone, which resolutely refused to accept it. 
No amount of force closing and restarting the app would get it to work, and the very exercise resulted in a lot more prolonged contact, which defeated the purpose. 
In the end we gave up, but a few hours later, I magically receive a push notification telling me that keyless entry was now available on my phone. The marvels of technology. 
W Sentosa: Marvelous Suite
I was assigned to room 351, a Marvelous Suite on the third floor of the property. 
While I think the entry-level rooms at the W Sentosa are nothing special for a staycation, the suites are much more exciting. The Marvelous Suite measures 80 square meters, with a separate bedroom and living area, plus two toilets.
The living room has a boomerang-shaped couch, coffee table and two additional stools should you be hosting more guests (keep in mind that current regulations [and human decency towards your neighbours] dictate that you can only have a maximum of five people in one room).
The feature wall slides apart to reveal a flat-screen TV. 
There's an option for HDMI and serial cable input (so you could bring a Playstation or project Powerpoint slides, depending on your inclination), but it's not a smart TV so there's no way to stream your Netflix account on it. 
Thankfully the W isn't too hip for work desks, and there's a place to use your laptop in the room. The chair isn't the most comfortable, but you're (hopefully) not at the W to do prolonged stints of work anyway. 
Universal power outlets are available at the work desk, but surprisingly, no USB ports. The W Sentosa was opened in 2012, so you'd think these things would have been essential by then. 
It seems the hotel has attempted to retroactively address that issue, however, in the form of a lamp with wireless charging capability. 
Wi-Fi speeds clocked in at a respectable 33 Mbps up and down, which was more than adequate for video streaming. 
At the table was a small welcome token from the W Team. It was meant to be an edible rubrik's cube, and was actually quite tasty. 
W Hotels are known for their over-the-top minibars, but this one was a bit confusing. There was a small selection of drinks, but virtually no food in the mini-bar except for a lone pack of cup noodles. 
At first I assumed this was in line with the STB's advisory to only provide mini-bar items on request, thereby minimizing the touchpoints in the room (no one wants to handle the Pringles after you have). 
But later that evening after turn down service, I found the mini-bar fully stocked, making me wonder whether they deliberately left it empty initially, or just forgot to stock it the first time round. 
On to the bedroom, and a word of warning about the Marvelous Suites. Although the Marriott website shows them with wraparound balconies, that's not true for all.
Here's a shot from Mark's (aka The Shutterwhale) visit in December 2019, where he too had a Marvelous Suite. Note how the balcony in front of the bed extends and wraps around to the side. 
Now here's mine. Apart from the fact my photo is infinitely uglier than his, you'll also notice the lack of a wraparound balcony. To the side of the bed is instead a ledge, with no full height windows.
This makes the room feel smaller, and you'll definitely want to ask for a reassignment if they give you this type. I only learned about this when writing up the review, so I feel kind of bummed out now about burning my points for a not-so-great suite. 
Otherwise, you can expect the regular king-sized W bed. It is on the soft side, so those of you who like firmer mattresses should take note. The staff had placed a nice balloon bouquet on the bed too. 
I actually went through the entire stay thinking that the room didn't have a bedside charger. It was only after looking through my photos again (thanks @aj) that I realised it does- I just mistook it for an old iPod dock. 
As this is a W hotel, you can bet there'll be mood lighting. There are four modes to play with, and although it's gimmicky, it's a cute touch nonetheless. 
You'll also find the switch to control the day and night curtains, but try as I might, I couldn't keep them half open or half closed. They had to be either all the way open or all the way closed, which limits your ability to adjust the room lighting to your liking. 
Another cute feature is the egg-shaped chair in the corner, which gives me Men in Black vibes, but with more purple. 
A small walk-in wardrobe is next to the bedroom entrance, with bathrobes, an ironing board and safe. 
Outside on the balcony is a pair of wicker chairs and a love seat overlooking the marina. Room 351 happens to be near the Quayside Isle restaurants, so you may get some noise at night. 
The bathroom has a stand-alone tub, complete with a television screen (hanging from the ceiling opposite, not pictured below). It was difficult to watch, however, because there was no neck support provided. I've been in some resorts that pre-empt this problem by providing a bath neck pillow (yes, these things exist), and that wouldn't go amiss here. 
His and her sinks are available, although they aren't very deep, so it's likely you'll splash quite a bit of water on the counter. 
Marriott is supposed to eliminate single-use toiletries worldwide by the end of 2020, but Covid-19 will surely throw a spanner into the works. Everyone's hypochondria setting is now dialed to 11, and communal toiletries don't exactly help.
In any case, the W Sentosa hasn't made the switch yet. W Hotels have already ended their partnership with Bliss, and are moving to Davines products worldwide. However, properties are still allowed to finish their existing Bliss stocks, which means you may see them for some time yet. 
As a sidenote: I'm very certain that the W Sentosa used to give full-sized Bliss amenities in suites, but they've reverted to the small 30 ml bottles that regular rooms get. 
There was a separate shower which had three different heads- rain, handheld, and panel. I did notice that the drain appeared to be clogged, as the water flowed out of the cubicle after just a few minutes of use. The toilet also didn't have a bidet hose, which was surprising considering the price point. 
What's changed post Covid-19?
I suppose a lot of people will be asking whether there are any significant changes to hotel rooms post-Covid.
If there are, I didn't see them here. I'm struggling to think of any meaningful difference in terms of room layout or amenities. In fact, what was notable was that some of the easy wins weren't done.
For instance, the hotel has moved away from printed menus in the restaurants, but in the room, you'll still be using the same ring-bound room service menu. You'd think it'd be easy to digitize this and put it on the TV, but I couldn't find any menu information here. The only F&B-related content was a series of advertisements for various dining promotions, and generic information on hotel restaurants. 
Hotels are working to reduce the number of things guests need to touch in the rooms, and one major ick item is the phone. Guests at the W Sentosa can actually contact the concierge via the Chat With Us function on the Marriott Bonvoy app.
The problem is, this wasn't advertised anywhere in the room. If you weren't already aware of it, you probably wouldn't know to use it. 
I also found it interesting that the W Sentosa hadn't adopted contactless delivery of items. I think this may be a bit of a lose-lose situation, because some guests may find it rude if items are left at the door after a cursory knock, but others may prefer to minimize their social interactions altogether. But the idea is to give guests a choice- and perhaps that could be asked at check-in and noted in the customer's file. 
Finally, the room was generally clean, but I found little telltale signs here and there that made me a bit uncertain as to how thorougher the overall process was. For example, The Milelioness found a strand of long white hair trapped in the feature wall on the bedhead. Neither of us are sporting white hair (yet), so this suggests the area may not have been wiped properly. 
Likewise, the furniture on the balcony wasn't clean either, with mystery white stains (probably leftover bird poop) on the love seat. It didn't feel like a place you wanted to lie down without laying a towel over. 
I'm getting serious about my room inspections post Covid-19, and bought a cheap UV light with me from Qoo10. The good news is that the exception of some (liquid?) stains on the couch, the majority of the room passed muster- no stains of any sort on the bed, on the chairs or toilet. 
Some hotels may not offer daily housekeeping during Phase 2 (the idea, I suppose, is to minimize the contact between you and housekeeping), but the W Sentosa will continue to provide this daily. 
W Sentosa: Facilities
| | | |
| --- | --- | --- |
| Pool | Gym | Spa |
| Yes- 24h | Yes- 7 a.m to 10 p.m | Currently closed |
| Kids' Club | Business Centre | Others |
| No | Yes | N/A |
WET Swimming Pool
The swimming pool is no doubt one of the major draws for staycation guests at the W Sentosa. Measuring a staggering 1,338 square meters in size, it's one of the largest hotel pools in all of Singapore.
In happier times, the pool would be the epicenter of social activity, with poolside DJs, bartenders mixing drinks at the sunken bar, and plenty of communal pool floats and toys. Covid-19 has obviously put an end to such merriment, although the pool remains fully operational 24 hours a day.
The new rules state that a maximum of 50 guests can be in the pool at any one time, and 120 guests in the deck and seating area. Given that the W Sentosa has 240 rooms, and assuming full occupancy with an average of 2.5 people per room, that's space for about 20% of guests. Obviously, not everyone will come to the pool at the same time, but I could see this being a problem if your stay coincides with a full house.
The W has set up access control for the pool area, with the towel counter serving as the place where temperature screening and SafeEntry check-in is conducted. The pool never reached full capacity during my stay, but if it did, I assume that guests would have been channeled to this waiting area to sit while waiting for space to open up. 
My last visit to the W Sentosa was during the National Day weekend (I know, I know), and unsurprisingly, the pool was packed to high heaven, with no hope of getting a deck lounger. There was no problem this time round, although it did get notably more crowded towards late morning. Some of the deck loungers are showing their age, and can't recline properly. I spotted the staff having to help a few guests on more than one occasion. 
Likewise, this is the first time I can remember all the hammocks going unoccupied. These look like fun places to sit, but because they move about they're probably unsuited for anything other than lying down. Also, they get a fierce dose of late morning sun, so don't plan to linger too long. By the way, all poolside F&B service has been suspended, so you'll need to head to Kitchen Table if you want to grab a bite. 
The pool itself is very shallow for the most part, although there's an ever-so-slightly deeper area that allows serious swimmers to attempt some laps. When the pool is packed, these two areas tend to merge into each other anyway, so don't go there planning to do your best Joseph Schooling routine. 
The lack of crowds meant this was the first time in three visits to the W that I actually got to use the waterslide. It's fairly tame as far as waterslides come, but still a whole lot of fun. Surprisingly, there wasn't a pool attendant at the top telling people when they could slide down, so if you're afraid of getting bumped from behind by some overenthusiastic kid you might want to give way. 
The pool here has a real Jekyll & Hyde thing going on, and the quality of your W Sentosa staycation can really boil down to what day you visit. On a crowded day it can be your worst nightmare, with screaming kids running everywhere, loud booming music and nary a place to park yourself. During a quieter time it can be nirvana, with wide open expanses of water beckoning and the freedom to paddle in every which way without interference. 
In that sense, Phase 2 might be the best thing ever to happen here. The caps on capacity will hopefully restore some semblance of sanity during the most hectic of days, and even if it means having to pre-book a slot (a system which they haven't implemented yet), I'd argue it's worth it. 
Finally, the rule on masks was a bit fuzzy at the pool. There's obviously no need to wear one while in the water, but the advice given upon check-in was to wear them while on the loungers. That said, I didn't see a single person wearing one in the pool area, with most people only putting them back on after they departed the area. 
FIT Gym
On to the gym now, or as I call it "that place I always pretend to visit". 
The gym at W Sentosa is called "FIT", and although the website says it's open 24/7, the hours have been pared back from 7 a.m to 10 p.m daily. The downtime presumably gives the staff the opportunity to do a deep clean of all the equipment. 
FIT measures 235 square meters, with all the usual modern equipment you'd expect. The gym can only take a maximum of 10 people at any time, so they've implemented a reservations system where guests can make bookings prior to visiting. 
Equipment in the gym has been reconfigured as well. For instance, static stations now face away from each other, and alternative treadmills/cross trainers are blocked off. Guests are meant to keep a distance of at least 2 metres, and to keep masks on unless doing strenuous exercises. 
Gym users are also requested to wipe down equipment before and after use, which quite frankly ought to have been the SOP even before Covid-19. 
Group classes are suspended, and the water cooler has been removed from the premises. Individual bottled water is instead available. 
Away Spa
Just a quick note that even though hotel spas are permitted to resume operations during Phase 2, the Away spa at the W Sentosa is closed until further notice.
Hotel spa prices are eye-wateringly expensive anyway, so if you really needed a massage on Sentosa you might be better off heading to Spa Rael at ONE ̊15 Marina. Vouchers are often available on Fave at S$138 for a 2-hour treatment. 
W Sentosa: Breakfast
| | | |
| --- | --- | --- |
| Served at | Cost | Style |
| Kitchen Table | S$48++ | A la carte buffet |
| Hours | Sparkling Wine? | Discounts? |
| 6.30 a.m to 11.30 a.m | No | None |
The sad thing about booking with points and without Platinum status was that I wouldn't have free breakfast. That would cost S$48++ per person, and the pain of post-Platinum life was really setting in now. 
Breakfast is served at Kitchen Table, the W's all-day dining option. 
There are three time slots you can choose to have breakfast:
6.30 a.m to 8.00 a.m
8.15 a.m to 9.45 a.m
10.00 a.m to 11.30 a.m
Guests are advised to book their preferred slot the day before. Those of you with a less predictable sleep cycle can try your luck as a walk-in guest, but you run the risk of having to wait, especially if you're staying during a period of high occupancy. 
We picked the 8.15 a.m slot, and didn't have any issues with crowds. 
I already knew that Covid-19 would put a (temporary?) halt to the quintessential breakfast buffet, but it was still surreal to see row after row of empty displays.  
I get that the breakfast buffet may be one of the highlights of a staycation, but in an age where people freak out when someone so much as sneezes, it's hard to see them coming back in any meaningful way before a vaccine is found. And even then, one has to wonder whether we'll be willing to go back to the old way of doing things- I love a good buffet as much as the next man, but having seen up close the way some guests manhandle the items, I can't say I'd miss them if they disappeared entirely ("them" referring equally to buffets, as well as said guests). 
In the meantime, the W Sentosa is adopting an a la carte buffet service, where guests can order as many dishes as they like from the menu. Physical menus have been replaced with QR codes that you scan with your phone (I visited for lunch on the first day and the QR codes weren't working, but they'd sorted it out by breakfast the following morning). 
If you forget to bring your phone with you, or simply don't believe in using them at the dining table (good for you), the staff can still provide physical menus on request.
Here's the breakfast menu being served during my visit:
As far as variety goes, you'll find all the essentials. Four cold options, five cereal and grain, three bakery, six egg dishes, and a smattering of everything else. Unlike some other resort hotels, the W Sentosa doesn't offer "boozy breakfasts", so there's no sparkling wine served. However, I will give them bonus points for offering avocado, without which millennials can't buy houses. Or something.
Shortly after placing our order, a plate of cut fruit and pastries was served. Special mention goes for serving Beurre d'Isigny butter, because it's fantastic. I don't care what you say about butter being butter, try this and you'll never go back to anything else. 
I was timing everything to see how long the new service routines would take, and within 9 minutes of placing our orders the first dishes showed up. 
The pancakes weren't life-changing, but I will say they were better than any buffet pancakes I've had before. The reason should be obvious: some foods just don't lend themselves to the buffet model. Freshly-made pancakes, when left under the harsh glare of heat lamps, will get dry and hard in no time at all. By making them on demand, you at least solve for that problem. 
Likewise, the brioche french toast with nutella was great too- my only complaint being that they were a bit stingy on the filling.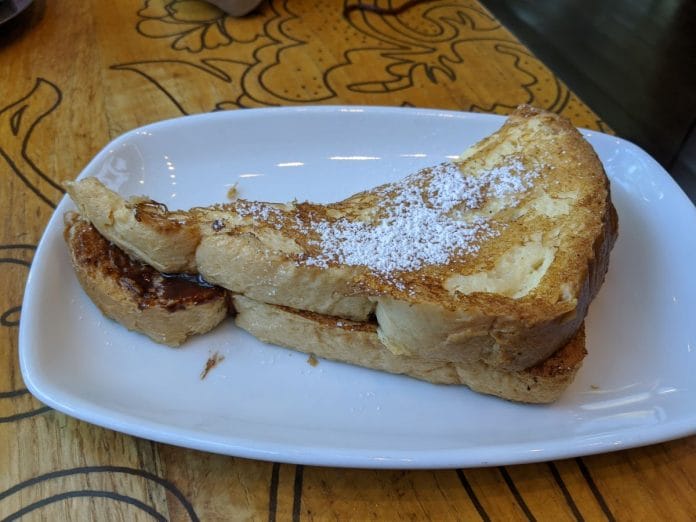 The rest of the items are hit and miss. We tried the steak and eggs, which (like all egg dishes on the menu) are served with the standard sides of bacon, chicken sausage, sauteed mushrooms and hashbrowns. The steak obviously isn't close to what you'll find across the hallway at SKIRT, but it got the job done. Eggs had that beautiful orange hue, which may not make a difference nutritionally, but sure look better in photos. 
I also ordered the eggs Florentine, which was…odd. 
I'm no expert on the dish, but I'm quite certain the spinach isn't supposed to be nearly this black. It looked and tasted more like preserved vegetables, and my guess is they let it sit on the heat for too long. 
Dim sum was disappointing. The har gow had way too much skin and only a few tiny pieces of chopped shrimp. I distinctly remember this being much better the previous time I visited.
Seafood mee goreng sounded promising, but came out…weird. This looked more like KL-style hokkien mee (the one with the dark sauce) than mee goreng, and their idea of seafood was a few sad slices of fishcake. I was hoping they'd throw in some prawns at least. 
My overall thoughts on breakfast in the new normal: I came in hungry and went away full. The a la carte buffet format means having to wait a little longer for food, and perhaps a smaller selection than what you'd otherwise have, but it's not a big deal to me. 
The breakfast at the W Sentosa won't rank anywhere near my top hotel breakfasts (that will forever be the St Regis Bali), but on the plus side, the service was excellent. An a la carte buffet obviously puts a lot more pressure on staff, but we were checked on many times and proactively offered drink refills.
I think the real challenge will be when they're running a full house, however, as Kitchen Table was maybe 40-50% full when we had breakfast. 
W Sentosa: Other dining
During my staycation at the W Sentosa, I visited Kitchen Table on two other occasions, both times for lunch. 
I could have dined at any of the restaurants out on Quayside Isle, but I was trying to review as much of the W's dining as I could, and besides, my Love Dining at Kitchen Table helped defray the cost. 
On the first day, I ordered a Spicy Chorizo Pizza (S$26++), and added my own sauteed spinach (S$7++) on top because I felt guilty. The pizza wasn't great, with a soggy base (from an inadequately hot oven, would be my guess) and so-so chorizo. 
On the second day, the Milelioness ordered a Herb Baked Baby Chicken (S$32++), which came out slightly dry (fries were great though). 
I chided her for being an out-of-touch jiak gangtang-er, then stayed true to my roots by ordering S$26++ Hainanese Chicken Rice. 
Now it has to be said that as far as chicken rice goes, this was a valiant attempt. The chicken was tender, the chili had a kick, and the accompanying soup actually had depth and wasn't just there to make up the numbers. But the rice, oh, the rice. It's the heart of any chicken rice dish, and unfortunately this lacked any pandan or chicken oil fragrance. It was almost like regular jasmine rice, and proved to be the dish's Achilles heel. 
I'll say that food isn't the highlight of Kitchen Table- it's more the service. Wait staff were extremely friendly and remembered our names on the second day, which was a nice touch. That said, you're primarily at the restaurant for the food, and I'd rather try my luck with the neighbourhood restaurants next time round. 
SKIRT
I'd say that SKIRT is easily one of my favourite steakhouses in Singapore, but its relative inaccessibility means I only get the occasional pilgrimage. The AMEX Love Dining discount makes it 50% easier to justify a night out here, however, and applies regardless of whether you're an in-house guest or visitor. 
The first thing you'll notice about SKIRT is that the seating arrangement has changed. Those back to back booth seats in the middle have been relocated to the sides, and the rectangular tables now occupy the middle. 
Fortunately, nothing much has changed menu-wise. All the favourites are here, including the must-try Iberico Pork Tomahawk (S$74++). Unfortunately it was sold out the night we visited, but I'd go so far as to call it life-changing, so make a point to try it when you're there. 
We ordered the citrus crab on toast (S$25++) and pan seared scallops (S$32++) to start. The scallops were delicious, although I felt the bread could have used more toasting. 
For the mains, we had the grilled maine lobster (S$86++) and Japanese Tochigi A5 Wagyu ribeye (S$148++). It's hard to mess up lobster, and the flesh had a distinct sweetness to it. 
The ribeye was extremely fatty (which I believe is the point) and delicious, although I'd have liked to see them dress the plate a bit more. Even putting a small watercress side salad would have done wonders for presentation, and surely couldn't cost all that much. 
For dessert, we had the dark chocolate souffle (S$20++), and at the staff's suggestion, changed the plum & burgundy wine sorbet to vanilla ice cream. Now, I'm vanilla ice cream's biggest fan, but thought the brand they used was disappointing (we never found out the name). With good quality ice cream, you can taste the butterfat in ever bite- it's like eating colder, sweeter butter. With cheap ice cream, you taste more ice, and that's exactly what we got in every bite here. It's a shame, because the souffle itself was excellent. 
The total damage for the evening was S$189.50, after the 50% Love Dining discount. It's not something you'd do every day, but as an occasional treat, it's hard to beat that price for the spread we had. 
Conclusion
I think I'd give my overall staycation experience at the W Sentosa a solid 'B' grade. The service was excellent, and you have to love the amount of space afforded by a suite. The pool is always amazing (even more so when it's not overcrowded), and you really get the "away from Singapore" vibe. 
On the other hand, dining (SKIRT excluded) was so-so, I had concerns about room cleaning, and  if you don't need the Sentosa setting to unwind then  I wager you could do just as well with another 5-Star hotel downtown. 
What else can I tell you about the W Sentosa staycation experience?