Singapore Airlines has launched a new initiative to recognise the contributions of those at the frontline of the Covid-19 pandemic. Called "Miles of Good", this campaign aims to raise 100 million KrisFlyer miles to benefit such individuals worldwide.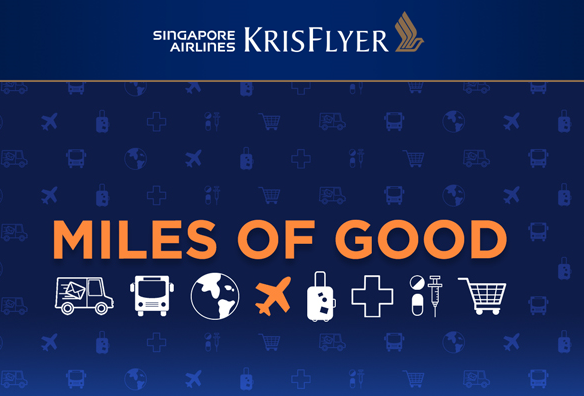 30 million miles will be contributed by Singapore Airlines, and the airline hopes to raise the remaining 70 million miles from KrisFlyer members. 
The campaign runs from now till 20 November 2020, but if you wish to nominate a specific individual, you'll have to do so by 10 August 2020. The first 1,667 nominated individuals will be eligible to receive up to 60,000 KrisFlyer miles each. 
Who can be nominated?
Singapore Airlines defines "everyday essential heroes" as the following:
Healthcare workers
Public transport workers
Supermarket employees
Cleaners
Food delivery, courier and postal services personnel
Nominees must be employed in the same country your KrisFlyer account is registered in- for example, Singapore-based members can only nominate workers in Singapore.
This campaign is open to KrisFlyer members and nominees residing in the following countries:
Singapore

Australia

Bangladesh

Brunei

Cambodia

Denmark

Germany

Hong Kong SAR China

India

Japan

Mainland China

Malaysia

Maldives

Myanmar

New Zealand

Norway

Philippines

South Africa

Republic of Korea

Spain

Sri Lanka

Sweden

Switzerland

Taiwan China

United Arab Emirates

United Kingdom

Vietnam
How do you donate?
Interested members can navigate to this page and either nominate a specific individual, or simply donate outright.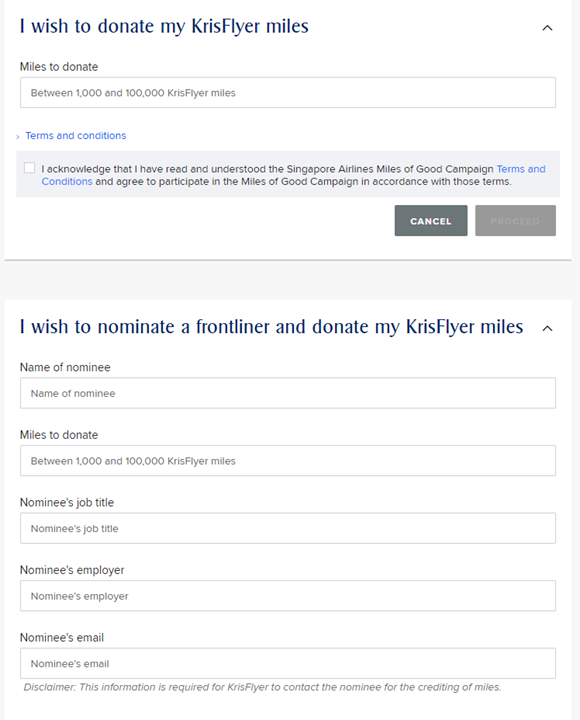 Donations can be any amount between 1,000 and 100,000 miles. Members can make as many donations as they wish, and nominate different individuals each time.
Only the first 1,667 nominees who meet the requirements will receive 60,000 miles, approximately enough for a round-trip Economy Class ticket to Perth. 
Singapore Airlines will notify all selected nominees via email by 7 September 2020 how to claim their miles, which will be credited within 4-6 weeks after 20 November 2020. 
Here are the links to the T&Cs and FAQs for this campaign. 
Conclusion
Any gesture that recognises those at the Covid-19 frontlines is very welcome, but remember, not everyone will be able to benefit from this campaign. The requirement for nominees to have a KrisFlyer account and email address will exclude some blue collar workers or the elderly, who may have more pressing needs than taking a holiday. 
It's no fault of Singapore Airlines' of course, but if you'd like to help such folks, do consider making a donation to any of the #sgunited campaigns on Giving.sg. 
The Singapore government will be matching these donations dollar for dollar till 31 March 2021, plus many of them will be eligible for tax deductions. To sweeten the deal, Giving.sg is also waiving the transaction fees till 31 March 2021, so 100% of your donation goes to your supported charity. 
If you're wondering what card to use while doing some good, here's the best cards to use for charitable donations. 
(Cover photo: MINDEF)