Of all the hotels I'd like to review in Singapore, the Mandarin Oriental ranks right up there alongside the Capella, Four Seasons and Shangri-La. Unfortunately, they're not part of any major loyalty program, and paid rates can be eye-wateringly expensive.
The good news is Mandarin Oriental is currently offering what I think is an excellent deal for a suite- just S$388++ (S$457 nett) per night. That's the same price you'd pay for a regular hotel room in some other luxury properties like Sofitel Sentosa.
Mandarin Oriental City Suite deal
Under Mandarin Oriental's general "Staycation by M.O" deal, a City Suite would cost S$559++.
However, if you book through the "Kids Stay Free, Fun For Whole Family" offer, you can get the same suite for just S$388++. That's a fantastic rate for a suite at a property like this (and no, you don't need to have kids to book it).
City Suites come with 904 square feet of space, two bathrooms, a separate living room and either a King sized bed or two twin beds. It's just a shame that these don't have Mandarin Club access, but the club lounge is anyways out of operation at the moment.
A S$388++ rate for a Mandarin Oriental suite is enough to make you skeptical, but my reservation went through without any issues. This rate is available for bookings up till 30 December 2020.
What does this rate include?
How does the family rate compare to the regular staycation rate? Quite favorably, actually.
| | | |
| --- | --- | --- |
| | Staycation by M.O | Kids Stay Free, Fun For Whole Family |
| Breakfast | Yes | Yes |
| Early Check-In | 12 p.m | On availability |
| Late Check-Out | 4 p.m | On availability |
| Spa Credit | S$100 | N/A |
| Other Inclusions | Bottle of sparkling wine | Nerf Xperience or Family Activity Session at Kiztopia |
| Cancellation Policy | 48 hours before arrival | 48 hours before arrival |
On the balance, I'd say it's a wash. It's nice to have guaranteed early check-in and late check-out, but if you're clearing leave and staying on a weekday, this shouldn't be too hard to get. Moreover, I don't value the S$100 spa credit at all, since I wouldn't pay the hotel spa's overpriced rates in the first place.
The difference then boils down to a bottle of sparkling wine versus a Nerf gun battle. While it'd be fun to have both (men in the trenches of Somme would sometimes down a bottle of whiskey before charging over the top), I'll happily bring my own booze from home.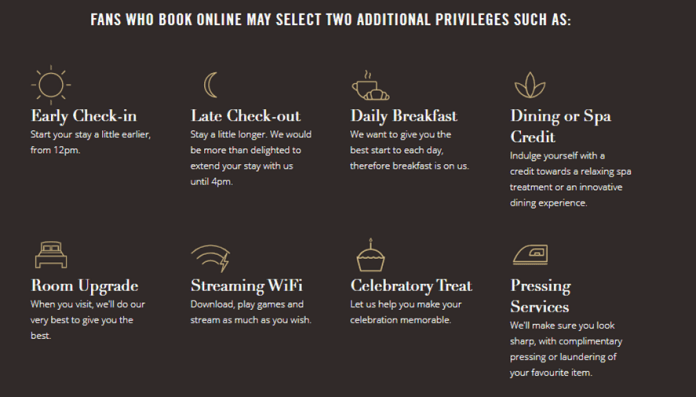 Unfortunately, Mandarin Oriental has informed me that the two additional privileges usually accorded members of Fans of M.O program (free to join) do not apply on this rate. That would normally include:
12 p.m check-in
4 p.m check-out
Daily breakfast (already included in the family rate)
Dining or spa credit
Room upgrade (I doubt they'd upgrade you further from a suite though)
Premium Wi-Fi
A celebratory treat
Pressing services
Fans of M.O members will instead receive a voucher for a free glass of house wine or cocktail at the MO Bar.
What card should I use to book this?
As this is not a prepaid reservation, your card will not be charged online. You will only be billed at check-out.
Therefore, you can consider using the following cards for the biggest rebate:
Earn Rate
Remarks
UOB Lady's Card*
Apply here


4 mpd

Cap S$1K per month

UOB Lady's Solitaire*
Apply here


4 mpd

Cap S$3K per month

UOB Pref. Plat Visa
Apply Here

4 mpd

Cap S$1.1K per month, must use mobile payments

UOB Visa Signature
Apply Here


4 mpd

Min S$1K Max $2K per statement month, must use contactless

HSBC Revolution
Apply Here

4 mpd


Max S$1K per calendar month, must use contactless

*Must choose travel as quarterly bonus category
Conclusion
This could well be the cheapest price I've seen for a suite at the Mandarin Oriental , and if you were planning to stay in a base room at the Sofitel Sentosa, Fullerton Bay, Ritz Carlton or Barracks Hotel, why not consider deploying that budget here instead?
On a separate note for those who happen to work in the healthcare industry, Mandarin Oriental has a special healthcare heroes rate that costs just S$288++ per night. This doesn't include suites, but it's still a very solid deal that comes with breakfast, a room upgrade, S$80 F&B credit and early check-in/late check-out.