One of the more interesting staycation offers in recent memory is the InterContinental Suite Surprise package. This gives you a suite at the InterContinental Singapore (the one at Bugis), plus club lounge access with breakfast, afternoon tea, and evening cocktails. 
Which suite? You won't know until check-in. A wheel is presented to you, and the color you spin determines your suite assignment. Depending on your luck, you could get anything from a 52 sqm Junior Suite to the 259 sqm Presidential Suite. 
The previous Suite Surprise package lapsed in mid-December, but InterContinental has brought it back once more for stays up till 31 March 2021. 
InterContinental Suite Surprise package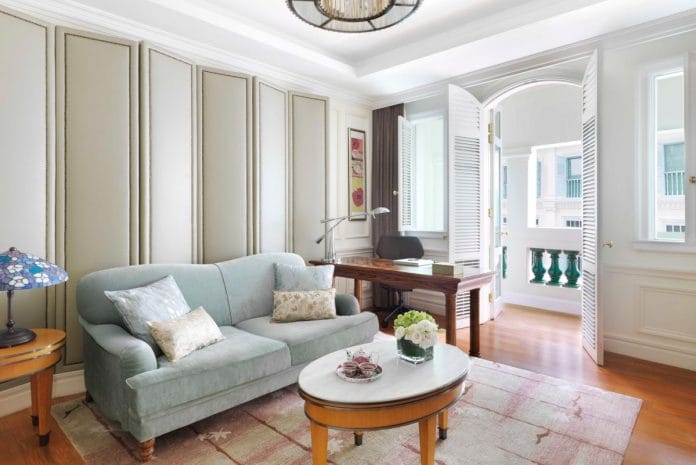 From 2 January to 31 March 2021, you can book the InterContinental Suite Surprise package, which comes with the following inclusions: 
Club InterContinental benefits (breakfast, afternoon tea, evening cocktails)
20% off Ash & Elm, Lobby Lounge, and Man Fu Yuan 
Do note that unlike the previous Suite Surprise package, free parking is no longer included, and the 20% discount on in-room dining has been removed
This package costs S$388 nett for weekday stays (Sun-Thu), and S$488 nett for weekend stays (Fri-Sat). Reservations are non-refundable, but interestingly enough, there are no black-out dates. You could book this on Valentine's Day (Sun) at the weekend price if you were so inclined. 
As mentioned earlier, the suite you're given depends on the color you spin. You could be assigned any of the following: 
Suite
Size
Junior Suite
52 sqm

Premier Suite

52 sqm




(a Junior Suite on a higher floor)

Heritage Suite

55 sqm

SCENE SHANG Suite

55 sqm


(a Heritage Suite with special SCENE SHANG furnishings)
Executive Suite

69 sqm

Royal Suite

85 sqm

Ambassador Suite

114 sqm

Presidential Suite

259 sqm
I don't think it's worth overthinking the wheel. When I stayed, orange meant Heritage Suite, but someone else got a Royal Suite with the same color on a different day. The staff give conflicting information as to what color corresponds to which suite, and some flat out refuse to say at all. 
There should be no issues getting a Junior, Premier or Heritage Suite, but the following types are in more limited supply:
Presidential Suite (1)
Ambassador Suite (2)
Royal Suite (2)
Executive Suite (4)
My advice would be to arrive as early as you can to improve your odds of snagging one of these.
The Suite Surprise Experience
I booked a Suite Surprise package at the InterContinental Singapore back in October 2020 (thanks to the TTG voucher sale, I paid only S$298 nett), and was assigned a 114 sqm Ambassador Suite. 
It's probably the biggest suite I've ever had in Singapore, complete with a sprawling living room, dining area and study, an equally large bedroom and walk-in wardrobe area, plus two bathrooms. 
If I had to nitpick, I'd say the bathrooms weren't very impressive. While the rest of the room was renovated in 2016, the bathrooms were given just the faintest of touch ups, and are architecturally similar to the ones the hotel opened with in 1995. Although there are bathtubs, they're small and cramped- not an ideal candidate for soaking alone, much less with a partner. 
At the time of my stay, breakfast for club guests was served at Ash & Elm. However, Club InterContinental has since reopened for breakfast, and now serves all three meal presentations daily. Club lounge guests enjoy a wider selection of breakfast items compared to guests in the main restaurant, and I thought the quality of the food was very good. 
Although the Suite Surprise T&Cs state that "the offer cannot be used in conjunction with other promotions and IHG Rewards Club (i.e. vouchers, membership benefits, rewards points and rewards night)", I still earned IHG Rewards Club points on my stay. Go figure. 
For the full review, check out the article below. 
Review: InterContinental Hotel Bugis Suite Surprise staycation
Conclusion
A Suite Surprise staycation will be a classic case of YMMV, since the suite you get will obviously color how you feel about the overall experience. Even if you get one of the "lesser" suites, however, the lounge experience is solid, and service (at least in October) was very good too. 
Given the lack of blackout dates, it could also be a good bet for a Chinese New Year/Valentine's Day stay.