When plans for the InterContinental Hotel were first announced in the early 1990s, they caused quite a stir among the heritage community. 
Conservationists decried the fact that the hotel would be situated amidst a row of 1920s shophouses, in the heart of the arts and cultural district of Bugis/Bras Basah. Most hotel development at the time was confined to the Orchard or CBD area, and the InterContinental was seen as an unwanted encroachment of commercialism.
But truth be told, they were always fighting a losing battle. The decision to develop had already been made back in 1989, when the URA launched a sale of site program involving four parcels of land spanning Bugis Street and Albert Street. Bugis was seen as an ideal candidate for redevelopment, because many of the hotels in the area were in a state of disrepair. It was hoped that the new mixed-use development, comprising a shopping mall, a hotel and an office tower, would reinvigorate the area. 
As part of the conditions of purchase, the developer had undertaken to maintain the old shophouses along Malabar, Malay, and Hylam Streets. However, these were later found to be structurally unsound, and permission was given to demolish them. Bugis City Holdings subsequently rebuilt the old facades as per the scale and street patterns of the original, enclosed them in glass covering with air conditioning. The result is Bugis Junction as we know it today. 
Whether this should be seen as a triumph or travesty of conservation depends on who you ask. Purists will dismiss Bugis Junction as a latter day Ship of Theseus- an artificial, sanitized, climate-controlled abomination that doesn't have a trace of the original in it (since the shophouses were rebuilt, they were not gazetted as conservation buildings).
Pragmatists will point to the subsequent rejuvenation of the Bugis area and the fact that it now hosts more than 20 historic sites, national monuments and museums as proof that  redevelopment can harmoniously blend old and new in a sustainable manner. 
As for me? Man, I'm just here to review a hotel. 
Booking an InterContinental Bugis Staycation
Earlier this month, Travel Spark (a platform by TTG Asia) ran a sale on InterContinental Bugis vouchers, offering S$400 of value for just S$280. 
What made this even better was that the vouchers could be used to book staycation packages, including the very attractive Suite Surprise deal.
🏨 Suite Surprise (S$388 nett)

1 night in a mystery suite, assigned at check-in

Club InterContinental benefits (i.e breakfast, tea, cocktail hour)

20% off Ash & Elm, Lobby Lounge, Man Fu Yuan and in-room dining

Free parking (I saw the front desk telling a Suite Surprise guest that free parking was not included; show them this link if that happens)

Book By

No longer available

Stay By

18 Dec 2020

Cancellation Policy

Non-refundable
Although Suite Surprise is ostensibly a prepaid rate, no payment takes place until check-out. This means that you basically pay S$280 for S$400 worth of vouchers, use S$388 for Suite Surprise, then spend the remaining S$12 on F&B or other incidentals. Lovely. 
Suite Surprise is no longer available, but the Travel Spark vouchers can still be used for any of the other staycation packages listed on the InterContinental Bugis website. 
InterContinental Bugis: Arrival and Check-in
The InterContinental Bugis is located at 80 Middle Road- be careful not to confuse it with the one at Robertson Quay (which is anyways not open for staycation guests yet).
Parking in the Bugis Junction car park  is included with the Suite Surprise package (if the front desk tells you otherwise, show them this link). I didn't drive, but I've read reports that the car park lifts leading directly to the hotel lobby have been closed off (as an access control measure during COVID-19), so you'll need to access the hotel via Bugis Junction. 
If you're taking a train, the hotel is directly connected to Bugis MRT via the shopping mall. You'll find the entrance opposite the Typo store (#01-53). 
I arrived around noon (although I'd advise you to get here earlier, see below) on a quiet Wednesday, and the hotel looked deserted from the outside. 
SafeEntry and temperature screenings were running on the honor system, with no one around to enforce them. 
The InterContinental Bugis opened in 1995, but underwent a comprehensive S$26 million renovation that finished in April 2016. Interior design firm FBEYE was awarded the contract, and I have to say, I like what they did with the place. 
The exterior façade of the building is decidedly colonial, but step inside and you'll see architectural tropes more reminiscent of a Peranakan living room. Think patterned carpets and diamond and square ceramic floor tiles, with ornate screens dividing the area into sections. Display shelves stock little trinkets and heirlooms, and furnishings display a harmonious mix of prints and colors. All these details and callbacks help preserve the hotel's deep heritage roots, and makes for an eclectic mix of British, Peranakan and Chinese influences.
Now, here's the first rule of Suite Surprise: the earlier you arrive, the better. Why? Because Suite Surprise books you into a "mystery suite", with the actual assignment determined upon arrival. You could get any of the following:
Suite
Size
Junior Suite
52 sqm

Premier Suite

52 sqm




(A Junior Suite on a higher floor with Club access. This doesn't matter for Suite Surprise since all bookings come with club access anyway)

Heritage Suite

55 sqm

SCENE SHANG Suite

55 sqm


(A Heritage Suite, but with special SCENE SHANG furnishings)
Executive Suite

69 sqm

Royal Suite

85 sqm

Ambassador Suite

114 sqm

Presidential Suite

259 sqm
Since there are only a limited number of suites available in each category, it stands to reason that the earlier you arrive, the better your chance of snagging a higher tier. There should be no issues with getting a Junior, Premier, or Heritage Suite, but the following types are in very short supply:
Presidential Suite (1)
Ambassador Suite (2)
Royal Suite (2)
Executive Suite (4)
But how exactly are rooms assigned? Here's where the Suite Surprise package really lives up to its name. A wheel will be presented at check-in, and the color you spin determines the suite you're assigned.
It's tough to analyze this. There's a total of six unique colors on the wheel, which means they must have merged the Junior and Premier Suites into one category (since the Suite Surprise promotion makes them basically the same), and grouped the single SCENE SHANG Suite with the rest of the Heritage Suites. 
But what exactly does each color correspond to? No one knows. The staff give conflicting information as to what color corresponds to which suite; some flat out refuse to say it at all. It's even possible that this changes daily, to prevent people from rigging their spins. 
It's probably best not to overthink it and just spin the damn wheel. 
I spun Blue, which meant a pretty fantastic prize of an Ambassador Suite, the second largest suite in the hotel. My friend (who checked in at the same time as me) spun Orange and got a Heritage Suite. To confuse matters even more though, someone else spun Orange on the same day and got a Royal Suite.
What's probably going on here is that if you spin a color for a suite category that's already sold out, you get downgraded to the next tier. If so, that's even more reason to arrive early.
InterContinental Bugis: Ambassador Suite
The InterContinental Bugis has 403 guestrooms and suites; 65 are in the Heritage Wing, and 338 are in the 16-floor Main Tower. Do note that the rooms in the Main Tower will be more up-to-date as they were part of the 2016 renovation; the Heritage Wing last received a refresh in 2011. 
Rooms are divided into the following categories:
| | |
| --- | --- |
| Room Type | Size |
| Premier Deluxe | 38 sqm |
| Grand Deluxe | 40 sqm |
| Heritage Room | 38 sqm |
| Junior Suite | 52 sqm |
| Premier Suite | 52 sqm |
| Heritage Suite | 55 sqm |
| Executive Suite | 69 sqm |
| Royal Suite | 85 sqm |
| Ambassador Suite | 114 sqm |
| Presidential Suite | 259 sqm |
I'd been assigned to room 1610, one of two Ambassador Suites on the top floor of the hotel. 
It's always a good sign when you step into your hotel room and can't see the whole thing straight away. The entrance foyer served as a mini-reception area, creating a visual break between the outside world and the rest of the suite. 
It would have been a thoughtful gesture to put a shoe rack and a little chair for wearing shoes here though. 
Just off the foyer was the guest bathroom. Unlike the rest of the suite, the bathrooms only received the faintest of touch ups during renovations (just painting), and as such there's a notable stylistic clash with the rest of the room. 
Step past the foyer into the living room, and you can't help but mouth "wow". That's entirely understandable- the Ambassador Suite has 114 sqm of space to play with, and the living room goes on for days. The high ceiling (you're on the top floor, after all) further adds to the sense of spaciousness, as does the natural light streaming in from the floor to ceiling windows. 
There's a six-person dining table. There's a study area. There's space for a sofa, three ottomans, and three lounge chairs. The room was so big that there were times I couldn't hear The Milelioness calling me. 
This suite received a makeover during the 2016 renovation, and it's interesting to compare this review from 2011 to see what has and hasn't changed. While the bathrooms didn't get any love, they've updated the carpets and remodeled pretty much everything else. 
If I had to nitpick, I'd say a larger TV for a suite this size wouldn't go amiss. You could host a watch party for a dozen people here (in the pre-COVID days) and still have room to spare. 
All the TVs in the suite support Chromecast/AirPlay, and while the system is quite finnicky, I eventually managed to get it working. Soon the room was filled with the soothing, authoritative tones of David Pawson's dictum.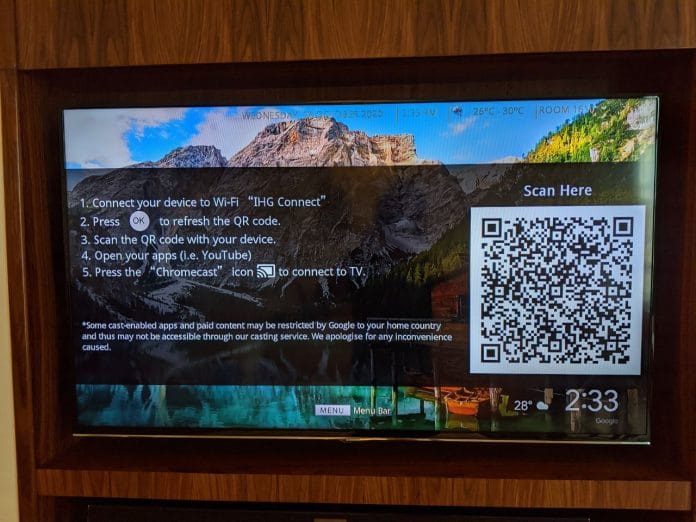 Most hotel rooms have a work desk. This suite has an entire study area. While it would have been nice if they added a sliding partition to acoustically isolate it from the rest of the living room, I can't argue with the décor or space afforded. 
The office chair is extremely comfortable for prolonged sitting, and there's enough space at the table for two people to work at the same time. 
Of course you have universal charging outlets here, as well as two USB ports. 
But the best feature by far is the 32-inch monitor, which you can connect to your laptop via HDMI. This is the first hotel room I've been in that's had a monitor, and the applications for work are phenomenal. Think split screens, presentations, easier photo editing etc. 
Wi-Fi speeds clocked in at 15.3 Mbps down/ 15.2 Mbps up, which puts the InterContinental Bugis among the top 5 of all hotels I've reviewed so far. There were no issues with video streaming or Zoom calls. 
 
🔽

Download

🔼

Upload

Mandarin Orchard

273 Mbps

294 Mbps

YOTELAir Changi

29 Mbps

49 Mbps

W Sentosa Cove

34 Mbps

34 Mbps

The Fullerton Hotel

23 Mbps

24 Mbps

InterContinental Bugis

15 Mbps

15 Mbps

The Capitol Kempinski Hotel

16 Mbps

13 Mbps

Hilton Singapore

13 Mbps

14 Mbps

Marina Bay Sands

11 Mbps

11 Mbps

Andaz Singap

ore

8.0 Mbps

9.5 Mbps

The Barracks Hotel

7.3 Mbps

7.7 Mbps

Hotel 81 Tristar

7.0 Mbps

6.8 Mbps

Raffles Hotel

6.9

Mbps

6.8

Mbps

Hotel Soloha

4.7 Mbps

5.

1 Mbps

Internet speeds based on Speedtest.net scores as recorded during my own visits 
A mini-bar rounded out the living room, although it was completely empty. The only amenities available were Nespresso coffee and TWG tea bags. 
The bedroom was likewise luxuriously appointed, with muted cream tones, padded duck-egg blue headboards, and Peranakan tapestry patterns adorning the walls. 
The king-sized bed was comfortable, although the pillows were way too soft (the hotel apparently offers a pillow menu, but I forgot about it) and I found some…interesting stains on them (see section on service). 
While both bedside tables have a universal power outlet, only the one on the right has USB charging ports. I checked the Sony radio cube hoping it might have a port, but it didn't. Curtains are manually controlled, so don't bother looking for control switches here. The other quirk is that the master switch does not control the lights in the wardrobe area, so you'll need to get up to turn those off. 
Outside the bathroom was a walk-in wardrobe, and I couldn't help but feel they should have gone in a different direction here.
There's way more cupboard space than anyone could humanly need (you could stay for a month and not use it all), so why not put a dressing table? The Milelioness had no place to do her face and dry her hair, and since there's no power outlet in the bathroom, you have to plug in the hairdryer at the bedside table.
I think this space could have been much better allocated to the master bathroom instead. For all the opulence of the Ambassador Suite, the master bathroom sure is a disappointment. It's small and dated, basically the same bathroom that the hotel opened with in 1995. Unlike some other hotel bathrooms (e.g Andaz), it doesn't really feel like a place where you want to linger. In fact, I'd call it a transactional bathroom- do your business and get out. 
You'd think that his and hers sinks would be mandatory in a suite this size, but sadly there's only room for one. Most of the countertop space is taken up by the toiletries caddy, so those who don't travel light may find it a bit of a squeeze. 
The shower area is extremely cramped, and there's barely enough space for one person. It's nice that they installed a hansgrohe shower head, but the coverage area is relatively small. 
If you fancy a bath instead, I'm sad to report that the bathtub doesn't exactly scream "leisurely soak". It's extremely narrow, and like the shower, you'd have to be contortionists to fit two people inside. 
It's also a downer that the toilet has no bidet seat, let alone a bidet hose. The nook they've stuck it in is pretty narrow, and when you lean forward, there's a chance the bathroom door may hit your head if someone chooses an inopportune moment to enter. 
Bathroom amenities are by Agraria, a San Francisco luxury fragrance house. To the best of my knowledge you can't buy these in Singapore, but Agraria amenities have been standard across InterContinental Hotels worldwide since 2013. 
One final point about the toilet (this applies to the guest bathroom too). There's a little raised portion at the entrance that's liable to trip you in the middle of the night, or at least lead to a bad stubbed toe. I suppose they put this here to keep the water in when the toilet is washed, but it's still a poor design choice. 
Overall thoughts on the suite: I was no fan of the bathrooms and felt that the space available could have been more intelligently utilized, but on the whole it's hard to dislike a suite that's larger than your house. This would pass off as a presidential suite in some other hotels, and if you spin this one, rest assured you're in for a good time. 
One other point to note: if you're staying more than one night, the current InterContinental SOP is to clean rooms every 3 days, or upon request. In other words, you won't get housekeeping on the 2nd day unless you explicitly request for it. 
InterContinental Bugis: Heritage Suite
In addition to the Ambassador Suite, I managed to snap some photos of the Heritage Suite that my friend received. These suites are significantly smaller at 55 sqm, but they're not without their charm either. For one, they're located in the Heritage Wing, which has outdoor corridors and small personal courtyards, giving it a Raffles Hotel vibe. 
Even though the Heritage Suites were renovated in 2011, they still look more than presentable today. These suites look out through shuttered shophouse windows to the indoor shopping street of Bugis Junction, either a bug or a feature depending on your personality. 
The bathrooms in the Heritage Suites actually have double sinks and much more counter space. 
There's likewise more room in the shower area (plus, a true rain shower)…
…but sadly the bathtub is still not fantastic. Maybe InterContinental Bugis just isn't the place for bath aficionados. 
Those who prefer a colonial feel will certainly like the Heritage Suites, and they're really not that bad a consolation prize. 
InterContinental Bugis Club Lounge
The InterContinental Bugis didn't reopen its club lounge immediately upon resuming staycations. Instead, the lounge was used as a coworking space, with access sold to the public. Club lounge guests were directed to Ash & Elm for breakfast, tea, and cocktail hours.
Fortunately, the Club InterContinental Lounge has now resumed full operations. It's located on the 2nd floor, and open from 10 a.m to 9 p.m daily. Club lounge guests are entitled to the following meal presentations:
Breakfast: 7-10.30 a.m daily (served in Ash & Elm for the time being)
Afternoon tea: 3-5 p.m daily
Evening cocktails: 6-8 p.m daily
All-day coffee and tea is served in the lounge, plus light bites. The staff in the club lounge can handle the same things the front desk can, whether it's checking in or out, or recoding your key card. There's also a business center with printing capabilities. 
Like the Heritage Suites, the club lounge went under the knife as part of the 2011 remodel. In terms of design, it's quite unlike any club lounge you've ever seen before. No cookie-cutter office furniture and paint-by-numbers palettes here, this is Peranakan-chic through and through. Expect both lounge style seating, as well as proper dining tables. 
I found the service in the club lounge to be fantastic. The staff were cheerful, efficient and personable, always ready to top off your drink or have a chat about how your day was going. They had a knack of knowing when to disappear, and when to hang around. 
However, I didn't think too much of the food. Here's the menu for afternoon tea (you'll note it says Menu 4, which suggests they rotate the selections daily):
Tea comes in a three-tiered stand and looks the part, but I daresay the taste is miles away from the tea they're serving in The Lobby Lounge. None of the items were memorable, and you needn't feel too bad if you skip it. 
Here's the menu for the evening cocktails (which also appears to rotate daily): 
Just like afternoon tea, the food during evening cocktails wasn't anything to shout about. The addition of alcohol always helps (cocktail of the day: Singapore Sling), but I didn't feel like having seconds of anything. 
At least the prosecco kept coming. 
InterContinental Bugis: Facilities
| | | |
| --- | --- | --- |
| Pool | Gym | Spa |
| Yes: 7 a.m to 9 p.m | Yes: 24 hours | None |
| Kids' Club | Business Centre | Others |
| No | No | N/A |
Swimming Pool
The InterContinental Bugis swimming pool is located on the 4th floor, and opens from 7 a.m to 9 p.m daily. A maximum of 35 people can be in the pool area at any time, with 10 in the pool itself. 
As far as I can tell, I don't think there are any fixed time slots for the pool. You call up the front desk and tell them what time you want, and they'll try to work out something for you. I managed to get 5-7 p.m with no issues, probably on account of staying during the middle of the week. 
Although you ostensibly need to book a time slot, I was surprised there was no enforcement whatsoever. I was able to come and go as I pleased, and the whole time I was there I didn't see a single pool attendant. In the end it didn't really matter because there were never more than six people at any point. Perhaps they're stricter about access control during the weekends, when occupancy rates increase. 
The InterContinental Bugis pool isn't ornate by any means. Quite the opposite in fact- it's a product of its time, and if you pulled something out of a box labelled "1995 swimming pool", it'd probably look like this. All they needed was a dolphin motif at the bottom to complete the ruse. 
It's not a particularly deep pool, measuring 1.4M throughout. However, the shape is regular enough to allow for lap swimming at least. 
In addition to the main pool, there are two smaller pools as well. One of them is a 0.9M deep sheltered jacuzzi, the other is a 0.5M deep wading pool. 
The bar in the pool area was unmanned, but guests could scan a QR code and order room service. 
Gym
Just like the pool, there didn't seem to be fixed time slots for the gym either. You'll find it on the 3rd floor, open 24-hours daily. 
Like the pool, I didn't see any access control measures. You didn't need a special key to access the gym; just tapping your room card would open the door. 
This is one of the largest gyms I've seen, with a very wide variety of cardio and strength training equipment. 
For those who actually know these things, here's the full list:
Technogym® Cardiovascular equipment: Technogym® Excite+ RUN Now 700 UNITY, Synchro UNITY, Bike UNITY, Recline UNITY, Top UNITY 
Technogym® Strength equipment: Technogym® Element+ Shoulder Press, Chest Press, Abdominal Crunch, Leg Curl, Leg Extension, Dual Adjustable Pulley Standard and Power Pack
Technogym® Benches: Technogym® Element+ 4 Uses Bench, Lower Back Bench, Crunch Bench, Pure Strength Flat Bench 
Technogym® Free Weights: Technogym® Urethane-encased Dumbbells 12kg-30kg, Chromed Dumbbells Series 10 Pairs 1-10kg 
Others: Rubber Medicine Balls (1kg to 5kg), Technogym® Rubber Mat for Stretching and Wellness Ball 
The gym was even large enough to have a separate yoga nook, with wall-mounted mats you could roll out for downward dogging. 
InterContinental Bugis: Breakfast
| | | |
| --- | --- | --- |
| Served at | Cost | Style |
| Ash & Elm | Order from a la carte menu if breakfast not included with rate | A la carte buffet |
| Hours | Sparkling Wine? | Discounts? |
| 0700-1030 | No | None |
I have to be honest- I didn't come to the InterContinental Bugis expecting breakfast to be a highlight. I thought it'd be passable at best, but having tried it, I'll go so far as to say it ranks among my top 3 staycation breakfasts so far (displacing the Andaz, which has fallen from favor by replacing their all-you-can eat menu with a single breakfast set). 
Breakfast is served from 7 a.m to 10.30 a.m daily at Ash & Elm. This is the standard breakfast venue for all guests, club lounge access or no. If you're staying on a weekday (i.e your breakfast falls on Tuesday, Wednesday, or Thursday), there's no need to make a prior reservation. For all other days, you'll be asked to choose from one of the following time slots:
7 a.m to 8 a.m
8.15 a.m to 9.15 a.m
9.30 a.m to 10.30 a.m
First things first: there's a separate area cordoned off for guests with club lounge access. If you're one of them, make sure they seat you in the correct area. I noticed my friends on a Suite Surprise rate seated outside the pearly gates, so the staff do goof up now and then. 
No, it's not an ego thing. You want to be recognized as a club lounge guest because their breakfast menu is different from the regular one. All guests can choose from the following breakfast options…
…but only club lounge guests can order these.
Trust me, these three items are among the best on the menu, and you won't want to miss them. 
By the way, there's also a special menu just for the little ones. These items are the same, regardless of whether you're a club room guest or not. 
Shortly after we ordered, a plate of cut fruits and a warm bread basket were brought to the table. InterContinental Bugis serves freshly squeezed juices, so that's another huge check in the plus column. 
The pancakes delice were some of the best pancakes I've had in a hotel, perhaps even in Singapore (bold statement, I know). Warm, fluffy and light, they came with a lovely whipped cream with cinnamon and vanilla, a medley of berries, and honeycomb. 
If there's one dish that shows how crucial fresh preparation is, it's pancakes. 15 minutes after they arrived, the leftovers were cold, hard and unappealing. So eat this as soon as it comes, to enjoy it as it's meant to be. 
The other highlight was the eggs benedict. It's an interesting take on the dish, given that there was only one egg with caviar and hollandaise sauce on it. The other muffin had spinach and ham. Still, it all tasted good together, and of course you can always order seconds to have as many eggs as you want. 
The final dish from the "special" menu was the Chief (that's "chief", not "chef") Executive's Dim Sum, a more atas take on the traditional breakfast dim sum basket. This had abalone siu mai, lobster jade dumpling, mushroom minced chicken & ginkgo nut, deep fried prawn roll, and a sugarcane scallop lollipop. 
As you can see, there was a generous filling to wrapper ratio, with a real piece of abalone inside too. 
But it's not like the regular menu items are something to be avoided either. The Taste of Singapore set was rather good, with the exception of the dim sum (sticky, dry wrapper, hardly any filling). The kaya butter toast and chicken congee were both bang on the money. 
Also worth trying is the Morning Booster, which consists of waffles, bacon, scrambled eggs, tomato concasse and mango yoghurt parfait. There was also a side of smoked salmon, but there was something slightly off about this that I couldn't quite place my finger on. 
The last two options were a classic American breakfast (or British fry-up, if you feel nationalistic about that sort of thing) with all the trimmings, and an Indian breakfast set with naan, chutney and chicken curry. 
Verdict? I'd say that the InterContinental Bugis' breakfast is duking it out with Raffles Hotel for second place, behind the Capitol Kempinski. The taste, plating and quality of the food were well above what I expected, and the service throughout was on point. 
Other Dining Options
| | |
| --- | --- |
| Restaurant | Status as of 29 Oct 2020 |
| Ash & Elm | Open |
| Chikuyotei | Open |
| Man Fu Yuan | Open |
| Idlewild | Closed |
Of all the restaurants at the InterContinental, I only had time to visit Ash & Elm. I do hope to visit Idlewild when it reopens though- any bar inspired by the golden age of air travel (Idlewild was JFK airport's former name until 1963) would surely be worth a pilgrimage. 
Ash & Elm
Ash & Elm offers a two-course set lunch at S$28++ (S$33 nett; the 20% off with Suite Surprise does not apply to set lunch), which is actually more like three courses since they include a complimentary soup. I had misgivings about eating here when I saw the roasted chicken "tight" on the menu, but I'm glad I didn't let bad spelling deter me. That's because Ash & Elm serves up some wonderful food, and I'd recommend it to anyone in a heartbeat. 
The complimentary soup of the day was a cream of mushroom, served with some lovely warm bread and butter.  The soup wasn't too thick, and gave off a wonderful perfumed aroma of mushrooms. 
After that was a dainty sea bass fillet a la plancha. Crispy skin, moist interior, and some lovely charred broccoli to go with it (pity there was only one floret). 
We also ordered a flatbread with wild forest mushroom and truffle. All the flatbreads are made in a wood-fired oven using Jarrah hardwood. I don't know whether that really makes a difference, but either way the flatbread was outstanding. It's the kind of thing I could see myself coming back again for sometime down the road. 
For dessert, a pecan tart with passion fruit sherbet was served. This was also great, and to sum it up, one of the better set lunches I've had in Singapore. 
InterContinental Service
I'm starting to wonder whether it was a good idea buying a black light torch. Sure, it makes for interesting discoveries, but then again, there are some things you'd rather not know about. 
Like what exactly these stains on the pillow cases are. Three out of four pillows had stains of one sort or another. One looked like drool, the others like some sort of Rorschach test.
I brought this to the attention of the hotel and they sent someone up to change the sheets. And yet, I still found something on one of the new pillowcases. 
The front office manager sent up an apology card, fruit platter and bottle of wine. She also credited 5,000 IHG points to my account. The next day during breakfast, the club lounge manager also came by my table to apologise and ask about the stay. 
As I mentioned in other sections, I found the InterContinental Bugis service to be great all round. Calls to the front desk were answered in seconds, additional items requested were delivered in no more than 5 minutes, and breakfast/club lounge orders were never forgotten. 
The main area of improvement would be to position someone at the pool to sanitize chairs and tidy up in between guests. 
Conclusion
Suite Surprise will be a classic case of YMMV, since the suite you get will presumably color how you feel about the overall experience. I liked my stay and would certainly rank it as one of the better staycations I've had in Phase 2 so far. 
What we can all agree on is that paying S$280 nett for a suite at the InterContinental with breakfast and club lounge access is a fantastic deal. And regardless of which suite you ultimately end up with, you'll still enjoy the same excellent breakfast and service. 
If you've completed your Suite Surprise stay, do share your data points about which color (and suite) you got!
Overall ranking of Phase 2 staycations
InterContinental Bugis
🏨 In Summary
You'll find excellent service and breakfast at the Intercontinental Bugis, and perhaps a gargantuan suite for good measure. Either way, it's unbeatable value with the Travel Spark vouchers at S$280 nett. 
Do say: Fortune, good night: smile once more; turn thy wheel!
Don't say: Wah lao, wheel kelong