If you're hoping to set foot on a plane in the near future, a COVID-19 PCR test will be the cost of entry. No one likes having things stuck up their nose, but that's just the way it is.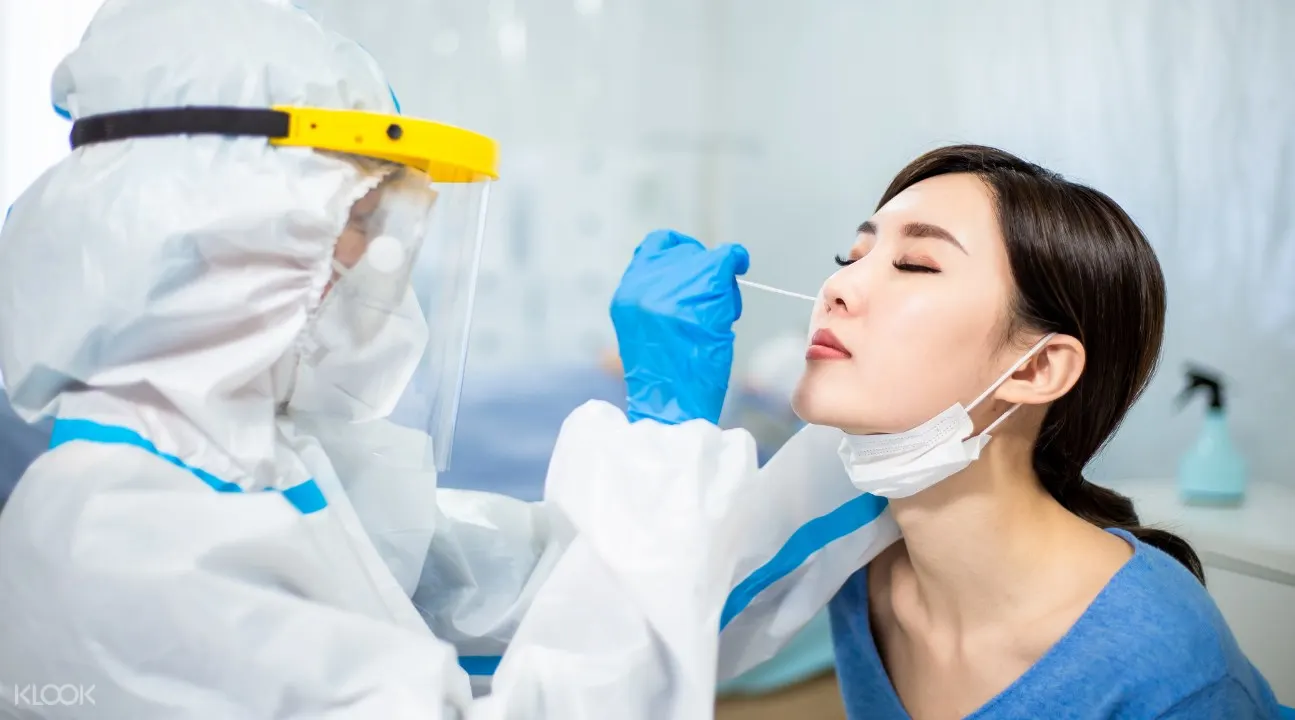 Many countries already require a negative PCR test as a prerequisite for boarding an inbound flight. Tests must typically be conducted within 72 hours of the scheduled departure time, though it's always best practice to check the exact rules for your destination.
🌎 COVID-19 Travel Restrictions by Country
IATA maintains a database with all the relevant COVID-19 travel regulations by country, updated daily.
The good news is that Singapore has moved to liberalise testing. Ever since 1 December 2020, anyone can do a voluntary COVID-19 PCR test, without the need for prior MOH approval. Travelers can approach any approved clinic directly to book their test. OneMap has compiled an interactive map showing the locations of all COVID-19 test providers across Singapore
Map of COVID-19 Test Providers
Do note the blurb in the sidebar is outdated: "clinics will turn away travelers without approval for a pre-departure swab". This is no longer true, effective 1 December 2020.
This then begs the question: who does it the cheapest?
How much does a COVID-19 test cost?
MOH used to include the cost of testing in their list of COVID-19 test providers, but unfortunately that's since been removed. However, here's an idea of how much you can expect to pay at the major medical chains.
⚕️ COVID-19 Test Prices (Nett)

Chain
PCR
PCR + Serology
SATA CommHealth
Locations


S$135

S$185

Heartland
Health
Locations


S$154

S$189

My Family Clinic
Locations


S$158

S$198

DA Clinic
Locations

S$160

S$200

Minmed
Locations

S$160

S$200

Healthway Medical
Locations


S$165

S$210

AcuMed Medical
Locations


S$168

S$216

Raffles Medical
Locations


S$169

S$206.55

Parkway Shenton
Locations

S$170

S$198

OneCare Medical
Locations

S$171.20

S$247.17

Northeast Medical
Locations


S$175

S$225

ProHealth Medical
Locations


S$179

S$212

Fullerton Health
Locations


S$199.02

S$252.52

Central 24-HR Clinic
Locations


S$200

S$258.85

Q&M Medical
Locations


S$200

S$260

Prices are subject to change; call clinics for latest information

Are there discounts?
Yes indeed. Here's several ways to bring down the cost of your test.
OCBC cards: COVID-19 PCR test at S$150 nett
OCBC cardholders can purchase a pre-departure COVID-19 test via the OCBC HealthPass app (available for both Apple and Android). A swab test will cost S$135 nett, and a swab test with serology will cost S$180 nett. Appointments are available at 37 Healthway Medical clinics islandwide.
Use the following code as checkout: OCBC + first 6 digits of your OCBC credit card.
Traveloka: COVID-19 PCR test at S$150 nett

From 23 November 2020 to 30 April 2021, anyone who books an international flight or hotel through Traveloka will be entitled to a COVID-19 PCR swab test at a discounted rate of S$150 nett (S$180 nett for China)
This promo is valid for any booking made through the Traveloka website or mobile app. Once the hotel or flight booking is made, the traveler will receive an email which he/she can show at any DA Clinic to enjoy the special rate.
DBS cards: COVID-19 PCR test at S$155 nett
All DBS cardholders can save S$5 off the cost of a COVID-19 PCR test at DA Clinics, paying S$155 nett instead of the usual S$160.
If you're heading to China, your PCR + serology test will cost S$189 nett instead of the usual S$200 nett.
SAFRA members: COVID-19 PCR test at S$159.60 nett

SARFA members can enjoy 5% off a COVID-19 PCR test at Raffles Medical, lowering the price from S$169 to S$160.55 nett. And here you thought all those hours of guard duty were wasted…
To use this discount, key in SAFRA under "remarks" when booking your appointment online.
Collinson: COVID-19 PCR test at S$165 nett
You might not have heard of Collinson, but they're a big name in airport services (they run the Priority Pass lounge program). Collinson has launched a COVID-19 pre-departure test booking portal, which allows travelers to book a PCR/PCR + Serology test at the following discounted prices:
| | | |
| --- | --- | --- |
| | PCR | PCR + Serology |
| Cost | S$165 | S$214 |
Tests can be scheduled online at various Fullerton Health or Raffles Medical clinics, and the price is the same regardless of which location you choose.
Collinson is partnering with Singapore Airlines to offer a seamless booking and testing experience, for flights departing from Singapore, Jakarta and Medan.
Customers can make an appointment for a pre-departure test with their preferred clinic from the list of recognised testing facilities available on the online portal. They will also receive their test results through the same portal, which they can then present upon check-in at the airport. These test results will come with a QR code that enables airport check-in staff and Singapore immigration authorities to verify under the new digital health verification process that SIA is piloting with the International Air Transport Association. The portal will also be able to house digital health passes documenting passengers' COVID-19 status.
–Singapore Airlines press release
However, you do not need to be flying with Singapore Airlines to take advantage of these discounted rates. In other words, this is a simple way to secure a discount on a PCR test, regardless of your airline.
Klook: COVID-19 PCR test at S$168 nett
Surprise surprise. Hotels & activities platform Klook also offers COVID-19 PCR tests from AcuMed at $168 nett- the same price as going direct.
But as it turns out, you can use the promo code ALTIAPR35 (for DBS Altitude) or DBSLF35 (for DBS Live Fresh) to bring down the price by a further S$35, making the nett cost just S$133.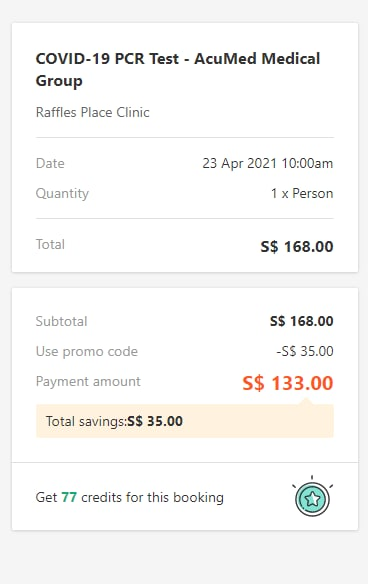 How have COVID-19 PCR test prices changed?
COVID-19 PCR tests are still expensive, but the good news is that prices have been coming down. I last checked this data in November, and between then and now, some clinics have reduced their fees by more than 20%.
⚕️ Changes in COVID-19 PCR Test Prices

Chain
19-Nov-20
21-Jan-21
Change
Heartland
Health
Locations


S$200

S$154

-S$46
(-23%)

My Family Clinic
Locations


S$200

S$158

-S$42
(-21%)
Raffles Medical
Locations


S$199

S$168*

-S$31


(-16%)
Northeast Medical
Locations


S$200

S$180

-S$20


(-10%)
AcuMed Medical
Locations


S$200

S$189

-S$11


(-6%)
Don't get me wrong- it's still going to be very pricey for a family, but I imagine the travel industry will step in at some point and provide further subsidies either directly or indirectly (e.g by including the cost as part of the fare).
What's the swabbing process like?
Not as bad as you think, really. Back when the Hong Kong ATB was on the cards, I did a PCR test at a Shenton Medical clinic and found it fairly uneventful.
A six-inch long swab (like a cotton bud) is inserted into one nostril, swished around a few times for about five seconds, removed, then repeated for the other nostril. It's ticklish and you may tear a bit, but the whole thing is over before you know it.
Results were available within 24 hours, and the most painful thing was the fee.
Conclusion
Pre-departure COVID-19 PCR tests are now widely available throughout Singapore, and while prices are still steep, at least they're moving in the right direction.
As Singapore continues looking for travel bubble partners, I suspect we'll see more and more banks adding discounted testing as a credit card perk, and hopefully airlines will also leverage their bulk purchasing power to secure lower prices for passengers.