SingSaver is running a new offer for the Standard Chartered Smart Card from 1-31 July 2022, which gives new-to-bank customers a choice of the following gifts:
Dyson AM07 Tower Fan (worth S$499)
Xiaomi Mi Robot Vacuum-Mop 2 (worth S$399)
S$300 cash (note: if you want the cash option, go via the official site, which is offering S$300 cashback with no min. spend required!)
A minimum spend of S$350 on qualifying transactions (see below) is required within 30 days of approval.
Apply Here
❓
New-to-bank Definition
New-to-bank customers are defined as those who do not currently hold a principal Standard Chartered card, and have not in the 12 month period before application. Debit cards, supplementary cards and corporate cards do not count.
Applications must be received by 11.59 p.m on 31 July 2022 and approved within 14 days to be eligible. Unlike past promotions, do note there is no offer for existing Standard Chartered customers.
The full T&C can be found here.
Application Steps
Apply through any of the links in this article
You will be directed to a SingSaver landing page. Enter your email address and click "confirm"
Complete your application and take a screenshot of the Application Reference Number (for Standard Chartered, it's in the format SGYYYYMMDDxxxxxx)
Fill in the SingSaver rewards form that will be sent to your email. It's vital you fill in the form– no form, no reward.
You'll be able to indicate your choice of gift in the rewards form if applicable.
Qualifying Spend
The approved card must be activated and a minimum qualifying spend of S$350 made within the first 30 days of approval.
"Qualifying spend" refers to any retail transaction, except the following:
any Equal Payment Plan (EPP) purchases,

refunded/ disputed/ unauthorised/ fraudulent retail purchases,

Quick Cash and other instalment loans,

bill payments made using the Eligible Card as a source of funds,

late payment fees

any other form of service/ miscellaneous fees

6051 (Non-Financial Institutions – Foreign Currency, Non-Fiat Currency (for example: Cryptocurrency), Money Orders (Not Money Transfer), Account Funding (not Stored Value Load), Travelers Cheques, and Debt Repayment)

6211 (Security Brokers/Dealers)

4829 (Money Transfer) and 6513 (Real Estate Agents and Managers)

8211 (Elementary and Secondary Schools)

8220 (Colleges, Universities, Professional Schools, and Junior Colleges)

8241 (Correspondence Schools), 8244 (Business and Secretarial Schools)

8249 (Vocational and Trade Schools) and 8299 (Schools and Educational Services (Not Elsewhere Classified)

9211 (Court Costs, Including Alimony and Child Support)

9222 (Fines)

9223 (Bail and Bond Payments)

9311 (Tax Payments)

9399 (Government Services (Not Elsewhere Classified))

9402 (Postal Services – Government Only) and 9405 (U.S. Federal Government Agencies or Departments)

8398 (Charitable Social Service Organizations)

8651 (Political Organizations)

8661 (Religious Organizations)

7523 (Parking Lots, Parking Meters and Garages)

7349 (Cleaning, Maintenance and Janitorial Services)

Any other charge, fee, transaction or payment as Standard Chartered Bank may stipulate from time to time
Gift Fulfillment
All gifts will be fulfilled within 4 months of approval.
Do note that you will not receive your gift immediately upon meeting the minimum spend- the reason for the delay is the need to confirm eligibility with the bank. Please take note of this timeline before applying, and only apply if you're willing to wait.
For those who want to track the fulfillment of their reward, SingSaver provides fulfillment timeline updates for Citibank and Standard Chartered cards on its website.
Any enquiries about gift fulfillment should be sent to [email protected]
Get a free Disney+ subscription
If you're a new-to-bank customer, Standard Chartered is offering a complimentary 3-month Disney+ subscription as well, with no minimum spend required.
Eligible cardholders will receive their Disney+ promotion redemption code within 60 working days of the date of activation of the physical card. This must be used within 3 months.
The T&C for this offer can be found here.
Recap: Standard Chartered Smart Card
Apply Here
T&Cs
Income Req.
Annual Fee
FCY Fee

S$30,000 p.a.

None

3.5%

Regular Earn

Bonus Earn

Cap

Up to 0.64 mpd

5.6 mpd/7.7 mpd on fast food, streaming, public transport

S$818 per statement month
The Standard Chartered Smart Card has a S$30,000 income requirement and no annual fee.
Cardholders normally earn a very underwhelming 1.6 rewards points per S$1 spent (equivalent to 0.46/0.64 mpd depending on whether you hold a Standard Chartered Visa Infinite or X Card- see the explainer below) on all spending.
❓ Got Visa Infinite?
StanChart's rewards ecosystem is much more favourable to those with a Standard Chartered Visa Infinite or Standard Chartered X Card. These cardholders can redeem KrisFlyer miles at an enhanced rate of 2,500 points = 1,000 miles.
All other cardholders redeem KrisFlyer miles at a rate of 3,500 points= 1,015 miles.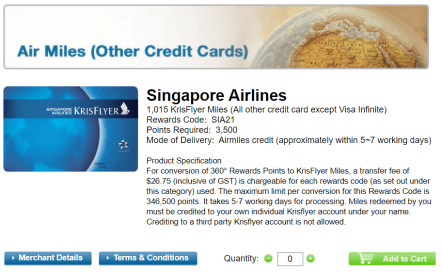 Here's the fun part. If you have a Visa Infinite or X Card, all your rewards points can be redeemed at the 2,500 points = 1,000 miles rate. You can see this illustrated in my example below- the 100 points on my Rewards+ card are pooled with those from the X Card.
tl;dr: 1 SCB rewards point= 0.4 miles for Visa Infinite cardholders, and 0.29 mpd for all others.
However, if cardholders spend on fast food, streaming entertainment or public transportation (no min. spend required), they'll earn:
the regular base rate of 1.6 rewards points per S$1 (0.46/0.64 mpd)
a bonus of 17.6 rewards points per S$1 (5.10/7.04 mpd)
This means a total earn rate of 19.2 rewards points per S$1 (5.57/7.68 mpd), capped at S$818 per statement month. That's actually very good if you frequently spend on these categories.
Category
Merchants
🍔 Fast Food

Burger King

Fun Toast

KFC

McDonald's

Subway

Toast Box

Ya Kun Kaya Toast

📺 Streaming Entertainment

Disney+

Netflix

Spotify

YouTube

🚆 Bus/MRT
For comparison, the best alternative cards would earn "only" 4 mpd on such transactions (e.g. UOB Preferred Platinum Visa for mobile payments at fast food merchants, or the Citi Rewards for monthly streaming subscriptions).
This bonus rate is valid till 31 December 2022.
Conclusion
The Standard Chartered Smart Card could be a very useful companion to have, thanks to its upsized earn rate on fast food, streaming and public transport. Moreover, if your main card is a Standard Chartered X Card or Visa Infinite, it's a no brainer to add the Smart Card to your wallet too (since there's no annual fee and the points pool anyway).
For those who don't already have a Standard Chartered credit card, there's an additional gift of a Dyson AM07 tower fan, Xiaomi robot vacuum or S$300 cash in it for you, provided you apply by 31 July 2022.