After boarding Quantum of the Seas, we made a beeline for the stateroom to drop off our bags. One of the nice things about snagging the first boarding slot (2 p.m) was that the ship looked completely deserted.
In fact, Quantum can take 4,905 guests, but because of COVID-19 restrictions, capacity was limited to 50%. As we'd later find out, only 800+ passengers were on board my January 28th cruise. This meant easy reservations, minimal wait times and plenty of personal space. 
Load factors are expected to pick up again towards March and the school holidays, but it's such a rare treat to be on a cruise ship crewed and fitted out for 6X the passengers. 
🚢 Cruise to Nowhere: Royal Caribbean
Grand Suite: Overview
You might have noticed that throughout my check-in and boarding post, I never once mentioned getting the room keys. That's because Royal Caribbean operates in a rather high trust environment- your keys are left in an envelope right outside the door (and if that's not trust enough, your check-in luggage will be placed outside the door later too). 
The envelope contains your all-important SeaPass card. This is how you'll unlock your stateroom, verify purchases, rent towels, and enter dining/activities/entertainment venues. You'll even need it just to move from point to point, as scattered throughout the ship are manned counters requiring everyone passing by to tap their cards. I recommend you bring a lanyard onboard and put the SeaPass inside; it'll save you a lot of rummaging through your pockets. 
As a refresher, here's the different types of staterooms offered on Royal Caribbean's Quantum of the Seas:
 
Stateroom
Balcony
Max Cap.
Interior Rooms

Studio Interior 

101 ft2

N/A

1

Interior w Virtual Balcony

166 ft2

N/A

2

Ocean View Rooms

Ocean View

182 ft2

N/A

4

Spacious Ocean View

302 ft2

N/A

4

Balcony Rooms

Studio Ocean View Balcony

119 ft2
55 ft2

1

Ocean View Balcony

198 ft2
55 ft2

4

Ocean View w Large Balcony

177 ft2
65 ft2

4

Suites

Junior Suite

267 ft2
81 ft2

4

Junior Suite w Large Balcony

276 ft2
161 ft2

4

Grand Suite

351 ft2
109 ft2

4

Grand Suite w Large Balcony

351 ft2
259 ft2

4

Grand Suite (2BR) 

543 ft2
259 ft2

4

Owner's Loft Suite w Balcony

975 ft2
501 ft2

4

Grand Loft Suite w Balcony

696 ft2
216 ft2

4

Royal Loft Suite w Balcony

1,640 ft2
553 ft2

4

Sky Loft Suite w Balcony

673 ft2
183 ft2

4
As this was my first-ever cruise, I decided to go for the full-fat experience and get a suite. Suites on Royal Caribbean enjoy special privileges, but these only really kick in at the Grand Suite tier (Junior Suites, the entry category, don't enjoy many of the perks). 
Grand Suites measure in at 460 ft2, 4X as large as a Studio Interior and 1.8X the size of a regular Balcony Room. While not strictly necessary on a four night cruise, it was nice to have the additional space to stretch out, and the two-room layout provides extra privacy because the bedroom isn't exposed to the corridor every time you open the door. 
Grand Suite: Living Room
The Grand Suite doesn't exactly boast cutting-edge interior design. It's not ugly by any means, but certainly reminded me more of a Sheraton/Marriott than a St Regis, to put it one way. Floors are carpeted, walls are cream, furniture is mostly wood. Who says design languages aren't universal?
A small work desk is located near the entrance foyer, and while it looks cramped, you can shift a lot of the items to the cubby holes in the side of the TV console to make more space. 
On the first day, two large glass bottles of Evian were waiting on the desk. Unfortunately, this turned out to be a one-time only welcome gift, and were subsequently replaced with two plastic bottles of no-brand mineral water each day. The tap water on the ship is perfectly safe to drink though, and you can get free ice water from virtually every dining venue so there's no need to worry about going thirsty. 
Complimentary coffee and tea is available in the room, and while I'd have loved to see a Nespresso machine instead of a Mr Coffee, caffeine is caffeine. As an aside, complimentary coffee is served at breakfast (and after meals in the MDR). If you want the premium stuff like lattes or cappuccinos, you'll need to pay extra (I'll cover this in a separate post on dining). 
The work desk has three charging sockets that will fit Type A, B and C plugs, but not Singapore ones (we use Type G). It's a good idea to bring an adapter, failing which I'm sure housekeeping can provide one. Two USB charging ports were also available, but one of them was not working. 
Opposite the work desk is one of two wardrobes (the other one is in the bedroom). There's space for plenty of clothes, useful if you're sailing for an extended period. There's no luggage rack in the room, so it may be a good idea to unpack everything and store your bag upright in here. 
I'd informed the concierge beforehand that we were celebrating The Milelioness' birthday, and a complimentary bottle of wine was waiting in the room. It wasn't vintage stuff (retail price: US$6.99), but hey, they didn't have to. The fruit basket is a standard welcome amenity for suites guests, and is not replenished (again, there's plenty of free fruit onboard at the buffet).
Beneath the countertop was a mini-fridge, and although the sticker says "cool not cold", this turned out to be a case of under-promising and over-delivering. The champagne bottles I placed inside came out ice-cold in a couple of hours. Amusingly, you can even set a code to lock the fridge. 
I was surprised that Royal Caribbean didn't have much of a "cares kit", which is becoming ubiquitous at hotels the world over. Instead, a small bottle of hand sanitizer and two (unwrapped!) masks were sitting on the coffee table. 
Neither of the two TVs in the room allows streaming of personal media content, and I think they really missed a trick there. It is possible to connect with a HDMI cable if you really want to, but otherwise you're limited to satellite TV. 
Oh, and movies. Royal Caribbean has a decent selection, but the catch is they're not free. 
Movies cost US$11.99 each, and you can only watch them for 24 hours after purchase. This was disappointing, as I was expecting that Royal Caribbean would have something similar to airline IFE (for the sake of comparison, movies on Dream Cruises are free). 
If you really want to watch a free movie, you can do so at the Music Hall. During the cruise, the following titles were playing:
Emma
Jumanji: The Next Level
Knives Out
Sonic the Hedgehog
Spider-Man: Homecoming
All Grand Suites guests are entitled to a complimentary VOOM Surf + Stream package (one device per person), and while Royal Caribbean boasts this is the fastest internet at sea, it wasn't what you'd call zippy. The best speed I ever managed was just shy of 4 Mbps, and I've seen screenshots from people on World Dream with faster speeds.
Grand Suite: Bedroom
The living room area was separated from the bedroom by a blackout curtain. It's not as private as a door, but it does prevent light from seeping in. If someone works quietly in the living room, the disturbance to the person in the bedroom will be minimal. 
The "king-sized" bed was actually two single beds pushed together, and while that normally annoys me to no end, it didn't here. I knew it was two separate beds, yet I couldn't feel the dividing line between them. Whatever they did with the sheets just worked, and in fact this was one of the most comfortable beds I've ever slept in. 
While Royal Caribbean has installed USB charging ports at the desks, they surprisingly omitted to include any by the bedside. Only the table on the right (facing the bed) has a power outlet, so if you want your devices to be within ready reach of the bed, you'll need to buy one of those USB charging hubs that plugs into the wall. 
A rectangular dressing table with a mirror was nestled by the wall, with a small box for storing jewelry. 
Like the desk in the living room, the table here had three power sockets and a pair of USB charging ports. 
The wardrobe near the toilet provided yet more storage space (plus a digital safe), and it looks like at one point there was an ironing board and iron stored here too. I'm sure these can be requested from housekeeping, but in any case there isn't a formal night on these cruises to nowhere. 
Grand Suite: Bathroom
The Grand Suite has a sizeable bathroom, which can be entered either from the bedroom or living room. 
The bathroom is outfitted with dual sinks, but not in the way you might expect. Instead of being side-by-side, they're opposite each other at an offset. It's rather untraditional, but I'd rather have this than a single sink, and I understand there are architectural constraints. 
There's a combination bathtub/shower, but frankly, I wish they'd just gone for a glass-enclosed shower area. Showering in a tub isn't ideal, because you don't have a lot of space to maneuver, and in general I just find brushing up against shower curtains gross. If you like soaking, there's jacuzzis around the ship which offer much more room (and better views too). I love a luxurious bathtub as much as the next person, but if given a choice between a bathtub and shower, practicality dictates the latter. 
While I didn't expect a bidet seat for the toilet, I thought it should at least have had a bidet hose. Wouldn't that minimize the strain on the plumbing too, what with less toilet paper flushed? Another annoyance was the positioning of the flush directly behind the seat, so you'd have to close it to flush (yes, I know you should, but still). 
Bathroom amenities for suites guests are from L'Occitane's Aromachologie line, and smell very pleasant indeed. Feel free to request additional ones from housekeeping as needed; they're not stingy. However, Royal Caribbean does not provide other amenities like toothbrush kits or shavers by default- you'll have to ask for them. 
Grand Suite: Balcony
Rounding out the room is a 109 ft2 balcony, with four chairs and two tables (the Grand Suite can theoretically accommodate four passengers, so it's nice they gave everyone a seat).
The sliding door to the balcony must be fully closed and locked for the air conditioning in the room to work, and be careful not to open the stateroom door while the balcony is open- the pressure difference can lead to some unpleasant things. 
I have to be honest; we didn't use this area all that much. Most of the day we were out and about around the ship, and by the time we returned to the room it was too dark to see anything outside. That said, on the final day we forced ourselves to sit outside, sip wine and watch the sunset, and it was every bit as magical as you might imagine. 
Grand Suite: Housekeeping
One thing that first-time cruisers may not be familiar with is the housekeeping routing on ships. You'll have a dedicated stateroom attendant, who will introduce him/herself on the first day. Rooms are cleaned twice daily (once in the morning and once in the evening), and you can stick a magnet outside the door (stateroom doors are metallic) to indicate privacy/make-up room. 
The stateroom attendant is also responsible for your daily temperature taking. On a ship where your temperature is taken almost everywhere, it does seem like overkill, but just suck it up and let them do their jobs. Temperature taking is preferably done in the morning, but there's no fixed time. 
I found our attendant to be very personable, and knowledgeable about the ship. She even made some cute towel animals.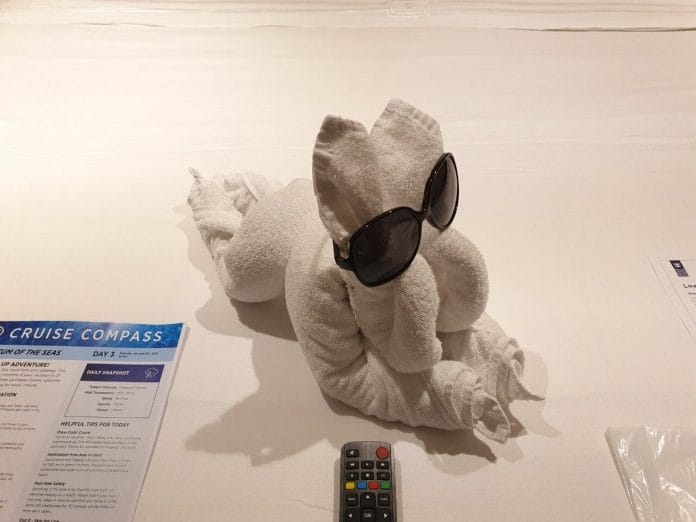 Conclusion
While it's more comfortable than luxurious, I had no real complaints about the stateroom. The noise insulation was fantastic (I was worried about this because our stateroom was near the elevator), water pressure was strong and I never felt any movement at all (we were mid-ship on the 8th deck). 
Regular staterooms are significantly smaller, although this isn't that big a deal if you're out and about most of the day.
Have you tried the other room types on Quantum of the Seas? What did you think?