The following stay was hosted by Ascott Orchard Singapore.
It is a truth universally acknowledged, that a person in possession of a child, must be in want of a holiday.
It's been quite some time since I last did a hotel review. As the parent of a young toddler, I must say that the prospect of hosting a child within a hotel room – where I would have to entertain him within the confines of a tiny space whilst somehow preventing him from destroying everything within reach – is not terribly attractive.
So when Aaron asked me if I'd come out of (parenthood-imposed) retirement to help review the Ascott, I was rather intrigued. As a serviced apartment, Ascott promised more space to play with, with suites available at a relatively reasonable rate. Add to that a great location in the Orchard area (without being on the main stretch where you can hear the street racers of Singapore revving their engines late at night), and I was sold.
(Also, it was free.)
Arrival and Check-in
Ascott Orchard is located at 11 Cairnhill Rd, and is pretty walkable from the nearby MRT station, Somerset. The pathway isn't very sheltered, though it's possible to duck under shelter from various buildings most of the way (with a detour through the bridge to Orchard Gateway). There's also an uphill walk along Cairnhill Road, so I wouldn't really recommend this route if dealing with lots of luggage.
For drivers, do take note of the instructions in the PDF attached to your confirmation email – The hotel carpark (charges apply) is accessible via 22 Bideford Road (entrance opposite Holiday Inn Express) and is linked to the hotel lobby on Level P4. Unfortunately, no complimentary parking is provided, although subsidised parking tickets are offered at S$10 (nett) per exit.
If you do park at the designated hotel carpark, you can enter the hotel reception directly from the carpark. Otherwise, you will need to take the elevator up one floor to Level 2.
Check-in was fairly seamless – we had been offered an early check-in at 11am, during which reception was pretty empty. After filling in declaration forms, I received my key cards as well as complimentary walking tour tickets. I did duck down to suss out the situation around 4pm – there was a short queue, but compared to the notorious problems some properties previously had with processing check-ins, this was impressively painless, especially since this was during the first weekend of the March holidays. In any case, the reception has a high ceiling and plenty of natural light, so there are worse places to have to sit and wait.
The hotel has adopted the theme of 'fashion' in its décor (being 'located in the most fashionable shopping destination in Singapore', as their website states), and this can be seen in the use of mannequins by the lift lobbies (and also in the rooms).
1-Bedroom Suite
Ascott Orchard offers five types of apartments, split into the following categories:
| | | |
| --- | --- | --- |
| Room Type | No. of Rooms | Size |
| Studio Executive | 47 | 30 sqm |
| Studio Premier | 10 | 30 sqm |
| One-Bedroom Deluxe  | 92 | 60 sqm |
| One-Bedroom Premier | 16 | 60 sqm |
| Two-Bedroom Premier | 47 | 80 sqm |
Some of the rooms have the option of being combined as dual key units, effectively forming a three-bedroom suite (comprising a two-bedroom and a studio suite). Additionally, they also offer special Bespoke Residences that share the same layout as above, but come decked out with Fendi Casa furniture and accessories.
| | | |
| --- | --- | --- |
| Bespoke Residences | No. of Rooms | Size |
| Murano (studio layout) | 3 | 30 sqm |
| Pierre (one-bedroom layout) | 2 | 60 sqm |
| Soho (two-bedroom layout) | 3 | 60 sqm |
We stayed in a one-bedroom premier suite. One major difference that differentiates it from the one-bedroom deluxe suite is that the toilet is accessible from both the main living area and the bedroom, which means your child can sleep in the bedroom and everyone else can still hang out in the living room and use the toilet freely without tip-toeing Pink Panther-style past the crib.
The price difference between the two isn't very high; it might be worth investing in that upgrade, if this is the sort of thing that matters to you (life and its priorities really do change after children come along).
One of the first things you might notice is yet another mannequin hanging around your room. My wife theorises it proves useful for business travellers to drape jackets on, or perhaps as a humanoid stand-in for the lonely long-term business traveller to have a boozy late night conversation with.
As a serviced residence, it also has a well-stocked kitchenette area.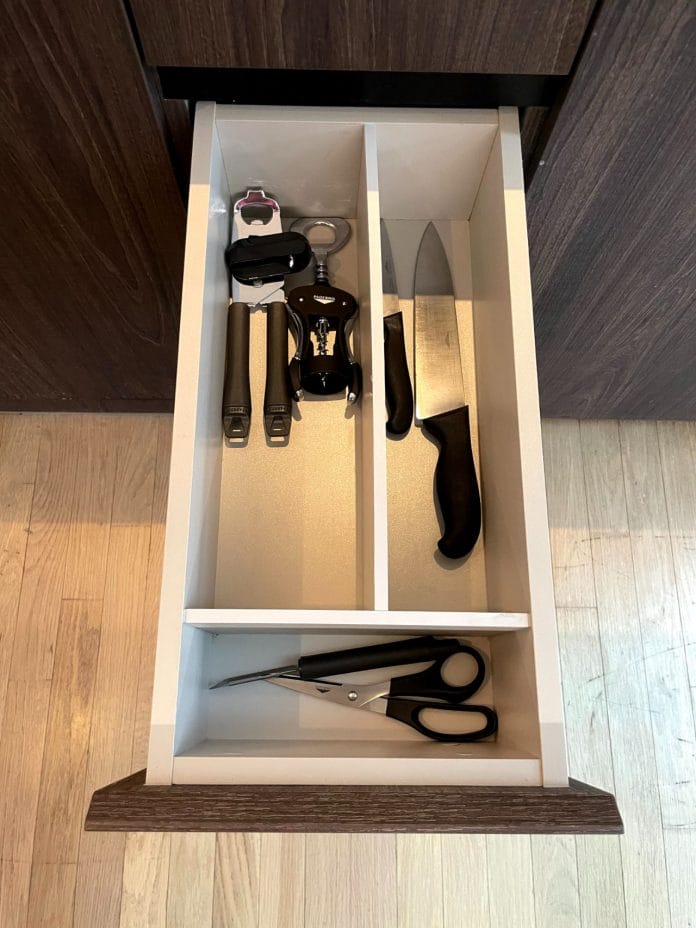 I'd imagine if you had smaller children or multiple children, the large fridge (with a separate chiller and freezer section, as opposed to regular hotel minifridges) would be helpful for stocking snacks and fruit, and the stove would come in handy if heating things like infant cereal or porridge.
The fittings are, impressively, De Dietrich, which my wife tells me is a Big Thing in kitchen appliances. She did (semi-)jokingly say that she should have attempted to bake something during our stay, but honestly for short-term staycationers I can't imagine the oven will get much use.
Hidden beneath the other counters are a washing machine and a dishwasher, which are probably also a bit of an overkill for the average staycationer, unless perhaps your toddler has an Exorcist-style incident.
There's plenty of counter space with the ubiquitous Nespresso machine and a kettle, as well as a little table for two where you can sit and have a coffee together, if you happen to be into having conversations with your spouse.
The furnishings are nice and plush. It helps that the property is relatively new (opened Dec 2016), so everything feels new and clean. There's an ottoman that functions as a pseudo coffee table as well, or a little platform for toys and games. If you have a toddler, you'll know they love opening drawers and cabinets, to which I would say the living area gets an A+ toddler-engagement ranking, as even the ottoman has two pull-out drawers.
Otherwise, the living room is spacious enough for children to have their own space where toys / games can be upended and strewn all over the place, leaving the bedroom as a relatively quiet haven for adults to sneak a drink and stare into the existential void.
The living room television is configured for ease of wirelessly casting content, which is the reality of how many people want to use television sets these days. Android users would be happy to know that this is powered by a Chromecast device, though iOS users are still able to cast content from specific apps (e.g. YouTube, Netflix). 
Wi-Fi speeds are more than decent, with above-average connection speeds which should support all your streaming needs.
 
🔽Download
🔼 Upload

Mandarin Orchard

273 Mbps

294 Mbps

M Social Singapore

46 Mbps

49 Mbps

Conrad Centenni

al

40 Mbps

44 Mbps

YOTELAir Changi

29 Mbps

49 Mbps

W Sentosa Cove

34 Mbps

34 Mbps

Ascott Orchard

29 Mbps

29 Mbps

Duxton Reserve

28 Mbps

29 M

bps

Mandarin Oriental

28 Mbps

28

Mbps

The Fullerton Hotel

23 Mbps

24 Mbps

PARKROYAL Pickering

24 Mbps

23 Mbps

Shangri-La Singapore

19 Mbps

18 Mbps

Pan Pacific Singapore

19 Mbps

19 Mbps

Dusit Thani Laguna Singapore

19 Mbps

19

Mbps

InterContinental Bugis

15 Mbps

15 Mbps

The Capitol Kempinski Hotel

16 Mbps

13 Mbps

Hilton Singapore

13 Mbps

14 Mbps

Marina Bay Sands

11 Mbps

11 Mbps

Andaz Singapore

8.0 Mbps

9.5 Mbps

Four Seasons Singapore

6.7 Mbps

9.8 Mbps

The Barracks Hotel

7.3 Mbps

7.7 Mbps

Hotel 81 Tristar

7.0 Mbps

6.8 Mbps

Raffles Hotel

6.9 Mbps

6.8 Mbps

Hotel Soloha

4.7 Mbps

5.1 Mbps

Hotel G Singapore

4.4 Mbps

4.8 Mbps

Internet speeds based on Speedtest.net scores
The bedroom allows for a crib to be placed at the foot of the bed but still let people walk around to the other side. What's unusual is that they provide one large, square-ish pillow as well as a regular size pillow, so you can either choose to stack them for maximum fluffiness, or appropriate the larger pillow as a pseudo-bolster.
The baby's crib itself is standard issue size. It comes with crib bumpers, a pillow, not one but two bolsters, and a duvet. They sent up a baby tub as well with the crib. Some hotels provide baby bath amenities (usually Kodomo), but none were provided.
The cupboard contained a laundry rack, which is useful for drying wet swimwear. However, it is very large and takes up a lot of space in the bathroom – it does obstruct the shower door and bathroom door when opened up. But again, it's likely something more long term guests would wind up using than staycationers.
The bathroom has the toilet and sink on one side, and the adults' bathtub encased within the shower cubicle on the other. Unfortunately, there weren't dual sinks, so turn-taking would have to be practised.
The layout is a plus if you have children who love bubble baths or creating big messes splashing and sloshing water around in the tub. The floor-to-ceiling casement windows provide a bit of a view, but given that the property is neighboured by other apartment blocks, it's a bit of a trade-off to decide if you want to flash people and enjoy the view, or enjoy the privacy of your bath in an enclosed space. The layout of the bathroom does mean that even using the toilet is in full view of the neighbouring blocks, so the blinds might have to stay permanently down.
The Ascott uses bath amenities from APPELLES, an Australian brand – it seems to be pretty popular; I've previously seen it used at the Grand Park chain as well. It also provides fewer towels than the average hotel – with only two hand towels, two bath towels and a floor mat. No face towels were to be found (perhaps you could request for these – admittedly, we didn't try.)
Facilities
During our stay, guests were not required to make a pre-booking for the pool (opening hours: 0600-2200). There's a friendly and helpful attendant on level 4, where the pool and gym are located, who helps to facilitate SafeEntry checks. The (currently closed) link to Paragon can also be accessed on this floor.
There is a small playground on the floor that looks fun enough for pre-schoolers, but is currently closed due to COVID-19 measures.
You'll encounter the small baby pool section as you walk to the pool, which sits at the bottom of a water feature.
Tables and chairs are positioned by the side for adults to keep a watchful eye on their progeny – signs implore you not to climb the water feature, but it might be hard to dissuade more rambunctious children from doing so. The chairs come in the rather interesting shape of a face, though those eyes do little to help in the supervision of said children.
The adult pool (opening hours: 0600-2200; currently limited to 18 persons at a time) is essentially a lap pool, with a shallower section with loungers, as well as a Jacuzzi section. The view is not much to shout at, again due to the fact that the property is surrounded by tall apartment blocks, but they aren't close enough for you to feel hemmed in. Children also don't really care much about the view, and the toddler was happy to just splash about in the water.
While swimming you can also peek at the people working out at the gym (opening hours: 0600-2200; currently limited to 8 persons at a time). It seems like there used to be direct access between the pool and the gym, but current access control measures require gym users to enter through a single entrance, closer to the lift lobby.
There are a few weights machines, but the bulk of the gym equipment seems to be dedicated towards cardio workouts.
Breakfast
The Ascott has no in-house dining per se, but does host a Kith Cafe on its ground floor. This Kith Cafe outlet opens at 6.30am, so it essentially functions as the breakfast restaurant for staycationers. Its menu (here's the March 2021 edition) is not discernibly different from its other outlets, and the food is solid, the coffee great and it's also a family-friendly establishment with a children's menu which comes with a choice of watermelon juice or a babyccino with each set.
We got a bacon wrap to share and a mini pancakes set for the child; all of us rather enjoyed what we got. Kith Cafe has 25% discount vouchers available on The Entertainer (I have mine via HSBC), although this was not applicable to items from the kid's menu.
I noticed a large volume of takeaway orders in the morning and found out from the manager that for guests at the Ascott whose room rates included breakfast, there was an online ordering system (Google Form via QR code) for guests to order breakfast for pick-up. The items available for order are listed below:
In any case – I've had some truly mediocre (if not outrageously bad) bundled hotel breakfasts, so having the assurance of good coffee and a hearty breakfast might actually be a step up. If Kith's brunchy menu isn't up your alley, there is always 313@Somerset or Paragon within walking distance for your kaya toast and kopi fix.
Monster Day Tour
Ascott has an ongoing partnership with Monster Day Tours – the "Hey Explorer, Make Memories with Ascott in Singapore" promotion, where guests who are Ascott Star Rewards (ASR) members (you can join the programme for free) receive a complimentary heritage walking tour experience with their stay at any of the nine participating properties. Guests can choose from any of the three walking tours of the heritage districts of Singapore – Chinatown, Kampong Glam, and Little India. The pandemic has definitely prompted more and more of us to become tourists in our own countries, and it's a great opportunity to explore neighbourhoods you might not frequent or be familiar with.
We opted for the Little India walking tour. The tour takes two hours, including a break at a little eating house midway. The heat can be a bit punishing, but overall there's enough shade to duck into for the most part that you never feel like you're wilting in the heat. We also made use of a stroller throughout the tour, and while there are some steps up and down curbs, it wasn't too bad overall.
Our guide was Bas, who proved to be very friendly and knowledgeable, often supplementing the tour with additional media from his iPad. The tour started from exit E of Little India MRT station. There was a small group of nine of us, and Bas began by setting us up with these neat little wireless receivers that could pick up his microphone transmission so you could still hear him even if the group separated due to crowds or if traffic and ambient noise got a little loud.
The walking tour is really centred on stories about the neighbourhood. The stories range from the historical development of the precinct, key landmarks, the traditional trades and businesses present in the neighbourhood, as well as the hidden stories behind road names. Little India has also had a number of large scale murals painted as part of the annual Artwalk Little India event, so the murals are vivid visual aids that also help to bring the stories to life. (It will probably not hurt that they make the precinct extremely insta-worthy.)
The tour also doesn't flinch from the disconcerting juxtapositions of the neighbourhood, e.g. signs reminding you of the liquor ban are installed side-by-side with tourist-friendly murals, or that grassy areas are sometimes fenced up by fences with sharp spikes up top to prevent loitering and gathering. Early in the tour, along Race Course Road, I was surprised that the guide highlighted the epicentre of the riot. There was a foreigner on our tour who asked the guide questions about the riot, and I thought the guide did a good job of balancing being factual but also showing empathy for migrant workers.
 The greatest success of the tour, to me, is how it helps to highlight the diversity of the communities that Little India services. The CMIO race classification system can sometimes flatten our conception of race and, by extension, the historical ethnic enclaves. But the tour is quick to highlight the presence of both North and South Indian-style temples, as well as the presence of Peranakan-style buildings nestled amongst the shophouses.
A part of the tour also takes you to the colloquially-termed 'Bangla Square', an open-air area where Bangladeshi workers congregate and where the businesses surrounding the square all have signs in Bengali. If you have slightly older children, I believe the tour is a good chance to kickstart conversations about diversity in Singapore. Even if you don't have children, it's probably important to learn more about our country and histories, especially because our physical landscape feels like its being rewritten on a daily basis.
If you're mainly looking to have a good time with friends and family, the tour does offer plenty of  that, with a mid-tour snack break (with complimentary thosai) and a jaunt through a field of elephant sculptures.
Conclusion
The Ascott might not be the first name that comes to mind when one thinks about luxury hotels, but if you're not looking for extras like lounge access or on-property dining, it offers great accommodation for a reasonable price. I would definitely recommend it for families, especially families who appreciate having additional space. For younger staycationers looking for new experiences, the current tie-up with Monster Day Tours also makes the Ascott an appealing option. It's a lovely, well-maintained property within walking distance of the Orchard shopping strip, and I'm currently thinking about coming back again in future school holidays.
Perhaps it's time for me to look into the ASR status match…