Despite all the doom and gloom surrounding air travel, there's at least one thing to look forward to: before the year is over, we'll see Singapore Airlines' brand new SilverKris lounges. 
SIA has revised its expected completion date to "end 2021", a 5-month delay from the original July 2021 timeline. It's now embarking on a new phase of the renovation, which requires passengers to be relocated to a temporary facility which will serve as the SilverKris Lounge until the new one is ready. 
Milelion reader Kelvin Leong happened to visit the temporary facility on the first day of its operations (31 March), and shared the photos below. 
Where is the temporary SilverKris Lounge?
Ever since April last year, Singapore Airlines has been operating solely out of Changi Terminal 3. The temporary SilverKris Lounge is located on level 3, directly above the cosmetics and perfumes boutique, and next to the SATS Premier Lounge. It occupies the site of the former dnata lounge, and in an act of lounge musical chairs (musical lounge chairs?), the dnata lounge is now the marhaba lounge.
Access rules remain the same as before. The following passengers can access the lounge when departing on a Singapore Airlines or Star Alliance operated flight:
in First Class (remember, SIA isn't operating a First Class cabin right now)
in Business Class 
in Premium Economy or Economy Class, with Solitaire PPS, PPS, KrisFlyer Elite Gold or Star Gold status
While the marhaba lounge was originally being used for KrisFlyer Elite Gold and Star Gold members flying in Premium Economy/Economy Class, it seems like everyone's under one roof now. 
Exploring the temporary SilverKris Lounge
Even though this is only meant to be a temporary facility (or is it- see my thoughts at the end), it's impressive that Singapore Airlines has spent money doing up the façade and interiors. There's a proper SilverKris logo at the entrance and reception, with calming soft-lit marble and dark timber, reminiscent of the previous SilverKris lounge. 
To fully appreciate the work that's been done, it's helpful to look through some old reviews of the dnata facility (here, here and here). Let's just say the old lounge may have been comfortable, but man, what hideous interior design. 
Singapore Airlines has replaced the psychedelic furniture with a more muted color scheme- no more purple and green armchairs here. The carpets have been updated, and the awful-looking (and unnecessary) lampshades have been removed. 
At the far end of the lounge are some dining tables, in two and four seater configurations. 
A rather tasteful communal work desk near the entrance rounds out the seating options. 
Universal power outlets and USB ports are scattered throughout the lounge, found beneath tables and settees. 
What's cute is they've even brought over the LG Styler steam closet that was present in the old SilverKris Lounge; I always thought this was a temporary product placement display, but it's been around for years now. 
The previous dnata lounge kept drinks and sandwiches in hostile-looking metallic cabinets, with the prominent keyholes giving a vault-like appearance.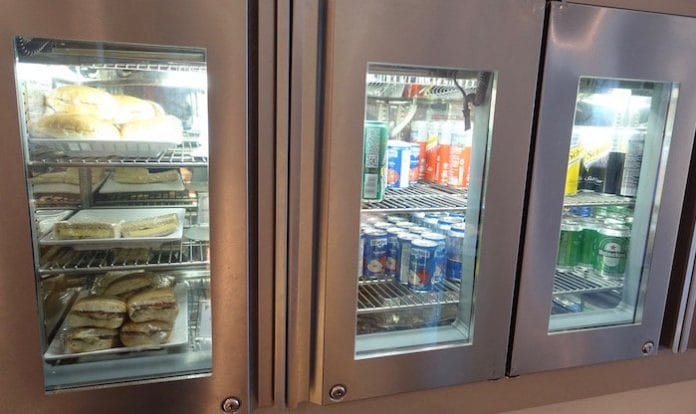 The revised display features welcoming open shelving and warm lighting,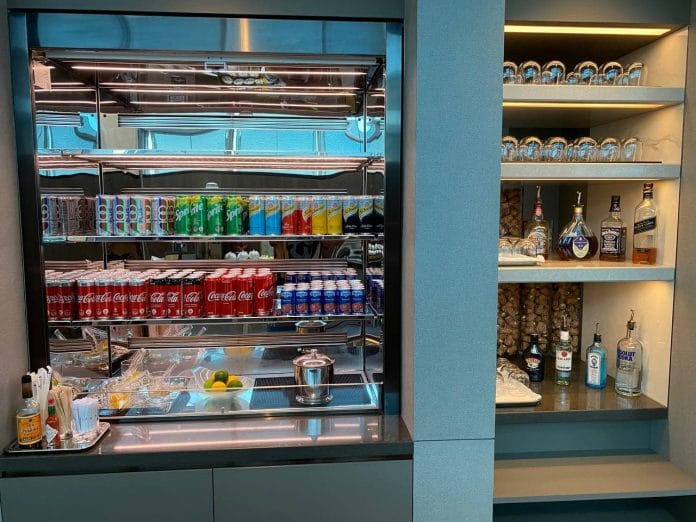 It's interesting that Evian mineral water has made a return; before COVID, this was reserved for First Class passengers only- Business Class passengers got the no-brand stuff. 
Wines are dispensed from a single serving Enomatic machine, which makes a lot more sense in the current era. No champagne was spotted, but it might be available upon request. 
A fancy-looking coffee machine and teas from TWG complete the selection.
Drinks may be self-serve, but the food isn't. As self-serve buffets are gone for the foreseeable future, all meals are assembled by the kitchen, and ordered from a digital menu (there's no point linking you, because you can only browse it when you're on the lounge's Wi-Fi).
For those who forgot what corn flakes look like, mockups have been helpfully provided. 
The more observant amongst you will notice that the lounge is using SIA's Business Class plates and cutlery. I'd say the current catering certainly looks much better than what was offered to KrisFlyer Elite Golds and Star Golds at the KrisFlyer Gold lounge, so in that sense they're collateral beneficiaries of the single lounge setup now. 
The lounge has three shower rooms, which would normally be woefully insufficient for a carrier's home port, but things have worked out rather conveniently here (assuming travel doesn't pick up in a big way before the year is finished). 
You'll be pleased to know that Singapore Airlines has also spent money doing up the showers, because my goodness, the previous dnata ones were an eyesore. 
The renovated shower suites are gorgeous, replacing hospital bathroom chic with modern design touches. They're also stand-alone, unlike the previous SilverKris lounge where they were inside the main bathroom. My main gripe would be the lack of a toilet in the shower room; hopefully the renovated SilverKris lounge will have that. 
Bathroom amenities include the same Penhaligon's Quercus cologne that you'll find onboard, plus hand cream, dental kits, shaving kits and combs. 
Naturally, the main toilet has also been renovated in the same style.
Conclusion
I'm quite impressed that Singapore Airlines has invested this much into a temporary facility, especially one that supposedly has a shelf life of just 9 months. So impressed I'm almost suspicious- is there more than meets the eye here?
Look at the map of level 3 below. You'll notice that the temporarily SilverKris Lounge is separated from the existing KrisFlyer Gold lounge (closed for renovations) by the SATS Premier Lounge (circled in red)
I'm just thinking aloud here- we know that Singapore Airlines plans to double the capacity of the KrisFlyer Gold lounge. Could this involve taking over the SATS Premier Lounge and incorporating it into one big KrisFlyer Gold facility? There's no demand for that much space in the near term, of course, but eventually things will return to normal and that lounge needs to soak up all the Star Golds travelling in Economy Class. 
Alternatively, we might have a "one lounge, two locations" concept on our hands here, with the temporary SilverKris Lounge becoming one of two KrisFlyer Gold lounges, bifurcated by the SATS Premier Lounge (weird layout, but not unprecedented- see EVA Air in Taipei). 
It's pure speculation on my part, but it all comes back to the question of what's going to happen to the temporary SilverKris Lounge once the renovations finish. Why all the work (especially on the bathrooms, which can't be cheap) if this isn't going to be a long-term thing?
I'll pop this question over to SIA's PR team, but I imagine they'll be quite tight-lipped on this. I'll drop an update if I hear anything though.
Update: SIA have issued the following statement which, er, doesn't really say anything new
Singapore Airlines can confirm that the SilverKris and KrisFlyer Gold Lounges at Changi Airport Terminal 3 are undergoing upgrading works in phases as part of Singapore Airlines' commitment to constantly enhance our customers' experience. The project is expected to be completed by the end of 2021.
To facilitate the redevelopment works, the SilverKris Lounge has been temporarily relocated from 31 March 2021 to the end of 2021. There are no changes to the access policy and services offered in the lounge. Please visit the following link for more information: https://www.singaporeair.com/en_UK/sg/flying-withus/before-the-flight/lounges/silverkris-lounge-temporary-relocation. We will provide more details on our SilverKris Lounges in due course.
Have you visited the temporary SilverKris lounge yet? Or any theories on what's going to happen?