Singapore will be tightening its COVID-19 rules from 27 September to 24 October 2021, in a bid to tackle a rise in cases. This has been dubbed the "Stabilisation Phase of Transition to COVID-19 Resilience", though frankly I prefer my own title.
There's an inescapable sense of groundhog day, with the country going from Phase 2 to Phase 2 (Heightened Alert) to Phase 3 to Phase 2 (Heightened Alert), all in the space of less than six months. The last time this happened in July, I wrote that "hopefully this will be the last rodeo as we inch closer and closer towards a critical mass of vaccinated individuals."
Well, 82% apparently doesn't cut it, because from Monday we're back to two people dining and WFH as the default.
In the meantime, here's the expected impact on air travel, staycations, cruises and attraction bookings.
Air Travel
General Air Travel
The latest set of restrictions do not impact Singapore's border measures, with SHN durations currently either 0, 7 or 14 days, depending on the country in question.
🛂Singapore Border Restrictions by Category


Cat. I

Cat. II

Cat. III

Cat. IV

VTL

Short-term visitors

✔

✖
✖
✖

✔

Application required

ATP

Details on ICA website
VTP


Pre-departure PCR test

✖
✔
48h


✔


48h


✔


48h


✔




48h

On-arrival PCR test

✔

✔

✔

✔

✔

SHN

✖

✔




7 days

✔




14 days

✔




14 days

✖

ART during SHN

N/A

✖

✔




Day 3, 7, 11

✔




Day 3, 7, 11

N/A

Post-SHN PCR test

N/A

✔




Day 7

✔




Day 14

✔




Day 14

No SHN. PCR test on Day 3, 7

Cat I: Hong Kong, Macau, Mainland China, Taiwan
Cat II: Australia, Brunei, Canada, Germany, New Zealand, Poland, South Korea, Saudi Arabia
Cat III: Austria, Belgium, Bulgaria, Croatia, Czech Republic, Denmark, Egypt, Finland, France, Italy, Japan, Latvia, Luxembourg, Malta, Netherlands, Norway, Portugal, Spain, Sweden, Switzerland
Cat IV: All other countries/regions
VTL: Germany, Brunei
💉 SHN Measures by Category and Vaccination Status

Fully-Vaccinated

Unvaccinated

VTL

No SHN

Not allowed

Category I

No SHN

Category II

7-day SHN
(home/hotel)

Category III

14-day SHN
(home/hotel)
14-day SHN
(hotel)

Category IV

14-day SHN
(hotel)
The relevant category is based on your 21-day travel history, with the rules of the strictest country applying. For example, if my past 21 days includes Category II and III countries, Category III rules will apply.
Singapore's latest travel advisory (dated 19 August 2021) states that Singapore residents should defer all travel to higher risk countries including Bangladesh, India, Myanmar, Nepal, Pakistan and Sri Lanka until further notice.
Residents of Singapore who are fully vaccinated may travel overseas to other countries/ regions as per normal. They will be able to tap on regular insurance and subsidies should they test positive for COVID-19 on return to Singapore.
Germany/Brunei VTL
The tightened measures also have no impact on the VTL arrangement with Germany and Brunei, which continues as planned. Bloomberg carries the following quote:
The government will continue with plans for travel. Vaccinated traveling pilots with Germany and Brunei have shown that it is possible to travel safely, the officials said.
That gels with what Minister for Transport S Iswaran said last week about the VTL's promising outcomes so far. Of 900 travellers who entered Singapore in the first two weeks, only one positive case was found, detected upon arrival in Singapore.
Some are worried that the spike in cases may lead to Germany requiring quarantine for travellers from Singapore. That is almost certainly not going to happen, particularly if you're vaccinated. Singapore is nowhere close to the number of cases seen in some other countries that enjoy quarantine-free access to Germany. Even in the case of so-called high risk areas, travellers to Germany may avoid quarantine if they can show proof of vaccination, recovery from an infection or a negative test result.
So your travel plans to Germany are safe, but the real question is whether any German holiday goers would want to visit Singapore with the current state of restrictions. Mask wearing outdoors, no alcohol after 10.30 p.m, no entertainment and max two people to a table? Nein danke.
I recently wrote an article about countries that accept vaccinated Singaporeans without quarantine, in case you're thinking of getting away for a while (remember however, that you're likely to face quarantine on return to Singapore).
Staycations
From 27 September 2021, the maximum number of guests permitted in a room for staycations will be capped at two, unless all guests are from the same household.
Hotel facilities will remain open, with only noteworthy change affecting restaurants where the maximum number of patrons has been cut from five to two.
Facility

Status

🏋️ Gym

Open: May require vaccination*

🍽️ Restaurants

Open: Max two vaccinated individuals

🏊‍♂️ Swimming Pool

Open

💆 Spa

Open

*Do note that all the hotels I've stayed at recently require guests to be fully vaccinated to use the gym.
If you're partially vaccinated or not vaccinated, you'll have to take your meals in the room.
Here's an idea of what you can expect, based on similar experiences when dining in was now allowed:
Cruises
Royal Caribbean
Capacity for cruises remains at 50%, and rules follow those on land. In other words, dine-in will be capped at two individuals, gyms and pools will remain open, and activities will take place subject to the regular safe management measures.
The following email has been sent out to Royal Caribbean guests.
Guests whose travelling party is larger than two may contact Royal Caribbean (+65 6305 0033) to reschedule or cancel their cruise in exchange for a Future Cruise Credit (FCC). Cash refunds may be possible, but it appears to be a YMMV thing.
Based on reports in The Milelion Cruise Society (a.k.a. Sealions), CSOs are not offering the Lift and Shift option, which allows passengers to change dates without paying extra. FCC seems to be the default offer, but you lose out if your new date costs more.
Typically these tightened restrictions lead to a raft of cancellations, which may be good news for those who like more space and privacy onboard. If you're intending to continue with your cruise, it might not be the worst idea to take a stab at a RoyalUp bid.
Dream Cruises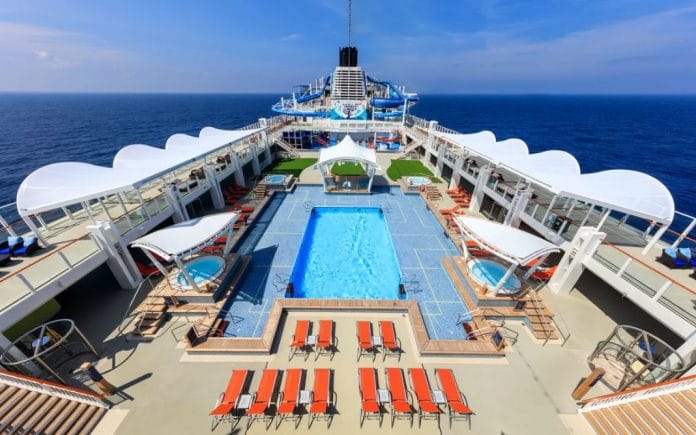 Dream Cruise has issued a statement on its website regarding additional precautionary measures for sailings during this period. It's largely the same as Royal in terms of onboard restrictions, and passengers who wish to reschedule have the following options:
Affected guests may choose to transfer to another cruise date or opt for a future cruise credit of the full amount of their cruise (Paid Cabin Fare + Paid Port Charges, as applicable) to be redeemed for another World Dream voyage departing from Singapore between 27 October 2021 – 30 March 2022. Please contact your original travel office or agency by 15 October 2021 for available options (Subject to cabin availability).
The new cruise booking fare will be based on prevailing rates.
Affected guests will be required to top up the difference for new bookings made with a longer cruise itinerary or with a higher fare / port charge. If the new cruise fare / port charge is lower, the difference will be refunded via onboard credits.
Administrative fees shall apply for any change(s) to the guest name.
Please note for affected Genting Rewards members who are sailing using Genting Points or cabin promotions, please contact our Genting Rewards members' customer service hotline
Attractions
Attractions will keep the same 50% capacity cap as before, so there isn't anything new here.
Conclusion
With one of the highest vaccination rates in the world, it's hard to swallow yet another round of tightening measures. That's especially the case after witnessing first-hand what endemic COVID really looks like in Germany, where regular outdoor life has resumed without throwing caution to the wind entirely.
We were told first that we needed to buy time to vaccinate the vulnerable, then to vaccinate a critical mass of the population. Now the argument goes that we need to buy time for booster shots. I don't see where this ends, really, although it seems churlish to complain given what healthcare workers must be going through.
All I can surmise is that the MTF believes a high number of cases will invariably lead to a greater number of serious outcomes down the line- but if that's true, then isn't it another way of saying that cases are really the driving force rather than outcomes?
I don't envy the people having to make these decisions, but at the same time I don't know how much more we have left in the tank for all this.