If there's one thing I'm not entirely convinced about The Fullerton Bay Hotel, it's their approach to branding.
Back in January 2001 the doors officially opened at The Fullerton Hotel, a brand new 5-Star hotel inside the historic Fullerton Building. Aberdeen granite and Doric columns turned out to be a great backdrop for a stay, and it quickly established itself as one of Singapore's premier heritage hotels. 
However, it was always the intention that The Fullerton Hotel have a twin, and nearly a decade later, construction finished at a 98-key boutique hotel on the opposite side of Fullerton Road, facing the bay. Its name? The Fullerton Bay Hotel, of course.
It doesn't strike me as uncharitable to call this a failure of the imagination. It would be like Thomas Keller dubbing his New York outfit "The Eastern French Laundry" instead of "Per Se", a name specifically chosen to reflect the fact it would be no mere transplant of the California restaurant. 
Separating two hotels by 300 metres and three letters doesn't help with branding (or SEO, for that matter), and I'd hazard a guess that I'm not the first to confuse the two, much less a jetlagged tourist stepping out of a cab and realising he's at the wrong place. 
But it's those three letters that make all the difference. While The Fullerton Hotel is no slouch, The Fullerton Bay Hotel is on another level entirely, both in terms of rates and positioning. The former offers modern comfort in a heritage setting; the latter provides heritage callbacks amidst a modern establishment. Or to put it in the words of the PR rep., "The Fullerton is like Kate Middleton; The Fullerton Bay is more Meghan Markle."
On the balance of evidence, I'd say I'm more Prince Harry than Piers Morgan then. 
🏨 tl;dr: Fullerton Bay Hotel

The Fullerton Bay Hotel delivers a near-flawless staycation experience, for those who can afford the elevated cost of admission.

👍 The Good

👎 The Bad

Luxurious rooms which don't show their age

Incredible views from bay-facing rooms and pool area

High-quality breakfast

Impeccable service

Complimentary heritage tours and activities

No on-site spa

Not all rooms have bay views
Booking a Fullerton Bay staycation
Back in July, Traveloka quietly launched a 20% off hotels coupon as part of its NDP promotions. The discount was capped at S$75, but still one heck of a deal (and naturally didn't last very long). 
I used this opportunity to book The Fullerton Bay Hotel's Weekday Siesta package at S$480 nett, a very attractive price considering the inclusions:
Breakfast for two adults
S$50 F&B credit
Room upgrade
6 p.m late check-out
Traveloka coupons come and go, so your best bet is to join their Telegram chat (warning: chat, not channel; expect spam) and watch out for the next one. When that happens, you can try booking the Staycation by the Bay package, which starts from S$565 nett (before coupons) with:
Breakfast for two adults
S$120 F&B credit
Complimentary non-alcoholic mini-bar
Complimentary one-way departure transfer (only for suite bookings)
The Fullerton Bay Hotel is also available through luxury privileges programmes like Virtuoso and AMEX Fine Hotels & Resorts. These rates can be booked through a platform like HoteLux, and include perks like free breakfast, room upgrades, a US$100 hotel credit and extended check-in/check-out times.
Fullerton Bay Hotel: Arrival & Check-in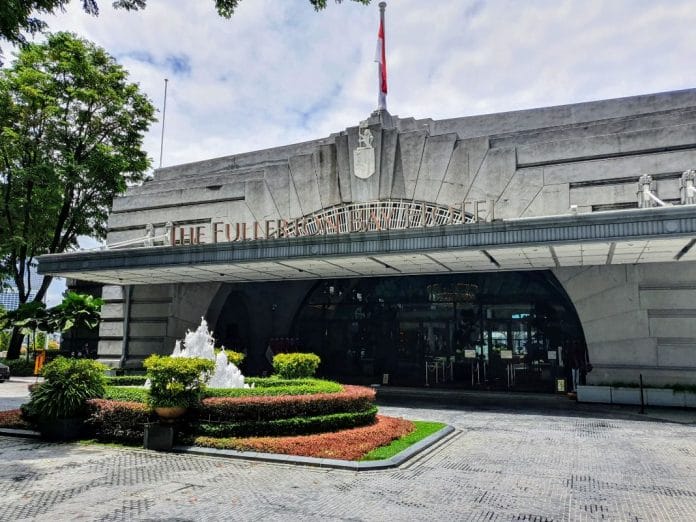 The Fullerton Bay Hotel is located at 80 Collyer Quay, right smack in the CBD area. The closest MRT is Raffles Place, though there's no direct connection to the station (the walk to the hotel is mostly sheltered, but not completely). Complimentary parking is available for all guests, with a single exit coupon per night. 
I arrived at The Fullerton Bay Hotel at lunchtime on a Tuesday (my default staycation day, as you can tell from the previous reports). Luggage assistance was provided as soon as the car pulled up, and I was escorted to the reception area. 
If you've visited The Fullerton Hotel before, The Fullerton Bay is like its grown up contemporary cousin. In fact, you'd be hard-pressed to tell that the two hotels were even related if not for the names; such is the difference in design philosophy. While The Fullerton Hotel resides in a heritage building, The Fullerton Bay is housed in a new-build structure opened in 2010.
And yet it's not completely devoid of legacy, nestled between the historic Clifford Pier and Customs House buildings. In fact, Clifford Pier serves as the entrance to the hotel proper. Guests are greeted by a 17-metre wide hallway styled by Andre Fu, the man behind Andaz Singapore, Capella Sentosa, the Four Seasons Tokyo and many more A-list hotels. An ornate cylindrical chandelier five metres in diameter catches sunlight during the day, and glows with an angelic aura at night. Vintage nautical maps line the walls, with solemn arch trestles overhead. 
The indoor promenade leading to the check-in area is paved in bespoke marble mosaics with Moroccan patterns. Natural light floods in from both sides to light the passageway. 
After a short walk, we arrived at the check-in area beneath a dramatic 18-metre high atrium with yes, another chandelier. 
The staff member who greeted us at the door handed us over to her colleague, who quickly checked us in. Pool bookings were confirmed, as were breakfast timings for the following morning. We were also told we'd been upgraded to a Theme Suite- while the rate I booked did indeed come with an upgrade, that was well beyond my expectation.
Fullerton Bay Hotel: Theme Suite
The 98 rooms and suites at Fullerton Bay Hotel are split into the following categories:
| | | |
| --- | --- | --- |
| Type | Size | No. of Rooms |
| Deluxe Room | 45-50 sqm | 30 |
| Premier Room | 45-50 sqm | 21 |
| Bay View Room | 46-53 sqm | 29 |
| Bay View Corner Room | 51-58 sqm | 4 |
| Premier Bay View Room | 58 sqm | 6 |
| Premier Bay View Room w Jacuzzi | 58-59 sqm | 2 |
| Theme Suite | 78 sqm | 5 |
| Presidential Suite | 152 sqm | 1 |
There's a total of six suites, five of which follow a theme reflecting a different aspect of Singapore's resident cultures:
Anderson: Peranakan
Cavenagh: Colonial
Clifford: Malay
Robinson: Oriental
Shenton: Indian
Odd-numbered floor suites are designed in an Asian style, with rosewood, light marble, silver and steel accents. Even-numbered floor suites are designed in classical European motifs reminiscent of the colonial period, with burl wood, dark marble and gold accents. 
I was in 518, the Anderson Suite named after Sir John Anderson, governor of the Straits Settlements from 1904 to 1911. He's also the Anderson of Anderson Bridge, which you might have crossed more than a few times. 
The Anderson Suite is decked out with Peranakan flair, featuring silk panels and a floral motif used extensively in Peranakan textiles, costumes, art, pottery and jewelry. This blended seamlessly with the contemporary lacquered rosewood wall panels and velvet sofas to create a lush feel.
Look closely and you'll even spot some Peranakan artifacts such as vases and tapestries lining the shelves and walls. 
The living room balcony overlooks Customs House and the Promontory. There isn't much nightlife to speak of right now, but all windows are double-glazed to prevent outside noise from disturbing guests. 
Near the window was a well-stocked minibar compete with kettle and Nespresso machine. While some packages include complimentary mini-bar access, I never did figure out if mine was one of them. 
One unique thing about Fullerton Bay is that their complimentary water comes in cartons instead of plastic bottles, thereby reducing the environmental footprint. They're extremely generous with these, and we were never close to running short. 
Complimentary Nespresso capsules, TWG teas and Cadbury hot chocolates sachets were provided.
Inside the fridge were soft drinks, juices, beer, a half-bottle of Veuve Clicquot champagne, and still and sparkling water in glass bottles. 
Waiting at the coffee table was a basket of fruits and a welcome card from the GM. Later on, we also received a set of post cards and a keychain bear from the front desk. 
Guests can play their own music by pairing their phones with a harman/kardon Onyx Studio 4 bluetooth speaker, one of two in the room (the other one's in the bedroom). 
As impressive as the living room was, the bedroom raised the stakes with its 270 degree wraparound floor-to-ceiling windows looking out to the south and east. Imagine being here on NDP or new year's evening- you'd be in for quite the show. 
Although the view was crystal clear, rest assured that the heavy tint on the windows prevents those on the outside from looking in. To test this, the Milelioness snapped this photo (from the Promontory) of me waving out the window of the suite. See, you can't even tell I'm not wearing pants. Of course the opacity will change depending on time of day, so day and night blinds can be electronically lowered at the press of a button. 
The king-sized bed was medium-firm and very comfortable for sleeping with its Egyptian cotton bed linens and goose down comforters. And yes, there is a pillow menu. 
Bedside tables each had a universal power outlet but no USB ports; in fact there were no USB ports to be found in the whole room, surprising given the hotel's relatively young vintage. 
Next to the bedside area was a leather-bound vanity table with a flip-up mirror and stool. It's not backlit, but you get plenty of back lighting during the day thanks to the sunlight coming in from the windows. 
A glass-topped work desk with a comfortable office chair was nestled in the corner of the bedroom. Next to it was an air purifier, plus another harman/kardon bluetooth speaker. 
In the wall panel next to the desk were two universal power outlets, RGA, VGA and HDMI connectivity. Again, USB ports were absent. 
The Wi-Fi clocked in at ~24 Mbps up and down, sufficient for heavy duty video streaming or calls. 
🌐Hotel Wi-Fi Speeds
Hotel
🔽Down
🔼 Up

Mandarin Orchard

273 Mbps

294 Mbps

Sofitel City Centre

95 Mbps

92

Mbps

Villa Samadhi

62 Mbps

53 Mbps

M Social Singapore

46 Mbps

49 Mbps

Conrad Centennial

40 Mbps

44 Mbps

YOTELAir Changi

29 Mbps

49 Mbps

W Sentosa Cove

34 Mbps

34 Mbps

Ascott Orchard

29 Mbps

29 Mbps

St. Regis Singapore

29 Mbps

29 Mbps

Duxton Reserve

28 Mbps

29 Mbps

PARKROYAL Beach Road

28 Mbps

29 Mbps

Mandarin Oriental

28 Mbps

28 Mbps

Oasia Resort Sentosa

28 Mbps

25

Mbps

The Fullerton Bay Hotel

24 Mbps

24 Mbps

The Fullerton Hotel

23 Mbps

24 Mbps

PARKROYAL Pickering

24 Mbps

23 Mbps

Oakwood Premier AMTD

20 Mbps

20 Mbps

Shangri-La Singapore

19 Mbps

18 Mbps

Pan Pacific Singapore

19 Mbps

19 Mbps

Dusit Thani Laguna Singapore

19 Mbps

19 Mbps

InterContinental Bugis

15 Mbps

15 Mbps

The Capitol Kempinski Hotel

16 Mbps

13 Mbps

PARKROYAL COLLECTION Marina Bay

9.4 Mbps

18 Mbps

Grand Hyatt Singapore

14 Mbps

13 Mbps

Hilton Singapore

13 Mbps

14 Mbps

One Farrer Hotel

11 Mbps

21 Mbps

Marina Bay Sands

11 Mbps

11 Mbps

The Clan Hotel

9.6 Mbps

9.6 Mbps

Andaz Singapore

8.0 Mbps

9.5 Mbps

Four Seasons Singapore

6.7 Mbps

9.8 Mbps

Goodwood

Park Hotel

7.8 Mbps

7.

5 Mbps

The Barracks Hotel

7.3 Mbps

7.7 Mbps

Hotel 81 Tristar

7.0 Mbps

6.8 Mbps

Raffles Hotel

6.9 Mbps

6.8 Mbps

Hotel Soloha

4.7 Mbps

5.1 Mbps

Hotel G Singapore

4.4 Mbps

4.8 Mbps

Internet speeds based on Speedtest.net scores
In front of the desk was a little seating bay with a purple day bed, good for reclining and reading a book. What would have improved this is if they added a small side table for placing drinks. 
The better view, however, was reserved for the balcony outside the bedroom. This is why people book The Fullerton Bay Hotel: panoramic, unobstructed views of the Marina Bay area. It's something few hotels can match. 
The suite had two 55-inch LCD TVs; one in the living room and one in the bedroom. Both were mounted on flexible swivel mounts and could be pulled out for easy access to the rear HDMI port. 
But you might not even need it, because the TV had a built-in Chromecast. Connecting my mobile device was a breeze. 
The TV remote had a sticky back, not caused so much by a lack of cleaning as polymer degradation. It's a fixable problem, however, and in case anyone from the hotel's reading this, here's the answer. 
Opposite the bathroom was the wardrobe area, containing the plushest bathrobes I've ever worn. An ironing board, slippers and a digital safe were found here. 
The bathroom was clad in light-coloured marble, with warm backlit mirrors and a sunken tub.
At the vanity area were his and hers sinks, although their shallow design led to a lot of wayward splashing.
On the ledge behind the sinks were two masks and a bottle of Appelles hand sanitiser. 
Additional amenities such as dental kits (with Colgate toothpaste), a small bottle of Colgate Plax mouthwash, cotton buds and a shaving kit were placed in a leather-bound box. 
While I have a thing for free standing bathtubs, the sunken tub fit rather organically with the rest of the bathroom. Although the tap was in the middle, you could only really lie on the side with the slope and bath pillow. The mirror contained a 19-inch TV for catching up on shows while soaking, though the channel selection was very limited (a subset of the channels available on the main TV). 
In case you're not feeling particularly exhibitionistic, an electric blind can be lowered to give some privacy from the main bedroom.
The large shower area had both a rain shower and a handheld one, with strong water pressure through both. 
Bathroom amenities are by Balmain, which you'll also find in suites at the Grand Hyatt and Sofitel City Centre. 
After a long run of toilets without so much as a bidet hose, I was delighted to find that this one had a TOTO bidet seat, complete with wall-mounted controls.
For a room that's just over a decade old, the entire place was in tip top condition. Furniture was unscuffed, hinges closed properly, buttons worked, and the lack of USB ports was the only telltale sign of its age. 
Fullerton Bay Hotel: Facilities
| | | |
| --- | --- | --- |
| Pool | Gym | Spa |
| Yes: 7 a.m to 10 p.m | Yes: 24h | Yes: 10 a.m to 10 p.m |
| Kids' Club | Business Centre | Others |
| N/A | N/A | N/A |
Swimming Pool
The Fullerton Bay Hotel's 25-metre swimming pool is open from 7 a.m to 10 p.m daily and guests can book a 90-minute time slot upon arrival. A maximum of 34 guests are permitted per slot.
No two ways about it. This is a gorgeous pool, and manages to have some of the best views of any pool in Singapore despite its relatively low elevation. There's landmarks in every direction- you can see Marina Bay Sands, you can see the skyline of the CBD, you can see all the way across to the floating platform area. 
The water is 1.2-metres deep, and the regular shape of the pool makes it easy for lap swimming. I suppose it comes with the territory that the heat can be quite brutal during the day, especially when the sun is directly overhead. You'll definitely want to pack your sunscreen and sunglasses. 
When I saw the line of lifejackets at the pool area, I assumed they were just there for overprotective parents to give their kids.
But in fact it's a hotel policy for any child below the age of 12 and/or 1.4 metres to don a lifejacket in the swimming area. Apparently the same policy applies at the Fullerton Hotel too; who knew? 
Also at the pool area are two (non-heated) jacuzzis, which can be occupied by up to two adults on a first-come-first-serve basis. It's a shame they didn't think of heating the water, but then again if they did, I doubt people would ever leave. 
That's because of the million dollar views of the Marina Bay area, whether by day or night. I cannot begin to imagine how they rationed access to this during the NDP celebrations. 
Next to the pool is Lantern, which opens from 5 p.m to 10.30 p.m daily. It's a great place to order some food while you laze by the pool, and don't forget there's up to 50% off with AMEX Love Dining. 
From 5 p.m -7 p.m on Mondays to Thursdays, selected beers, wines and bubbles go for S$12++ per glass, with selected snacks at S$14++.
We tried the truffle chicken pops- tasty, but with a portion size that small, certainly not worth paying the regular S$28++ for. 
The lobster roll (S$42++) was delicious; even more so at 50% off. 
Gym
Fullerton Bay Hotel's gym is open 24-hours, and guests can make bookings on arrival at the hotel. They must be fully vaccinated to use the gym, and a maximum of two guests per time slot are allowed.
It's a small facility, but remember it's for a hotel with only 98 rooms. It's certainly got all the bases covered in terms of cardio and strength training equipment. 
Spa
It's somewhat surprising that The Fullerton Bay Hotel does not have a spa of its own. Instead, it uses the facilities at The Fullerton Hotel, a short walk away through an underground connecting tunnel. 
Opening hours are 10 a.m to 10 p.m daily. 
Fullerton Bay Hotel: Breakfast
Served at

Cost

Style

La Brasserie

S$45++ (Adults)
S$22++ (Child 6-12)

A la carte buffet

Hours

Sparkling Wine?

Discounts?

7.30 a.m to 10.30 a.m

No

No
Breakfast is served at La Brasserie from 7.30 a.m to 10.30 a.m daily. Guests are asked to select a one-hour seating in the pre-arrival form, although they can obviously stay beyond that if needed. 
La Brasserie makes a great setting for a relaxed breakfast with its high ceilings, views of the bay and luxurious Jim Thompson draperies throughout. 
Dishes are served a la carte buffet style, from a menu with a wide range of western and local options. 
To start, a basket of pastries and some cut fruits were served, along with cereal and a choice of yoghurt. 
Freshly-squeezed juices are also available; who can say no to some green apple? 
Seafood congee, with a generous helping of prawns, fish and crabmeat, was seasoned perfectly- the accompanying onsen egg (not pictured) could be poured the toppings for an even more indulgent experience. 
Another must-try item is the Singapore Laksa. While some hotels do a watered-down version for their breakfast selection, I suspect this is the same item they charge S$32++ for on the all-day menu. Rich broth paired with prawns, quail eggs and perfectly-cooked noodles is always going to be a winner. 
Save some room for mee goreng too. While this may not be as good as the version at Raffles Hotel, it acquits itself well. 
Nasi lemak was decent, though I feel that not enough hotels bother to include fish in their renditions. I mean, if not fried fish then at least some otak wouldn't go amiss. 
The dim sum was so-so. It wasn't the worst I ever had, nor did it shift any paradigms. 
The staff also insisted we try the prata, so we split a smaller portion. Hot, crispy, delicious. 
Between the waffles and pancakes, my money would be on the former. I love it when they manage to get the outsides crispy (which also suggests to me the waffles were freshly made, since that crisp steams away once you stack premade waffles on top of each other), and it made for brilliant eating together with the maple syrup and jam. 
Smoked salmon scrambled eggs were competently done, though it needed a side of avocado to complete the dish. 
If you'd like to try more dishes but hate to waste food (as you should), it's always possible to request for half or quarter portions of any dish, just for a taste. 
Breakfast was a notable weakness of an otherwise lovely experience at The Fullerton Hotel, and I was worried the same fate might befall Fullerton Bay too. But having tried it, I can say it passes with flying colors- perhaps not a candidate for top 3 (Kempinski, Raffles, Shangri-La Valley Wing), but certainly a very good experience. 
Fullerton Bay Hotel: Activities
Because our stay fell on a Tuesday, we unfortunately weren't able to enjoy any of the hotel's complimentary activities. However, guests staying during other periods can look forward to the following:
Activity
Dates
Fullerton Monument Tour
Mon & Thu: 10.00 a.m and 11.15 a.m
Sat: 3.45 p.m and 5 p.m
Maritime Journey Tour
Fri: 3.45 p.m and 5.00 p.m
Sun: 10.00 a.m and 11.15 a.m
Fullerton Farm Tour
Mon & Wed: 10.00 a.m, 10.30 a.m, 11.00 a.m
Fri: 10.00 a.m, 10.30 a.m
Additional workshops such as a private cocktail masterclass, perfume crafting or a private photoshoot experience can be arranged for a fee.
Reservations can be made prior to your stay by emailing [email protected].
Do note that the recent tightening of COVID-19 measures may mean the temporary suspension of some of the above activities. 
Fullerton Bay Hotel: Service
Service throughout the stay was impeccable, with guests addressed by name, the front desk picking up the phone within a couple of rings, and staff having a seeming six sense about when to materalise and when to vanish. 
Suites guests have the added advantage of a butler, who can assist with things like running a bath, something we took advantage of a couple of times. 
Another memory that stuck with me was when we ordered some food from Lantern. We were still in the pool when the staff member brought the food over, so I gestured to leave it on the table. 
I noticed shortly afterwards that she was still hanging around, so I headed over to check what was up. As it turns out, she was guarding our food from a pesky crow, who had taken a liking to my french fries. 
I can think of many other hotels where the staff would simply drop off the food and relinquish all responsibility from there. But here, the waitress was willing to be a human scarecrow until we got around to eating. That's just excellent service. 
In fact, the service at the pool might have been too good. I'd brought a bottle of champagne for the stay, and since glassware wasn't allowed at the pool, I poured some into one of the cardboard water cartons and took it up with me. "I'm the smartest man alive," I told the Milelioness smugly as I sipped champagne in the jacuzzi. 
I soon had to pee, and on the way to the toilet asked the pool attendant if he could provide some additional water. No sooner had I returned that I saw he'd tided up the area, clearing all the partially-finished cartons- including my bootleg booze. "What happened to being the smartest man alive?" asked the unsympathetic Milelioness.
In another act of metacognition, I left my swimming trunks on the balcony railing to dry, and returned to find they'd flown the coop. I spotted them on the ledge of another room, and called the front desk sheepishly to tell them my trunks had gone on a walkabout. 
If it was the dumbest thing they'd ever heard, they didn't let on. My trunks were retrieved and back in my room within five minutes. 
Verdict
With a quarter of the rooms and 3X the rates of its sister property, it's safe to say that expectations for The Fullerton Bay Hotel are high indeed. And in my opinion, it delivers. There's not a lot of Singapore hotels I'd visit twice, but this would definitely be one of them. 
While I can't speak to the experience in a lead-in room because of the upgrade, I can say that all guests can expect impeccable service, an lovely pool experience (go during golden hour, watch day turn to night and see the CBD light up before your eyes- incredible) and a breakfast that checks all the right boxes. Those willing to splash out for a suite will enjoy some of the best views at any hotel in Singapore, perfect for a proposal or any other once-in-a-lifetime occasion. 
The Fullerton Bay Hotel may not have a unique name, but it does know how to make a name for itself. 
🏨 In Summary
The Fullerton Bay Hotel delivers a near-flawless staycation experience, for those who can afford the elevated cost of admission.
Do say: I'd like to take you to La Brasserie

Don't say: I'd like to take you to La Brassiere

Milelion Staycation Ratings