While the inaugural Germany-Singapore VTL flight was technically from Frankfurt, I decided to fly out of Munich nonetheless because I figured a Munich trip report might be more useful to readers. Frankfurt, after all, is more of a business city while Munich is the more touristy one.
That placed me on SQ331, the inaugural VTL flight out of Munich on 8 September.
🍺 Bavarians at the Gate
🇸🇬 Singapore- Germany VTL 🇩🇪
Check-in
My departure was scheduled at 1315, and I wanted to reach the airport early in case there was a special programme to commemorate the inaugural flight (there wasn't). So I left Hilton Munich City at 0915 and took the S-Bahn train to Munich Airport (€11.20). 
The journey took just over an hour, and deposited me at Munich Terminal 1. I crossed the expansive outdoor concourse to Terminal 2, where Singapore Airlines flies from. Spotting SQ331 on the departure boards gave me a giddy sense of excitement. 
I've already talked about pre-departure PCR testing (PDT) in Munich, but if you prefer to do it at the airport, MUC has no shortage of options. You can find six different providers across both terminals, including one just next to the 401-406 check-in counter row that SIA uses. 
This particular location offers two PCR test options:
€128 for results in 2-4 hours
€178 for results in 1-2 hours
If you need something even faster, cross over to Terminal 1 and look the Centogene centre, where you can get a result in just 35 minutes for the princely sum of €239. 
There were long queues at all the SIA check-in counters, probably because this was the first VTL flight out of Munich and the staff were still getting used to the process.
In fact, there's a substantial number of documents that need to be presented:
Passport
COVID-19 vaccination certificate*
Negative COVID-19 PCR test
VTP (not needed for SC/PR)
Travel insurance with S$30,000 coverage (short-term visitors only)
Mobile device with TraceTogether app (short-term visitors only)
*You can't show the TraceTogether app because the ground staff need to see where you were vaccinated. Remember, VTL travel is currently only available for individuals vaccinated in Singapore or Germany.
Naturally, not everyone had these prepared and ready, and I estimated the average processing time per customer was up to 10 minutes. 
I joined the Business Class line initially, but it was even longer than Economy Class and also barely moving. So I switched, and ended up getting served a lot faster. A wry smile came over the ground staff's face as she pulled up my reservation and went to fetch Business Class boarding card stock. "Very efficient!" she said. Praise about efficiency from a German- my day was already made.
By the way, I was explicitly asked whether I'd remained in Germany and/or Singapore for the past 21 days. You also need to make an official declaration in the SG Arrival Card, so no galivanting around Europe unless you're willing to stay 21 days in Germany before coming home. 
All in all, the entire process from arrival to issuance of boarding passes took about 30 minutes. Hopefully it's just teething issues associated with day 1, and the ground staff will figure out ways to streamline the document check process. 
I headed for the security checkpoint, where you scan your own boarding pass to gain entry. There's a separate area for Business Class passengers, but all queue times were negligible. 
Singapore passport holders can use the automated border control kiosks in Germany, although someone still needs to stamp your passport after that. Again, there were virtually no queues. 
Lounge
Singapore Airlines uses the Lufthansa Senator & Business Lounge in Terminal 2, located after passport control opposite Gate H24. 
It's actually a single lounge, just split into two sections. As a Business Class passenger without status, I was admitted to the Business Lounge. Had I been in First Class or still a Star Gold member, I could have accessed the Senator Lounge, but don't let the branding fool you- apart from a small difference in drinks selection, it's pretty much the same. Lufthansa's "true" First Class lounges are reserved for its own passengers. 
Truth be told, I don't think this lounge warrants a full review in itself, so I'll just go through the highlights. 
Surprisingly, there was no need to present proof of vaccination, testing or recovery (Germany's 3G rule) to gain admission to the lounge, nor was there a contact tracing form to fill (though I suppose if you're flying out of the country, they're not going to bother tracking you down). 
There were only a handful of people in the lounge when I arrived, and I had a free choice of seats, whether at the communal table, dining tables, or armchairs. 
A small selection of food and drinks was available. Unlike the breakfast buffets at the hotels I stayed in Munich, this was staff-served. The only hot food option was peanut chicken curry with rice and minestrone soup, neither of which were very inspiring. 
On the plus side, they had a very pleasant Santa Margherita DOCG prosecco, as well as a decent-looking wine list. 
Wi-Fi speeds were blazing fast; I clocked 64 Mbps upload and 80 Mbps download through Speedtest. 
Two shower rooms were available for passengers to use. They're large and spacious, but I doubted their cleanliness credentials when I opened the toilet to find some…debris inside. At least they had L'Occitane bath amenities, which I applied liberally following the discovery.
For a pre-COVID review of this lounge, check out OMAAT's report.
Boarding
Boarding was at gate H32, a four-minute walk from the Lufthansa lounge. 
I was hoping there'd be some kind of gate party to mark the inaugural VTL flight, but it turned out to be a very low-key affair. I guess COVID restrictions ruled out most festivities, and you couldn't have a big bash the way we did with the relaunch of the world's longest flight. 
Boarding began on time at 1245, 30 minutes before departure. Business Class and Solitaire PPS/PPS Club members were invited to board first, followed by Premium Economy and Economy Class passengers. I didn't hang around long enough to learn if they were doing back-to-front boarding for the rest of the plane. 
While there wasn't any party, each passenger was given a commemorative goody bag which consisted of a set of packing cubes, a very snazzy anti-viral nanotech mask (which sadly you can't wear in Germany, since it's cloth-based), plus a batik rose, pen, and pack of post-it notes. No certificate though, sadly. 
Flight
Flight Details
SQ 331


MUC-SIN

Date

9 September 2021

Aircraft

Airbus A350-900

Registration

9V-SMS

Cabin

Business Class

Seat

15

K

Cost

92,000 miles + S$147
Today's VTL flight was operated by an Airbus A350-900 in the long-range configuration. This meant 42 Business Class seats, laid out 1-2-1. 
These 2013 Business Class seats are cosmetically similar to the ones you'll find on the B777-300ER, but the slimmer fuselage of the A350 means a narrower aisle, seat, and smaller footwell. That footwell would give me all sorts of problems trying to fall asleep, as I'll touch on later. 
While Singapore Airlines was previously blocking rows 11-14 for crew rest (that's three rows, since there's no row 13), it's now blocking rows 17 & 18 instead. This makes far more sense from a commercial perspective; crew occupy the seats in 18 D/F, with the row in front empty for CAAS-mandated social distancing. 
This way, fewer seats are sacrificed, and Solitaire PPS/PPS Club members can book the coveted row 11 once more. 
The Business Class cabin was relatively full on this flight, with 28/42 seats occupied. 
Loads were much more modest in Premium Economy and Economy, suggesting that VTL travel is mainly attracting business travellers, at least initially. To be fair, the VTL was announced just three weeks ago, and most people won't be able to take leave on such short notice. It'd be more illuminating to see the situation come December. 
By pure happenstance, I was in seat 15K again, the same one I chose on the outbound leg. As a lowly Elite Silver I'm never in the running for row 11, and since I dislike the rear of the first cabin or anywhere in the second cabin (because of potential noise from the bassinets, toilets and galleys), that doesn't leave many alternatives. 
Seat controls were located on the side next to the aisle, together with a headphone jack.
Storage space, USB charging and in-seat power can be found in the cubby next to your head. Thoughtfully, another headphone jack has been placed here so you have an alternate option for how you want your wires to run. 
Another storage unit is next to the IFE screen, with a sliding door. Unlike the one next to your head, you can store items here for taxi, take-off and landing. Slide up the panel next to the drinks holder to reveal a vanity mirror. 
The 18-inch HD display was adequate, but tended to get washed out with bright light. Witness here the reflections when the cabin lights are on. 
Waiting at the seat was SIA's new Business Class amenities kit by Penhaligon's. This features hand lotion (30ml), facial mist (7ml), lip balm (4g) and a ziplock bag in case you're transiting and need to pass through security. 
Unlike the amenities kit I received on the way to Munich, this one had an extra Luna perfume oil inside. This is a limited-time amenity and will no longer be offered once Singapore Airlines exhausts the remaining kits. 
All passengers receive an SIA Care Kit, comprising of hand sanitizer, a surgical mask and a wet wipe.
Slippers, socks and eyeshades were provided, with earplugs available upon request. 
Every Business Class passenger also had a bottle of still water waiting at the seat, but the crew did not proactively serve pre-departure drinks- another service modification due to COVID perhaps. 
Noise-cancelling headphones came with disposable earpad protectors and a little note indicating when they were sanitised. 
The inflight manager came around to welcome passengers onboard. We chatted briefly, and she mentioned how happy they were that the VTL was finally launching- there was always some fear this might go the way of the ATB, dead before it even began.
The captain then came on the PA to welcome us onboard the inaugural VTL flight from Munich to Singapore, after which we pushed back from the gate and received a water canon salute as we crossed the taxiway.
Air traffic was light today, with no queue at the runway. The engines spooled up to full power and we took off, the clear day affording some great views of the surrounding area.
The seatbelt sign was switched off shortly afterwards, and the crew came around to serve post-takeoff drinks. While this is usually served with nuts in a warm ramekin, only prepackaged nuts are available now. 
Back in 2019, Singapore Airlines made the decision to switch away from Charles Heidsieck to Laurent-Perrier champagne. Critics howled about cost-cutting, noting the not insignificant price difference between the two.
Frankly, I think both are perfectly drinkable champagnes, and I'm just happy they didn't introduce Moet, which in my opinion is branding at the expense of taste.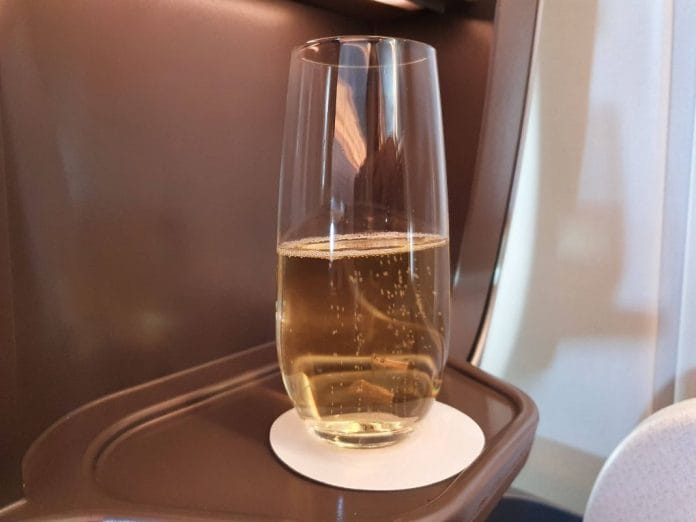 It was also interesting that they offered refills to the same glass from a common bottle, whereas previously they'd clear the glass and bring a new one to prevent cross- contamination. 
I took this time to get online. SIA offers complimentary Wi-Fi to passengers as follows:
Suites/First Class: Unlimited
Business Class/PPS Club: 100MB
KrisFlyer members in Premium Economy/Economy Class: 2-hrs chat
Allowances do not stack; for example, a PPS Club member in Business Class would only receive 100MB, not 100+100MB. 
Once that's exhausted, you can pay out of pocket for the following:
| | | |
| --- | --- | --- |
| Plan | Cost | Allowance |
| Chat | US$3.99 | 2 hours |
| Pro | US$9.99 | 100MB |
| Premium | US$15.99 | 200MB |
These are steep prices for volume-based packages, and I miss the days when they offered all-you-can-surf time-based packages. Fortunately, the Boingo subscription from my Citi Prestige days was still active, for reasons I don't understand and won't question. 
Connection speeds were, well, they weren't great. It was sufficient to check emails and do basic web-surfing, but we're a long way from streaming HD Netflix on a flight. 
Lunch service started around 45 minutes after take-off. Due to the pandemic, Singapore Airlines does not provide physical menus at the moment (possibly forever?). Instead, the inflight menu can be accessed by connecting to the KrisWorld Wi-Fi network and navigating to inflightmenu.singaporeair.com. You can also access this on the ground, if you want to look at the menu for your upcoming flight (max eight days ahead of departure).
Today's lunch menu featured the following choices. 
Singapore Airlines was forced to abandon its traditional course-by-course meal service in First & Business Class when COVID started, in favor of a single-tray setup. This was a mandate by CAAS, who wanted to minimise contact between cabin crew and passengers. 
However, in view of high vaccination rates among cabin crew and adequate safe distancing within premium cabins, CAAS gave the green light for course-by-course service to resume. This began on 7 September with flights to and from Germany, and will be progressively reintroduced on other routes in the near future. 
As I wrote in my review of the outbound leg, there's a time and place for single-tray service. I found the no-foreplay approach useful when I just wanted to power through the meal and get back to work. But this time I wanted to take things a little slower, and a course-by-course meal allowed for just that. 
It was strangely comforting to see a return of the cabin trolley, another early casualty of the COVID pandemic. 
Meal service began with satay. The last time I had Singapore Airlines satay was Restaurant A380; absence had only made the heart grow fonder and I polished off every stick. 
The starter of Sautéed Prawns on Quinoa Salad was perfectly respectable, although it felt like an accountant cut out an extra prawn. I had a pretzel and two lovely slices of garlic bread as an accompaniment. 
By the way, certain dishes like appetizers and fruit come with plastic covers, which you remove yourself and hand directly back to the crew. I wonder why they couldn't just cut out the middle man, but apparently it's another one of those pandemic things. 
I paired this with a 2016 Lyeth Estate Meritage, from Sonoma County USA. It was a luscious, generous, full-bodied red wine with ripe plums, figs, cocoa and layers of spices from the use of French, Hungarian and American oak. Yes, I just copied that from the menu. 
Even though my trip was barely 80 hours long, I was already missing Asian food. Still, I'm glad I held out just a little longer and went with the Bavarian Style Pork Belly with Beer Sauce as my main. This was absolutely delicious- moist and fatty pork belly paired perfectly with savoy cabbage, rosti potato and buttered carrots. 
Ending the meal was a rather indifferent bowl of fruits…
…and a wonderful slice of chocolate marquise cake.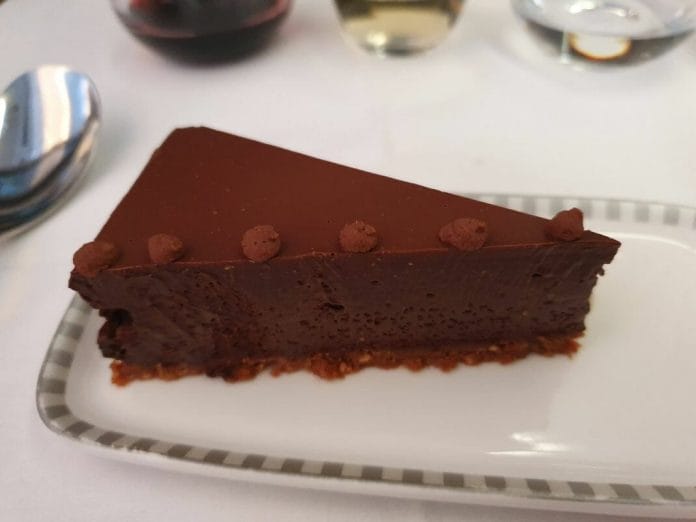 After the meal I went to the lavatory to freshen up. They're a tight squeeze on the A350, with barely enough room to turn around. 
Bathroom amenities are from Penhaligon's Quercus range, with facial mist, eau de toilette and hand lotion. 
Inside the amenities drawer you can find dental kits, combs, razors, shaving cream and sanitary pads. 
It's unfortunate that Singapore Airlines didn't invest more in touchless technology for its A350 bathrooms. While other airlines' A350s boast touchless flushes and bins, the only sensor to be found here is on the tap. 
You'll also have to touch the toilet door on the way out, which is why I suppose they installed hand sanitiser to the wall opposite. 
The crew came over to help turn down my bed, which involves flipping the seat over. The more modern 2017 Business Class and 2018 Regional Business Class forego such a mechanism in favor of a continual recline, which offers a wider range of positions and would be my preferred choice. 
The 2013 Business Class seat's footwell, already cozy, has been further narrowed on the A350. If you're a back sleeper like me, it's going to be very difficult to get comfortable because you have to lock your legs together in a very unnatural position. Having to wear your mask while sleeping doesn't help either.
After some fitful rest, I woke up somewhere over northern China. 
Feeling peckish, I took a glance at the snacks menu.
I ended up ordering a bowl of chicken instant noodles with a glass of Bordeaux, as one does. 
The crew also brought around the snack basket, which on this flight consisted of kit kat bars, dried cranberries, Ruffles, Doritos, packaged nuts and Nature's Valley bars. 
I wish Singapore Airlines would take a leaf from other airlines and offer more premium light bite options. Guests on Etihad can pick from steak sandwiches and soups in addition to the usual junk food, while those on ANA have curry dons and Ippudo ramen to look forward to. 
But anyway it was instant noodles for me, which I ate while browsing the KrisWorld movie selection and snapping photos at random, not realising this one might get me in trouble with the wife. 
As part of its Singapore Showcase, SIA has been featuring hawker dishes (see my review of Boon Tong Kee chicken rice on the outbound leg) on its flights, local scents in its service centre and domestically-produced movies on KrisWorld. So I tried watching Tiong Bahru Social Club, a black mirroresque tale about a simple man who becomes a happiness agent in the titular artificial intelligence cult community. 
Eventually I switched over to something less cerebral with Greenland, unlike to feature in Gerald Butler's "for your consideration" reel. They cut out all the plane crash scenes for obvious reasons, which led to a lot of random skipping in a movie that's about the end of the world. 
Before I knew it, day was breaking over where we were flying, and the bed of clouds beneath the plane gave that peaceful easy feeling. 
We hit some turbulence over Northern Thailand that started off mild, then escalated to the point where cabin crew had to take their seats. They were eventually released with just over one hour left to Singapore, which meant breakfast was a rushed affair. Even worse, the seat belt sign stayed on for a while more, which meant they couldn't serve hot drinks. Try telling a plane-full of jetlagged Europeans they can't have their coffee. 
Here's the breakfast selection.
Proceedings started with pastries and fruit. 
This time round I chose the Asian option of fried rice vermicelli with marinated chicken, Chinese mushrooms and leafy greens. It wasn't very tasty, but I wasn't that hungry anyway.
It was soon time to land, and because of a diversion to avoid Afghanistan airspace, we ended up touching down an hour late- the same fate that befell the inaugural VTL flight from Frankfurt. 
Like the departure from Munich, arrival in Singapore was also a muted affair- no water canon salute on this side!
Conclusion
This was the closest thing I've had to a normal flight in 18 months (more normal than the outbound leg, thanks to the return of course-by-course dining), and needless to say, I've missed it. 
While the inaugural VTL flight was rather uneventful, it still represents an important milestone in Singapore (hopefully) reopening to the world. That said, VTL travel is still going to be a challenge for most leisure travellers, so long as ICA's "no returning to Singapore if you have a positive test in the past 21 days" policy remains in force (which isn't unique to the VTL, mind you).
In the next post, I'll go through what VTL travellers can expect once they land in Singapore.