The Sydney Suites Gambit: Trip Planning
Singapore Airlines First Class Lounge & TPR
Singapore Airlines A380 New Suites SIN-SYD
Singapore Airlines SilverKris Business Class Lounge SYD
Singapore Airlines A380 New Business Class SYD-SIN
It was a short walk from the SilverKris lounge to Gate 61 where SQ232 was about to start boarding for the return journey back to Singapore. There was a long line of people dutifully queuing up when I arrived at 11.15am for a scheduled 11.30am boarding. Boarding was delayed until 11.50am due to the late positioning of the aircraft (if you recall from my lounge report, the aircraft was towed to a remote gate after its 7.30am arrival in Singapore)
Strangely enough, it didn't seem like there was a separate queue for Suites passengers. Suites, Business Class and PPS members all got in the same line. When boarding started I aunty scrambled (a new term I've learned which whimsically evokes the image of aunties jostling for a deal) down the jetbridge, overtaking more than a few Australians who probably wondered what the rush was.
Ever since Singapore Airlines debuted its full flat business class seats in 2006, it's hard to argue that there's anyone else who comes even close in terms of hard product. Granted, I haven't tried QSuites yet, but it's clear to me that the hard product of SQ is still significantly ahead of other otherwise great business class products like ANA or EVA. Yes, SQ doesn't offer an amenities kit in business class and it has some very puzzling crew routines (like insisting on serving full breakfast 2 hours before arrival when other airlines can comfortably complete it in just over 1), but I'm struggling to think of any other business class seat that offers the space or privacy that SQ's does. Singapore Airlines' business class would even put some airlines' first class to shame.
Business class is entirely on the upper deck on the new A380s as it is on the existing ones. Turn left for Suites, turn right for Business. I had a gloriously clear cabin to take photos of, empty as far as the eye could see.
The first thing that struck me was just how private the cabin was. I talk about the "stand test" which I use when gauging a business class cabin's level of privacy- when I stand up, how many people can I see? The high walls of SQ's business class mean I see at most my immediate neighbours, and little else. Compare that to other airline business class products (I'm thinking of you, Lufthansa) where you stand up and can pretty much see everyone else. Yes, it would be nice if they had decided to install doors on the seats, but a door is more psychological than anything else because a reasonably tall person can see over it.
The privacy is enhanced by the fact that the privacy dividers for the seats in the middle are up by default. You can of course lower them all the way if you're traveling with a companion, but otherwise you won't have to so much as make eye contact with your neighbour if you're stuck in the centre seats.
The second thing that struck me was how spacious the cabin felt, despite this new business class product being higher density than the old version. I attribute that to the fact there are no overhead storage bins in the middle of the cabin- these are all to the side.
Here's a reminder of the lay of the land in Business Class. There are two A380 cabins (the diagram below makes it look like three, but it's really two as I'll explain shortly). The forward cabin has 52 seats and the rear 28 seats for a total of 70 seats.
See the diagram above, how rows 96 and 97 look like they're in a private mini-cabin of their own? In reality they're part of the second cabin, just separated by a row of emergency exits. This creates a second set of bulkhead seats in the rear cabin (row 96) where you can sleep straight instead of at an angle, so that's something you may want to consider if you find that an issue.
I'd picked seat 93A, close to the rear of the cabin. In retrospect I maybe should have opted for a middle seat so I could try the "double bed", but I didn't want to take my chance with an unexpected seatmate.
I love, absolutely love, the design of the new business class seat. So much so that I'm going to now show it from every angle.
Full body shot!
Landscape shot!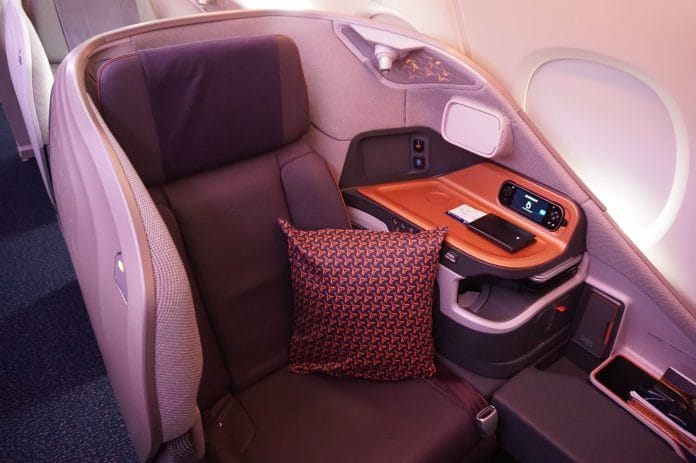 Slightly zoomed out landscape shot!
From behind shot!
The new business class seat was designed by James Park Associates, or JPA, the same team responsible for the 2006 and 2013 business class seats. Privacy and sound isolation was a high priority for the team, and you can see it from the wraparound design that goes way beyond your regular "privacy wings" that most business class seats sport around the head.
In so many words, I love the design of the seat. The purple tones of the seat give it a sense of regality, the cocoon style design provides a ton of privacy from the aisle, the fittings feel solid and high quality, and if I'm honest with myself- I'll still redeem first class for fun, but in terms of function there's very little that I need beyond what this business class seat provides.
Let's start from the top- by your head is a reading light with a subtle pattern embedded onto the fabric. I was thinking for the longest time about whether this was fluorescent paint or a light embedded into the fabric, and think I concluded it was the latter.
The headphone jack and a spare USB charging port are further below.
There is a moderate-sized sidetable that can hold your drinks and a few other loose items.
That nifty little thing below is a mirror, that flips outwards like a car's side view mirrors. I get that people don't like looking at themselves on a flight, but this is sure useful for making sure I don't have spinach between my teeth when impressing chiobu.
Below that are the seat controls. They're touch sensitive, but here's my gripe: they require an inordinate amount of strength to push. It's good they're not too touch sensitive because that can be annoying when you brush against them accidentally, but they've gone way too far in the other direction with this. It's not just me, quite a few passengers asked the flight crew if their seat controls weren't working because they were tapping and tapping on them and nothing happened. I realised that you need to press long and hard until you feel a vibration response for it to register your inputs.
Just in front of the side table is the power outlet, USB port and NFC contactless port. You'll also find the literature pocket where the menu was already waiting. I'm quite excited to see how SQ will integrate the NFC port- when I interviewed John Tighe from JPA a while back he spoke about how "future proofing" the seat was a high priority, and this I suppose is one of the steps they took. I understand you can use it to pair your personal devices to the IFE system, but it wasn't working yet.
You'll find two very curious flip down doodads. They certainly couldn't be cupholders, I thought. Later it struck me- one of the complaints that people had about the original 2006 business class seat was that it was too wide (hence they added the bolsters to try and fix that). This 2017 business class seat isn't as wide, but it's still nice to have a place to rest your arms and that's what these are- armrests. You have one on each side.
Panning the view forward, you have an 18 inch touch sensitive IFE screen, a drinks holder to the right, and a storage nook on the left.
You could put your glasses, wallet and watch in here for storage, although the latter two may be somewhat wise. I keep wondering why no airline has introduced a seat with a locker function- surely that makes so much sense?
In the footwell there is a sleeping pillow, a blanket and a mattress pad. I'll cover these later on.
With those cleared out, it looks narrow but was large enough for my feet.
I mentioned in my review of the Suites seat that it was strange that SQ hadn't gone for the same controller in Suites as they use in the rest of the plane. The rest of the plane has touch sensitive controllers, Suites opts for a more old fashioned buttons only one. When the touch screen controllers came out I pointed out that they hung very often, but it looks like subsequent firmware updates have put an end to that.
In terms of headphones, they're using a pair of comfortable over the ear noise cancelling headphones that have their own inbuilt volume control. This is useful during meals so you can lower the volume to hear the flight crew without having to fumble with your controller or touch screen.
The tray table pops out of the side table at the push of a button, then swings towards you and folds open.
The best thing about the new tray table is that it easily slides to the front, allowing you to enter and exit the seat even during meal service. Far too many tray tables hold you captive when they're deployed and loaded with food and drink, so it's good that the JPA team designed the tray table like this.
The crew on this flight were great, addressing passengers by name and actively looking out for passengers having issues with the new seat. The crew themselves are still learning the ins and outs of the new products, but you can tell they've seen enough passengers by now to know some of the key issues (confusion about the touch sensitive buttons, not knowing how to flip the seat into bed mode etc).
The usual selection of pre-departure beverages was brought around, along with hot towels.
Some people online are complaining that SQ is filling the pre-departure champagne glasses less full than they used to in the past, but come on, seriously? There's nothing stopping you from asking for more, plus it minimizes wastage. And there's a special rung in hell for those who waste champagne.
We ended up taking off about 30 minutes behind schedule, climbing through some rather gnarly turbulence to our cruising altitude before the captain turned the seatbelt sign off.
The crew had taken drinks orders before takeoff and I went with the usual  again, served this time with some warmed nuts.
I also got online with the free Wi-Fi that is available to business class passengers. I only had 30MB, but this surprisingly lasted me the duration of the flight. The only apps I used were Telegram and Whatsapp though.
It was time to look at the lunch options- although Sydney does have Book the Cook, I wasn't won over by any of the items available and decided instead to go with whatever was on the menu that day.
None of the mains really appealed to me- airline beef tends to be cooked to death, as does airline salmon. My mouth felt dry just thinking about the chicken breast and I didn't fancy the Indian option either (in case you're wondering why the Indian option- it appears a lot of people from South Asia use SQ to get to Australia. That's understandable, considering the alternative)
While waiting for the festivities to start I browsed the IFE.
One feature I didn't talk about in my Suites review was the ability to link your smartphone to the Krisworld IFE system. It's quite a simple pairing process- you open the SQ app on your phone, you get the PIN from the IFE and enter it.
In theory this is a pretty nifty concept because you can use you phone to browse and select IFE, but in reality it's not really needed. It's just a lot more efficient to use the built in controller to navigate.
The selection on Krisworld is always great, and this month was no exception. They had new movies like Coco and The Shape of Water.
I'm not quite sure what the exclusive banners they slapped on some movies were- surely they don't mean that SQ is the only airline in the world showing Forrest Gump?
I ended up watching Coco. It's a great movie, and can I say for the record that I totally saw the twist coming.
It was quite a long wait for lunch to start- by my watch we took off at about 12.30pm and lunch started at 2pm.
The appetizer was really quite good- marinated prawns with greek salad. The garlic bread that came with it was piping hot (unlike the cold bread I got back in Suites) and more was requested and received.
The main of egg noodles and salmon was more or less as expected. Salmon tastes best when it's about 40% cooked, and when you put it in a microwave the result is always predictable.
After that the cheese tray was brought out. I distinctly said "no thank you" but still ended up with a plate anyway
And to wrap things up, a very nice salty pistachio ice cream.
Although the new seats are brilliant, the bathrooms are unfortunately still as cramped as ever. This isn't an SQ specific problem per se, many other airlines have cramped J bathrooms. It's just that we've seen innovation in what first class bathrooms can be (Etihad and Emirate's showers, even the mega dressing room style bathroom in the new Suites), so isn't it high time for some of that to trickle down to business class? I do realise the problem in business class is that you have many times the seats in first, and keeping a sane seat to loo ratio means having to go with several smaller bathrooms.
The taps are automatic but the bin covers aren't- you step on a floor lever to open them so thankfully you don't need to touch them with your hands.
An amenities kit stores things like razors, toothbrushes and sanitary napkins. As has been long established, SQ doesn't believe in providing amenities kits in business class (although could that be changing?) so you're going to have to forage here.
And you have some new amenities that I've not seen in other SQ business class cabins. I wonder if these Penhaligon's toiletries are unique to the new A380 or if anyone's spotted them elsewhere? I've got a soft spot for Penhaligon's so this would be a real step up from the Miller Harris stuff they used to stock.
The crew came by with water bottles as I readied myself for a nap.
Onto the bed setup- I mentioned at the start of this post that you have a blanket, bedsheet and sleeping pillow provided in your foot well on boarding. These were all wrapped in plastic with an instructional video on how to put the bedsheet onto the bed.
One of the most welcome changes for the 2017 business class seat is that you don't need to stand up to flip it over when you want to sleep (which, to my knowledge, is the only seat of its kind in the world). Instead, you can recline the seat at any angle you want (if you press that stubborn touch panel hard enough) until you go full flat. Of course, you still need to get out of the seat to apply the bedsheet properly.
A passing crew member offered to help me out, and the process seeemed fairly straightforward. You drape the bedsheet over the headrest, then recline the seat all the way, tucking the corners in when you're done. Remember that with the old flip over seat, the bedsheet was already stuck to the back end with velco so you didn't need to do this.
The resulting bed was very comfortable and the bedsheet and blanket felt silky smooth. One of my (very silly, I know) gripes about the old 2006 and to a lesser extent 2013 business class seat was that the velcro used to secure the bedsheet to the seat back would often not be lined up properly, meaning every now and then your bare legs would scrape against the rough surface of the velcro. The issue gets more acute as the seat ages because the velcro starts to fray and lose its grip on the bedsheet.
Unless you've booked a bulkhead seat, you're going to be sleeping diagonally with your feet slotting into the foot well. Some people dislike this, but honestly I couldn't care less. I mean, if you think about it you're basically sleeping at the same angle you would be if you were in a reverse herringbone seat. Why should this be any different?
I mentioned I had some issues with the Suites bed, but fortunately there was no such problem here. The seatbelt is the traditional airplane "pull strap to tighten" type so I could set it at whatever tightness I wanted (versus the Suites seatbelt which automatically retracts and tries to squeeze the life out of you). Unlike the Suites bed, this material breathes very well so despite the lack of personal air vents I didn't wake up sweating like I did in Suites.
Here's one other thing to note- when you're lying flat on the bed, some of you may want to angle the seat back up just a little bit so you're sleeping at, say, 170 degrees instead of 180 (the plane flies at an angle, so 180 degrees may not feel naturally flat). If you try to engage the controls while lying on the bed, the motor will whirl and the seat back will move up a bit…then stop and reverse direction. I did this many times and thought it was a seat fault, but overheard a conversation between another passenger and a crew member, where she confirmed this was the way the seat was designed. You need to take your weight off the seat back if you want to raise it from a full flat position. I guess this is to minimize load on the motors and increase the longevity of the mechanism.
Although the bedsheet is thinner than the old business class seat, it sort of compensates that the cushioned surface of the new seat is softer than the back of the old business class seat.
What about that double bed, you ask? Well, it's a shame that there were no two empty seats in the middle because I was thinking about asking the crew to convert a pair of them into the double bed. But hopefully this photo from JPA illustrates how it works. Look at the seat pairing on the right- you'll see that when the divider is lowered all the way, you still have something separating your partner and you. So at best you can watch each other while you sleep (#notcreepy). You're certainly not going to spoon, that's for sure.
All in all I had a great rest and awoke just in time for the pre-flight landing meal.
The choice for the pre landing meal was a cep mushroom and bacon quiche, or seafood udon. I had the latter, which was decent enough.
Despite our late takeoff we still landed 10 minutes before our 5.30pm scheduled time in Singapore, which either suggests the pilot made up the time en route or that the schedule is fairly padded. We ended up racing another A380 getting tugged on a parallel taxiway which then had to hold as we crossed over. I felt a strange sense of accomplishment.
Conclusion
In my mind, Singapore Airlines already had the best business class hard product in the game. This simply reconfirms it. I mean, it boggles the mind that Singapore Airlines' 2006 business class product is still much better than some of the recently released business class products we see on other "5 Star carriers" (looking at you again, Lufthansa). Their 2013 business class was evolution rather than revolution, but there's no reason to fix what ain't broken. And now, the 2017 business class seat takes some of the classic complaints about the SQ business class product (I need to flip it over, it's too wide) and evolves the design a bit more.
If you wanted to find fault, you could point to SQ's lackluster business class lounge experience, their failure to provide ground transport service for premium cabin passengers (you'd think it'd be relatively cheap to provide in a small country like Singapore),  their refusal to provide amenities kits or the lack of a wow factor in(onboard bar, for example) as things holding it back from the "best business class" title. I guess there's some basis to those complaints, but the fact remains that a business class seat needs to be a good space for (1) productivity (2) dining and (3) resting and the 2017 edition excels at all of that.
The 2017 business class seat will eventually be the standard across the A380 fleet, and also the A350-900 ULRs that will resume non-stop service to the States. If you're looking to redeem it with miles, I wouldn't worry- business saver awards are plentiful on the SYD route and once the retrofits start it's just a matter of time before you can experience this great product.