Da Nang is the third busiest airport in Vietnam after Ho Chi Minh and Hanoi. It opened a brand new 21,000 sqm international terminal in 2017 with capacity for six million passengers per year, but is still relatively small in the grand scheme of things- Changi Terminal 3 is 18X the size, for perspective. 
That means there's only space for a handful of lounges. All non-Skyteam airlines use the CIP Orchid Lounge (Vietnam Airlines operates a Lotus Lounge for the Skyteam carriers), which we visited on our way back home.
🏨 tl;dr: CIP Orchid Lounge

Da Nang Airport doesn't have many options, but the CIP Orchid Lounge ticks most of the right boxes for a contract lounge.

👍 The Good
👎 The Bad

Decent buffet selection

Varied seating types, including workstations, TV pods and cubbies

Fast Wi-Fi connection

Shower "suite" is inside main toilet, and not very private

Only available alcohol is canned beer

A smoking room at the rear of the lounge allows odours to seep in
Access and Operating Hours
For the avoidance of confusion, there are actually two CIP Orchid Lounges (imaginatively dubbed CIP Orchid Lounge & CIP Orchid Lounge 2) at Da Nang International Airport.
The CIP Orchid Lounge is the original and twice the size of the CIP Orchid Lounge 2, but apart from that I'm not aware of any differences in terms of catering or amenities. Passengers by default are directed to the CIP Orchid Lounge, which involves turning right straight after customs and immigration.
Walk about two minutes, and you'll see a sign for the Orchid Lounge on the parapet above. You can either take the stairs or the elevator up to the mezzanine floor where the entrance is located.
The CIP Orchid Lounge is open 24 hours daily. Access is available to all Priority Pass, Dragon Pass, LoungeKey and Diners Club International cardholders, as well as premium cabin passengers on airlines like Singapore Airlines, Asiana and EVA Air. Curiously enough, logos for Skyteam carriers like Korean Air, China Eastern and China Southern are also plastered on the board, despite the fact that passengers can access the Vietnam Airlines lounge. 
In theory, access is limited to a three-hour stay, but I didn't see any active enforcement of the rule (or they might be turning passengers away at the door if it's more than three hours before their flight). 
Lounge Overview
The CIP Orchid Lounge's reception is outside the lounge proper. A courteous staff member scanned my boarding pass (I gained access by virtue of elite status with Singapore Airlines) and welcomed me inside. 
Near the reception is an open-air seating terrace set on astroturf, which gave the feel of being in a garden. It's a nice escape from the concourse below, not that the airport was particularly crowded when I visited. 
Just inside the entrance is the buffet area, which has a mix of dark leather armchairs and dining tables. 
The lounge then opens up into a bigger area, with more armchair seating and sofas. There's a lot of natural light thanks to the full length windows, and most of the furniture was in very good condition. 
Despite the full length windows, this lounge doesn't have any tarmac views- you'll be staring at a motorcycle parking lot, so leave those telephoto lenses at home.
A series of iMac workstations were set up in booth seats, together with some empty booths. I suppose this would be their version of a productivity pod.
The lounge also had individual TV viewing booths, inside futuristic-looking white space pods. The screen, however, was so small that it felt inadequate even for the close viewing distance.
One of the more unique aspects of this lounge are its yellow seating cubbies at the rear. These are meant to offer more privacy, but all the bright colours do is draw more attention to them. Moreover, they're really uncomfortable to sit in, since the rear panel is so recessed there's no back support. At most this might be a spot for a parent with an infant who needs to nap.
In any case, I'd advise you to steer clear of the rear of the lounge, because that's where the smoking room is. The only barrier is a glass door, and every time it opens, smoke seeps through. 
Power & Productivity
The lounge's Wi-Fi network clocked a very good 51 Mbps down and 75 Mbps up, making it more than suitable for video calls and movie streaming. 
Power outlets are scattered throughout the lounge on table tops and beneath tables. These accept Type A, C and F plugs. Travellers from Singapore (Type G) will need an adapter. There were no USB charging ports nor wireless charging mats. 
Food & Beverage
The buffet area was located near the entrance to the lounge, with two main displays. 
The first table had the lounge's coffee machine and tea selection, fruits, cereals, bowls of pre-plated instant noodles (just add hot water), boiled eggs, and porridge. 
I thought it was hilarious that in an unknowing nod to Oliver Twist, they'd labelled the porridge as "gruel". 
The second buffet table was perpendicular to the first, with various hot items in food warmers.
This included fried chicken, breads, dim sum, fried noodles, stewed beef and pork, fried rice, bacon and sausages, as well as a warmer with plain steamed rice.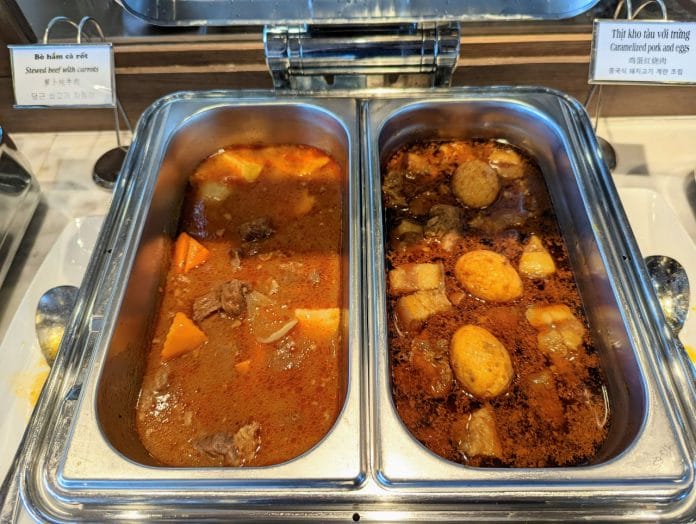 Drinks like juice, milk (apparently it's a thing to add sugar to milk in Vietnam, who knew!), and bottled water were in an open chiller, together with fruit, salad and cold cuts. 
Another fridge contained the usual assortment of soft drinks, as well as canned beer. 
I did not see any wine on offer nor spirits, but that could be because we visited the lounge in the late morning.
Showers & Toilets
The lounge has its own male and female restrooms, which were kept very clean throughout.
While the publicity materials talk about "shower suites", the reality is rather disappointing. There is a single shower cubicle in each toilet, located within the toilet itself.
There's no dry place inside the cubicle to place your clothes or towel while you shower, which means that unless you fancy getting everything wet, you'll need to come out and change in the toilet itself. How's that for fancy living?
Conclusion
For a contract facility, the CIP Orchid Lounge has all the basics covered- fast internet, a decent buffet selection, and seating for a variety of purposes. Key weaknesses include the presence of a smoking room (I suppose for some that'd be a strength!) and the lack of alcohol options.
The miserable shower would be a problem too, but for the fact that Da Nang doesn't see a lot of connecting traffic. I can't think of too many people who would need a shower, unless perhaps you've got a late night departure and head straight to the airport from town. 
What do you make of the CIP Orchid Lounge?