The Banyan Tree Lang Co opened in 2012 as the crown jewel of the 280-hectare Laguna Lang Co integrated destination, and Banyan Tree's first property in Vietnam.
Located on a 3 kilometre stretch of beach and 70 minutes from Da Nang, the beachfront resort is framed against a dramatic backdrop of highlands, and a welcome retreat for anyone tired of urban chaos. 
But does the Banyan Tree Lang Co have enough to warrant a special trip? That's what I was here to find out. 
✈️ tl;dr: Banyan Tree Lang Co

While the setting might not be very memorable, the Banyan Tree Lang Co makes vacations fun with its spacious villas, champagne breakfast and excellent service

👍 The Good

👎 The Bad

Spacious villas with private pools and good privacy

Champagne breakfast with an impressive selection of food

Guests have access to facilities at Angsana and Laguna Golf Club

Excellent service from villa host

No mosquito or ant problems

Not much to do or see in the surrounding area

In-house restaurants are either poor quality

(Azura, The Water Court) or very expensive (Saffron)

Beach is full of sharp shells and coarse sand

Lagoon isn't as scenic as the hotel would like to believe
Arrival & Check-in
Our flight from Singapore landed at Da Nang airport at around 3.50 p.m, and it took less than 10 minutes to clear immigration and collect our bags. 
While I don't normally arrange transfers via the hotel, it was surprisingly the cheapest option this time round. Banyan Tree charged US$41 for a one-way transfer, versus US$50-60 by third parties. The driver was waiting for us on arrival, and we were whisked off for the 70-minute drive to Lang Co.
As an alternative, guests can opt to take a complimentary shared shuttle between Da Nang Airport and the Banyan Tree Lang Co that departs from the airport at the following timings:
9.30 a.m
11 a.m
12 p.m
1 p.m
3 p.m
5 p.m
Prior reservations are required, and can be made via [email protected]
The first thing to know about Lang Co is that it's pretty much in the middle of nowhere, and the Banyan Tree Lang Co is actually a further 35 minutes drive from Lang Co proper.
This seclusion is a feature, not a bug, but it means you won't be walking out the gates and popping by a local restaurant, bar or massage place. In fact, unless you're willing to hire the hotel car (which we did on the final night), you're stuck on the premises because Grab won't come this far out. 
Our villa host Oahn (who was fantastic, more about that in the service section later on) was waiting for us as the car pulled up, and brought us directly to our villa by buggy. While it's completely walkable, the expansive size of the development means that buggy will be the default mode of getting from place to place (especially if you're in the seaview villas on the hill).
There are alternatives, however. You can grab a bicycle from the lobby (options include tandem bikes, city bikes, and children's bikes with and without trainer wheels) and pedal your way through the mostly flat resort. Some are in better condition than others; be sure to check the brakes. 
Otherwise, an artificial waterway runs through the property, with a motorised boat making scheduled rounds.  Guests can also rent a kayak to explore, though the yellowish green water didn't look particularly appealing. 
Banyan Tree shares its grounds with Angsana (think of it as Banyan Tree's budget, mass market brand) and Laguna Golf Lang Co (not affiliated with Banyan Tree per se, but owned by the same developers). Banyan Tree guests can use all the facilities at Angsana (for free), as well as the Laguna Golf Club (for a fee). Angsana guests can use the Banyan Tree facilities if they pay an upcharge. Guests can visit either set of restaurants, and cross charge expenses across properties. 
Lagoon Pool Villa
The Banyan Tree Lang Co has a total of 62 villas, split into the following categories.
Villa Type

Size

No. of Rooms

Lagoon Pool Villa

131 sqm

32

Beach Pool Villa

124 sqm

17

One BR Seaview Hill Pool Villa

152 sqm

13

Two BR Seaview Hill Pool Villa

237 sqm

Three BR Seaview Hill Pool Villa

260 sqm
Our reservation was for the lead-in Lagoon Pool Villa, which is actually slightly larger than the Beach Pool Villa one category above it. These are located in a heart-shaped ring around the central lagoon.
When I stayed at the Banyan Tree Koh Samui, one of the issues was that the villas were packed so close together they weren't very private at all. Fortunately, that's not the case at Lang Co. Each villa is surrounded by high walls and greenery that forms a natural screen. The entrance is also recessed about 10 metres from the main walkway, so it really feels like your space.
Lagoon Pool Villas have a lush, private garden, complete with an outdoor patio with coffee table and day bed. An overhead fan tries valiantly to keep the stifling midday heat at bay. 
All villas at the Banyan Tree Lang Co have their own plunge pools, though they're rather small and therefore more suited for wading rather than swimming (they're also 1.3 metres deep, so take care if travelling with children). My pool received plenty of sunlight throughout the day, so much so it was pleasantly warm at night.
The pool had a mildly annoying design flaw, namely the lack of an intermediate step between the deck and water. It was a rather abrupt drop, the kind you don't feel confident about stepping into. In the end, the best way of entering was to sit on your butt and put your feet in first. 
In any case, we didn't spend much time in the pool because the view isn't what I'd call inspiring. Banyan Tree plays up the lagoon views, but the first thought that came to mind was "swamp." The water is still, cloudy, and not very attractive to look at; it's really like overlooking an overgrown canal.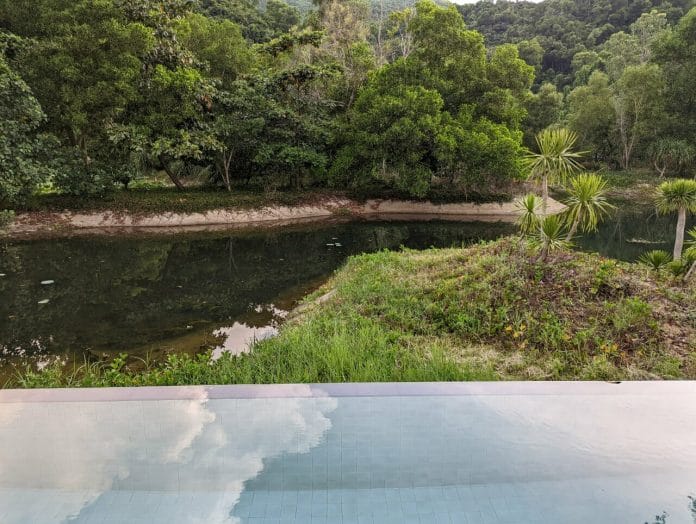 Given all the stagnant water, I was concerned about mosquitoes. The good news is that we didn't get bitten a single time (we did use a lot of repellent, but as any NSman will attest, it's never a guarantee). Likewise, we didn't have any issues with ants, so whatever pest control the resort is doing, it's doing it right. 
The outdoor area has its own shower, allowing you to rinse off before entering the room. Do note that unlike other Banyan Tree properties I've visited, it's not possible to access the bathroom directly from the pool, so bring a towel if you don't want to drip water all over the bedroom. For those thinking of going au naturale, there are slight gaps in the greenery that may allow your immediate neighbour to spot you. 
The sliding glass doors (which take quite a bit of effort to pull!) open directly into the bedroom.  As you might expect, Banyan Tree adopts a "back to basics" aesthetic. Don't expect the latest or trendiest interior design here: furniture is varnished wood, and latticework wall panels are the order of the day.  A large chandelier styled like a lantern hangs from the villa's high ceiling, providing a lovely sense of spaciousness, and the warm lighting looks great even during the day. 
The bedroom has large glass windows on three of its four sides, allowing natural light to stream in during the day. Blackout curtains (drawn by the staff during turn down service) ensure you'll have uninterrupted sleep, no matter how late you want to rise.
The king-sized bed comes with high thread count bedsheets and a medium-soft mattress. I didn't spot a pillow menu, but the default pillows came in softer and firmer varieties.
Near the entrance is a small dressing table with a couple of incense sticks. Past reviews mention a choice of fragrances, but it was the same every day for me.
Dressing area
The TV does not have smart capability, so you won't be able to stream your personal media via wireless. You can, however, bring your own HDMI cable and connect from behind like a regular monitor.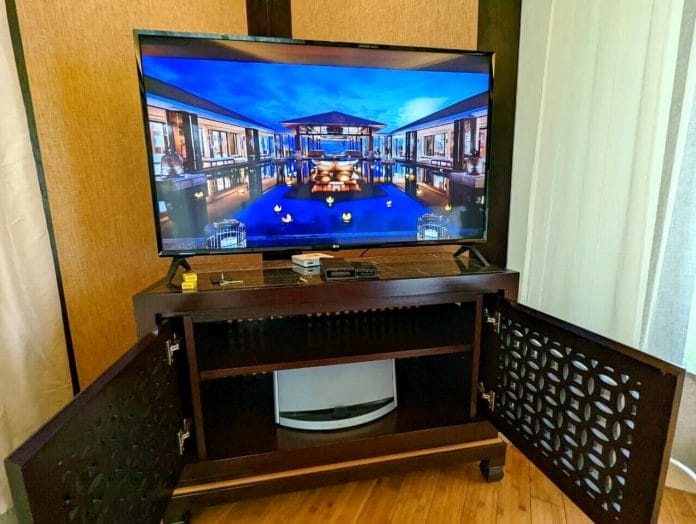 Behind the bed is an elongated work desk that forms part of the headboard. Banyan Tree isn't really the place you go for a workcation, but it's always good to have the option nonetheless. Universal power outlets can accept almost every type of plug, though USB ports are missing.
Wi-Fi speeds are extremely impressive at 65 Mbps up and 91 Mbps down. I wasn't expecting to get such snappy speeds in a place like this, but the network handled everything I could throw at it.
While the signal is strong in the villa, it's a more spotty elsewhere. You won't have Wi-Fi over at the tennis courts, for example, nor on the beach. I mentioned this at breakfast, and a staff member was thoughtful enough to provide me with a portable 4G hotspot to use for the rest of the stay. 
A small basket of fruit was waiting on the table, I suppose as a welcome amenity. 
Inside the cupboards was an empty mini-fridge (be careful- it's positioned so near the edge you're liable to pinch your fingers when you open the door), as well as coffee and tea-making facilities. Complimentary water is provided in glass bottles, in line with the resort's sustainability policies. Only four are provided by default (two here and two in the bathroom), but we asked our villa host to stock us up and she sent as many as we wanted, at no cost. 
Do note that while water is free in the room, the exact same bottle will cost you 80,000 VND++ (S$4.75++) if requested in any of the restaurants! It's not practical to lug glass bottles around, so you might want to bring a plastic or reusable bottle along with you.
The bathroom had his and her sinks, with a pull-out chair for using the vanity counter as a makeshift dressing area.
Two opposing full-height wardrobes had bathrobes, slippers, a mini-safe, as well as mosquito repellent and coils. Turquoise towels are provided for use outside. 
The deep soaking tub was surrounded by windows, allowing you to look into the garden as you bathe.
A word of warning: for whatever reason, the architects decided to build a small drop in the floor between the tub and the rest of the bathroom. This is a major tripping hazard- I had a nasty fall the first day, and thank God it wasn't too serious. 
The shower area has both a rain and hand shower head, plus a bench for scrubbing your feet. Banyan Tree, as expected, does not offer single use bath amenities. Shampoo, conditioner and bath gel are provided in bulk-sized dispensers instead. These come from its in-house line of toiletries, with rosemary and lavender accents. 
The toilet has a bidet hose, as was the case for most bathrooms we encountered in Vietnam.
Breakfast
Breakfast is served at The Water Court from 7 a.m to 10.30 a.m daily. I wasn't very impressed with breakfasts at the Banyan Tree Bali or Banyan Tree Koh Samui, but the Banyan Tree Lang Co served up a meal to remember.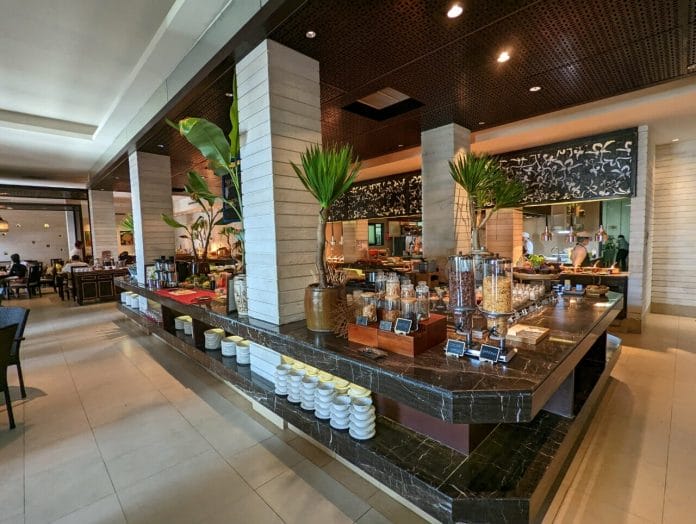 For starters, there was a salad bar, cold cuts, cereals, yoghurt, cheese, and a wide selection of bread and pastries. 
Hot items rotated daily, and featured Western options like sausages (chicken or pork), bacon, baked beans and roast vegetables, as well as Asian options like fried noodles, stir-fried beef, and pork ribs.
A live cooking station served up different noodle dishes each day, together with all the condiments you could need.
I didn't expect much from the pancakes, but they were surprisingly light and fluffy. If you'd prefer them fresh, the staff will happily make a new batch.
In a corner of the buffet area was a special area with Vietnamese breakfast items- make sure you don't miss it! This featured banh loc (tapioca dumplings), banh nam (a flat rice dumpling), banh beo (rice cakes) and banh it (a mung bean paste ball). 
In terms of drinks, there's of course a Vietnamese coffee station. The MileLioness found the default mix way too sweet, but they brewed a fresh one just for her.
Elsewhere, there's a build-your-own-juice station, with orange, apple, peach, watermelon, mango and much more. I love the concept, but the machines could use more maintenance. An entire morning of juicing had left them clogged, and without periodic cleaning, any juice would invariably taste like a mix of what others had thrown in before.
But here's what I hold to be the star attraction: the Banyan Tree Lang Co serves up a bubbly breakfast every day, and I'm talking champagne, not some cheap prosecco or cava. You can help yourself to all the Taittinger Brut Réserve your liver can take, and even adulterate your champagne with fruit juice if you so wish.
Champagne not your thing? How about a Bloody Mary then, with an extra shot (or two) of vodka. Instructions and mixers are provided.
Banyan Tree's obsession with wellness can sometimes create a sanctimonious, holier-than-thou attitude towards alcohol, so it was refreshing to see them letting their hair down here!
Beach
While the Banyan Tree Lang Co is ostensibly a beach resort, those coming here expecting a Maldives-style experience will be sorely disappointed. 
The beach isn't terrible, to be sure. It's clean, it's tout-free, and there's a lifeguard on duty from 8 a.m to 6 p.m. On the other hand, there isn't much to see or explore. 
To make matters worse, the sand is coarse and littered with sharp shell fragments, the kind that make you wish you kept your shoes on. 
You can rent surf boards, boogie boards, stand up paddle boards or kayaks for free. While the resort also offers free snorkelling lessons, there's nothing much to see apart from a few small fish.
So I don't rate this beach at all, and we spent little to no time here. 
Dining
The Water Court
While The Water Court serves up a great breakfast, the rest of its meals leave a lot to be desired. 
We had dinner here on the first night, and while the cuisine is described as Vietnamese, the menu was 75% Western food. The F&B team later told me that the menu was being revamped, and indeed, I can see from the revised copy that there are many more local options now available. 
That didn't come in time for our stay, sadly. We ended up going for the hot pot (VND 400,000++/S$24++), which was a complete disappointment. The soup base was mediocre, and the ingredient portions were tiny: two pieces of fish, two mussels, a handful of clams, two prawns, some indeterminable fish cake, and some vegetables. While the menu is advertised as "for two", in reality it's barely enough for one. 
To cap it off, service was painfully slow. It took 40 minutes for the staff to assemble what basically amounted to a plate of raw ingredients. We requested for additional vegetables, waited another 30 minutes, and upon checking found the order was never received.
Azura
On the second day, we had a light lunch at Azura (menu), the poolside Italian restaurant.
I'll be the first to admit that I have very high standards for Italian food, so I wasn't expecting to be blown away. And I wasn't.
We ordered a seafood pizza (VND 450,000++/ S$27++) which was nothing to shout about. The website boasts of "a wood-fired oven, in which our chefs craft the most delicious artisanal crispy pizzas", but this pizza bore no evidence of time in anything other than an electric oven- no charring, no Maillard reaction. 
Azura is also the only non air conditioned dining venue, yet it only opens for lunch when temperatures are at their highest.
Saffron
On the second night, we visited Saffron (menu), Banyan Tree's signature restaurant. Saffron serves up Thai cuisine, and it's an elevated sort of experience with fancy crackers and dips, amuse bouche, and four kinds of rice portioned out tableside. 
Credit where it's due, the food at Saffron was very good. We enjoyed pork spare ribs, a grilled squid, tom yum soup, and kang kong, all seasoned beautifully and cooked to perfection. 
However, it came at a very steep price. The total damage for this dinner was VND 2,395,008 (~S$142, including two cocktails at S$25 total), and that's after a 20% discount on F&B. Granted, it's resort pricing, but still feels too steep considering it's more expensive than a similar meal in Singapore!
Thu Quan
Thu Quan is the hotel's bar and high tea venue. Guests can enjoy complimentary afternoon tea from 2-4 p.m, which comes with a rotating hot item. It's more of a light snack than a meal replacement, but a nice touch nonetheless.
Nearby dining
Since we didn't think much of the resort's dining, we hired a car on the final night to take us to Nhà hàng Biển Cảnh Dương By Night. It's about 15-20 minutes from the resort, and the hotel car (which we hired for 90 minutes) cost 700,000 VND (~S$42). 
Now this was what we'd been waiting for- fresh seafood from the tank, served by the beach. We ordered a lobster, a whole grouper, some incredible clams (get them grilled, or just point to my photo), and two veggie dishes, for S$80. I'm sure that's more than what the locals pay, but it was so amazing I really didn't care. 
The cost of hotel transport is steep, but I'd highly recommend trying this place out nonetheless.
Facilities
Swimming pool
The Banyan Tree Lang Co's beachfront pool is open from 8 a.m to 6.30 p.m daily. It's bathed in sunlight most of the day, which keeps the water warm. Staff provide drinking water and towels as soon as you pick a seat.
While complimentary pool floats are provided, truth be told it's not much of a pool experience. Its regular shape makes it suitable for swimming laps, but it's more like a pool you'd expect to find in a business hotel instead of at a resort. 
Fortunately, a much better pool is available over at Angsana, which is built lazy-river style. There's floats, basketball hoops, jacuzzi jets and waterfall fountains, and this is undoubtedly where you'll want to spend your time.
Gym
The Banyan Tree Lang Co's fitness centre is open from 6.30 a.m to 10 p.m daily. It's a relatively small facility with a weights corner, a treadmill, and a few elliptical and strength training machines.
The Technogym equipment was in very good condition, with built-in entertainment options like YouTube streaming.
Spa
No visit to Banyan Tree would be complete without visiting the spa. Our Ultimate Getaways package came with a complimentary 60-minute body treatment for two, but to give you an idea of pricing:
30-minute foot, back or shoulder treatment: VND 1.5M++ (~S$89++)
60-minute body treatment: VND 2.4M++ (~S$143++)
90-minute body treatment: VND 3.4M++ (~S$202++)
Treatments take place in private spa villas, each with their own attached bathroom.
I found the environment to be very relaxing, and the skilled therapists made the time fly by. 
Tennis courts
Regular readers will know I'm an avid tennis player, though I don't usually bring my racket on my travels. This time however, I decided to pack my gear since the Banyan Tree Lang Co has two tennis courts available. 
Court rental costs 125,000 VND (~S$7.50) per hour from 6 a.m to 5 p.m, and 700,000 VND (~S$42) per hour from 5 p.m to 8 p.m. A sparring partner can be hired for 475,000 VND (~S$28) per hour.
I played a few games with the coach in residence. I'd say I play at a NTRP 4-4.5 level, but he was closer to the 3.0 mark. That's probably because tennis isn't a big thing in Vietnam, so he only gets the chance to play maybe three times a month. Still, it was a good workout, and made me feel less guilty about indulging at breakfast. 
Other activities
Laguna Lang Co offers a wide range of paid and complimentary fitness and water sports activities, the details of which can be found below.
Banyan Tree also offers wellness programmes like yoga, tai chi and bootcamp, plus bike tours of the resort and arts and crafts activities. A full list of options can be found here.
Service
Service at Banyan Tree Lang Co was warm and hospitable, with the following incidents standing out in my mind:
Our villa host gave us her Whatsapp contact and was prompt in her replies all hours of the day. Whether it was arranging tennis, extra water, restaurant reservations or the hotel car, everything was handled efficiently
While some hotels are loathe to recommend "off campus" dining (because they'd prefer you spend your money with them) our villa host was only too happy to recommend Canh Duong, which turned out to be one of the best meals of our trip
I mentioned that The MileLioness enjoyed dance, and the staff went out of their way to arrange a special Vietnamese dance class for her (even though it's not part of the regular resort activity schedule)
I mentioned that Wi-Fi connectivity was spotty around certain parts of the resort, and the duty manager passed me a personal 4G Wi-Fi hotspot to use for the rest of the stay
Buggies showed up within five minutes of being called, without fail
Despite their limited English abilities (see below), the pool staff were eager to help- such as when my lanyard got tangled in the motor of my sea scooter (yes, I have a sea scooter, why do you ask)
Unlike some other hotels I've been to, the senior staff here didn't hide. They were very visible at breakfast, making their rounds to chat with guests and get feedback. It's through one of these chats that I learned The Water Court menu was due for an overhaul, with more local options added 
In terms of what could be improved:
I found it strange that water and towels were not provided by default when I rented the tennis court. You'd think this kind of needs anticipation would be second nature by now, but each time I played I had to request for them (and the first time I asked, I was told I should bring the (glass!) bottles and towels from my own room)
I'm always hesitant to criticise the English capabilities of staff (since I'm a guest in their country and I'm sure they speak English better than I speak their language), but a 5-Star resort catering to foreigners should have some sort of minimum. Most of the F&B and pool staff spoke little to no English at all, and we had to rely mostly on the supervisors or Google Translate to get our requests across
Some activities like kayaking are free when the sun is at its fiercest, and chargeable the rest of the day. I see no reason why they should make that kind of distinction
It's a bit silly to charge ~S$5 for water at the restaurants, since it's basically the same bottle you get in the room for free
Conclusion
So is the Banyan Tree Lang Co worthy of a special trip? I think there's two questions to deal with here: Lang Co as a whole, and the Banyan Tree specifically. 
Would I come back to Lang Co? Probably not. I don't find the scenery or experience to be nearly magical enough to warrant a return visit. The beach isn't great, and while the bay has its moments, it's a far cry from the flawless beauty of the Post Ranch Inn, the breath-taking views from the cliffs of the Conrad Koh Samui, or the powder sand and teeming reef life of the W Maldives. 
That in itself rules out a return visit to Banyan Tree Lang Co, though it's no real fault of the hotel. The villas were spacious and private, there's plenty of activities to participate in, breakfast was the highlight of each day, and the service really went above and beyond. 
On the other hand, Banyan Tree does need to invest more in its F&B. It's sad that the hotel doesn't have a signature Vietnamese restaurant, or a greater focus on local produce and seafood (given its proximity to the ocean). That's all the more because guests are essentially a captive market. Unless you're willing to shell out for the pricey hotel car, you'll be eating all three meals at the resort- they'd better be good!
Finally, if you're planning a trip to Lang Co I'd strongly advise against going in July. The heat is relentless all day long, the kind that makes you want to hide in your air conditioned villa and not leave. Even a brief walk to reception will leave you sweating buckets, and you can't soak in your plunge pool without getting sunburn. Pick periods like February or March, when the weather is cooler and rainfall is low. 
How do you find the Banyan Tree Lang Co?